CORD, the Central Office Re-architected as a Data Center, has been a major initiative of the Open Network Foundation (ONF) and Service Providers over the last several years. The CORD platform has brought the economies of a data center and the agility of the cloud to the edge of the Telco network. It leverages SDN solutions to interconnect the virtual and physical elements and to enable innovative services. R-CORD is an open source solution based on the CORD platform for delivering ultra-broadband residential services.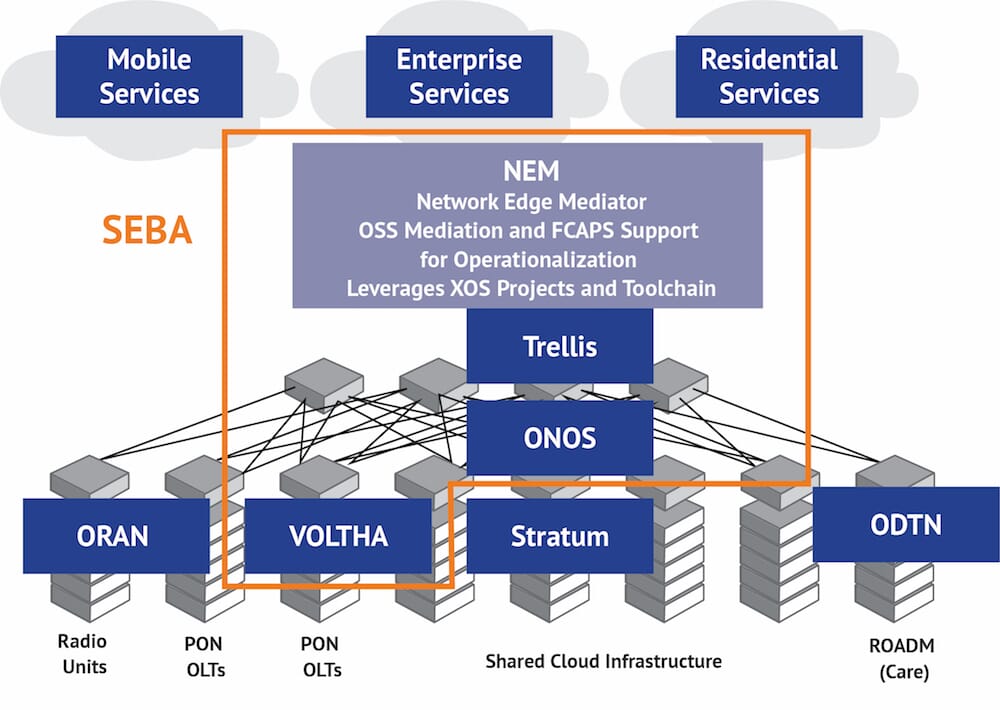 As part of an ongoing evolution, R-CORD has been folded into a new lightweight platform, SDN Enabled Broadband Access or SEBA. SEBA is an initiative started by AT&T and ONF, and supports a multitude of virtualized access technologies at the edge of the carrier network, including PON, G.Fast, and eventually DOCSIS and more. SEBA supports both residential access and wireless backhaul, and is optimized such that traffic can run 'fastpath' straight through to the backbone without requiring VNF processing on a server.
SEBA is a conjunction of mature ONF projects such as VOLTHA, ONOS and TRELLIS and was created to provide an architecture pattern for developing solutions for carrier broadband access. The main purpose is to define a common infrastructure component that would be considered non-differentiating both for operators as well as suppliers.
SEBA is a Kubernetes-based platform, where all control software is deployed as containers on compute nodes using Kubernetes orchestration creating then a SEBA Pod (a group of containers).
Here is an illustration of the SEBA Exemplar Platform: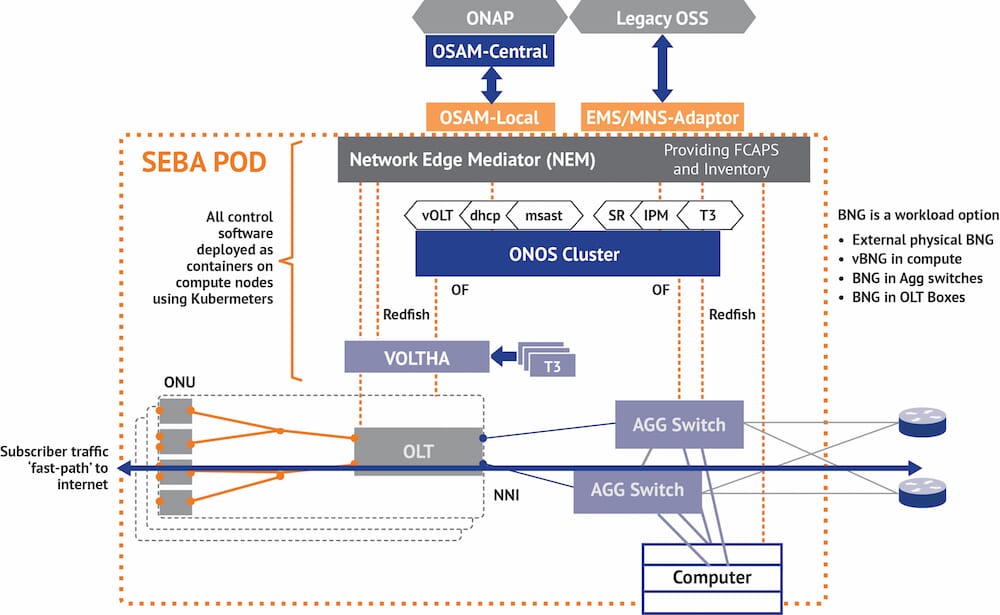 In the SEBA Pod we have the OLT and ONU hardware controlled by VOLTHA, which manages the PON network, and a ONOS SDN controller that includes a couple of api/applications on top of it that expose the services provided by the PON.
For example, the OLT connects to a couple of AGG switches, part of a fabric or leaf spine fabric that will also be managed by the SDN controller. The switches equipment can then connect to external routers and/or BNGs, to local computers, etc.
The whole thing is tied together by the Network Edge Mediator (NEM). NEM is an edge mediator that consists three primary subsystems:
1) XOS, a standalone tool that brings the Everything-as-a-Serviceand addresses several of CORD's high-level design requirements
2) A set of monitoring and logging micro-services such as Prometheus and Grafana
3) A Kafka bus

One characteristic that makes SEBA different than R-CORD is that the dataplane traffic for a subscriber just goes through the hardware and out to the Internet. This creates a subscriber traffic 'fast-path' to the Internet. The datapath stays in hardware and only goes out to compute nodes when necessary, for example, when third-party services are provided for certain subscribers. By comparison, in R-CORD, the traffic that comes from a residential subscriber goes through the hardware, but then it used to go to compute nodes trough a virtual switch like OVS and visit a container VSG (Virtual Subscriber Gateway) to then goes back to the hardware and out to the Internet.
IP Infusion Innovations works with companies to implement SDN solutions. Our expertise in CORD platform has allowed us to formally contribute to components like VOLTHA and PonSim adapter, and our strong relationship with Broadcom allowed us to create the first EPON adapter for Broadcom hardware with VOLTHA. We are actively following the SEBA evolution and we will help our customers to efficiently adopt it.