OcNOS Hardware Compatibility List
How to use this page
Narrow the list using filters for Manufacturer, ASIC and Switch Capacity.
Filters are dynamic with each use, and can be combined for more specific subsets of data.
Use the Search box in the table to narrow down hardware platforms.

By port speed. Example: search on '400GE'
By OcNOS SKUs. Example: search on '-DC'
By platforms. Example: search 'UfiSpace'

Sorting and searching can be used separately or together.
Available hardware datasheets are linked in the first column. These are for general reference and can become out of date. Check platform vendor websites for the most current versions.
Available supported cables and transceivers for each model are linked in the last column.
Use the Reset Filters button to reset the page.
---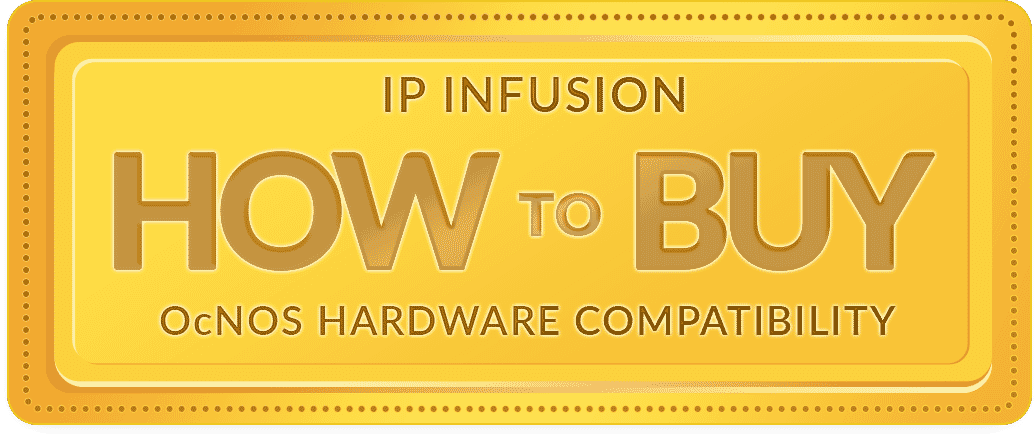 Show Help  |  View End of Sales List
Download PDF:   Filtered List   Full List
PLATFORM MODEL
PLATFORM VENDOR
ASIC
ASIC MODEL
SWITCH CAPACITY
PORTS
SKU
CURRENT SUPPORTED
EOS
CABLES AND TRANSCEIVERS
S9500-22XST
UfiSpace
Qumran AX
BCM88470
300Gbps
2 x 100GE
8 x 25GE
8 x 10GE
4 x 1GE RJ45
OcNOS-SP-CSR-300
OcNOS-SP-IPBASE-300
OcNOS-SP-MPLS-300
SP 6.4.1
Cables &
Transceivers
S9500-30XS
UfiSpace
Qumran AX
BCM88470
300Gbps
20 x 10GE 8 x 25GE
2 x 100GE
OcNOS-SP-CSR-300
OcNOS-SP-IPBASE-300
OcNOS-SP-MPLS-300
SP 6.4.1
Cables &
Transceivers
S9501-18SMT
UfiSpace
Qumran UX
BCM88272_A1
64Gbps
6 x 10GE
8 x 1GE
4 x 1GE Base-T RJ45
OcNOS-SP-CSR-64
OcNOS-SP-IPBASE-64
OcNOS-SP-MPLS-64
SP 6.4.1
Cables &
Transceivers
S9501-28SMT
UfiSpace
Qumran UX
BCM88270
120Gbps
8 x 10GE
16 x 1GE
4 x 1GE Base-T RJ45
OcNOS-SP-CSR-120
OcNOS-SP-IPBASE-120
OcNOS-SP-MPLS-120
SP 6.4.1
Cables &
Transceivers
S9502-12SM
UfiSpace
Qumran UX
BCM88273
32Gbps
8 x 1GE SFP
4 x 10GE SFP+
OcNOS-SP-CSR-32
OcNOS-SP-IPBASE-32
OcNOS-SP-MPLS-32
SP 6.4.1
Cables &
Transceivers
S9502-16SMT
UfiSpace
Qumran UX
BCM88273_A1
32Gbps
4 x 10GE
8 x 1GE
4 x 100M/1000 Base-T RJ45
OcNOS-SP-CSR-32
OcNOS-SP-IPBASE-32
OcNOS-SP-MPLS-32
SP 6.4.1
Cables &
Transceivers
S9510-28DC
UfiSpace
Qumran 2A
BCM88483
800Gbps
2 x 100GE/400GE
2 x 40GE/100GE
24 x 10GE/25GE
OcNOS-SP-IPBASE-800
OcNOS-SP-MPLS-800
OcNOS-SP-IPADV-CE-AGGR-800
OcNOS-SP-PLUS-800
SP 6.4.1
Cables &
Transceivers
S9510-30XC
UfiSpace
Qumran 2U
BCM88280
360Gbps
28 x 1GE/10GE/25GE SFP28
2 x 40GE/100GE QSFP28 with FlexE support
OcNOS-SP-IPBASE-300
OcNOS-SP-MPLS-300
OcNOS-SP-IPADV-300
OcNOS-SP-PLUS-300
SP 6.4.1
Cables &
Transceivers
S9600-32X
UfiSpace
Qumran 2C
BCM88820
2.4Tbps
32 x 100GE
4 x 25GE
OcNOS-SP-IPBASE-2400
OcNOS-SP-MPLS-2400
OcNOS-SP-IPADV-CE-AGGR-2400
OcNOS-SP-PLUS-2400
SP 6.4.1
Cables &
Transceivers
S9600-56DX
UfiSpace
Qumran 2C
BCM88820_A1
4.8Tbps
48 x 100GE QSFP28
8 x 400GE QSFP-DD
OcNOS-SP-IPBASE-4800
OcNOS-SP-MPLS-4800
OcNOS-SP-IPADV-CE-AGGR-4800
OcNOS-SP-PLUS-4800
SP 6.4.1
Cables &
Transceivers
S9600-64X
UfiSpace
Qumran 2C
BCM88820
4.8Tbps
64 x 100GE
4 x 25GE
OcNOS-SP-IPBASE-4800
OcNOS-SP-MPLS-4800
OcNOS-SP-IPADV-CE-AGGR-4800
OcNOS-SP-PLUS-4800
SP 6.4.1
Cables &
Transceivers
S9600-72XC
UfiSpace
Qumran 2C
BCM88820
2.4Tbps
8 x 100GE
64 x 25GE
2 x 10GE
OcNOS-SP-IPBASE-2400
OcNOS-SP-MPLS-2400
OcNOS-SP-IPADV-CE-AGGR-2400
OcNOS-SP-PLUS-2400
SP 6.4.1
Cables &
Transceivers
S6301-56ST
UfiSpace
Trident III X2
BCM56277_A1
120 Gbps
48 x 1G Base-T
8 x 10G SFP+
OCNOS-DC-MGMT-120
OCNOS-DC-IPBASE-120
DC 6.4.1
Cables &
Transceivers
S8901-54XC
UfiSpace
Trident III X5
BCM56770_A0
2 Tbps
6 x 40/100G QSFP28
48 x 1/10/25G SFP28
OCNOS-DC-IPBASE-2000
OCNOS-DC-MPLS-2000
DC 6.4.1
Cables &
Transceivers
S9610-36D
UfiSpace
J2C+
BCM88850_A1
14.4 Tbps
36 x 400G QSFP-DD
OcNOS-SP-IPADV-CE-AGGR-14400
OcNOS-SP-IPBASE-14400
OcNOS-SP-MPLS-14400
OcNOS-SP-PLUS-14400
SP 6.4.1
Cables &
Transceivers
AS5835-54T
Edgecore
Trident III
BCM56771
1.08Tbps
48 x 10GE RJ45
6 x 100GE QSFP28
OcNOS-DC-IPBASE
OcNOS-DC-MPLS
DC 6.4.1
Cables &
Transceivers
AS5835-54X
Edgecore
Trident III
BCM56771
1.08Tbps
48 x 10GE SFP+
6 x 100GE
OcNOS-DC-IPBASE
OcNOS-DC-MPLS
DC 6.4.1
Cables &
Transceivers
AS5912-54X
Edgecore
Qumran MX
BCM88370
800Gbps
48 x 10GE
6 x 100GE
OcNOS-SP-IPBASE-800
OcNOS-SP-MPLS-800
OcNOS-SP-IPADV-CE-AGGR-800
SP 6.4.1
Cables &
Transceivers
AS5915-18X
Edgecore
Qumran UX
BCM88272
64Gbps
6 x 10GE
8 x 1GE
4 x 100/1000 Base-T RJ45
OcNOS-SP-CSR-64
OcNOS-SP-IPBASE-64
OcNOS-SP-MPLS-64
SP 6.4.1
Cables &
Transceivers
AS5916-54XKS
Edgecore
Qumran MX
BCM88375
800Gbps
48 x 10GE
6 x 100GE
OcNOS-SP-CSR-800
OcNOS-SP-IPBASE-800
OcNOS-SP-MPLS-800
OcNOS-SP-IPADV- CE-AGGR-800
SP 6.4.1
Cables &
Transceivers
AS5916-54XKS-OT
Edgecore
Qumran-MX
BCM88375_B0
800 Gbps
48 x 10G SFP+ ports
6 x 100G QSFP28 ports
OcNOS-SP-CSR-800
OcNOS-SP-IPBASE-800
OcNOS-SP-MPLS-800
OcNOS-SP-IPADV-CE-AGGR-800
SP 6.4.1
Cables &
Transceivers
AS5916-54XM
Edgecore
Qumran MX
BCM88370
800Gbps
48 x 10GE
6 x 100GE
OcNOS-SP-IPBASE-800
OcNOS-SP-MPLS-800
OcNOS-SP-IPADV-CE-AGGR-800
SP 6.4.1
Cables &
Transceivers
AS7315-27X
Edgecore
Qumran AX
BCM88272_A1
300Gbps
20 x 10GE
4 x 25GE
3 x 100GE
OcNOS-CSR-300
OcNOS-SP-IPBASE-300
OcNOS-SP-MPLS-300
SP 6.4.1
Cables &
Transceivers
AS7315-30X
Edgecore
Qumran AX
BCM88370 (external TCAM)
300Gbps
4 x 1GE
16 x 10GE
8 x 25GE
2 x 100GE
OcNOS-CSR-300
OcNOS-SP-IPBASE-300
OcNOS-SP-MPLS-300
SP 6.4.1
Cables &
Transceivers
AS7316-26XB
Edgecore
Qumran AX
BCM88370
300Gbps
16 x 10GE
8 x 25GE
2 x 100GE
OcNOS-CSR-300
OcNOS-SP-IPBASE-300
OcNOS-SP-MPLS-300
SP 6.4.1
Cables &
Transceivers
AS7326-56X
Edgecore
Trident III
BCM56873
2Tbps
2 x 10GE
48 x 25GE
8 x 100GE
each splittable into
4 x 10GE or 2 x 50GE or 4 x 25GE
OcNOS-DC-IPBASE
OcNOS-DC-MPLS
DC 6.4.1
Cables &
Transceivers
AS7535-28XB
Edgecore
Qumran 2A
BCM88470
800Gbps
24 x 25GE SFP28
2 x 100GE QSFP28
2 x 400GE QSFP-DD
OcNOS-SP-IPBASE-800
OcNOS-SP-MPLS-800
OcNOS-SP-IPADV-CE-AGGR-800
OcNOS-SP-PLUS-800
SP 6.4.1
Cables &
Transceivers
AS7712-32X
Edgecore
Tomahawk
BCM88470
3.2Tbps
32 x 100GE
each splittable into
4 x 10GE or 2 x 50GE or 4 x 25GE
OcNOS-DC-IPBASE
OcNOS-DC-MPLS
DC 6.4.1
Cables &
Transceivers
AS7716-24SC (Cassini)
Edgecore
Tomahawk Plus
BCM56873_A0
3.2Tbps
16 x 100GE
each splittable into
4 x 10GE or 2 x 50GE or 4 x 25GE
8 Coherent slots, 200/100GE each 8
OcNOS-RON-IPBASE
OcNOS-RON-XCONNECT
OcNOS-RON-MPLS
RON 6.4.1
Cables &
Transceivers
AS7726-32X
Edgecore
Trident III
BCM88480
3.2Tbps
2 x 10GE and 32 x 100GE
each splittable into
4 x 10GE or 2 x 50GE or 4 x 25GE
OcNOS-DC-IPBASE
OcNOS-DC-MPLS
DC 6.4.1
Cables &
Transceivers
AS7816-64X
Edgecore
Tomahawk II
BCM56960_B1
6.4Tbps
64 x 100GE
each splittable into
4 x 10GE or 2 x 50GE or 4 x 25GE
OcNOS-DC-IPBASE
OcNOS-DC-MPLS
DC 6.4.1
Cables &
Transceivers
AS7946-30XB
Edgecore
Qumran 2C
BCM56965_A1
2.4Tbps
4 x 10GE/25GE SFP28
18 x 100GE QSFP28
4 x 100GE QSFP-DD
4 x 400GE QSFP-DD
OcNOS-SP-IPBASE-2400
OcNOS-SP-MPLS-2400
OcNOS-SP-IPADV-CE-AGGR-2400
OcNOS-SP-PLUS-2400
SP 6.4.1
Cables &
Transceivers
AS7946-74XKSB
Edgecore
Qumran 2C
BCM56960
2.4Tbps
10 x 100GE QSFP28
64 x 10GE/25GE SFP28
OcNOS-SP-IPBASE-2400
OcNOS-SP-MPLS-2400
OcNOS-SP-IPADV-CE-AGGR-2400
OcNOS-SP-PLUS-2400
SP 6.4.1
Cables &
Transceivers
AS4610-54T
Edgecore
Helix IV
BCM56870_A0
48 x RJ45 100/1000 Base-T and 4 x 10GE
OcNOS-ENT-IPBASE
DC 1.3.9
EoS
AS5812-54T
Edgecore
Trident II+
BCM56970_B0
48 x 10GE and 6 x 40GE
OcNOS-DC-IPBASE
DC 1.3.9
EoS
AS5812-54X
Edgecore
Maverick II
BCM88820
48 x 10GE and 6 x 40GE
OcNOS-DC-IPBASE
DC 1.3.9
EoS
AS7716-32X
Edgecore
Tomahawk
BCM88820_A1
32 x 100GE
OcNOS-DC-IPBASE
DC 1.3.9
EoS
AS9716-32D
Edgecore
Tomahawk III
BCM56980_B0
12.8 Tbps
32 x 400G
OCNOS-DC-IPBASE
DC 6.4.1
Cables &
Transceivers
DS1000
Celestica
Trident III
BCM56277_A1
128Gbps
48 x 10/100/1000 Base-T RJ45
8 x 10G SFP+
OcNOS-DC-MGMT
DC 6.4.1
Cables &
Transceivers
DX030
Celestica
Trident III
BCM56870_A0
3.2Tbps
2 x 10GE
32 x 100GE
each splittable into
4x10GE or 2x50GE or 4x25GE
OcNOS-DC-IPBASE
OcNOS-DC-MPLS
DC 6.4.1
Cables &
Transceivers
XP-D2060
Celestica
Trident II
BCM56850
48 x 10GE and 6 x 40GE
OcNOS-DC-IPBASE
DC 1.3.9
EoS
DX010
Celestica
Tomahawk
BCM56960
32 x 100GE
OcNOS-DC-IPBASE
OcNOS-DC-MPLS
DC 1.3.9
EoS
Galileo- 1 TH+
Wistron Galileo
Tomahawk Plus
BCM56965_A1
12 x 100GE
each splittable into
4 x 10GE or 2 x 50GE or 4 x 25GE
4 Coherent slots 200GE/100GE each
OcNOS-RON-IPBASE
OcNOS-RON-XCONNECT
OcNOS-RON-MPLS
RON 6.4.1
Cables &
Transceivers
S4248FBL-ON
Dell
Qumran MX
BCM88370 (ext TCAM)
40 x 10G ports
2 x 40G ports
6 x 100G ports
OCNOS-SP-IPBASE-800
OCNOS-SP-MPLS-800
OCNOS-SP-IPADV-CE-AGGR-800
SP 6.4.1
S4248FB-ON
Dell
Qumran MX
BCM88370
40 x 10G ports
2 x 40G ports
6 x 100G ports
OCNOS-SP-IPBASE-800
OCNOS-SP-MPLS-800
OCNOS-SP-IPADV-CE-AGGR-800
SP 6.4.1
S5296F-ON
Dell
Trident III
BCM56870_A0
3.2Tbps
96 x 25GE and 8 x 100GE
each splittable into
4 x 10GE or 2 x 50GE or 4 x 25GE
OcNOS-DC-IPBASE
OcNOS-DC-MPLS
DC 6.4.1
Cables &
Transceivers
S3048-ON
Dell
Helix IV
BCM56340
48 x 1000 Base-T and 4 x 10GE
OcNOS-ENT-IPBASE
DC 1.3.9
EoS
S4048-ON
Dell
Trident II
BCM56850
48 x 10GE 6 x 40GE
OcNOS-DC-IPBASE
DC 1.3.9
EoS
S4048-T-ON
Dell
Trident II+
BCM56860
48 x 10GE and 6 x 40GE
OcNOS-DC-IPBASE
DC 1.3.9
EoS
S6000-ON
Dell
Trident II
BCM56850
32 x 40GE
OcNOS-DC-IPBASE
DC 1.3.9
EoS
S6010-ON
Dell
Trident II
BCM56860
8 x 40GE
OcNOS-DC-IPBASE
DC 1.3.9
EoS
AG-9032v1
Delta
Tomahawk
BCM56960_B1
3.2Tbps
32 x 100GE
each splittable into
4 x 10GE or 2 x 50GE or 4 x 25GE
OcNOS-DC-IPBASE
OcNOS-DC-MPLS
DC 6.4.1
Cables &
Transceivers
AG-9032v2
Delta
Trident III
BCM56870_A0
3.2Tbps
2 x 10GE and 32 x 100GE
each splittable into
4 x 10GE or 2 x 50GE or 4 x 25GE
OcNOS-DC-IPBASE
OcNOS-DC-MPLS
DC 6.4.1
Cables &
Transceivers
AGC7648A
Delta
Qumran MX
BCM88375_B0 (External TCAM)
48 x 10G ports and 6 x 100G ports
OcNOS-SP-IPBASE-800
OcNOS-SP-MPLS-800
OcNOS-SP-IPADV-CE-AGGR-800
SP 6.4.1
AG7648
Delta
Trident II
BCM56850
48 x 10GE and 6 x 40GE
OcNOS-DC-IPBASE
DC 1.3.9
EoS
AG8032PL-11
Delta
Trident II
BCM56850
32 x 40GE
OcNOS-DC-IPBASE
DC 1.3.9
EoS
TIBIT XGSPON 10GE SFP+ OLT
TiBit
MicroPlug OLT
1 x 10GE Ethernet-to-XGSPON
OLT MAC bridge
OcNOS-OLT-1P
OLT 6.1.0
SDA3016SS
Zyxel
Aspen
BCM68650
16 x XGS-PON
2 x 25GE
2 x 100GE
OcNOS-OLT-16P
OLT 6.1.0
End of Sale Table
PLATFORM MODEL
PLATFORM VENDOR
ASIC
SWITCH CAPACITY
PORTS
SKU
EOS
CABLES AND TRANSCEIVERS
AS7726-32X
Edgecore
Trident III
3.2Tbps
2 x 10GE and 32 x 100GE
each splittable into
4 x 10GE or 2 x 50GE or 4 x 25GE
OcNOS-DC-IPBASE
OcNOS-DC-MPLS
Cables &
Transceivers
AS7816-64X
Edgecore
Tomahawk II
6.4Tbps
64 x 100GE
each splittable into
4 x 10GE or 2 x 50GE or 4 x 25GE
OcNOS-DC-IPBASE
OcNOS-DC-MPLS
Cables &
Transceivers
AS7946-30XB
Edgecore
Qumran 2C
2.4Tbps
4 x 10GE/25GE SFP28
18 x 100GE QSFP28
4 x 100GE QSFP-DD
4 x 400GE QSFP-DD
OcNOS-SP-IPBASE-2400
OcNOS-SP-MPLS-2400
OcNOS-SP-IPADV-CE-AGGR-2400
OcNOS-SP-PLUS-2400
Cables &
Transceivers
AS7946-74XKSB
Edgecore
Qumran 2C
2.4Tbps
10 x 100GE QSFP28
64 x 10GE/25GE SFP28
OcNOS-SP-IPBASE-2400
OcNOS-SP-MPLS-2400
OcNOS-SP-IPADV-CE-AGGR-2400
OcNOS-SP-PLUS-2400
Cables &
Transceivers
AS5812-54X
Edgecore
Maverick II
48 x 10GE and 6 x 40GE
OcNOS-DC-IPBASE
EoS
AS7716-32X
Edgecore
Tomahawk
32 x 100GE
OcNOS-DC-IPBASE
EoS
DX010
Celestica
Tomahawk
32 x 100GE
OcNOS-DC-IPBASE
OcNOS-DC-MPLS
EoS
Galileo- 1 TH+
Wistron Galileo
Tomahawk Plus
12 x 100GE
each splittable into
4 x 10GE or 2 x 50GE or 4 x 25GE
4 Coherent slots 200GE/100GE each
OcNOS-RON-IPBASE
OcNOS-RON-XCONNECT
OcNOS-RON-MPLS
Cables &
Transceivers
S4248FBL-ON
Dell
Qumran MX
40 x 10G ports
2 x 40G ports
6 x 100G ports
OCNOS-SP-IPBASE-800
OCNOS-SP-MPLS-800
OCNOS-SP-IPADV-CE-AGGR-800
S4248FB-ON
Dell
Qumran MX
40 x 10G ports
2 x 40G ports
6 x 100G ports
OCNOS-SP-IPBASE-800
OCNOS-SP-MPLS-800
OCNOS-SP-IPADV-CE-AGGR-800
S5296F-ON
Dell
Trident III
3.2Tbps
96 x 25GE and 8 x 100GE
each splittable into
4 x 10GE or 2 x 50GE or 4 x 25GE
OcNOS-DC-IPBASE
OcNOS-DC-MPLS
Cables &
Transceivers
S6000-ON
Dell
Trident II
32 x 40GE
OcNOS-DC-IPBASE
EoS
S6010-ON
Dell
Trident II
8 x 40GE
OcNOS-DC-IPBASE
EoS
AGC7648A
Delta
Qumran MX
48 x 10G ports and 6 x 100G ports
OcNOS-SP-IPBASE-800
OcNOS-SP-MPLS-800
OcNOS-SP-IPADV-CE-AGGR-800
AG7648
Delta
Trident II
48 x 10GE and 6 x 40GE
OcNOS-DC-IPBASE
EoS
AG8032PL-11
Delta
Trident II
32 x 40GE
OcNOS-DC-IPBASE
EoS
TIBIT XGSPON 10GE SFP+ OLT
TiBit
MicroPlug OLT
1 x 10GE Ethernet-to-XGSPON
OLT MAC bridge
OcNOS-OLT-1P
SDA3016SS
Zyxel
Aspen
16 x XGS-PON
2 x 25GE
2 x 100GE
OcNOS-OLT-16P