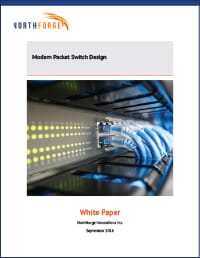 This white paper surveys the architectural evolution of Ethernet packet switches, featuring an overview of early packet switch design and the forces that have driven modern design solutions. These forces, which include increased interface speed, increased number of ports, Software-Defined Networking (SDN), Deep Packet Inspection (DPI), and Network Functions Virtualization (NFV) have had a major impact on the architecture and design of modern packet switches.
The white paper focuses on:
Data plane, control plane, management plane
The Early Years of modern packet switch design
The Later Years including the modern management Plane, the modern control plane, and the modern data plane
Architecting the Modern Switch with low-end architectures – System on a Chip (SoC solutions); mid-range and switch solutions; Deep Packet Inspection; and Network Functions Virtualization
As packet switches have evolved over time, IP Infusion Innovations has been working with network communications companies to solve their challenges with implementing packet switches and to provide solutions quickly to help them get to market faster. IP Infusion can help with Deep Packet Inspection, including intrusion detection, detection of denial of service attacks, and quality of service.
IP Infusion has the expertise in high-end switch solutions, including Broadcom switches and Cavium processors. For the latest in NFV and SDN technologies, IP Infusion has the software development experience to help companies develop their new NFV and SDN-based products or to convert existing networking functions.