Broadband Network Gateway (BNG) is an important network element that provides all the functions required to support managed subscriber broadband service. It offers critical subscriber management functions, such as authentication, IP address assignment, bandwidth allocation, and accounting. The BNG is also a multi-access edge device terminating services from access types like fixed wireline, fixed wireless, public Wi-Fi, and hybrid access.
The first generation BNG requirement is defined in BroadBand Forum (BBF) TR-092. This aggregation device is called a BRAS (Broadband Remote Access Server). The BRAS used ATM to aggregate the access network into a regional broadband network, as shown in figure 1. The traffic aggregated from the Access Nodes is steered to an IP node, the BRAS, located on the regional network's edge. Its functions include PPP termination and tunneling, subscriber management, advanced IP processing, including IP QoS, and enhanced traffic management capabilities.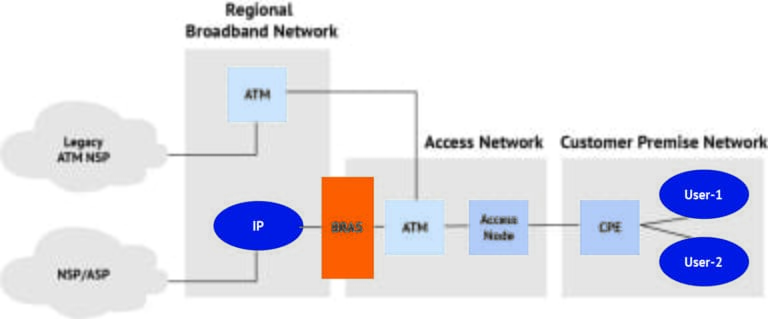 Over time, the architecture evolved from ATM-based aggregation to Ethernet-based aggregation. This architecture is defined in BBF TR-101. This document adopted the new term Broadband Network Gateway (BNG). A Multi-Service BNG extends the capabilities of a traditional BNG to offer services to both residential and business customers as well as mobile backhaul deployments. Multi-Service BNGs can be deployed at the edge of the access network or closer to the core network, as shown in Figure 2. Several Multi-Service BNGs, Central office Access nodes, and subtended Access nodes can co-exist in the same network.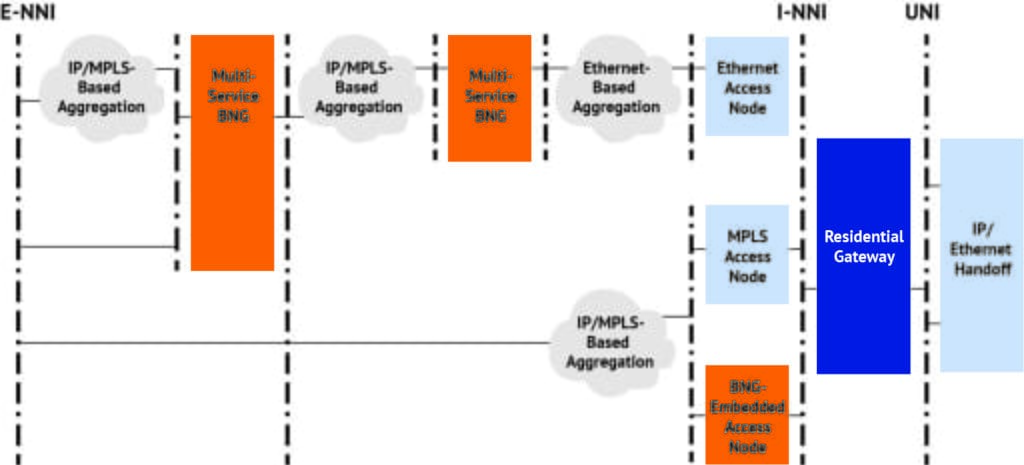 Traditionally, all the functionalities of BNG were provided by a monolithic device. The BNG supports a wide range of broadband services including VoIP, IPTV, over the top video streaming, video game streaming, business VPN services, and many other IP services. This resulted in exponential subscriber and bandwidth growth, which comes with many challenges such as:
Over-utilizing a BNG as the demand for more services grow. In this scenario, using traditional devices, operators must add more boxes.
Under-utilizing a BNG. The dynamic nature of service demands can cause the under-utilization of expensive service provider devices.
Operational challenges in managing and maintaining a geographically distributed BNG deployment.
Service provisioning across all BNGs. More independent devices in the network makes service provisioning an uphill task.
New service time to market. To add new features, the operator must upgrade all the devices, which will seriously affect the time to roll out new services.
Disaggregating the functions of the BNG provides a graceful solution to these issues. The disaggregated BNG (DBNG) tackles these challenges by separating the subscriber management control plane and the user plane. Another critical advantage of the disaggregated BNG that it avoids vendor lock-in providing major CAPEX and OPEX benefits.
The DBNG allows individual scaling of the control plane and user plane to keep up with subscriber growth and bandwidth demands. The DBNG also simplifies operations by maintaining a single user interface on the control plane to manage all user planes. Mobility, video streaming, an increased number of devices connected to the network, the recent COVID-19 pandemic, availability of white box implementations, white boxes availability, mature and less expensive cloud technologies, etc., are all accelerating BNG evolution towards disaggregation. The functional architecture of disaggregated BNG is shown in Figure 3.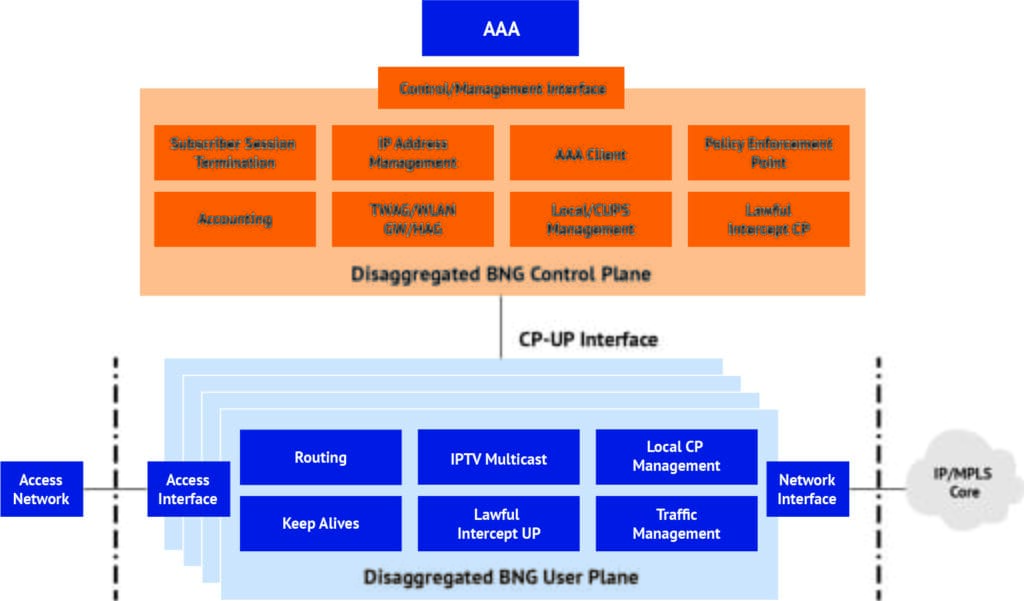 Read more about BNG, in the Disaggregated Broadband Network Gateway – Part 2 blog post.