Cables and Transceivers List
How to use this page
Narrow the list using filters for Platform Model or Transceiver Categories, then browse, search or filter further.
Filters are dynamic with each use, and can be combined for more specific subsets of data.
Use the Search box in the table to narrow down by specific keywords.

By Type. Example: search on 'RJ45'
By Reach. Example: search on '100m'

Sorting and searching can be used separately or together.
Use the Reset Filters button to reset the page.
---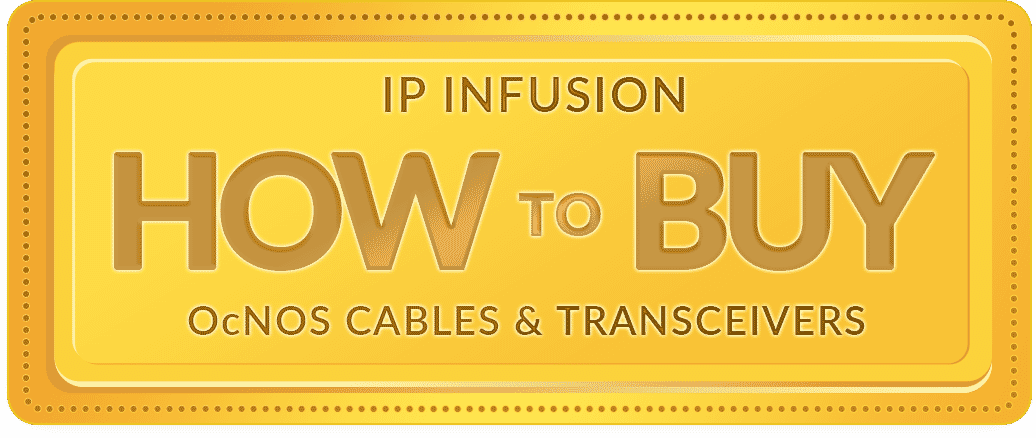 Download PDF: Filtered List Full List
| PLATFORM MODEL | OPTICS PART NUMBER | MAKE | TRANSCEIVER CATEGORY | TYPE | INTERFACE (G) | REACH | TEMP |
| --- | --- | --- | --- | --- | --- | --- | --- |
| CELESTICA DS1000 | EN-SFP1G-RJ45 | ECI Networks | Copper | RJ45 | 1 | 0.1 | Commercial |
| CELESTICA DS1000 | EN-SFP-RJ45 | ECI Networks | Copper | RJ45 | 1 | 100m | Industrial |
| CELESTICA DS1000 | EN-SFP10G-ER | ECI Networks | Grey Optics | ER | 10 | 40km | Commercial |
| CELESTICA DS1000 | EN-SFPP-ER | ECI Networks | Grey Optics | ER | 10 | 40km | Commercial |
| CELESTICA DS1000 | EN-SFP10G-SRi | ECI Networks | Grey Optics | SR | 10 | 300m | Industrial |
| CELESTICA DS1000 | EN-SFP10G-LRi | ECI Networks | Grey Optics | LR | 10 | 10km | Industrial |
| CELESTICA DS1000 | FTLX8574D3BCL | II-VI Finisar | Grey Optics | SR | 10 | 300m | Commercial |
| CELESTICA DS1000 | SFP-10G-BX | FS.COM | BiDi | BX | 10 | 10km | Commercial |
| CELESTICA DS1000 | SFP-10G-BX80 | FS.COM | BiDi | BX | 10 | 80km | Commercial |
| CELESTICA DS1000 | ET5402-DAC-3M | Edgecore | Direct Attach Cable | DAC | 10 | 3m | Commercial |
| CELESTICA DS1000 | ET5402-AOC-10M | Edgecore | Active Optical Cable | AOC | 10 | 10m | Commercial |
| CELESTICA DS1000 | ET5402-AOC-7M | Edgecore | Active Optical Cable | AOC | 10 | 7m | Commercial |
| CELESTICA DS1000 | FTLX8574D3BNL | II-VI Finisar | Grey Optics | SR | 10 | 300m | Commercial |
| CELESTICA DX030 | EN-SFP1G-RJ45 | ECI Networks | Copper | RJ45 | 1 | 100m | Commercial |
| CELESTICA DX030 | EN-SFP1G-SX | ECI Networks | Grey Optics | SX | 1 | 550m | Commercial |
| CELESTICA DX030 | EN-SFP1G-SXi | ECI Networks | Grey Optics | SX | 1 | 550m | Industrial |
| CELESTICA DX030 | EN-SFP1G-LX | ECI Networks | Grey Optics | LX | 1 | 20km | Commercial |
| CELESTICA DX030 | EN-SFP1G-LXi | ECI Networks | Grey Optics | LX | 1 | 20km | Industrial |
| CELESTICA DX030 | EN-SFP1G-EX | ECI Networks | Grey Optics | EX | 1 | 40km | Commercial |
| CELESTICA DX030 | EN-SFP1G-LH | ECI Networks | Grey Optics | LH | 1 | 70km | Commercial |
| CELESTICA DX030 | EN-SFP1G-ZX | ECI Networks | Grey Optics | ZX | 1 | 80km | Commercial |
| CELESTICA DX030 | FCBG110SD1C03 | II-VI Finisar | Active Optical Cable | AOC | 10 | 3m | Commercial |
| CELESTICA DX030 | FCBG110SD1C05 | II-VI Finisar | Active Optical Cable | AOC | 10 | 5m | Commercial |
| CELESTICA DX030 | EN-SFP10G-SR | ECI Networks | Grey Optics | SR | 10 | 300m | Commercial |
| CELESTICA DX030 | SFP-10GSR-85 | FS.COM | Grey Optics | SR | 10 | 300m | Commercial |
| CELESTICA DX030 | FTLX8574D3BCL | II-VI Finisar | Grey Optics | SR | 10 | 300m | Commercial |
| CELESTICA DX030 | EN-SFP10G-SRi | ECI Networks | Grey Optics | SR | 10 | 300m | Industrial |
| CELESTICA DX030 | EN-SFP10G-LR | ECI Networks | Grey Optics | LR | 10 | 10km | Commercial |
| CELESTICA DX030 | SFP-10G-BX | FS.COM | BiDi | BX20 | 10 | 10km | Commercial |
| CELESTICA DX030 | EN-SFP10G-LRi | ECI Networks | Grey Optics | LR | 10 | 10km | Industrial |
| CELESTICA DX030 | EN-SFP10G-ER | ECI Networks | Grey Optics | ER | 10 | 40km | Commercial |
| CELESTICA DX030 | EN-SFPP-ER | ECI Networks | Grey Optics | ER | 10 | 40km | Commercial |
| CELESTICA DX030 | SFP-10G-BX40 | FS.COM | BiDi | BX40D | 10 | 40km | Commercial |
| CELESTICA DX030 | EN-SFP10G-ERi | ECI Networks | Grey Optics | ER | 10 | 40km | Industrial |
| CELESTICA DX030 | EN-SFP10G-ZR | ECI Networks | Grey Optics | ZR | 10 | 80km | Commercial |
| CELESTICA DX030 | SFP-10G-BX80 | FS.COM | BiDi | BX | 10 | 80km | Commercial |
| CELESTICA DX030 | EN-SFP10G-ZRI | ECI Networks | Grey Optics | ZR | 10 | 80km | Industrial |
| CELESTICA DX030 | EN-QAOCBO-3M | ECI Networks | Active Optical Cable - Breakout | AOC BO | 40 | 3m | Commercial |
| CELESTICA DX030 | AFBR-79E4Z | Avago | 40GBASE-SR4 | SR4 | 40 | 100m | Commercial |
| CELESTICA DX030 | EN-QSFP40G-SR4 | ECI Networks | Grey Optics | SR4 | 40 | 150m | Commercial |
| CELESTICA DX030 | AFBR-79EEPZ-FT1 | Avago | 40GBASE-SR4 | SR4 | 40 | 400m | Commercial |
| CELESTICA DX030 | QFP1301040PD | Skylane Optics | Grey Optics | LR4 | 40 | 10km | Commercial |
| CELESTICA DX030 | EN-Q28DAC-2M | ECI Networks | Direct Attach Cable | DAC | 100 | 2m | Commercial |
| CELESTICA DX030 | EN-Q28DACBO-2M | ECI Networks | Direct Attach Cable Breakout | DAC BO | 100 | 2m | Commercial |
| CELESTICA DX030 | EN-Q28AOC-3M | ECI Networks | Active Optical Cable | AOC | 100 | 3m | Commercial |
| CELESTICA DX030 | EN-QSFP28-SR4 | ECI Networks | Grey Optics | SR4 | 100 | 100m | Commercial |
| CELESTICA DX030 | FTLC9551REPM | II-VI Finisar | Grey Optics | SR4 | 100 | 100m | Commercial |
| CELESTICA DX030 | 4WJ41 | Dell | Grey Optics | SR4 | 100 | 100m | Commercial |
| CELESTICA DX030 | EN-QSFP28-CW4 | ECI Networks | CWDM | CWDM | 100 | 2km | Commercial |
| CELESTICA DX030 | EN-QSFP28-LR4 | ECI Networks | Grey Optics | LR4 | 100 | 10km | Commercial |
| CELESTICA DX030 | EN-QSFP28-ER4 | ECI Networks | Grey Optics | ER4 | 100 | 40km | Commercial |
| CELESTICA DX030 | EN-QSFP28-ER4LI | ECI Networks | Grey Optics | ER4 | 100 | 40km | Industrial |
| CELESTICA DX030 | EN-QSFP28-ZR4 | ECI Networks | Grey Optics | ZR4 | 100 | 80km | Commercial |
| DELL S5296F-ON | EN-SFP1G-RJ45 | ECI Networks | Copper | RJ45 | 1 | 100m | Commercial |
| DELL S5296F-ON | 1000M-SFP-T-HU | Edgeoptic | Copper | RJ45 | 1 | 100m | Commercial |
| DELL S5296F-ON | EN-SFP1G-SX | ECI Networks | Grey Optics | SX | 1 | 550m | Commercial |
| DELL S5296F-ON | EN-SFP1G-SXi | ECI Networks | Grey Optics | SX | 1 | 550m | Industrial |
| DELL S5296F-ON | EN-SFP1G-LX | ECI Networks | Grey Optics | LX | 1 | 20km | Commercial |
| DELL S5296F-ON | EN-SFP1G-LXi | ECI Networks | Grey Optics | LX | 1 | 20km | Industrial |
| DELL S5296F-ON | EN-SFP1G-EX | ECI Networks | Grey Optics | EX | 1 | 40km | Commercial |
| DELL S5296F-ON | EN-SFP1G-LH | ECI Networks | Grey Optics | LH | 1 | 70km | Commercial |
| DELL S5296F-ON | EN-SFP1G-ZX | ECI Networks | Grey Optics | ZX | 1 | 80km | Commercial |
| DELL S5296F-ON | ET5402-DAC-1M | Edgecore | Direct Attach Cable | DAC | 10 | 1m | Commercial |
| DELL S5296F-ON | FCBG110SD1C01 | II-VI Finisar | Active Optical Cable | AOC | 10 | 1m | Commercial |
| DELL S5296F-ON | FCBG110SD1C03 | II-VI Finisar | Active Optical Cable | AOC | 10 | 3m | Commercial |
| DELL S5296F-ON | FCBG110SD1C05 | II-VI Finisar | Active Optical Cable | AOC | 10 | 5m | Commercial |
| DELL S5296F-ON | EN-SFP10G-SR | ECI Networks | Grey Optics | SR | 10 | 300m | Commercial |
| DELL S5296F-ON | SFP-10GSR-85 | FS.COM | Grey Optics | SR | 10 | 300m | Commercial |
| DELL S5296F-ON | FTLX8574D3BCL | II-VI Finisar | Grey Optics | SR | 10 | 300m | Commercial |
| DELL S5296F-ON | WTRD1 | Dell | Grey Optics | SR | 10 | 300m | Commercial |
| DELL S5296F-ON | EN-SFP10G-SRi | ECI Networks | Grey Optics | SR | 10 | 300m | Industrial |
| DELL S5296F-ON | EN-SFP10G-LR | ECI Networks | Grey Optics | LR | 10 | 10km | Commercial |
| DELL S5296F-ON | SFP-10G-BX | FS.COM | BiDi | BX20 | 10 | 10km | Commercial |
| DELL S5296F-ON | RN84N | Dell | Grey Optics | LR | 10 | 10km | Commercial |
| DELL S5296F-ON | EN-SFP10G-LRi | ECI Networks | Grey Optics | LR | 10 | 10km | Industrial |
| DELL S5296F-ON | EN-SFP10G-ER | ECI Networks | Grey Optics | ER | 10 | 40km | Commercial |
| DELL S5296F-ON | EN-SFPP-ER | ECI Networks | Grey Optics | ER | 10 | 40km | Commercial |
| DELL S5296F-ON | SFP-10G-BX40 | FS.COM | BiDi | BX40D | 10 | 40km | Commercial |
| DELL S5296F-ON | EN-SFP10G-ERi | ECI Networks | Grey Optics | ER | 10 | 40km | Industrial |
| DELL S5296F-ON | EN-SFP10G-ZR | ECI Networks | Grey Optics | ZR | 10 | 80km | Commercial |
| DELL S5296F-ON | SFP-10G-BX80 | FS.COM | BiDi | BX | 10 | 80km | Commercial |
| DELL S5296F-ON | EN-SFP10G-ZRI | ECI Networks | Grey Optics | ZR | 10 | 80km | Industrial |
| DELL S5296F-ON | EN-QSFP40G-SR4 | ECI Networks | Grey Optics | SR4 | 40 | 150m | Commercial |
| DELL S5296F-ON | QFP1301040PD | Skylane Optics | Grey Optics | LR4 | 40 | 10km | Commercial |
| DELL S5296F-ON | P7C7N | Dell | Direct Attach Cable | DAC | 100 | 1m | Commercial |
| DELL S5296F-ON | EN-Q28DAC-2M | ECI Networks | Direct Attach Cable | DAC | 100 | 2m | Commercial |
| DELL S5296F-ON | EN-Q28AOC-3M | ECI Networks | Active Optical Cable | AOC | 100 | 3m | Commercial |
| DELL S5296F-ON | FN4FC | Dell | Direct Attach Cable | DAC | 100 | 5m | Commercial |
| DELL S5296F-ON | EN-QSFP28-SR4 | ECI Networks | Grey Optics | SR4 | 100 | 100m | Commercial |
| DELL S5296F-ON | FTLC9551REPM | II-VI Finisar | Grey Optics | SR4 | 100 | 100m | Commercial |
| DELL S5296F-ON | 14NV5 | Dell | Grey Optics | SR4 | 100 | 100m | Commercial |
| DELL S5296F-ON | EN-QSFP28-CW4 | ECI Networks | CWDM | CWDM | 100 | 2km | Commercial |
| DELL S5296F-ON | EN-QSFP28-LR4 | ECI Networks | Grey Optics | LR4 | 100 | 10km | Commercial |
| DELL S5296F-ON | EN-QSFP28-ER4 | ECI Networks | Grey Optics | ER4 | 100 | 40km | Commercial |
| DELL S5296F-ON | EN-QSFP28-ER4LI | ECI Networks | Grey Optics | ER4 | 100 | 40km | Industrial |
| DELL S5296F-ON | EN-QSFP28-ZR4 | ECI Networks | Grey Optics | ZR4 | 100 | 80km | Commercial |
| DELL S5296F-ON | EN-SFP1G-RJ45 | ECI Networks | Copper | RJ45 | 1 | 100m | Commercial |
| DELL S5296F-ON | 1000M-SFP-T-HU | Edgeoptic | Copper | RJ45 | 1 | 100m | Commercial |
| DELL S5296F-ON | EN-SFP1G-SX | ECI Networks | Grey Optics | SX | 1 | 550m | Commercial |
| DELL S5296F-ON | EN-SFP1G-SXi | ECI Networks | Grey Optics | SX | 1 | 550m | Industrial |
| DELL S5296F-ON | EN-SFP1G-LX | ECI Networks | Grey Optics | LX | 1 | 20km | Commercial |
| DELL S5296F-ON | EN-SFP1G-LXi | ECI Networks | Grey Optics | LX | 1 | 20km | Industrial |
| DELL S5296F-ON | EN-SFP1G-EX | ECI Networks | Grey Optics | EX | 1 | 40km | Commercial |
| DELL S5296F-ON | EN-SFP1G-LH | ECI Networks | Grey Optics | LH | 1 | 70km | Commercial |
| DELL S5296F-ON | EN-SFP1G-ZX | ECI Networks | Grey Optics | ZX | 1 | 80km | Commercial |
| DELL S5296F-ON | ET5402-DAC-1M | Edgecore | Direct Attach Cable | DAC | 10 | 1m | Commercial |
| DELL S5296F-ON | FCBG110SD1C01 | II-VI Finisar | Active Optical Cable | AOC | 10 | 1m | Commercial |
| DELL S5296F-ON | FCBG110SD1C03 | II-VI Finisar | Active Optical Cable | AOC | 10 | 3m | Commercial |
| DELL S5296F-ON | FCBG110SD1C05 | II-VI Finisar | Active Optical Cable | AOC | 10 | 5m | Commercial |
| DELL S5296F-ON | EN-SFP10G-SR | ECI Networks | Grey Optics | SR | 10 | 300m | Commercial |
| DELL S5296F-ON | SFP-10GSR-85 | FS.COM | Grey Optics | SR | 10 | 300m | Commercial |
| DELL S5296F-ON | FTLX8574D3BCL | II-VI Finisar | Grey Optics | SR | 10 | 300m | Commercial |
| DELL S5296F-ON | EN-SFP10G-SRi | ECI Networks | Grey Optics | SR | 10 | 300m | Industrial |
| DELL S5296F-ON | EN-SFP10G-LR | ECI Networks | Grey Optics | LR | 10 | 10km | Commercial |
| DELL S5296F-ON | SFP-10G-BX | FS.COM | BiDi | BX20 | 10 | 10km | Commercial |
| DELL S5296F-ON | EN-SFP10G-LRi | ECI Networks | Grey Optics | LR | 10 | 10km | Industrial |
| DELL S5296F-ON | EN-SFP10G-ER | ECI Networks | Grey Optics | ER | 10 | 40km | Commercial |
| DELL S5296F-ON | EN-SFPP-ER | ECI Networks | Grey Optics | ER | 10 | 40km | Commercial |
| DELL S5296F-ON | SFP-10G-BX40 | FS.COM | BiDi | BX40D | 10 | 40km | Commercial |
| DELL S5296F-ON | EN-SFP10G-ERi | ECI Networks | Grey Optics | ER | 10 | 40km | Industrial |
| DELL S5296F-ON | EN-SFP10G-ZR | ECI Networks | Grey Optics | ZR | 10 | 80km | Commercial |
| DELL S5296F-ON | SFP-10G-BX80 | FS.COM | BiDi | BX | 10 | 80km | Commercial |
| DELL S5296F-ON | EN-SFP10G-ZRI | ECI Networks | Grey Optics | ZR | 10 | 80km | Industrial |
| DELL S5296F-ON | EN-QSFP40G-SR4 | ECI Networks | Grey Optics | SR4 | 40 | 150m | Commercial |
| DELL S5296F-ON | QFP1301040PD | Skylane Optics | Grey Optics | LR4 | 40 | 10km | Commercial |
| DELL S5296F-ON | EN-Q28DAC-2M | ECI Networks | Direct Attach Cable | DAC | 100 | 2m | Commercial |
| DELL S5296F-ON | EN-Q28AOC-3M | ECI Networks | Active Optical Cable | AOC | 100 | 3m | Commercial |
| DELL S5296F-ON | ET7402-100DAC-3M | Edgecore | Direct Attach Cable | DAC | 100 | 3m | Commercial |
| DELL S5296F-ON | EN-QSFP28-SR4 | ECI Networks | Grey Optics | SR4 | 100 | 100m | Commercial |
| DELL S5296F-ON | FTLC9551REPM | II-VI Finisar | Grey Optics | SR4 | 100 | 100m | Commercial |
| DELL S5296F-ON | EN-QSFP28-CW4 | ECI Networks | CWDM | CWDM | 100 | 2km | Commercial |
| DELL S5296F-ON | EN-QSFP28-LR4 | ECI Networks | Grey Optics | LR4 | 100 | 10km | Commercial |
| DELL S5296F-ON | EN-QSFP28-ER4 | ECI Networks | Grey Optics | ER4 | 100 | 40km | Commercial |
| DELL S5296F-ON | EN-QSFP28-ER4LI | ECI Networks | Grey Optics | ER4 | 100 | 40km | Industrial |
| DELL S5296F-ON | EN-QSFP28-ZR4 | ECI Networks | Grey Optics | ZR4 | 100 | 80km | Commercial |
| DELL S5296F-ON | FCCN410QD3C03 | II-VI Finisar | Active Optical Cable | AOC | 40 | 3m | Commercial |
| DELL S5296F-ON | EN-QAOCBO-3M | ECI Networks | Active Optical Cable - Breakout | AOC BO | 40 | 3m | Commercial |
| DELL S5296F-ON | AFBR-79E4Z | Avago | 40GBASE-SR4 | SR4 | 40 | 100m | Commercial |
| DELL S5296F-ON | FTL410QE4C | II-VI Finisar | Grey Optics | SR4 | 40 | 100m | Commercial |
| DELL S5296F-ON | EN-QSFP40G-SR4 | ECI Networks | Grey Optics | SR4 | 40 | 150m | Commercial |
| DELL S5296F-ON | QFP1301040PD | Skylane Optics | Grey Optics | LR4 | 40 | 10km | Commercial |
| DELL S5296F-ON | EN-Q28DACBO-2M | ECI Networks | Direct Attach Cable Breakout | DAC BO | 100 | 2m | Commercial |
| DELL S5296F-ON | EN-Q28AOC-3M | ECI Networks | Active Optical Cable | AOC | 100 | 3m | Commercial |
| DELL S5296F-ON | EN-QSFP28-SR4 | ECI Networks | Grey Optics | SR4 | 100 | 100m | Commercial |
| DELL S5296F-ON | FTLC9551REPM | II-VI Finisar | Grey Optics | SR4 | 100 | 100m | Commercial |
| DELL S5296F-ON | 4WJ41 | Dell | Grey Optics | SR4 | 100 | 100m | Commercial |
| DELL S5296F-ON | EN-QSFP28-CW4 | ECI Networks | CWDM | CWDM | 100 | 2km | Commercial |
| DELL S5296F-ON | EN-QSFP28-LR4 | ECI Networks | Grey Optics | LR4 | 100 | 10km | Commercial |
| DELL S5296F-ON | EN-QSFP28-ER4 | ECI Networks | Grey Optics | ER4 | 100 | 40km | Commercial |
| DELL S5296F-ON | EN-QSFP28-ER4LI | ECI Networks | Grey Optics | ER4 | 100 | 40km | Industrial |
| DELL S5296F-ON | EN-QSFP28-ZR4 | ECI Networks | Grey Optics | ZR4 | 100 | 80km | Commercial |
| DELL S5296F-ON | AFBR-79E4Z | Avago | 40GBASE-SR4 | SR4 | 40 | 100m | Commercial |
| DELL S5296F-ON | QFP1301040PD | Skylane Optics | Grey Optics | LR4 | 40 | 10km | Commercial |
| DELL S5296F-ON | EN-Q28DAC-2M | ECI Networks | Direct Attach Cable | DAC | 100 | 2m | Commercial |
| DELL S5296F-ON | 4WJ41 | Dell | Grey Optics | SR4 | 100 | 100m | Commercial |
| DELL S5296F-ON | EN-SFP1G-RJ45 | ECI Networks | Copper | RJ45 | 1 | 100m | Commercial |
| DELL S5296F-ON | 1000M-SFP-T-HU | Edgeoptic | Copper | RJ45 | 1 | 100m | Commercial |
| DELL S5296F-ON | FCLF8521P2BTL | Finisar | Copper | RJ45 | 1 | 100m | Industrial |
| DELL S5296F-ON | EN-SFP1G-SX | ECI Networks | Grey Optics | SX | 1 | 550m | Commercial |
| DELL S5296F-ON | EN-SFP1G-SXi | ECI Networks | Grey Optics | SX | 1 | 550m | Industrial |
| DELL S5296F-ON | FTLF8519P3BTL | II-VI Finisar | Grey Optics | SX | 1 | 550m | Industrial |
| DELL S5296F-ON | EN-SFP1G-LX | ECI Networks | Grey Optics | LX | 1 | 20km | Commercial |
| DELL S5296F-ON | EN-SFP1G-LXi | ECI Networks | Grey Optics | LX | 1 | 20km | Industrial |
| DELL S5296F-ON | OP6C-W20-B5-CM | Optech | BiDi | LR | 1 | 20km | Commercial |
| DELL S5296F-ON | OP6C-W20-B3-CM | Optech | BiDi | LR | 1 | 20km | Commercial |
| DELL S5296F-ON | EN-SFP1G-EX | ECI Networks | Grey Optics | EX | 1 | 40km | Commercial |
| DELL S5296F-ON | EN-SFP1G-LH | ECI Networks | Grey Optics | LH | 1 | 70km | Commercial |
| DELL S5296F-ON | EN-SFP1G-ZX | ECI Networks | Grey Optics | ZX | 1 | 80km | Commercial |
| DELL S5296F-ON | EN-SFP1G-IDL100 | ECI Networks | Grey Optics | ZX | 1 | 100km | Industrial |
| DELL S5296F-ON | EN-SFP-iRJ45 | ECI Networks | Copper | RJ45 | 1 | 100m | Industrial |
| DELL S5296F-ON | EN-SFP1G-EXi | ECI Networks | Grey Optics | EXi | 1 | 40km | Industrial |
| DELL S5296F-ON | EN-SFP1G-ZXi | ECI Networks | Grey Optics | ZXi | 1 | 80km | Industrial |
| DELL S5296F-ON | EN-SFP-RJ45 | ECI Networks | Copper | RJ45 | 1 | 100m | Industrial |
| DELL S5296F-ON | LCP-1250B4QDRTFF | DELTA | | LX | 1 | | |
| DELL S5296F-ON | LS38-C3L-TI-N-QB | APAC | | BX10-U | 1 | | |
| DELL S5296F-ON | LS48-C3L-TI-N-QB | APAC | | BX10-D | 1 | | |
| DELL S5296F-ON | SFP-GE-BX20KM-55 | SONGXIN | | BASE-BX10 | 1 | | |
| DELL S5296F-ON | SFP-GE-BX20KM-31 | SONGXIN | | BASE-BX10 | 1 | | |
| DELL S5296F-ON | ET5402-DAC-1M | Edgecore | Direct Attach Cable | DAC | 10 | 1m | Commercial |
| DELL S5296F-ON | FCBG110SD1C01 | II-VI Finisar | Active Optical Cable | AOC | 10 | 1m | Commercial |
| DELL S5296F-ON | ET5402-DAC-3M | Edgecore | Direct Attach Cable | DAC | 10 | 3m | Commercial |
| DELL S5296F-ON | FCBG110SD1C03 | II-VI Finisar | Active Optical Cable | AOC | 10 | 3m | Commercial |
| DELL S5296F-ON | OPSFPP-T-03-PEL | Optech | Direct Attach Cable | DAC | 10 | 3m | Commercial |
| DELL S5296F-ON | FCBG110SD1C05 | II-VI Finisar | Active Optical Cable | AOC | 10 | 5m | Commercial |
| DELL S5296F-ON | ET5402-AOC-7M | Edgecore | Active Optical Cable | AOC | 10 | 7m | Commercial |
| DELL S5296F-ON | ET5402-AOC-10M | Edgecore | Active Optical Cable | AOC | 10 | 10m | Commercial |
| DELL S5296F-ON | EN-SFP10G-SR | ECI Networks | Grey Optics | SR | 10 | 300m | Commercial |
| DELL S5296F-ON | EN-SFP10G-SRi | ECI Networks | Grey Optics | SR | 10 | 300m | Industrial |
| DELL S5296F-ON | SFP-10GSR-85 | FS.COM | Grey Optics | SR | 10 | 300m | Commercial |
| DELL S5296F-ON | FTLX8574D3BCL | II-VI Finisar | Grey Optics | SR | 10 | 300m | Commercial |
| DELL S5296F-ON | FTLX8574D3BNL | II-VI Finisar | Grey Optics | SR | 10 | 300m | Commercial |
| DELL S5296F-ON | EN-SFP10G-LR | ECI Networks | Grey Optics | LR | 10 | 10km | Commercial |
| DELL S5296F-ON | EN-SFP10G-LRi | ECI Networks | Grey Optics | LR | 10 | 10km | Industrial |
| DELL S5296F-ON | ET5402-LR | Edgecore | Grey Optics | LR | 10 | 10km | Commercial |
| DELL S5296F-ON | EN-SFP10G-BXD20 | ECI Networks | BiDi | BXD20 | 10 | 20km | Commercial |
| DELL S5296F-ON | EN-SFP10G-BXU20 | ECI Networks | BiDi | BXU20 | 10 | 20km | Commercial |
| DELL S5296F-ON | EN-SFP10G-ER | ECI Networks | Grey Optics | ER | 10 | 40km | Commercial |
| DELL S5296F-ON | EN-SFPP-ER | ECI Networks | Grey Optics | ER | 10 | 40km | Commercial |
| DELL S5296F-ON | EN-SFP10G-BXD40 | ECI Networks | BiDi | BXD40 | 10 | 40km | Commercial |
| DELL S5296F-ON | EN-SFP10G-BXU40 | ECI Networks | BiDi | BXU40 | 10 | 40km | Commercial |
| DELL S5296F-ON | EN-SFP10G-ERi | ECI Networks | Grey Optics | ER | 10 | 40km | Industrial |
| DELL S5296F-ON | EN-SFP10G-BXID40 | ECI Networks | BiDi | BXID40 | 10 | 40km | Industrial |
| DELL S5296F-ON | EN-SFP10G-BXIU40 | ECI Networks | BiDi | BXIU40 | 10 | 40km | Industrial |
| DELL S5296F-ON | SFP-10G-BX40 | FS.COM | BiDi | BX40D | 10 | 40km | Commercial |
| DELL S5296F-ON | EN-SFP10G-ZR | ECI Networks | Grey Optics | ZR | 10 | 80km | Commercial |
| DELL S5296F-ON | EN-SFP10G-ZRI | ECI Networks | Grey Optics | ZR | 10 | 80km | Industrial |
| DELL S5296F-ON | SFP-10G-BX80 | FS.COM | BiDi | BX | 10 | 80km | Commercial |
| DELL S5296F-ON | EN-SFP10G-BXID20 | ECI Networks | BiDi | BXID20 | 10 | 20km | Industrial |
| DELL S5296F-ON | EN-SFP10G-BXIU20 | ECI Networks | BiDi | BXIU20 | 10 | 20km | Industrial |
| DELL S5296F-ON | ET5402-LR | Edgecore | Grey Optics | LR | 10 | 10km | Commercial |
| DELL S5296F-ON | SFP-10G-BX | FS.COM | BiDi | BX20 | 10 | 10km | Commercial |
| DELL S5296F-ON | SFP-10G-3M | OEM | | SFP/SFP+/SFP28 | 10 | | |
| DELL S5296F-ON | 616740003 | Amphenol | | SFP/SFP+/SFP28 | 10 | | |
| DELL S5296F-ON | 10093084-2030LF | Amphenol FCI | Direct Attach Cable | DAC | 40 | 3m | Commercial |
| DELL S5296F-ON | ET6402-40AOC-7M | Edgecore | Active Optical Cable | AOC | 40 | 7m | Commercial |
| DELL S5296F-ON | FTL410QE4C | II-VI Finisar | Grey Optics | SR4 | 40 | 100m | Commercial |
| DELL S5296F-ON | FTL410QE4C-1Y | II-VI Finisar | Grey Optics | SR4 | 40 | 100m | Commercial |
| DELL S5296F-ON | EN-QSFP40G-SR4 | ECI Networks | Grey Optics | SR4 | 40 | 150m | Commercial |
| DELL S5296F-ON | EN-QSFPP-PIR | ECI Networks | Grey Optics | IR4-PSM | 40 | 1.4km | Commercial |
| DELL S5296F-ON | EN-QSFP40G-LR4 | ECI Networks | Grey Optics | LR4 | 40 | 10km | Commercial |
| DELL S5296F-ON | EN-QSFP-PLR4 | ECI Networks | Grey Optics | LR4 | 40 | 10km | Commercial |
| DELL S5296F-ON | EN-QSFPP-LRL4 | ECI Networks | Grey Optics | LR4 | 40 | 10km | Commercial |
| DELL S5296F-ON | QFP1301040PD | Skylane Optics | Grey Optics | LR4 | 40 | 10km | Commercial |
| DELL S5296F-ON | EN-QSFP40G-ER4 | ECI Networks | Grey Optics | ER4 | 40 | 40km | Commercial |
| DELL S5296F-ON | EN-QSFP40G-LR4i | ECI Networks | Grey Optics | LR4i | 40 | 10km | Industrial |
| DELL S5296F-ON | QSFP-40GBASE-SR4-C | Prolabs | | SR4 | 40 | | Commercial |
| DELL S5296F-ON | ET7402-100DAC-1M | Edgecore | Direct Attach Cable | DAC | 100 | 1m | Commercial |
| DELL S5296F-ON | EN-Q28DAC-2M | ECI Networks | Direct Attach Cable | DAC | 100 | 2m | Commercial |
| DELL S5296F-ON | EN-Q28AOC-3M | ECI Networks | Active Optical Cable | AOC | 100 | 3m | Commercial |
| DELL S5296F-ON | ET7402-100DAC-3M | Edgecore | Direct Attach Cable | DAC | 100 | 3m | Commercial |
| DELL S5296F-ON | ET7402-25DAC-3M | Edgecore | Direct Attach Cable Breakout | DAC BO | 100 | 3m | Commercial |
| DELL S5296F-ON | EN-QSFP28-SR4 | ECI Networks | Grey Optics | SR4 | 100 | 100m | Commercial |
| DELL S5296F-ON | QSFP28-SR4-100G | FS.COM | Grey Optics | SR4 | 100 | 100m | Commercial |
| DELL S5296F-ON | FTLC9551REPM | II-VI Finisar | Grey Optics | SR4 | 100 | 100m | Commercial |
| DELL S5296F-ON | FTLC9558REPM | II-VI Finisar | Grey Optics | SR4 | 100 | 100m | Commercial |
| DELL S5296F-ON | EN-QSFP28-PSM4 | ECI Networks | Grey Optics | PSM4 | 100 | 500m | Commercial |
| DELL S5296F-ON | EN-QSFP28-CW4 | ECI Networks | CWDM | CWDM | 100 | 2km | Commercial |
| DELL S5296F-ON | EN-QSFP28-LR4 | ECI Networks | Grey Optics | LR4 | 100 | 10km | Commercial |
| DELL S5296F-ON | EN-QSFP28-LR4i | ECI Networks | Grey Optics | LR4 | 100 | 10km | Industrial |
| DELL S5296F-ON | EN-QSFP28-ER4 | ECI Networks | Grey Optics | ER4 | 100 | 40km | Commercial |
| DELL S5296F-ON | EN-QSFP28-ER4LI | ECI Networks | Grey Optics | ER4 | 100 | 40km | Industrial |
| DELL S5296F-ON | EN-QSFP28-ZR4 | ECI Networks | Grey Optics | ZR4 | 100 | 80km | Commercial |
| DELL S5296F-ON | EN-QSFP28-FR1 | ECI Networks | Grey Optics | FR1 | 100 | 2km | Commercial |
| DELL S5296F-ON | EN-QSFP28-DR1 | ECI Networks | Grey Optics | DR1 | 100 | 500m | Commercial |
| DELL S5296F-ON | EN-Q28-eLR4-S | ECI Networks | Grey Optics | LR4 | 100 | 20km | Commercial |
| DELL S5296F-ON | ET7402-SR4 | Edgecore | Grey Optics | SR4 | 100 | 70m | Commercial |
| DELL S5296F-ON | 76V43 | Dell | Direct Attach Cable | QSFP28 DAC | 100 | 2m | Commercial |
| DELL S5296F-ON | 4WJ41 | Dell | Grey Optics | QSFP28 MPO | 100 | 100m | Commercial |
| DELL S5296F-ON | 00D5803-N13692A | IBM-Amphenol | | QSFP28 | 100 | | |
| DELL S5296F-ON | QSFP28-100GB-LR4-I-C | Prolabs | | LR4 | 100 | | Industrial |
| DELL S5296F-ON | EN-QSFP28-ER4LI | ECI Networks | Grey Optics | ER4 | 100 | 40km | Industrial |
| DELL S5296F-ON | EN-QSFP28-ZR4 | ECI Networks | Grey Optics | ZR4 | 100 | 80km | Commercial |
| DELL S5296F-ON | FTLC9551REPM | II-VI Finisar | Grey Optics | SR4 | 100 | 100m | Commercial |
| DELL S5296F-ON | EN-QSFP28-FR1 | ECI Networks | Grey Optics | FR1 | 100 | 2km | Commercial |
| DELL S5296F-ON | EN-QSFP28-LR4i | ECI Networks | Grey Optics | LR4 | 100 | 10km | Industrial |
| DELL S5296F-ON | EN-QSFP28-SR4-FSR | ECI Networks | Grey Optics | SR4 | 100 | 100m | Commercial |
| DELL S5296F-ON | QSFP28-100GB-LR4-I-C | Prolabs | | LR4 | 100 | | Industrial |
| DELL S5296F-ON | EN-SFP1G-RJ45 | ECI Networks | Copper | RJ45 | 1 | 100m | Commercial |
| DELL S5296F-ON | EN-SFP-RJ45 | ECI Networks | Copper | RJ45 | 1 | 100m | Commercial |
| DELL S5296F-ON | 1000M-SFP-T-HU | Edgeoptic | Copper | RJ45 | 1 | 100m | Commercial |
| DELL S5296F-ON | FCLF8521P2BTL | Finisar | Copper | RJ45 | 1 | 100m | Industrial |
| DELL S5296F-ON | EN-SFP1G-SX | ECI Networks | Grey Optics | SX | 1 | 550m | Commercial |
| DELL S5296F-ON | EN-SFP1G-SXi | ECI Networks | Grey Optics | SX | 1 | 550m | Industrial |
| DELL S5296F-ON | FTLF8519P3BTL | II-VI Finisar | Grey Optics | SX | 1 | 550m | Industrial |
| DELL S5296F-ON | EN-SFP1G-LX | ECI Networks | Grey Optics | LX | 1 | 20km | Commercial |
| DELL S5296F-ON | EN-SFP1G-LXi | ECI Networks | Grey Optics | LX | 1 | 20km | Industrial |
| DELL S5296F-ON | OP6C-W20-B5-CM | Optech | BiDi | LR | 1 | 20km | Commercial |
| DELL S5296F-ON | OP6C-W20-B3-CM | Optech | BiDi | LR | 1 | 20km | Commercial |
| DELL S5296F-ON | EN-SFP1G-EX | ECI Networks | Grey Optics | EX | 1 | 40km | Commercial |
| DELL S5296F-ON | EN-SFP1G-EXi | ECI Networks | Grey Optics | EX | 1 | 40km | Industrial |
| DELL S5296F-ON | EN-SFP1G-LH | ECI Networks | Grey Optics | LH | 1 | 70km | Commercial |
| DELL S5296F-ON | EN-SFP1G-ZX | ECI Networks | Grey Optics | ZX | 1 | 80km | Commercial |
| DELL S5296F-ON | EN-SFP1G-IDL100 | ECI Networks | Grey Optics | ZX | 1 | 100km | Industrial |
| DELL S5296F-ON | EN-SFP-iRJ45 | ECI Networks | Copper | RJ45 | 1 | 100m | Industrial |
| DELL S5296F-ON | LCP-1250B4QDRTFF | DELTA | | LX | 1 | | |
| DELL S5296F-ON | LS38-C3L-TI-N-QB | APAC | | BX10-U | 1 | | |
| DELL S5296F-ON | LS48-C3L-TI-N-QB | APAC | | BX10-D | 1 | | |
| DELL S5296F-ON | SFP-GE-BX20KM-55 | SONGXIN | | BASE-BX10 | 1 | | |
| DELL S5296F-ON | SFP-GE-BX20KM-31 | SONGXIN | | BASE-BX10 | 1 | | |
| DELL S5296F-ON | EN-SFP1G-ZXi | ECI Networks | Grey Optics | ZX | 1 | 80km | Industrial |
| DELL S5296F-ON | ET5402-DAC-1M | Edgecore | Direct Attach Cable | DAC | 10 | 1m | Commercial |
| DELL S5296F-ON | FCBG110SD1C01 | II-VI Finisar | Active Optical Cable | AOC | 10 | 1m | Commercial |
| DELL S5296F-ON | ET5402-DAC-3M | Edgecore | Direct Attach Cable | DAC | 10 | 3m | Commercial |
| DELL S5296F-ON | FCBG110SD1C03 | II-VI Finisar | Active Optical Cable | AOC | 10 | 3m | Commercial |
| DELL S5296F-ON | OPSFPP-T-03-PEL | Optech | Direct Attach Cable | DAC | 10 | 3m | Commercial |
| DELL S5296F-ON | FCBG110SD1C05 | II-VI Finisar | Active Optical Cable | AOC | 10 | 5m | Commercial |
| DELL S5296F-ON | ET5402-AOC-7M | Edgecore | Active Optical Cable | AOC | 10 | 7m | Commercial |
| DELL S5296F-ON | ET5402-AOC-10M | Edgecore | Active Optical Cable | AOC | 10 | 10m | Commercial |
| DELL S5296F-ON | EN-SFP10G-SR | ECI Networks | Grey Optics | SR | 10 | 300m | Commercial |
| DELL S5296F-ON | EN-SFP10G-SRi | ECI Networks | Grey Optics | SR | 10 | 300m | Industrial |
| DELL S5296F-ON | SFP-10GSR-85 | FS.COM | Grey Optics | SR | 10 | 300m | Commercial |
| DELL S5296F-ON | FTLX8574D3BCL | II-VI Finisar | Grey Optics | SR | 10 | 300m | Commercial |
| DELL S5296F-ON | FTLX8574D3BNL | II-VI Finisar | Grey Optics | SR | 10 | 300m | Commercial |
| DELL S5296F-ON | EN-SFP10G-LR | ECI Networks | Grey Optics | LR | 10 | 10km | Commercial |
| DELL S5296F-ON | EN-SFP10G-LRi | ECI Networks | Grey Optics | LR | 10 | 10km | Industrial |
| DELL S5296F-ON | ET5402-LR | Edgecore | Grey Optics | LR | 10 | 10km | Commercial |
| DELL S5296F-ON | SFP-10G-BX | FS.COM | BiDi | BX | 10 | 10km | Commercial |
| DELL S5296F-ON | TXM-MPOLT-01C | TIBIT | Micro Plug | Class 01 | 10 | 10km | Commercial |
| DELL S5296F-ON | TXM-MPOLT-05I | TIBIT | Micro Plug | Class 05 | 10 | 10km | Industrial |
| DELL S5296F-ON | EN-SFP10G-BXD20 | ECI Networks | BiDi | BXD20 | 10 | 20km | Commercial |
| DELL S5296F-ON | EN-SFP10G-BXU20 | ECI Networks | BiDi | BXU20 | 10 | 20km | Commercial |
| DELL S5296F-ON | EN-SFP10G-ER | ECI Networks | Grey Optics | ER | 10 | 40km | Commercial |
| DELL S5296F-ON | EN-SFPP-ER | ECI Networks | Grey Optics | ER | 10 | 40km | Commercial |
| DELL S5296F-ON | EN-SFP10G-BXD40 | ECI Networks | BiDi | BXD40 | 10 | 40km | Commercial |
| DELL S5296F-ON | EN-SFP10G-BXU40 | ECI Networks | BiDi | BXU40 | 10 | 40km | Commercial |
| DELL S5296F-ON | EN-SFP10G-ERi | ECI Networks | Grey Optics | ER | 10 | 40km | Industrial |
| DELL S5296F-ON | EN-SFP10G-BXID40 | ECI Networks | BiDi | BXID40 | 10 | 40km | Industrial |
| DELL S5296F-ON | EN-SFP10G-BXIU40 | ECI Networks | BiDi | BXIU40 | 10 | 40km | Industrial |
| DELL S5296F-ON | SFP-10G-BX40 | FS.COM | BiDi | BX40D | 10 | 40km | Commercial |
| DELL S5296F-ON | EN-SFP10G-ZR | ECI Networks | Grey Optics | ZR | 10 | 80km | Commercial |
| DELL S5296F-ON | EN-SFP10G-ZRI | ECI Networks | Grey Optics | ZR | 10 | 80km | Industrial |
| DELL S5296F-ON | SFP-10G-BX80 | FS.COM | BiDi | BX | 10 | 80km | Commercial |
| DELL S5296F-ON | EN-SFP10G-BXID20 | ECI Networks | BiDi | BXID20 | 10 | 20km | Industrial |
| DELL S5296F-ON | EN-SFP10G-BXIU20 | ECI Networks | BiDi | BXID20 | 10 | 20km | Industrial |
| DELL S5296F-ON | 616740003 | Amphenol | | SFP/SFP+/SFP28 | 10 | | |
| DELL S5296F-ON | 616740001 | Amphenol | | SFP/SFP+/SFP28 | 10 | | |
| DELL S5296F-ON | SFP-10G-3M | OEM | | SFP/SFP+/SFP28 | 10 | | |
| DELL S5296F-ON | SFP-10GBASE-LR-I-C | Prolabs | | LR | 10 | | Industrial |
| DELL S5296F-ON | 10093084-2030LF | Amphenol FCI | Direct Attach Cable | DAC | 40 | 3m | Commercial |
| DELL S5296F-ON | ET6402-40AOC-7M | Edgecore | Active Optical Cable | AOC | 40 | 7m | Commercial |
| DELL S5296F-ON | EN-QSFP40G-SR4 | ECI Networks | Grey Optics | SR4 | 40 | 150m | Commercial |
| DELL S5296F-ON | EN-QSFPP-PIR | ECI Networks | Grey Optics | IR4-PSM | 40 | 1.4km | Commercial |
| DELL S5296F-ON | EN-QSFP40G-LR4 | ECI Networks | Grey Optics | LR4 | 40 | 10km | Commercial |
| DELL S5296F-ON | EN-QSFP-PLR4 | ECI Networks | Grey Optics | LR4 | 40 | 10km | Commercial |
| DELL S5296F-ON | EN-QSFPP-LRL4 | ECI Networks | Grey Optics | LR4 | 40 | 10km | Commercial |
| DELL S5296F-ON | QFP1301040PD | Skylane Optics | Grey Optics | LR4 | 40 | 10km | Commercial |
| DELL S5296F-ON | EN-QSFP40G-ER4 | ECI Networks | Grey Optics | ER4 | 40 | 40km | Commercial |
| DELL S5296F-ON | EN-QSFP40G-LR4i | ECI Networks | Grey Optics | LR4 | 40 | 10km | Industrial |
| DELL S5296F-ON | QSFP-40GBASE-SR4-C | Prolabs | | | 40 | | Commercial |
| DELL S5296F-ON | QSFP-40G-DAC | Fiberstore | | | | | |
| DELL S5296F-ON | ET7402-100DAC-1M | Edgecore | Direct Attach Cable | DAC | 100 | 1m | Commercial |
| DELL S5296F-ON | EN-Q28DAC-2M | ECI Networks | Direct Attach Cable | DAC | 100 | 2m | Commercial |
| DELL S5296F-ON | EN-Q28AOC-3M | ECI Networks | Active Optical Cable | AOC | 100 | 3m | Commercial |
| DELL S5296F-ON | ET7402-100DAC-3M | Edgecore | Direct Attach Cable | DAC | 100 | 3m | Commercial |
| DELL S5296F-ON | ET7402-100AOC-10M | Edgecore | Direct Attach Cable | DAC | 100 | 10m | Commercial |
| DELL S5296F-ON | FCBN425QE1C10 | II-VI Finisar | Active Optical Cable | AOC | 100 | 10m | Commercial |
| DELL S5296F-ON | ET7402-SR4 | Edgecore | Grey Optics | SR4 | 100 | 70m | Commercial |
| DELL S5296F-ON | EN-QSFP28-SR4 | ECI Networks | Grey Optics | SR4 | 100 | 100m | Commercial |
| DELL S5296F-ON | QSFP28-SR4-100G | FS.COM | Grey Optics | SR4 | 100 | 100m | Commercial |
| DELL S5296F-ON | FTLC9551REPM | II-VI Finisar | Grey Optics | SR4 | 100 | 100m | Commercial |
| DELL S5296F-ON | FTLC9558REPM | II-VI Finisar | Grey Optics | SR4 | 100 | 100m | Commercial |
| DELL S5296F-ON | EN-QSFP28-PSM4 | ECI Networks | Grey Optics | PSM4 | 100 | 500m | Commercial |
| DELL S5296F-ON | EN-QSFP28-DR1 | ECI Networks | Grey Optics | DR1 | 100 | 500m | Commercial |
| DELL S5296F-ON | EN-QSFP28-CW4 | ECI Networks | CWDM | CWDM | 100 | 2km | Commercial |
| DELL S5296F-ON | EN-QSFP28-FR1 | ECI Networks | Grey Optics | FR1 | 100 | 2km | Commercial |
| DELL S5296F-ON | Q28QL002C00F | Skylane Optics | CWDM | CWDM | 100 | 2km | Commercial |
| DELL S5296F-ON | EN-Q28DACBO-3M | ECI Networks | Direct Attach Cable Breakout | DAC BO | 100 | 3m | Commercial |
| DELL S5296F-ON | ET7402-25DAC-3M | Edgecore | Direct Attach Cable Breakout | DAC BO | 100 | 3m | Commercial |
| DELL S5296F-ON | EN-Q28-eLR4-S | ECI Networks | Grey Optics | LR4 | 100 | 20km | Commercial |
| DELL S5296F-ON | ET7402-SR4 | Edgecore | Grey Optics | SR4 | 100 | 70m | Commercial |
| DELL S5296F-ON | EN-QSFP28-LR4 | ECI Networks | Grey Optics | LR4 | 100 | 10km | Commercial |
| DELL S5296F-ON | QSFP28-LR4-100G | FS.COM | Grey Optics | LR4 | 100 | 10km | Commercial |
| DELL S5296F-ON | EN-QSFP28-ER4 | ECI Networks | Grey Optics | ER4 | 100 | 40km | Commercial |
| DELL S5296F-ON | EN-QSFP28-ER4LI | ECI Networks | Grey Optics | ER4 | 100 | 40km | Industrial |
| DELL S5296F-ON | EN-QSFP28-ZR4 | ECI Networks | Grey Optics | ZR4 | 100 | 80km | Commercial |
| DELL S5296F-ON | 616760001 | Amphenol FCI | | | | | |
| DELL S5296F-ON | 76V43 | Dell | Direct Attach Cable | QSFP28 DAC | 100 | 2m | Commercial |
| DELL S5296F-ON | 00D5803-N13692A | IBM-Amphenol | | QSFP28 | 100 | | |
| DELTA AGC7648A | EN-SFP1G-RJ45 | ECI Networks | Copper | RJ45 | 1 | 100m | Commercial |
| DELTA AGC7648A | 1000M-SFP-T-HU | Edgeoptic | Copper | RJ45 | 1 | 100m | Commercial |
| DELTA AGC7648A | EN-SFP1G-SX | ECI Networks | Grey Optics | SX | 1 | 550m | Commercial |
| DELTA AGC7648A | EN-SFP1G-SXi | ECI Networks | Grey Optics | SX | 1 | 550m | Industrial |
| DELTA AGC7648A | EN-SFP1G-LX | ECI Networks | Grey Optics | LX | 1 | 20km | Commercial |
| DELTA AGC7648A | EN-SFP1G-LXi | ECI Networks | Grey Optics | LX | 1 | 20km | Industrial |
| DELTA AGC7648A | EN-SFP1G-EX | ECI Networks | Grey Optics | EX | 1 | 40km | Commercial |
| DELTA AGC7648A | EN-SFP1G-LH | ECI Networks | Grey Optics | LH | 1 | 70km | Commercial |
| DELTA AGC7648A | EN-SFP1G-ZX | ECI Networks | Grey Optics | ZX | 1 | 80km | Commercial |
| DELTA AGC7648A | ET5402-DAC-1M | Edgecore | Direct Attach Cable | DAC | 10 | 1m | Commercial |
| DELTA AGC7648A | FCBG110SD1C01 | II-VI Finisar | Active Optical Cable | AOC | 10 | 1m | Commercial |
| DELTA AGC7648A | FCBG110SD1C03 | II-VI Finisar | Active Optical Cable | AOC | 10 | 3m | Commercial |
| DELTA AGC7648A | FCBG110SD1C05 | II-VI Finisar | Active Optical Cable | AOC | 10 | 5m | Commercial |
| DELTA AGC7648A | EN-SFP10G-SR | ECI Networks | Grey Optics | SR | 10 | 300m | Commercial |
| DELTA AGC7648A | SFP-10GSR-85 | FS.COM | Grey Optics | SR | 10 | 300m | Commercial |
| DELTA AGC7648A | FTLX8574D3BCL | II-VI Finisar | Grey Optics | SR | 10 | 300m | Commercial |
| DELTA AGC7648A | EN-SFP10G-SRi | ECI Networks | Grey Optics | SR | 10 | 300m | Industrial |
| DELTA AGC7648A | EN-SFP10G-LR | ECI Networks | Grey Optics | LR | 10 | 10km | Commercial |
| DELTA AGC7648A | SFP-10G-BX | FS.COM | BiDi | BX20 | 10 | 10km | Commercial |
| DELTA AGC7648A | EN-SFP10G-LRi | ECI Networks | Grey Optics | LR | 10 | 10km | Industrial |
| DELTA AGC7648A | EN-SFP10G-ER | ECI Networks | Grey Optics | ER | 10 | 40km | Commercial |
| DELTA AGC7648A | EN-SFPP-ER | ECI Networks | Grey Optics | ER | 10 | 40km | Commercial |
| DELTA AGC7648A | SFP-10G-BX40 | FS.COM | BiDi | BX40D | 10 | 40km | Commercial |
| DELTA AGC7648A | EN-SFP10G-ERi | ECI Networks | Grey Optics | ER | 10 | 40km | Industrial |
| DELTA AGC7648A | EN-SFP10G-ZR | ECI Networks | Grey Optics | ZR | 10 | 80km | Commercial |
| DELTA AGC7648A | SFP-10G-BX80 | FS.COM | BiDi | BX | 10 | 80km | Commercial |
| DELTA AGC7648A | EN-SFP10G-ZRI | ECI Networks | Grey Optics | ZR | 10 | 80km | Industrial |
| DELTA AGC7648A | EN-QSFP40G-SR4 | ECI Networks | Grey Optics | SR4 | 40 | 150m | Commercial |
| DELTA AGC7648A | QFP1301040PD | Skylane Optics | Grey Optics | LR4 | 40 | 10km | Commercial |
| DELTA AGC7648A | EN-Q28DAC-2M | ECI Networks | Direct Attach Cable | DAC | 100 | 2m | Commercial |
| DELTA AGC7648A | EN-Q28AOC-3M | ECI Networks | Active Optical Cable | AOC | 100 | 3m | Commercial |
| DELTA AGC7648A | ET7402-100DAC-3M | Edgecore | Direct Attach Cable | DAC | 100 | 3m | Commercial |
| DELTA AGC7648A | EN-QSFP28-SR4 | ECI Networks | Grey Optics | SR4 | 100 | 100m | Commercial |
| DELTA AGC7648A | FTLC9551REPM | II-VI Finisar | Grey Optics | SR4 | 100 | 100m | Commercial |
| DELTA AGC7648A | EN-QSFP28-CW4 | ECI Networks | CWDM | CWDM | 100 | 2km | Commercial |
| DELTA AGC7648A | EN-QSFP28-LR4 | ECI Networks | Grey Optics | LR4 | 100 | 10km | Commercial |
| DELTA AGC7648A | EN-QSFP28-ER4 | ECI Networks | Grey Optics | ER4 | 100 | 40km | Commercial |
| DELTA AGC7648A | EN-QSFP28-ER4LI | ECI Networks | Grey Optics | ER4 | 100 | 40km | Industrial |
| DELTA AGC7648A | EN-QSFP28-ZR4 | ECI Networks | Grey Optics | ZR4 | 100 | 80km | Commercial |
| DELTA AG-9032V1 | FCCN410QD3C03 | II-VI Finisar | Active Optical Cable | AOC | 40 | 3m | Commercial |
| DELTA AG-9032V1 | EN-QAOCBO-3M | ECI Networks | Active Optical Cable Breakout | AOC BO | 40 | 3m | Commercial |
| DELTA AG-9032V1 | AFBR-79E4Z | Avago | 40GBASE-SR4 | SR4 | 40 | 100m | Commercial |
| DELTA AG-9032V1 | FTL410QE4C | II-VI Finisar | Grey Optics | SR4 | 40 | 100m | Commercial |
| DELTA AG-9032V1 | EN-QSFP40G-SR4 | ECI Networks | Grey Optics | SR4 | 40 | 150m | Commercial |
| DELTA AG-9032V1 | QFP1301040PD | Skylane Optics | Grey Optics | LR4 | 40 | 10km | Commercial |
| DELTA AG-9032V1 | EN-Q28DACBO-2M | ECI Networks | Direct Attach Cable Breakout | DAC BO | 100 | 2m | Commercial |
| DELTA AG-9032V1 | EN-Q28AOC-3M | ECI Networks | Active Optical Cable | AOC | 100 | 3m | Commercial |
| DELTA AG-9032V1 | EN-QSFP28-SR4 | ECI Networks | Grey Optics | SR4 | 100 | 100m | Commercial |
| DELTA AG-9032V1 | FTLC9551REPM | II-VI Finisar | Grey Optics | SR4 | 100 | 100m | Commercial |
| DELTA AG-9032V1 | 4WJ41 | Dell | Grey Optics | SR4 | 100 | 100m | Commercial |
| DELTA AG-9032V1 | EN-QSFP28-CW4 | ECI Networks | CWDM | CWDM | 100 | 2km | Commercial |
| DELTA AG-9032V1 | EN-QSFP28-LR4 | ECI Networks | Grey Optics | LR4 | 100 | 10km | Commercial |
| DELTA AG-9032V1 | EN-QSFP28-ER4 | ECI Networks | Grey Optics | ER4 | 100 | 40km | Commercial |
| DELTA AG-9032V1 | EN-QSFP28-ER4LI | ECI Networks | Grey Optics | ER4 | 100 | 40km | Industrial |
| DELTA AG-9032V1 | EN-QSFP28-ZR4 | ECI Networks | Grey Optics | ZR4 | 100 | 80km | Commercial |
| DELTA AG-9032V2 | AFBR-79E4Z | Avago | 40GBASE-SR4 | SR4 | 40 | 100m | Commercial |
| DELTA AG-9032V2 | QFP1301040PD | Skylane Optics | Grey Optics | LR4 | 40 | 10km | Commercial |
| DELTA AG-9032V2 | EN-Q28DAC-2M | ECI Networks | Direct Attach Cable | DAC | 100 | 2m | Commercial |
| DELTA AG-9032V2 | 4WJ41 | Dell | Grey Optics | SR4 | 100 | 100m | Commercial |
| EDGECORE AS5835-54T | EN-SFP1G-RJ45 | ECI Networks | Copper | RJ45 | 1 | 100m | Commercial |
| EDGECORE AS5835-54X | 1000M-SFP-T-HU | Edgeoptic | Copper | RJ45 | 1 | 100m | Commercial |
| EDGECORE AS5835-54X | FCLF8521P2BTL | Finisar | Copper | RJ45 | 1 | 100m | Industrial |
| EDGECORE AS5835-54X | EN-SFP1G-SX | ECI Networks | Grey Optics | SX | 1 | 550m | Commercial |
| EDGECORE AS5835-54X | EN-SFP1G-SXi | ECI Networks | Grey Optics | SX | 1 | 550m | Industrial |
| EDGECORE AS5835-54X | FTLF8519P3BTL | II-VI Finisar | Grey Optics | SX | 1 | 550m | Industrial |
| EDGECORE AS5835-54X | EN-SFP1G-LX | ECI Networks | Grey Optics | LX | 1 | 20km | Commercial |
| EDGECORE AS5835-54X | EN-SFP1G-LXi | ECI Networks | Grey Optics | LX | 1 | 20km | Industrial |
| EDGECORE AS5835-54X | OP6C-W20-B5-CM | Optech | BiDi | LR | 1 | 20km | Commercial |
| EDGECORE AS5835-54X | OP6C-W20-B3-CM | Optech | BiDi | LR | 1 | 20km | Commercial |
| EDGECORE AS5835-54X | EN-SFP1G-EX | ECI Networks | Grey Optics | EX | 1 | 40km | Commercial |
| EDGECORE AS5835-54X | EN-SFP1G-LH | ECI Networks | Grey Optics | LH | 1 | 70km | Commercial |
| EDGECORE AS5835-54X | EN-SFP1G-ZX | ECI Networks | Grey Optics | ZX | 1 | 80km | Commercial |
| EDGECORE AS5835-54X | EN-SFP1G-IDL100 | ECI Networks | Grey Optics | IDL100 | 1 | 100km | Industrial |
| EDGECORE AS5835-54X | EN-SFP-iRJ45 | ECI Networks | Copper | RJ45 | 1 | 100m | Industrial |
| EDGECORE AS5835-54X | EN-SFP1G-EXi | ECI Networks | Grey Optics | EXi | 1 | 40km | Industrial |
| EDGECORE AS5835-54X | EN-SFP1G-ZXi | ECI Networks | Grey Optics | ZXi | 1 | 80km | Industrial |
| EDGECORE AS5835-54X | EN-SFP-RJ45 | ECI Networks | Copper | RJ45 | 1 | 100m | Industrial |
| EDGECORE AS5835-54X | LCP-1250B4QDRTFF | DELTA | Grey Optics | LX10 | 1 | 10km | Industrial |
| EDGECORE AS5835-54X | LS38-C3L-TI-N-QB | APAC | BiDi | BX10-U | 1 | 40km | Industrial |
| EDGECORE AS5835-54X | LS48-C3L-TI-N-QB | APAC | BiDi | BX10-D | 1 | 40km | Industrial |
| EDGECORE AS5835-54X | SFP-GE-BX20KM-55 | SONGXIN | | BASE-BX10 | 1 | | |
| EDGECORE AS5835-54X | SFP-GE-BX20KM-31 | SONGXIN | | BASE-BX10 | 1 | | |
| EDGECORE AS5835-54X | ET5402-DAC-1M | Edgecore | Direct Attach Cable | DAC | 10 | 1m | Commercial |
| EDGECORE AS5835-54X | FCBG110SD1C01 | II-VI Finisar | Active Optical Cable | AOC | 10 | 1m | Commercial |
| EDGECORE AS5835-54X | ET5402-DAC-3M | Edgecore | Direct Attach Cable | DAC | 10 | 3m | Commercial |
| EDGECORE AS5835-54X | FCBG110SD1C03 | II-VI Finisar | Active Optical Cable | AOC | 10 | 3m | Commercial |
| EDGECORE AS5835-54X | OPSFPP-T-03-PEL | Optech | Direct Attach Cable | DAC | 10 | 3m | Commercial |
| EDGECORE AS5835-54X | FCBG110SD1C05 | II-VI Finisar | Active Optical Cable | AOC | 10 | 5m | Commercial |
| EDGECORE AS5835-54X | ET5402-AOC-7M | Edgecore | Active Optical Cable | AOC | 10 | 7m | Commercial |
| EDGECORE AS5835-54X | ET5402-AOC-10M | Edgecore | Active Optical Cable | AOC | 10 | 10m | Commercial |
| EDGECORE AS5835-54X | EN-SFP10G-SR | ECI Networks | Grey Optics | SR | 10 | 300m | Commercial |
| EDGECORE AS5835-54X | EN-SFP10G-SRi | ECI Networks | Grey Optics | SR | 10 | 300m | Industrial |
| EDGECORE AS5835-54X | SFP-10GSR-85 | FS.COM | Grey Optics | SR | 10 | 300m | Commercial |
| EDGECORE AS5835-54X | FTLX8574D3BCL | II-VI Finisar | Grey Optics | SR | 10 | 400m | Commercial |
| EDGECORE AS5835-54X | FTLX8574D3BNL | II-VI Finisar | Grey Optics | SR | 10 | 300m | Commercial |
| EDGECORE AS5835-54X | EN-SFP10G-LR | ECI Networks | Grey Optics | LR | 10 | 10km | Commercial |
| EDGECORE AS5835-54X | EN-SFP10G-LRi | ECI Networks | Grey Optics | LR | 10 | 10km | Industrial |
| EDGECORE AS5835-54X | ET5402-LR | Edgecore | Grey Optics | LR | 10 | 10km | Commercial |
| EDGECORE AS5835-54X | EN-SFP10G-BXD20 | ECI Networks | BiDi | BXD20 | 10 | 20km | Commercial |
| EDGECORE AS5835-54X | EN-SFP10G-BXU20 | ECI Networks | BiDi | BXU20 | 10 | 20km | Commercial |
| EDGECORE AS5835-54X | EN-SFP10G-ER | ECI Networks | Grey Optics | ER | 10 | 40km | Commercial |
| EDGECORE AS5835-54X | EN-SFPP-ER | ECI Networks | Grey Optics | ER | 10 | 40km | Commercial |
| EDGECORE AS5835-54X | EN-SFP10G-BXD40 | ECI Networks | BiDi | BXD40 | 10 | 40km | Commercial |
| EDGECORE AS5835-54X | EN-SFP10G-BXU40 | ECI Networks | BiDi | BXU40 | 10 | 40km | Commercial |
| EDGECORE AS5835-54X | EN-SFP10G-ERi | ECI Networks | Grey Optics | ER | 10 | 40km | Industrial |
| EDGECORE AS5835-54X | EN-SFP10G-BXID40 | ECI Networks | BiDi | BXID40 | 10 | 40km | Industrial |
| EDGECORE AS5835-54X | EN-SFP10G-BXIU40 | ECI Networks | BiDi | BXIU40 | 10 | 40km | Industrial |
| EDGECORE AS5835-54X | SFP-10G-BX40 | FS.COM | BiDi | BX40D | 10 | 40km | Commercial |
| EDGECORE AS5835-54X | EN-SFP10G-ZR | ECI Networks | Grey Optics | ZR | 10 | 80km | Commercial |
| EDGECORE AS5835-54X | EN-SFP10G-ZRI | ECI Networks | Grey Optics | ZR | 10 | 80km | Industrial |
| EDGECORE AS5835-54X | SFP-10G-BX80 | FS.COM | BiDi | BX | 10 | 80km | Commercial |
| EDGECORE AS5835-54X | EN-SFP10G-BXID20 | ECI Networks | BiDi | BXID20 | 10 | 20km | Industrial |
| EDGECORE AS5835-54X | EN-SFP10G-BXIU20 | ECI Networks | BiDi | BXIU20 | 10 | 20km | Industrial |
| EDGECORE AS5835-54X | ET5402-LR | Edgecore | Grey Optics | LR | 10 | 10km | Commercial |
| EDGECORE AS5835-54X | SFP-10G-BX | FS.COM | BiDi | BX20 | 10 | 10km | Commercial |
| EDGECORE AS5835-54X | SFP-10G-3M | OEM | Copper | DAC | 10 | 3m | Commercial |
| EDGECORE AS5835-54X | 616740003 | Amphenol | Copper | DAC | 10 | 3m | Commercial |
| EDGECORE AS5835-54X | 10093084-2030LF | Amphenol FCI | Direct Attach Cable | DAC | 40 | 3m | Commercial |
| EDGECORE AS5835-54X | ET6402-40AOC-7M | Edgecore | Active Optical Cable | AOC | 40 | 7m | Commercial |
| EDGECORE AS5835-54X | FTL410QE4C | II-VI Finisar | Grey Optics | SR4 | 40 | 100m | Commercial |
| EDGECORE AS5835-54X | FTL410QE4C-1Y | II-VI Finisar | Grey Optics | SR4 | 40 | 100m | Commercial |
| EDGECORE AS5835-54X | EN-QSFP40G-SR4 | ECI Networks | Grey Optics | SR4 | 40 | 150m | Commercial |
| EDGECORE AS5835-54X | EN-QSFPP-PIR | ECI Networks | Grey Optics | IR4-PSM | 40 | 1.4km | Commercial |
| EDGECORE AS5835-54X | EN-QSFP40G-LR4 | ECI Networks | Grey Optics | LR4 | 40 | 10km | Commercial |
| EDGECORE AS5835-54X | EN-QSFP-PLR4 | ECI Networks | Grey Optics | LR4 | 40 | 10km | Commercial |
| EDGECORE AS5835-54X | EN-QSFPP-LRL4 | ECI Networks | Grey Optics | LR4 | 40 | 10km | Commercial |
| EDGECORE AS5835-54X | QFP1301040PD | Skylane Optics | Grey Optics | LR4 | 40 | 10km | Commercial |
| EDGECORE AS5835-54X | EN-QSFP40G-ER4 | ECI Networks | Grey Optics | ER4 | 40 | 40km | Commercial |
| EDGECORE AS5835-54X | EN-QSFP40G-LR4i | ECI Networks | Grey Optics | LR4i | 40 | 10km | Industrial |
| EDGECORE AS5835-54X | QSFP-40GBASE-SR4-C | Prolabs | Grey Optics | SR4 | 40 | 400m | Commercial |
| EDGECORE AS5835-54X | ET7402-100DAC-1M | Edgecore | Direct Attach Cable | DAC | 100 | 1m | Commercial |
| EDGECORE AS5835-54X | EN-Q28DAC-2M | ECI Networks | Direct Attach Cable | DAC | 100 | 2m | Commercial |
| EDGECORE AS5835-54X | EN-Q28AOC-3M | ECI Networks | Active Optical Cable | AOC | 100 | 3m | Commercial |
| EDGECORE AS5835-54X | ET7402-100DAC-3M | Edgecore | Direct Attach Cable | DAC | 100 | 3m | Commercial |
| EDGECORE AS5835-54X | ET7402-25DAC-3M | Edgecore | Direct Attach Cable Breakout | DAC BO | 100 | 3m | Commercial |
| EDGECORE AS5835-54X | EN-QSFP28-SR4 | ECI Networks | Grey Optics | SR4 | 100 | 100m | Commercial |
| EDGECORE AS5835-54X | QSFP28-SR4-100G | FS.COM | Grey Optics | SR4 | 100 | 100m | Commercial |
| EDGECORE AS5835-54X | FTLC9551REPM | II-VI Finisar | Grey Optics | SR4 | 100 | 100m | Commercial |
| EDGECORE AS5835-54X | FTLC9558REPM | II-VI Finisar | Grey Optics | SR4 | 100 | 100m | Commercial |
| EDGECORE AS5835-54X | EN-QSFP28-PSM4 | ECI Networks | Grey Optics | PSM4 | 100 | 500m | Commercial |
| EDGECORE AS5835-54X | EN-QSFP28-CW4 | ECI Networks | CWDM | CWDM | 100 | 2km | Commercial |
| EDGECORE AS5835-54X | EN-QSFP28-LR4 | ECI Networks | Grey Optics | LR4 | 100 | 10km | Commercial |
| EDGECORE AS5835-54X | EN-QSFP28-LR4i | ECI Networks | Grey Optics | LR4 | 100 | 10km | Industrial |
| EDGECORE AS5835-54X | EN-QSFP28-ER4 | ECI Networks | Grey Optics | ER4 | 100 | 40km | Commercial |
| EDGECORE AS5835-54X | EN-QSFP28-ER4LI | ECI Networks | Grey Optics | ER4 | 100 | 40km | Industrial |
| EDGECORE AS5835-54X | EN-QSFP28-ZR4 | ECI Networks | Grey Optics | ZR4 | 100 | 80km | Commercial |
| EDGECORE AS5835-54X | EN-QSFP28-FR1 | ECI Networks | Grey Optics | FR1 | 100 | 2km | Commercial |
| EDGECORE AS5835-54X | EN-QSFP28-DR1 | ECI Networks | Grey Optics | DR1 | 100 | 500m | Commercial |
| EDGECORE AS5835-54X | EN-Q28-eLR4-S | ECI Networks | Grey Optics | LR4 | 100 | 20km | Commercial |
| EDGECORE AS5835-54X | ET7402-SR4 | Edgecore | Grey Optics | SR4 | 100 | 70m | Commercial |
| EDGECORE AS5835-54X | 76V43 | Dell | Direct Attach Cable | QSFP28 DAC | 100 | 2m | Commercial |
| EDGECORE AS5835-54X | 4WJ41 | Dell | Grey Optics | QSFP28 MPO | 100 | 100m | Commercial |
| EDGECORE AS5835-54X | 00D5803-N13692A | IBM-Amphenol | | QSFP28 | 100 | | |
| EDGECORE AS5835-54X | QSFP28-100GB-LR4-I-C | Prolabs | | LR4 | 100 | | Industrial |
| EDGECORE AS5835-54T | EN-QSFP28-ER4 | ECI Networks | Grey Optics | ER4 | 100 | 40km | Commercial |
| EDGECORE AS5835-54T | EN-QSFP28-ZR4 | ECI Networks | Grey Optics | ZR4 | 100 | 80km | Commercial |
| EDGECORE AS5835-54T | FTLC9551REPM | II-VI Finisar | Grey Optics | SR4 | 100 | 100m | Commercial |
| EDGECORE AS5835-54T | EN-QSFP28-FR1 | ECI Networks | Grey Optics PAM4 | FR1 | 100 | 2km | Commercial |
| EDGECORE AS5835-54T | EN-QSFP28-LR4i | ECI Networks | Grey Optics | LR4 | 100 | 10km | Industrial |
| EDGECORE AS5835-54T | EN-QSFP28-SR4-FSR | ECI Networks | Grey Optics | SR4 | 100 | 100m | Commercial |
| EDGECORE AS5835-54T | QSFP28-100GB-LR4-I-C | Prolabs | Grey Optics | LR4 | 100 | 10km | Industrial |
| EDGECORE AS5912-54X | EN-SFP1G-RJ45 | ECI Networks | Copper | RJ45 | 1 | 100m | Commercial |
| EDGECORE AS5912-54X | EN-SFP-RJ45 | ECI Networks | Copper | RJ45 | 1 | 100m | Commercial |
| EDGECORE AS5912-54X | 1000M-SFP-T-HU | Edgeoptic | Copper | RJ45 | 1 | 100m | Commercial |
| EDGECORE AS5912-54X | FCLF8521P2BTL | Finisar | Copper | RJ45 | 1 | 100m | Industrial |
| EDGECORE AS5912-54X | EN-SFP1G-SX | ECI Networks | Grey Optics | SX | 1 | 550m | Commercial |
| EDGECORE AS5912-54X | EN-SFP1G-SXi | ECI Networks | Grey Optics | SX | 1 | 550m | Industrial |
| EDGECORE AS5912-54X | FTLF8519P3BTL | II-VI Finisar | Grey Optics | SX | 1 | 550m | Industrial |
| EDGECORE AS5912-54X | EN-SFP1G-LX | ECI Networks | Grey Optics | LX | 1 | 20km | Commercial |
| EDGECORE AS5912-54X | EN-SFP1G-LXi | ECI Networks | Grey Optics | LX | 1 | 20km | Industrial |
| EDGECORE AS5912-54X | OP6C-W20-B5-CM | Optech | BiDi | LR | 1 | 20km | Commercial |
| EDGECORE AS5912-54X | OP6C-W20-B3-CM | Optech | BiDi | LR | 1 | 20km | Commercial |
| EDGECORE AS5912-54X | EN-SFP1G-EX | ECI Networks | Grey Optics | EX | 1 | 40km | Commercial |
| EDGECORE AS5912-54X | EN-SFP1G-EXi | ECI Networks | Grey Optics | EX | 1 | 40km | Industrial |
| EDGECORE AS5912-54X | EN-SFP1G-LH | ECI Networks | Grey Optics | LH | 1 | 70km | Commercial |
| EDGECORE AS5912-54X | EN-SFP1G-ZX | ECI Networks | Grey Optics | ZX | 1 | 80km | Commercial |
| EDGECORE AS5912-54X | EN-SFP1G-IDL100 | ECI Networks | Grey Optics | ZX | 1 | 100km | Industrial |
| EDGECORE AS5912-54X | EN-SFP-iRJ45 | ECI Networks | Copper | RJ45 | 1 | 100m | Industrial |
| EDGECORE AS5912-54X | LCP-1250B4QDRTFF | DELTA | Grey Optics | LX | 1 | 10km | Industrial |
| EDGECORE AS5912-54X | LS38-C3L-TI-N-QB | APAC | BiDi | BX10-U | 1 | 40km | Industrial |
| EDGECORE AS5912-54X | LS48-C3L-TI-N-QB | APAC | BiDi | BX10-D | 1 | 40km | Industrial |
| EDGECORE AS5912-54X | SFP-GE-BX20KM-55 | SONGXIN | | BASE-BX10 | 1 | | |
| EDGECORE AS5912-54X | SFP-GE-BX20KM-31 | SONGXIN | | BASE-BX10 | 1 | | |
| EDGECORE AS5912-54X | EN-SFP1G-ZXi | ECI Networks | Grey Optics | ZX | 1 | 80km | Industrial |
| EDGECORE AS5912-54X | ET5402-DAC-1M | Edgecore | Direct Attach Cable | DAC | 10 | 1m | Commercial |
| EDGECORE AS5912-54X | FCBG110SD1C01 | II-VI Finisar | Active Optical Cable | AOC | 10 | 1m | Commercial |
| EDGECORE AS5912-54X | ET5402-DAC-3M | Edgecore | Direct Attach Cable | DAC | 10 | 3m | Commercial |
| EDGECORE AS5912-54X | FCBG110SD1C03 | II-VI Finisar | Active Optical Cable | AOC | 10 | 3m | Commercial |
| EDGECORE AS5912-54X | OPSFPP-T-03-PEL | Optech | Direct Attach Cable | DAC | 10 | 3m | Commercial |
| EDGECORE AS5912-54X | FCBG110SD1C05 | II-VI Finisar | Active Optical Cable | AOC | 10 | 5m | Commercial |
| EDGECORE AS5912-54X | ET5402-AOC-7M | Edgecore | Active Optical Cable | AOC | 10 | 7m | Commercial |
| EDGECORE AS5912-54X | ET5402-AOC-10M | Edgecore | Active Optical Cable | AOC | 10 | 10m | Commercial |
| EDGECORE AS5912-54X | EN-SFP10G-SR | ECI Networks | Grey Optics | SR | 10 | 300m | Commercial |
| EDGECORE AS5912-54X | EN-SFP10G-SRi | ECI Networks | Grey Optics | SR | 10 | 300m | Industrial |
| EDGECORE AS5912-54X | SFP-10GSR-85 | FS.COM | Grey Optics | SR | 10 | 300m | Commercial |
| EDGECORE AS5912-54X | FTLX8574D3BCL | II-VI Finisar | Grey Optics | SR | 10 | 300m | Commercial |
| EDGECORE AS5912-54X | FTLX8574D3BNL | II-VI Finisar | Grey Optics | SR | 10 | 300m | Commercial |
| EDGECORE AS5912-54X | EN-SFP10G-LR | ECI Networks | Grey Optics | LR | 10 | 10km | Commercial |
| EDGECORE AS5912-54X | EN-SFP10G-LRi | ECI Networks | Grey Optics | LR | 10 | 10km | Industrial |
| EDGECORE AS5912-54X | ET5402-LR | Edgecore | Grey Optics | LR | 10 | 10km | Commercial |
| EDGECORE AS5912-54X | SFP-10G-BX | FS.COM | BiDi | BX | 10 | 10km | Commercial |
| EDGECORE AS5912-54X | TXM-MPOLT-01C | TIBIT | Micro Plug | Class 01 | 10 | 10km | Commercial |
| EDGECORE AS5912-54X | TXM-MPOLT-05I | TIBIT | Micro Plug | Class 05 | 10 | 10km | Industrial |
| EDGECORE AS5912-54X | EN-SFP10G-BXD20 | ECI Networks | BiDi | BXD20 | 10 | 20km | Commercial |
| EDGECORE AS5912-54X | EN-SFP10G-BXU20 | ECI Networks | BiDi | BXU20 | 10 | 20km | Commercial |
| EDGECORE AS5912-54X | EN-SFP10G-ER | ECI Networks | Grey Optics | ER | 10 | 40km | Commercial |
| EDGECORE AS5912-54X | EN-SFPP-ER | ECI Networks | Grey Optics | ER | 10 | 40km | Commercial |
| EDGECORE AS5912-54X | EN-SFP10G-BXD40 | ECI Networks | BiDi | BXD40 | 10 | 40km | Commercial |
| EDGECORE AS5912-54X | EN-SFP10G-BXU40 | ECI Networks | BiDi | BXU40 | 10 | 40km | Commercial |
| EDGECORE AS5912-54X | EN-SFP10G-ERi | ECI Networks | Grey Optics | ER | 10 | 40km | Industrial |
| EDGECORE AS5912-54X | EN-SFP10G-BXID40 | ECI Networks | BiDi | BXID40 | 10 | 40km | Industrial |
| EDGECORE AS5912-54X | EN-SFP10G-BXIU40 | ECI Networks | BiDi | BXIU40 | 10 | 40km | Industrial |
| EDGECORE AS5912-54X | SFP-10G-BX40 | FS.COM | BiDi | BX40D | 10 | 40km | Commercial |
| EDGECORE AS5912-54X | EN-SFP10G-ZR | ECI Networks | Grey Optics | ZR | 10 | 80km | Commercial |
| EDGECORE AS5912-54X | EN-SFP10G-ZRI | ECI Networks | Grey Optics | ZR | 10 | 80km | Industrial |
| EDGECORE AS5912-54X | SFP-10G-BX80 | FS.COM | BiDi | BX | 10 | 80km | Commercial |
| EDGECORE AS5912-54X | EN-SFP10G-BXID20 | ECI Networks | BiDi | BXID20 | 10 | 20km | Industrial |
| EDGECORE AS5912-54X | EN-SFP10G-BXIU20 | ECI Networks | BiDi | BXID20 | 10 | 20km | Industrial |
| EDGECORE AS5912-54X | 616740003 | Amphenol | Copper | DAC | 10 | 3m | Commercial |
| EDGECORE AS5912-54X | 616740001 | Amphenol | Copper | DAC | 10 | 1m | Commercial |
| EDGECORE AS5912-54X | SFP-10G-3M | OEM | Copper | DAC | 10 | 3m | Commercial |
| EDGECORE AS5912-54X | SFP-10GBASE-LR-I-C | Prolabs | Grey Optics | LR | 10 | 10km | Industrial |
| EDGECORE AS5912-54X | 10093084-2030LF | Amphenol FCI | Direct Attach Cable | DAC | 40 | 3m | Commercial |
| EDGECORE AS5912-54X | ET6402-40AOC-7M | Edgecore | Active Optical Cable | AOC | 40 | 7m | Commercial |
| EDGECORE AS5912-54X | EN-QSFP40G-SR4 | ECI Networks | Grey Optics | SR4 | 40 | 150m | Commercial |
| EDGECORE AS5912-54X | EN-QSFPP-PIR | ECI Networks | Grey Optics | IR4-PSM | 40 | 1.4km | Commercial |
| EDGECORE AS5912-54X | EN-QSFP40G-LR4 | ECI Networks | Grey Optics | LR4 | 40 | 10km | Commercial |
| EDGECORE AS5912-54X | EN-QSFP-PLR4 | ECI Networks | Grey Optics | LR4 | 40 | 10km | Commercial |
| EDGECORE AS5912-54X | EN-QSFPP-LRL4 | ECI Networks | Grey Optics | LR4 | 40 | 10km | Commercial |
| EDGECORE AS5912-54X | QFP1301040PD | Skylane Optics | Grey Optics | LR4 | 40 | 10km | Commercial |
| EDGECORE AS5912-54X | EN-QSFP40G-ER4 | ECI Networks | Grey Optics | ER4 | 40 | 40km | Commercial |
| EDGECORE AS5912-54X | EN-QSFP40G-LR4i | ECI Networks | Grey Optics | LR4 | 40 | 10km | Industrial |
| EDGECORE AS5912-54X | QSFP-40GBASE-SR4-C | Prolabs | Grey Optics | SR4 | 40 | 400m | Commercial |
| EDGECORE AS5912-54X | QSFP-40G-DAC | Fiberstore | Copper | DAC | 40 | | |
| EDGECORE AS5912-54X | ET7402-100DAC-1M | Edgecore | Direct Attach Cable | DAC | 100 | 1m | Commercial |
| EDGECORE AS5912-54X | EN-Q28DAC-2M | ECI Networks | Direct Attach Cable | DAC | 100 | 2m | Commercial |
| EDGECORE AS5912-54X | EN-Q28AOC-3M | ECI Networks | Active Optical Cable | AOC | 100 | 3m | Commercial |
| EDGECORE AS5912-54X | ET7402-100DAC-3M | Edgecore | Direct Attach Cable | DAC | 100 | 3m | Commercial |
| EDGECORE AS5912-54X | ET7402-100AOC-10M | Edgecore | Direct Attach Cable | DAC | 100 | 10m | Commercial |
| EDGECORE AS5912-54X | FCBN425QE1C10 | II-VI Finisar | Active Optical Cable | AOC | 100 | 10m | Commercial |
| EDGECORE AS5912-54X | ET7402-SR4 | Edgecore | Grey Optics | SR4 | 100 | 70m | Commercial |
| EDGECORE AS5912-54X | EN-QSFP28-SR4 | ECI Networks | Grey Optics | SR4 | 100 | 100m | Commercial |
| EDGECORE AS5912-54X | QSFP28-SR4-100G | FS.COM | Grey Optics | SR4 | 100 | 100m | Commercial |
| EDGECORE AS5912-54X | FTLC9551REPM | II-VI Finisar | Grey Optics | SR4 | 100 | 100m | Commercial |
| EDGECORE AS5912-54X | FTLC9558REPM | II-VI Finisar | Grey Optics | SR4 | 100 | 100m | Commercial |
| EDGECORE AS5912-54X | EN-QSFP28-PSM4 | ECI Networks | Grey Optics | PSM4 | 100 | 500m | Commercial |
| EDGECORE AS5912-54X | EN-QSFP28-DR1 | ECI Networks | Grey Optics | DR1 | 100 | 500m | Commercial |
| EDGECORE AS5912-54X | EN-QSFP28-CW4 | ECI Networks | CWDM | CWDM | 100 | 2km | Commercial |
| EDGECORE AS5912-54X | EN-QSFP28-FR1 | ECI Networks | Grey Optics | FR1 | 100 | 2km | Commercial |
| EDGECORE AS5912-54X | Q28QL002C00F | Skylane Optics | CWDM | CWDM | 100 | 2km | Commercial |
| EDGECORE AS5912-54X | EN-Q28DACBO-3M | ECI Networks | Direct Attach Cable Breakout | DAC BO | 100 | 3m | Commercial |
| EDGECORE AS5912-54X | ET7402-25DAC-3M | Edgecore | Direct Attach Cable Breakout | DAC BO | 100 | 3m | Commercial |
| EDGECORE AS5912-54X | EN-Q28-eLR4-S | ECI Networks | Grey Optics | LR4 | 100 | 20km | Commercial |
| EDGECORE AS5912-54X | ET7402-SR4 | Edgecore | Grey Optics | SR4 | 100 | 70m | Commercial |
| EDGECORE AS5912-54X | EN-QSFP28-LR4 | ECI Networks | Grey Optics | LR4 | 100 | 10km | Commercial |
| EDGECORE AS5912-54X | QSFP28-LR4-100G | FS.COM | Grey Optics | LR4 | 100 | 10km | Commercial |
| EDGECORE AS5912-54X | EN-QSFP28-ER4 | ECI Networks | Grey Optics | ER4 | 100 | 40km | Commercial |
| EDGECORE AS5912-54X | EN-QSFP28-ER4LI | ECI Networks | Grey Optics | ER4 | 100 | 40km | Industrial |
| EDGECORE AS5912-54X | EN-QSFP28-ZR4 | ECI Networks | Grey Optics | ZR4 | 100 | 80km | Commercial |
| EDGECORE AS5912-54X | 76V43 | Dell | Direct Attach Cable | QSFP28 DAC | 100 | 2m | Commercial |
| EDGECORE AS5912-54X | 00D5803-N13692A | IBM-Amphenol | | QSFP28 | 100 | | |
| EDGECORE AS5915-18X | EN-SFP1G-RJ45 | ECI Networks | Copper | RJ45 | 1 | 100m | Commercial |
| EDGECORE AS5915-18X | 1000M-SFP-T-HU | Edgeoptic | Copper | RJ45 | 1 | 100m | Commercial |
| EDGECORE AS5915-18X | FCLF8521P2BTL | Finisar | Copper | RJ45 | 1 | 100m | Industrial |
| EDGECORE AS5915-18X | EN-SFP1G-SX | ECI Networks | Grey Optics | SX | 1 | 550m | Commercial |
| EDGECORE AS5915-18X | EN-SFP1G-SXi | ECI Networks | Grey Optics | SX | 1 | 550m | Industrial |
| EDGECORE AS5915-18X | FTLF8519P3BTL | II-VI Finisar | Grey Optics | SX | 1 | 550m | Industrial |
| EDGECORE AS5915-18X | EN-SFP1G-LX | ECI Networks | Grey Optics | LX | 1 | 20km | Commercial |
| EDGECORE AS5915-18X | EN-SFP1G-LXi | ECI Networks | Grey Optics | LX | 1 | 20km | Industrial |
| EDGECORE AS5915-18X | OP6C-W20-B5-CM | Optech | BiDi | LR | 1 | 20km | Commercial |
| EDGECORE AS5915-18X | OP6C-W20-B3-CM | Optech | BiDi | LR | 1 | 20km | Commercial |
| EDGECORE AS5915-18X | EN-SFP1G-EX | ECI Networks | Grey Optics | EX | 1 | 40km | Commercial |
| EDGECORE AS5915-18X | EN-SFP1G-EXi | ECI Networks | Grey Optics | EX | 1 | 40km | Industrial |
| EDGECORE AS5915-18X | EN-SFP1G-LH | ECI Networks | Grey Optics | LH | 1 | 70km | Commercial |
| EDGECORE AS5915-18X | EN-SFP1G-ZX | ECI Networks | Grey Optics | ZX | 1 | 80km | Commercial |
| EDGECORE AS5915-18X | EN-SFP1G-IDL100 | ECI Networks | Grey Optics | ZX | 1 | 100km | Industrial |
| EDGECORE AS5915-18X | EN-SFP-iRJ45 | ECI Networks | Copper | RJ45 | 1 | 100m | Industrial |
| EDGECORE AS5915-18X | EN-SFP1G-ZXi | ECI Networks | Grey Optics | ZX | 1 | 80km | Industrial |
| EDGECORE AS5915-18X | EN-SFP-RJ45 | ECI Networks | Copper | RJ45 | 1 | 100m | Commercial |
| EDGECORE AS5915-18X | LCP-1250B4QDRTFF | DELTA | | LX | 1 | | |
| EDGECORE AS5915-18X | LS38-C3L-TI-N-QB | APAC | | BX10-U | 1 | | |
| EDGECORE AS5915-18X | LS48-C3L-TI-N-QB | APAC | | BX10-D | 1 | | |
| EDGECORE AS5915-18X | SFP-GE-BX20KM-55 | SONGXIN | | BASE-BX10 | 1 | | |
| EDGECORE AS5915-18X | SFP-GE-BX20KM-31 | SONGXIN | | BASE-BX10 | 1 | | |
| EDGECORE AS5915-18X | ET5402-DAC-1M | Edgecore | Direct Attach Cable | DAC | 10 | 1m | Commercial |
| EDGECORE AS5915-18X | FCBG110SD1C01 | II-VI Finisar | Active Optical Cable | AOC | 10 | 1m | Commercial |
| EDGECORE AS5915-18X | ET5402-DAC-3M | Edgecore | Direct Attach Cable | DAC | 10 | 3m | Commercial |
| EDGECORE AS5915-18X | FCBG110SD1C03 | II-VI Finisar | Active Optical Cable | AOC | 10 | 3m | Commercial |
| EDGECORE AS5915-18X | OPSFPP-T-03-PEL | Optech | Direct Attach Cable | DAC | 10 | 3m | Commercial |
| EDGECORE AS5915-18X | FCBG110SD1C05 | II-VI Finisar | Active Optical Cable | AOC | 10 | 5m | Commercial |
| EDGECORE AS5915-18X | ET5402-AOC-7M | Edgecore | Active Optical Cable | AOC | 10 | 7m | Commercial |
| EDGECORE AS5915-18X | ET5402-AOC-10M | Edgecore | Active Optical Cable | AOC | 10 | 10m | Commercial |
| EDGECORE AS5915-18X | EN-SFP10G-SR | ECI Networks | Grey Optics | SR | 10 | 300m | Commercial |
| EDGECORE AS5915-18X | EN-SFP10G-SRi | ECI Networks | Grey Optics | SR | 10 | 300m | Industrial |
| EDGECORE AS5915-18X | SFP-10GSR-85 | FS.COM | Grey Optics | SR | 10 | 300m | Commercial |
| EDGECORE AS5915-18X | FTLX8574D3BCL | II-VI Finisar | Grey Optics | SR | 10 | 300m | Commercial |
| EDGECORE AS5915-18X | FTLX8574D3BNL | II-VI Finisar | Grey Optics | SR | 10 | 300m | Commercial |
| EDGECORE AS5915-18X | EN-SFP10G-LR | ECI Networks | Grey Optics | LR | 10 | 10km | Commercial |
| EDGECORE AS5915-18X | EN-SFP10G-LRi | ECI Networks | Grey Optics | LR | 10 | 10km | Industrial |
| EDGECORE AS5915-18X | ET5402-LR | Edgecore | Grey Optics | LR | 10 | 10km | Commercial |
| EDGECORE AS5915-18X | SFP-10G-BX | FS.COM | BiDi | BX | 10 | 10km | Commercial |
| EDGECORE AS5915-18X | EN-SFP10G-BXD20 | ECI Networks | BiDi | BXD20 | 10 | 20km | Commercial |
| EDGECORE AS5915-18X | EN-SFP10G-BXU20 | ECI Networks | BiDi | BXU20 | 10 | 20km | Commercial |
| EDGECORE AS5915-18X | EN-SFP10G-ER | ECI Networks | Grey Optics | ER | 10 | 40km | Commercial |
| EDGECORE AS5915-18X | EN-SFPP-ER | ECI Networks | Grey Optics | ER | 10 | 40km | Commercial |
| EDGECORE AS5915-18X | EN-SFP10G-BXD40 | ECI Networks | BiDi | BXD40 | 10 | 40km | Commercial |
| EDGECORE AS5915-18X | EN-SFP10G-BXU40 | ECI Networks | BiDi | BXU40 | 10 | 40km | Commercial |
| EDGECORE AS5915-18X | EN-SFP10G-ERi | ECI Networks | Grey Optics | ER | 10 | 40km | Industrial |
| EDGECORE AS5915-18X | EN-SFP10G-BXID40 | ECI Networks | BiDi | BXID40 | 10 | 40km | Industrial |
| EDGECORE AS5915-18X | EN-SFP10G-BXIU40 | ECI Networks | BiDi | BXIU40 | 10 | 40km | Industrial |
| EDGECORE AS5915-18X | SFP-10G-BX40 | FS.COM | BiDi | BX40D | 10 | 40km | Commercial |
| EDGECORE AS5915-18X | EN-SFP10G-ZR | ECI Networks | Grey Optics | ZR | 10 | 80km | Commercial |
| EDGECORE AS5915-18X | EN-SFP10G-ZRI | ECI Networks | Grey Optics | ZR | 10 | 80km | Industrial |
| EDGECORE AS5915-18X | SFP-10G-BX80 | FS.COM | BiDi | BX | 10 | 80km | Commercial |
| EDGECORE AS5915-18X | EN-SFP10G-BXID20 | ECI Networks | BiDi | BXID20 | 10 | 20km | Industrial |
| EDGECORE AS5915-18X | EN-SFP10G-BXIU20 | ECI Networks | BiDi | BXIU20 | 10 | 20km | Industrial |
| EDGECORE AS5915-18X | 616740003 | Amphenol | | SFP/SFP+/SFP28 | 10 | | |
| EDGECORE AS5915-18X | SFP-10G-3M | OEM | | SFP/SFP+/SFP28 | 10 | | |
| EDGECORE AS5915-18X | SFP-10GBASE-LR-I-C | Prolabs | | LR | 10 | | Industrial |
| EDGECORE AS5916-54XKS | EN-SFP1G-RJ45 | ECI Networks | Copper | RJ45 | 1 | 100m | Commercial |
| EDGECORE AS5916-54XKS | EN-SFP-RJ45 | ECI Networks | Copper | RJ45 | 1 | 100m | Commercial |
| EDGECORE AS5916-54XKS | EN-SFP-iRJ45 | ECI Networks | Copper | RJ45 | 1 | 100m | Industrial |
| EDGECORE AS5916-54XKS | 1000M-SFP-T-HU | Edgeoptic | Copper | RJ45 | 1 | 100m | Commercial |
| EDGECORE AS5916-54XKS | FCLF8521P2BTL | Finisar | Copper | RJ45 | 1 | 100m | Industrial |
| EDGECORE AS5916-54XKS | EN-SFP1G-SX | ECI Networks | Grey Optics | SX | 1 | 550m | Commercial |
| EDGECORE AS5916-54XKS | EN-SFP1G-SXi | ECI Networks | Grey Optics | SX | 1 | 550m | Industrial |
| EDGECORE AS5916-54XKS | FTLF8519P3BTL | II-VI Finisar | Grey Optics | SX | 1 | 550m | Industrial |
| EDGECORE AS5916-54XKS | EN-SFP1G-LX | ECI Networks | Grey Optics | LX | 1 | 20km | Commercial |
| EDGECORE AS5916-54XKS | EN-SFP1G-LXi | ECI Networks | Grey Optics | LX | 1 | 20km | Industrial |
| EDGECORE AS5916-54XKS | OP6C-W20-B5-CM | Optech | BiDi | LR | 1 | 20km | Commercial |
| EDGECORE AS5916-54XKS | OP6C-W20-B3-CM | Optech | BiDi | LR | 1 | 20km | Commercial |
| EDGECORE AS5916-54XKS | EN-SFP1G-EX | ECI Networks | Grey Optics | EX | 1 | 40km | Commercial |
| EDGECORE AS5916-54XKS | EN-SFP1G-EXi | ECI Networks | Grey Optics | EX | 1 | 40km | Industrial |
| EDGECORE AS5916-54XKS | EN-SFP1G-LH | ECI Networks | Grey Optics | LH | 1 | 70km | Commercial |
| EDGECORE AS5916-54XKS | EN-SFP1G-ZX | ECI Networks | Grey Optics | ZX | 1 | 80km | Commercial |
| EDGECORE AS5916-54XKS | EN-SFP1G-ZXi | ECI Networks | Grey Optics | ZX | 1 | 80km | Industrial |
| EDGECORE AS5916-54XKS | EN-SFP1G-IDL100 | ECI Networks | Grey Optics | ZX | 1 | 100km | Industrial |
| EDGECORE AS5916-54XKS | LCP-1250B4QDRTFF | DELTA | | LX | 1 | | |
| EDGECORE AS5916-54XKS | LS38-C3L-TI-N-QB | APAC | | BX10-U | 1 | | |
| EDGECORE AS5916-54XKS | LS48-C3L-TI-N-QB | APAC | | BX10-D | 1 | | |
| EDGECORE AS5916-54XKS | SFP-GE-BX20KM-55 | SONGXIN | | BASE-BX10 | 1 | | |
| EDGECORE AS5916-54XKS | SFP-GE-BX20KM-31 | SONGXIN | | BASE-BX10 | 1 | | |
| EDGECORE AS5916-54XKS | ET5402-DAC-1M | Edgecore | Direct Attach Cable | DAC | 10 | 1m | Commercial |
| EDGECORE AS5916-54XKS | FCBG110SD1C01 | II-VI Finisar | Active Optical Cable | AOC | 10 | 1m | Commercial |
| EDGECORE AS5916-54XKS | ET5402-DAC-3M | Edgecore | Direct Attach Cable | DAC | 10 | 3m | Commercial |
| EDGECORE AS5916-54XKS | FCBG110SD1C03 | II-VI Finisar | Active Optical Cable | AOC | 10 | 3m | Commercial |
| EDGECORE AS5916-54XKS | OPSFPP-T-03-PEL | Optech | Direct Attach Cable | DAC | 10 | 3m | Commercial |
| EDGECORE AS5916-54XKS | FCBG110SD1C05 | II-VI Finisar | Active Optical Cable | AOC | 10 | 5m | Commercial |
| EDGECORE AS5916-54XKS | ET5402-AOC-7M | Edgecore | Active Optical Cable | AOC | 10 | 7m | Commercial |
| EDGECORE AS5916-54XKS | ET5402-AOC-10M | Edgecore | Active Optical Cable | AOC | 10 | 10m | Commercial |
| EDGECORE AS5916-54XKS | EN-SFP10G-SR | ECI Networks | Grey Optics | SR | 10 | 300m | Commercial |
| EDGECORE AS5916-54XKS | EN-SFP10G-SRi | ECI Networks | Grey Optics | SR | 10 | 300m | Industrial |
| EDGECORE AS5916-54XKS | SFP-10GSR-85 | FS.COM | Grey Optics | SR | 10 | 300m | Commercial |
| EDGECORE AS5916-54XKS | FTLX8574D3BCL | II-VI Finisar | Grey Optics | SR | 10 | 300m | Commercial |
| EDGECORE AS5916-54XKS | FTLX8574D3BNL | II-VI Finisar | Grey Optics | SR | 10 | 300m | Commercial |
| EDGECORE AS5916-54XKS | EN-SFP10G-LR | ECI Networks | Grey Optics | LR | 10 | 10km | Commercial |
| EDGECORE AS5916-54XKS | EN-SFP10G-LRi | ECI Networks | Grey Optics | LR | 10 | 10km | Industrial |
| EDGECORE AS5916-54XKS | ET5402-LR | Edgecore | Grey Optics | LR | 10 | 10km | Commercial |
| EDGECORE AS5916-54XKS | SFP-10G-BX | FS.COM | BiDi | BX | 10 | 10km | Commercial |
| EDGECORE AS5916-54XKS | EN-SFP10G-BXD20 | ECI Networks | BiDi | BXD20 | 10 | 20km | Commercial |
| EDGECORE AS5916-54XKS | EN-SFP10G-BXU20 | ECI Networks | BiDi | BXU20 | 10 | 20km | Commercial |
| EDGECORE AS5916-54XKS | EN-SFP10G-ER | ECI Networks | Grey Optics | ER | 10 | 40km | Commercial |
| EDGECORE AS5916-54XKS | EN-SFPP-ER | ECI Networks | Grey Optics | ER | 10 | 40km | Commercial |
| EDGECORE AS5916-54XKS | EN-SFP10G-BXD40 | ECI Networks | BiDi | BXD40 | 10 | 40km | Commercial |
| EDGECORE AS5916-54XKS | EN-SFP10G-BXU40 | ECI Networks | BiDi | BXU40 | 10 | 40km | Commercial |
| EDGECORE AS5916-54XKS | EN-SFP10G-ERi | ECI Networks | Grey Optics | ER | 10 | 40km | Industrial |
| EDGECORE AS5916-54XKS | EN-SFP10G-BXID40 | ECI Networks | BiDi | BXID40 | 10 | 40km | Industrial |
| EDGECORE AS5916-54XKS | EN-SFP10G-BXIU40 | ECI Networks | BiDi | BXIU40 | 10 | 40km | Industrial |
| EDGECORE AS5916-54XKS | SFP-10G-BX40 | FS.COM | BiDi | BX40D | 10 | 40km | Commercial |
| EDGECORE AS5916-54XKS | EN-SFP10G-ZR | ECI Networks | Grey Optics | ZR | 10 | 80km | Commercial |
| EDGECORE AS5916-54XKS | EN-SFP10G-T50-ZR | ECI Networks | DWDM Tunable | ZR | 10 | 80km | Commercial |
| EDGECORE AS5916-54XKS | EN-SFP10G-ZRI | ECI Networks | Grey Optics | ZR | 10 | 80km | Industrial |
| EDGECORE AS5916-54XKS | SFP-10G-BX80 | FS.COM | BiDi | BX | 10 | 80km | Commercial |
| EDGECORE AS5916-54XKS | EN-SFP10G-BXID20 | ECI Networks | BiDi | BXID20 | 10 | 20km | Industrial |
| EDGECORE AS5916-54XKS | EN-SFP10G-BXIU20 | ECI Networks | BiDi | BXIU20 | 10 | 20km | Industrial |
| EDGECORE AS5916-54XKS | 616740003 | Amphenol | | SFP/SFP+/SFP28 | 10 | | |
| EDGECORE AS5916-54XKS | SFP-10G-3M | OEM | | SFP/SFP+/SFP28 | 10 | | |
| EDGECORE AS5916-54XKS | SFP-10GBASE-LR-I-C | Prolabs | | LR | 10 | | Industrial |
| EDGECORE AS5916-54XKS | SFP-25GBASE-SR-I-C | Prolabs | | SR | 25 | | Industrial |
| EDGECORE AS5916-54XKS | 10093084-2030LF | Amphenol FCI | Direct Attach Cable | DAC | 40 | 3m | Commercial |
| EDGECORE AS5916-54XKS | ET6402-40AOC-7M | Edgecore | Active Optical Cable | AOC | 40 | 7m | Commercial |
| EDGECORE AS5916-54XKS | EN-QSFP40G-SR4 | ECI Networks | Grey Optics | SR4 | 40 | 150m | Commercial |
| EDGECORE AS5916-54XKS | EN-QSFPP-PIR | ECI Networks | Grey Optics | IR4-PSM | 40 | 1.4km | Commercial |
| EDGECORE AS5916-54XKS | EN-QSFP40G-LR4 | ECI Networks | Grey Optics | LR4 | 40 | 10km | Commercial |
| EDGECORE AS5916-54XKS | EN-QSFP-PLR4 | ECI Networks | Grey Optics | LR4 | 40 | 10km | Commercial |
| EDGECORE AS5916-54XKS | EN-QSFPP-LRL4 | ECI Networks | Grey Optics | LR4 | 40 | 10km | Commercial |
| EDGECORE AS5916-54XKS | EN-QSFP40G-LR4i | ECI Networks | Grey Optics | LR4 | 40 | 10km | Industrial |
| EDGECORE AS5916-54XKS | QFP1301040PD | Skylane Optics | Grey Optics | LR4 | 40 | 10km | Commercial |
| EDGECORE AS5916-54XKS | QSFP-40GBASE-SR4-C | Prolabs | | | 40 | | Commercial |
| EDGECORE AS5916-54XKS | QSFP-40G-DAC | Fiberstore | | | | | |
| EDGECORE AS5916-54XKS | ET7402-100DAC-1M | Edgecore | Direct Attach Cable | DAC | 100 | 1m | Commercial |
| EDGECORE AS5916-54XKS | EN-Q28DAC-2M | ECI Networks | Direct Attach Cable | DAC | 100 | 2m | Commercial |
| EDGECORE AS5916-54XKS | EN-Q28AOC-3M | ECI Networks | Active Optical Cable | AOC | 100 | 3m | Commercial |
| EDGECORE AS5916-54XKS | ET7402-100DAC-3M | Edgecore | Direct Attach Cable | DAC | 100 | 3m | Commercial |
| EDGECORE AS5916-54XKS | FCBN425QE1C10 | II-VI Finisar | Active Optical Cable | AOC | 100 | 10m | Commercial |
| EDGECORE AS5916-54XKS | ET7402-SR4 | Edgecore | Grey Optics | SR4 | 100 | 70m | Commercial |
| EDGECORE AS5916-54XKS | EN-QSFP28-SR4 | ECI Networks | Grey Optics | SR4 | 100 | 100m | Commercial |
| EDGECORE AS5916-54XKS | QSFP28-SR4-100G | FS.COM | Grey Optics | SR4 | 100 | 100m | Commercial |
| EDGECORE AS5916-54XKS | FTLC9551REPM | II-VI Finisar | Grey Optics | SR4 | 100 | 100m | Commercial |
| EDGECORE AS5916-54XKS | FTLC9558REPM | II-VI Finisar | Grey Optics | SR4 | 100 | 100m | Commercial |
| EDGECORE AS5916-54XKS | EN-QSFP28-PSM4 | ECI Networks | Grey Optics | PSM4 | 100 | 500m | Commercial |
| EDGECORE AS5916-54XKS | EN-QSFP28-DR1 | ECI Networks | Grey Optics | DR1 | 100 | 500m | Commercial |
| EDGECORE AS5916-54XKS | EN-QSFP28-CW4 | ECI Networks | CWDM | CWDM | 100 | 2km | Commercial |
| EDGECORE AS5916-54XKS | EN-QSFP28-FR1 | ECI Networks | Grey Optics | FR1 | 100 | 2km | Commercial |
| EDGECORE AS5916-54XKS | Q28QL002C00F | Skylane Optics | CWDM | CWDM | 100 | 2km | Commercial |
| EDGECORE AS5916-54XKS | EN-QSFP28-LR4 | ECI Networks | Grey Optics | LR4 | 100 | 10km | Commercial |
| EDGECORE AS5916-54XKS | EN-QSFP28-LR4i | ECI Networks | Grey Optics | LR4 | 100 | 10km | Industrial |
| EDGECORE AS5916-54XKS | EN-QSFP28-eLR4 | ECI Networks | Grey Optics | LR4 | 100 | 20km | Commercial |
| EDGECORE AS5916-54XKS | EN-Q28-eLR4-S | ECI Networks | Grey Optics | LR4 | 100 | 20km | Commercial |
| EDGECORE AS5916-54XKS | EN-QSFP28-ER4L | ECI Networks | Grey Optics | ER4 | 100 | 30km | Commercial |
| EDGECORE AS5916-54XKS | EN-QSFP28-ER4 | ECI Networks | Grey Optics | ER4 | 100 | 40km | Commercial |
| EDGECORE AS5916-54XKS | EN-QSFP28-ER4LI | ECI Networks | Grey Optics | ER4 | 100 | 40km | Industrial |
| EDGECORE AS5916-54XKS | EN-QSFP28-ZR4 | ECI Networks | Grey Optics | ZR4 | 100 | 80km | Commercial |
| EDGECORE AS5916-54XKS | EN-Q28DACBO-3M | ECI Networks | Direct Attach Cable Breakout | DAC BO | 100 | 3m | Commercial |
| EDGECORE AS5916-54XKS | ET7402-25DAC-3M | Edgecore | Direct Attach Cable Breakout | DAC BO | 100 | 3m | Commercial |
| EDGECORE AS5916-54XKS | 76V43 | Dell | Direct Attach Cable | QSFP28 DAC | 100 | 2m | Commercial |
| EDGECORE AS5916-54XKS | 00D5803-N13692A | IBM-Amphenol | | QSFP28 | 100 | | |
| EDGECORE AS5916-54XM | EN-SFP1G-SX | ECI Networks | Grey Optics | SX | 1 | 550m | Commercial |
| EDGECORE AS5916-54XM | EN-SFP1G-SXi | ECI Networks | Grey Optics | SX | 1 | 550m | Industrial |
| EDGECORE AS5916-54XM | EN-SFP1G-LX | ECI Networks | Grey Optics | LX | 1 | 20km | Commercial |
| EDGECORE AS5916-54XM | EN-SFP1G-LXi | ECI Networks | Grey Optics | LX | 1 | 20km | Industrial |
| EDGECORE AS5916-54XM | EN-SFP1G-EX | ECI Networks | Grey Optics | EX | 1 | 40km | Commercial |
| EDGECORE AS5916-54XM | EN-SFP1G-EXi | ECI Networks | Grey Optics | EX | 1 | 40km | Industrial |
| EDGECORE AS5916-54XM | EN-SFP1G-LH | ECI Networks | Grey Optics | LH | 1 | 70km | Commercial |
| EDGECORE AS5916-54XM | EN-SFP1G-ZX | ECI Networks | Grey Optics | ZX | 1 | 80km | Commercial |
| EDGECORE AS5916-54XM | EN-SFP1G-IDL100 | ECI Networks | Grey Optics | ZX | 1 | 100km | Industrial |
| EDGECORE AS5916-54XM | EN-SFP1G-ZXi | ECI Networks | Grey Optics | ZX | 1 | 80km | Industrial |
| EDGECORE AS5916-54XM | LCP-1250B4QDRTFF | DELTA | | LX | 1 | | |
| EDGECORE AS5916-54XM | LS38-C3L-TI-N-QB | APAC | | BX10-U | 1 | | |
| EDGECORE AS5916-54XM | LS48-C3L-TI-N-QB | APAC | | BX10-D | 1 | | |
| EDGECORE AS5916-54XM | SFP-GE-BX20KM-55 | SONGXIN | | BASE-BX10 | 1 | | |
| EDGECORE AS5916-54XM | SFP-GE-BX20KM-31 | SONGXIN | | BASE-BX10 | 1 | | |
| EDGECORE AS5916-54XM | ET5402-DAC-1M | Edgecore | Direct Attach Cable | DAC | 10 | 1m | Commercial |
| EDGECORE AS5916-54XM | FCBG110SD1C01 | II-VI Finisar | Active Optical Cable | AOC | 10 | 1m | Commercial |
| EDGECORE AS5916-54XM | ET5402-DAC-3M | Edgecore | Direct Attach Cable | DAC | 10 | 3m | Commercial |
| EDGECORE AS5916-54XM | FCBG110SD1C03 | II-VI Finisar | Active Optical Cable | AOC | 10 | 3m | Commercial |
| EDGECORE AS5916-54XM | OPSFPP-T-03-PEL | Optech | Direct Attach Cable | DAC | 10 | 3m | Commercial |
| EDGECORE AS5916-54XM | FCBG110SD1C05 | II-VI Finisar | Active Optical Cable | AOC | 10 | 5m | Commercial |
| EDGECORE AS5916-54XM | ET5402-AOC-7M | Edgecore | Active Optical Cable | AOC | 10 | 7m | Commercial |
| EDGECORE AS5916-54XM | ET5402-AOC-10M | Edgecore | Active Optical Cable | AOC | 10 | 10m | Commercial |
| EDGECORE AS5916-54XM | EN-SFP10G-SR | ECI Networks | Grey Optics | SR | 10 | 300m | Commercial |
| EDGECORE AS5916-54XM | EN-SFP10G-SRi | ECI Networks | Grey Optics | SR | 10 | 300m | Industrial |
| EDGECORE AS5916-54XM | SFP-10GSR-85 | FS.COM | Grey Optics | SR | 10 | 300m | Commercial |
| EDGECORE AS5916-54XM | FTLX8574D3BCL | II-VI Finisar | Grey Optics | SR | 10 | 300m | Commercial |
| EDGECORE AS5916-54XM | FTLX8574D3BNL | II-VI Finisar | Grey Optics | SR | 10 | 300m | Commercial |
| EDGECORE AS5916-54XM | EN-SFP10G-LR | ECI Networks | Grey Optics | LR | 10 | 10km | Commercial |
| EDGECORE AS5916-54XM | EN-SFP10G-LRi | ECI Networks | Grey Optics | LR | 10 | 10km | Industrial |
| EDGECORE AS5916-54XM | ET5402-LR | Edgecore | Grey Optics | LR | 10 | 10km | Commercial |
| EDGECORE AS5916-54XM | SFP-10G-BX | FS.COM | BiDi | BX | 10 | 10km | Commercial |
| EDGECORE AS5916-54XM | EN-SFP10G-BXD20 | ECI Networks | BiDi | BXD20 | 10 | 20km | Commercial |
| EDGECORE AS5916-54XM | EN-SFP10G-BXU20 | ECI Networks | BiDi | BXU20 | 10 | 20km | Commercial |
| EDGECORE AS5916-54XM | EN-SFP10G-ER | ECI Networks | Grey Optics | ER | 10 | 40km | Commercial |
| EDGECORE AS5916-54XM | EN-SFPP-ER | ECI Networks | Grey Optics | ER | 10 | 40km | Commercial |
| EDGECORE AS5916-54XM | EN-SFP10G-BXD40 | ECI Networks | BiDi | BXD40 | 10 | 40km | Commercial |
| EDGECORE AS5916-54XM | EN-SFP10G-BXU40 | ECI Networks | BiDi | BXU40 | 10 | 40km | Commercial |
| EDGECORE AS5916-54XM | EN-SFP10G-ERi | ECI Networks | Grey Optics | ER | 10 | 40km | Industrial |
| EDGECORE AS5916-54XM | EN-SFP10G-BXID40 | ECI Networks | BiDi | BXID40 | 10 | 40km | Industrial |
| EDGECORE AS5916-54XM | EN-SFP10G-BXIU40 | ECI Networks | BiDi | BXIU40 | 10 | 40km | Industrial |
| EDGECORE AS5916-54XM | SFP-10G-BX40 | FS.COM | BiDi | BX40D | 10 | 40km | Commercial |
| EDGECORE AS5916-54XM | EN-SFP10G-ZR | ECI Networks | Grey Optics | ZR | 10 | 80km | Commercial |
| EDGECORE AS5916-54XM | EN-SFP10G-ZRI | ECI Networks | Grey Optics | ZR | 10 | 80km | Industrial |
| EDGECORE AS5916-54XM | SFP-10G-BX80 | FS.COM | BiDi | BX | 10 | 80km | Commercial |
| EDGECORE AS5916-54XM | EN-SFP10G-BXID20 | ECI Networks | BiDi | BXID20 | 10 | 20km | Industrial |
| EDGECORE AS5916-54XM | EN-SFP10G-BXIU20 | ECI Networks | BiDi | BXIU20 | 10 | 20km | Industrial |
| EDGECORE AS5916-54XM | 616740003 | Amphenol | | SFP/SFP+/SFP28 | 10 | | |
| EDGECORE AS5916-54XM | SFP-10G-3M | OEM | | SFP/SFP+/SFP28 | 10 | | |
| EDGECORE AS5916-54XM | ET6402-40AOC-7M | Edgecore | Active Optical Cable | AOC | 40 | 7m | Commercial |
| EDGECORE AS5916-54XM | EN-QSFP40G-SR4 | ECI Networks | Grey Optics | SR4 | 40 | 150m | Commercial |
| EDGECORE AS5916-54XM | EN-QSFPP-PIR | ECI Networks | Grey Optics | IR4-PSM | 40 | 1.4km | Commercial |
| EDGECORE AS5916-54XM | EN-QSFP40G-LR4 | ECI Networks | Grey Optics | LR4 | 40 | 10km | Commercial |
| EDGECORE AS5916-54XM | EN-QSFP-PLR4 | ECI Networks | Grey Optics | LR4 | 40 | 10km | Commercial |
| EDGECORE AS5916-54XM | EN-QSFPP-LRL4 | ECI Networks | Grey Optics | LR4 | 40 | 10km | Commercial |
| EDGECORE AS5916-54XM | QFP1301040PD | Skylane Optics | Grey Optics | LR4 | 40 | 10km | Commercial |
| EDGECORE AS5916-54XM | EN-QSFP40G-LR4i | ECI Networks | Grey Optics | LR4 | 40 | 10km | Industrial |
| EDGECORE AS5916-54XM | QSFP-40GBASE-SR4-C | Prolabs | | | 40 | | Commercial |
| EDGECORE AS5916-54XM | QSFP-40G-DAC | Fiberstore | | | | | |
| EDGECORE AS5916-54XM | ET7402-100DAC-1M | Edgecore | Direct Attach Cable | DAC | 100 | 1m | Commercial |
| EDGECORE AS5916-54XM | EN-Q28DAC-2M | ECI Networks | Direct Attach Cable | DAC | 100 | 2m | Commercial |
| EDGECORE AS5916-54XM | EN-Q28AOC-3M | ECI Networks | Active Optical Cable | AOC | 100 | 3m | Commercial |
| EDGECORE AS5916-54XM | ET7402-100DAC-3M | Edgecore | Direct Attach Cable | DAC | 100 | 3m | Commercial |
| EDGECORE AS5916-54XM | EN-QSFP28-FR1 | ECI Networks | Grey Optics | FR1 | 100 | 2km | Commercial |
| EDGECORE AS5916-54XM | EN-Q28-eLR4-S | ECI Networks | Grey Optics | LR4 | 100 | 20km | Commercial |
| EDGECORE AS5916-54XM | FCBN425QE1C10 | II-VI Finisar | Active Optical Cable | AOC | 100 | 10m | Commercial |
| EDGECORE AS5916-54XM | ET7402-SR4 | Edgecore | Grey Optics | SR4 | 100 | 70m | Commercial |
| EDGECORE AS5916-54XM | EN-QSFP28-SR4 | ECI Networks | Grey Optics | SR4 | 100 | 100m | Commercial |
| EDGECORE AS5916-54XM | QSFP28-SR4-100G | FS.COM | Grey Optics | SR4 | 100 | 100m | Commercial |
| EDGECORE AS5916-54XM | FTLC9551REPM | II-VI Finisar | Grey Optics | SR4 | 100 | 100m | Commercial |
| EDGECORE AS5916-54XM | FTLC9558REPM | II-VI Finisar | Grey Optics | SR4 | 100 | 100m | Commercial |
| EDGECORE AS5916-54XM | EN-QSFP28-PSM4 | ECI Networks | Grey Optics | PSM4 | 100 | 500m | Commercial |
| EDGECORE AS5916-54XM | EN-QSFP28-DR1 | ECI Networks | Grey Optics | DR1 | 100 | 500m | Commercial |
| EDGECORE AS5916-54XM | EN-QSFP28-CW4 | ECI Networks | CWDM | CWDM | 100 | 2km | Commercial |
| EDGECORE AS5916-54XM | EN-QSFP28-LR4 | ECI Networks | Grey Optics | LR4 | 100 | 10km | Commercial |
| EDGECORE AS5916-54XM | EN-QSFP28-ER4 | ECI Networks | Grey Optics | ER4 | 100 | 40km | Commercial |
| EDGECORE AS5916-54XM | EN-QSFP28-ER4LI | ECI Networks | Grey Optics | ER4 | 100 | 40km | Industrial |
| EDGECORE AS5916-54XM | EN-QSFP28-ZR4 | ECI Networks | Grey Optics | ZR4 | 100 | 80km | Commercial |
| EDGECORE AS5916-54XM | 76V43 | Dell | Direct Attach Cable | QSFP28 DAC | 100 | 2m | Commercial |
| EDGECORE AS5916-54XM | 00D5803-N13692A | IBM-Amphenol | | QSFP28 | 100 | | |
| EDGECORE AS5916-54XM | QSFP28-100GB-LR4-I-C | Prolabs | | LR4 | 100 | 10km | Industrial |
| EDGECORE AS7315-27X | EN-SFP1G-RJ45 | ECI Networks | Copper | RJ45 | 1 | 100m | Commercial |
| EDGECORE AS7315-27X | EN-SFP-RJ45 | ECI Networks | Copper | RJ45 | 1 | 100m | Commercial |
| EDGECORE AS7315-27X | 1000M-SFP-T-HU | Edgeoptic | Copper | RJ45 | 1 | 100m | Commercial |
| EDGECORE AS7315-27X | FCLF8521P2BTL | Finisar | Copper | RJ45 | 1 | 100m | Industrial |
| EDGECORE AS7315-27X | EN-SFP1G-SX | ECI Networks | Grey Optics | SX | 1 | 550m | Commercial |
| EDGECORE AS7315-27X | EN-SFP1G-SXi | ECI Networks | Grey Optics | SX | 1 | 550m | Industrial |
| EDGECORE AS7315-27X | FTLF8519P3BTL | II-VI Finisar | Grey Optics | SX | 1 | 550m | Industrial |
| EDGECORE AS7315-27X | EN-SFP1G-LX | ECI Networks | Grey Optics | LX | 1 | 20km | Commercial |
| EDGECORE AS7315-27X | EN-SFP1G-LXi | ECI Networks | Grey Optics | LX | 1 | 20km | Industrial |
| EDGECORE AS7315-27X | OP6C-W20-B5-CM | Optech | BiDi | LR | 1 | 20km | Commercial |
| EDGECORE AS7315-27X | OP6C-W20-B3-CM | Optech | BiDi | LR | 1 | 20km | Commercial |
| EDGECORE AS7315-27X | EN-SFP1G-EX | ECI Networks | Grey Optics | EX | 1 | 40km | Commercial |
| EDGECORE AS7315-27X | EN-SFP1G-LH | ECI Networks | Grey Optics | LH | 1 | 70km | Commercial |
| EDGECORE AS7315-27X | EN-SFP1G-ZX | ECI Networks | Grey Optics | ZX | 1 | 80km | Commercial |
| EDGECORE AS7315-27X | EN-SFP1G-IDL100 | ECI Networks | Grey Optics | ZX | 1 | 100km | Industrial |
| EDGECORE AS7315-27X | EN-SFP-iRJ45 | ECI Networks | Copper | RJ45 | 1 | 100m | Industrial |
| EDGECORE AS7315-27X | EN-SFP1G-EXi | ECI Networks | Grey Optics | EX | 1 | 40km | Industrial |
| EDGECORE AS7315-27X | EN-SFP1G-ZXi | ECI Networks | Grey Optics | ZX | 1 | 80km | Industrial |
| EDGECORE AS7315-27X | LCP-1250B4QDRTFF | DELTA | | LX | 1 | | |
| EDGECORE AS7315-27X | LS38-C3L-TI-N-QB | APAC | | BX10-U | 1 | | |
| EDGECORE AS7315-27X | LS48-C3L-TI-N-QB | APAC | | BX10-D | 1 | | |
| EDGECORE AS7315-27X | SFP-GE-BX20KM-55 | SONGXIN | | BASE-BX10 | 1 | | |
| EDGECORE AS7315-27X | SFP-GE-BX20KM-31 | SONGXIN | | BASE-BX10 | 1 | | |
| EDGECORE AS7315-27X | ET5402-DAC-1M | Edgecore | Direct Attach Cable | DAC | 10 | 1m | Commercial |
| EDGECORE AS7315-27X | FCBG110SD1C01 | II-VI Finisar | Active Optical Cable | AOC | 10 | 1m | Commercial |
| EDGECORE AS7315-27X | ET5402-DAC-3M | Edgecore | Direct Attach Cable | DAC | 10 | 3m | Commercial |
| EDGECORE AS7315-27X | FCBG110SD1C03 | II-VI Finisar | Active Optical Cable | AOC | 10 | 3m | Commercial |
| EDGECORE AS7315-27X | OPSFPP-T-03-PEL | Optech | Direct Attach Cable | DAC | 10 | 3m | Commercial |
| EDGECORE AS7315-27X | FCBG110SD1C05 | II-VI Finisar | Active Optical Cable | AOC | 10 | 5m | Commercial |
| EDGECORE AS7315-27X | ET5402-AOC-7M | Edgecore | Active Optical Cable | AOC | 10 | 7m | Commercial |
| EDGECORE AS7315-27X | ET5402-AOC-10M | Edgecore | Active Optical Cable | AOC | 10 | 10m | Commercial |
| EDGECORE AS7315-27X | EN-SFP10G-SR | ECI Networks | Grey Optics | SR | 10 | 300m | Commercial |
| EDGECORE AS7315-27X | EN-SFP10G-SRi | ECI Networks | Grey Optics | SR | 10 | 300m | Industrial |
| EDGECORE AS7315-27X | SFP-10GSR-85 | FS.COM | Grey Optics | SR | 10 | 300m | Commercial |
| EDGECORE AS7315-27X | FTLX8574D3BCL | II-VI Finisar | Grey Optics | SR | 10 | 300m | Commercial |
| EDGECORE AS7315-27X | FTLX8574D3BNL | II-VI Finisar | Grey Optics | SR | 10 | 300m | Commercial |
| EDGECORE AS7315-27X | EN-SFP10G-LR | ECI Networks | Grey Optics | LR | 10 | 10km | Commercial |
| EDGECORE AS7315-27X | EN-SFP10G-LRi | ECI Networks | Grey Optics | LR | 10 | 10km | Industrial |
| EDGECORE AS7315-27X | ET5402-LR | Edgecore | Grey Optics | LR | 10 | 10km | Commercial |
| EDGECORE AS7315-27X | SFP-10G-BX | FS.COM | BiDi | BX | 10 | 10km | Commercial |
| EDGECORE AS7315-27X | EN-SFP10G-BXD20 | ECI Networks | BiDi | BXD20 | 10 | 20km | Commercial |
| EDGECORE AS7315-27X | EN-SFP10G-BXU20 | ECI Networks | BiDi | BXU20 | 10 | 20km | Commercial |
| EDGECORE AS7315-27X | EN-SFP10G-BXID20 | ECI Networks | BiDi | BXID20 | 10 | 20km | Industrial |
| EDGECORE AS7315-27X | EN-SFP10G-BXIU20 | ECI Networks | BiDi | BXIU20 | 10 | 20km | Industrial |
| EDGECORE AS7315-27X | EN-SFP10G-ER | ECI Networks | Grey Optics | ER | 10 | 40km | Commercial |
| EDGECORE AS7315-27X | EN-SFPP-ER | ECI Networks | Grey Optics | ER | 10 | 40km | Commercial |
| EDGECORE AS7315-27X | EN-SFP10G-BXD40 | ECI Networks | BiDi | BXD40 | 10 | 40km | Commercial |
| EDGECORE AS7315-27X | EN-SFP10G-BXU40 | ECI Networks | BiDi | BXU40 | 10 | 40km | Commercial |
| EDGECORE AS7315-27X | EN-SFP10G-ERi | ECI Networks | Grey Optics | ER | 10 | 40km | Industrial |
| EDGECORE AS7315-27X | EN-SFP10G-BXID40 | ECI Networks | BiDi | BXID40 | 10 | 40km | Industrial |
| EDGECORE AS7315-27X | EN-SFP10G-BXIU40 | ECI Networks | BiDi | BXIU40 | 10 | 40km | Industrial |
| EDGECORE AS7315-27X | SFP-10G-BX40 | FS.COM | BiDi | BX40D | 10 | 40km | Commercial |
| EDGECORE AS7315-27X | EN-SFP10G-ZR | ECI Networks | Grey Optics | ZR | 10 | 80km | Commercial |
| EDGECORE AS7315-27X | EN-SFP10G-ZRI | ECI Networks | Grey Optics | ZR | 10 | 80km | Industrial |
| EDGECORE AS7315-27X | SFP-10G-BX80 | FS.COM | BiDi | BX | 10 | 80km | Commercial |
| EDGECORE AS7315-27X | 616740003 | Amphenol | | SFP/SFP+/SFP28 | 10 | | |
| EDGECORE AS7315-27X | SFP-10G-3M | OEM | | SFP/SFP+/SFP28 | 10 | | |
| EDGECORE AS7315-27X | SFP-10GBASE-LR-I-C | Prolabs | | LR | 10 | | Industrial |
| EDGECORE AS7315-27X | ET7302-AOC-5M | Edgecore | Direct Attach Cable | DAC | 25 | 5m | Commercial |
| EDGECORE AS7315-27X | FCBG125SD1C05 | II-VI Finisar | Active Optical Cable | AOC | 25 | 5m | Commercial |
| EDGECORE AS7315-27X | ET7302-AOC-7M | Edgecore | Active Optical Cable | AOC | 25 | 7m | Commercial |
| EDGECORE AS7315-27X | EN-SFP28-SR | ECI Networks | Grey Optics | SR | 25 | 100m | Commercial |
| EDGECORE AS7315-27X | EN-SFP28-SRi | ECI Networks | Grey Optics | SR | 25 | 100m | Industrial |
| EDGECORE AS7315-27X | EN-SFP28-LR | ECI Networks | Grey Optics | LR | 25 | 20km | Commercial |
| EDGECORE AS7315-27X | EN-SFP28-ERi | ECI Networks | Grey Optics | ER | 25 | 40km | Industrial |
| EDGECORE AS7315-27X | EN-SFP28-ER | ECI Networks | Grey Optics | SFP28-ER | 25 | 40km | Industrial |
| EDGECORE AS7315-27X | RTXM330-8921 | Accelink | | | 25 | | |
| EDGECORE AS7315-27X | TRS5A21EH05LF000 | CIG | | | 25 | | |
| EDGECORE AS7315-27X | EN-S28-DAC-3M | ECI Networks | Grey Optics | SFP28-ER | 25 | 40km | Industrial |
| EDGECORE AS7315-27X | SFP-25GBASE-SR-I-C | Prolabs | | SR | 25 | | Industrial |
| EDGECORE AS7315-27X | 10093084-2030LF | Amphenol FCI | Direct Attach Cable | DAC | 40 | 3m | Commercial |
| EDGECORE AS7315-27X | ET6402-40AOC-7M | Edgecore | Active Optical Cable | AOC | 40 | 7m | Commercial |
| EDGECORE AS7315-27X | EN-QSFP40G-SR4 | ECI Networks | Grey Optics | SR4 | 40 | 150m | Commercial |
| EDGECORE AS7315-27X | EN-QSFPP-PIR | ECI Networks | Grey Optics | IR4-PSM | 40 | 1.4km | Commercial |
| EDGECORE AS7315-27X | EN-QSFP40G-LR4 | ECI Networks | Grey Optics | LR4 | 40 | 10km | Commercial |
| EDGECORE AS7315-27X | EN-QSFP-PLR4 | ECI Networks | Grey Optics | LR4 | 40 | 10km | Commercial |
| EDGECORE AS7315-27X | EN-QSFPP-LRL4 | ECI Networks | Grey Optics | LR4 | 40 | 10km | Commercial |
| EDGECORE AS7315-27X | QFP1301040PD | Skylane Optics | Grey Optics | LR4 | 40 | 10km | Commercial |
| EDGECORE AS7315-27X | EN-QSFP40G-ER4 | ECI Networks | Grey Optics | ER4 | 40 | 40km | Commercial |
| EDGECORE AS7315-27X | EN-QSFP40G-LR4i | ECI Networks | Grey Optics | LR4 | 40 | 10km | Industrial |
| EDGECORE AS7315-27X | ET7402-100DAC-1M | Edgecore | Direct Attach Cable | DAC | 100 | 1m | Commercial |
| EDGECORE AS7315-27X | EN-Q28DAC-2M | ECI Networks | Direct Attach Cable | DAC | 100 | 2m | Commercial |
| EDGECORE AS7315-27X | EN-Q28AOC-3M | ECI Networks | Active Optical Cable | AOC | 100 | 3m | Commercial |
| EDGECORE AS7315-27X | ET7402-100DAC-3M | Edgecore | Direct Attach Cable | DAC | 100 | 3m | Commercial |
| EDGECORE AS7315-27X | OPQS28-T-03-P/SF28/4 | Optech | Direct Attach Cable Breakout | DAC BO | 100 | 3m | Commercial |
| EDGECORE AS7315-27X | FCBN425QE1C10 | II-VI Finisar | Active Optical Cable | AOC | 100 | 10m | Commercial |
| EDGECORE AS7315-27X | ET7402-SR4 | Edgecore | Grey Optics | SR4 | 100 | 70m | Commercial |
| EDGECORE AS7315-27X | EN-QSFP28-SR4 | ECI Networks | Grey Optics | SR4 | 100 | 100m | Commercial |
| EDGECORE AS7315-27X | QSFP28-SR4-100G | FS.COM | Grey Optics | SR4 | 100 | 100m | Commercial |
| EDGECORE AS7315-27X | FTLC9551REPM | II-VI Finisar | Grey Optics | SR4 | 100 | 100m | Commercial |
| EDGECORE AS7315-27X | FTLC9558REPM | II-VI Finisar | Grey Optics | SR4 | 100 | 100m | Commercial |
| EDGECORE AS7315-27X | EN-QSFP28-PSM4 | ECI Networks | Grey Optics | PSM4 | 100 | 500m | Commercial |
| EDGECORE AS7315-27X | EN-QSFP28-DR1 | ECI Networks | Grey Optics | DR1 | 100 | 500m | Commercial |
| EDGECORE AS7315-27X | EN-QSFP28-CW4 | ECI Networks | CWDM | CWDM | 100 | 2km | Commercial |
| EDGECORE AS7315-27X | EN-QSFP28-FR1 | ECI Networks | Grey Optics | FR1 | 100 | 2km | Commercial |
| EDGECORE AS7315-27X | Q28QL002C00F | Skylane Optics | CWDM | CWDM | 100 | 2km | Commercial |
| EDGECORE AS7315-27X | EN-QSFP28-LR4 | ECI Networks | Grey Optics | LR4 | 100 | 10km | Commercial |
| EDGECORE AS7315-27X | EN-QSFP28-ER4 | ECI Networks | Grey Optics | ER4 | 100 | 40km | Commercial |
| EDGECORE AS7315-27X | EN-QSFP28-ER4LI | ECI Networks | Grey Optics | ER4 | 100 | 40km | Industrial |
| EDGECORE AS7315-27X | EN-QSFP28-ZR4 | ECI Networks | Grey Optics | ZR4 | 100 | 80km | Commercial |
| EDGECORE AS7315-27X | EN-Q28-eLR4-S | ECI Networks | Grey Optics | LR4 | 100 | 20km | Commercial |
| EDGECORE AS7315-27X | 76V43 | Dell | Direct Attach Cable | QSFP28 DAC | 100 | 2m | Commercial |
| EDGECORE AS7315-27X | 00D5803-N13692A | IBM-Amphenol | | QSFP28 | 100 | | |
| EDGECORE AS7315-30X | EN-SFP1G-RJ45 | ECI Networks | Copper | RJ45 | 1 | 100m | Commercial |
| EDGECORE AS7315-30X | 1000M-SFP-T-HU | Edgeoptic | Copper | RJ45 | 1 | 100m | Commercial |
| EDGECORE AS7315-30X | FCLF8521P2BTL | Finisar | Copper | RJ45 | 1 | 100m | Industrial |
| EDGECORE AS7315-30X | EN-SFP1G-SX | ECI Networks | Grey Optics | SX | 1 | 550m | Commercial |
| EDGECORE AS7315-30X | EN-SFP1G-SXi | ECI Networks | Grey Optics | SX | 1 | 550m | Industrial |
| EDGECORE AS7315-30X | FTLF8519P3BTL | II-VI Finisar | Grey Optics | SX | 1 | 550m | Industrial |
| EDGECORE AS7315-30X | EN-SFP1G-LX | ECI Networks | Grey Optics | LX | 1 | 20km | Commercial |
| EDGECORE AS7315-30X | EN-SFP1G-LXi | ECI Networks | Grey Optics | LX | 1 | 20km | Industrial |
| EDGECORE AS7315-30X | OP6C-W20-B5-CM | Optech | BiDi | LR | 1 | 20km | Commercial |
| EDGECORE AS7315-30X | OP6C-W20-B3-CM | Optech | BiDi | LR | 1 | 20km | Commercial |
| EDGECORE AS7315-30X | EN-SFP1G-EX | ECI Networks | Grey Optics | EX | 1 | 40km | Commercial |
| EDGECORE AS7315-30X | EN-SFP1G-LH | ECI Networks | Grey Optics | LH | 1 | 70km | Commercial |
| EDGECORE AS7315-30X | EN-SFP1G-ZX | ECI Networks | Grey Optics | ZX | 1 | 80km | Commercial |
| EDGECORE AS7315-30X | EN-SFP1G-IDL100 | ECI Networks | Grey Optics | ZX | 1 | 100km | Industrial |
| EDGECORE AS7315-30X | EN-SFP-iRJ45 | ECI Networks | Copper | RJ45 | 1 | 100m | Industrial |
| EDGECORE AS7315-30X | EN-SFP1G-EXi | ECI Networks | Grey Optics | EX | 1 | 40km | Industrial |
| EDGECORE AS7315-30X | EN-SFP1G-ZXi | ECI Networks | Grey Optics | ZX | 1 | 80km | Industrial |
| EDGECORE AS7315-30X | EN-SFP-RJ45 | ECI Networks | Copper | RJ45 | 1 | 100m | Commercial |
| EDGECORE AS7315-30X | LCP-1250B4QDRTFF | DELTA | | LX | 1 | | |
| EDGECORE AS7315-30X | LS38-C3L-TI-N-QB | APAC | | BX10-U | 1 | | |
| EDGECORE AS7315-30X | LS48-C3L-TI-N-QB | APAC | | BX10-D | 1 | | |
| EDGECORE AS7315-30X | SFP-GE-BX20KM-55 | SONGXIN | | BASE-BX10 | 1 | | |
| EDGECORE AS7315-30X | SFP-GE-BX20KM-31 | SONGXIN | | BASE-BX10 | 1 | | |
| EDGECORE AS7315-30X | ET5402-DAC-1M | Edgecore | Direct Attach Cable | DAC | 10 | 1m | Commercial |
| EDGECORE AS7315-30X | FCBG110SD1C01 | II-VI Finisar | Active Optical Cable | AOC | 10 | 1m | Commercial |
| EDGECORE AS7315-30X | FCBG110SD1C03 | II-VI Finisar | Active Optical Cable | AOC | 10 | 3m | Commercial |
| EDGECORE AS7315-30X | OPSFPP-T-03-PEL | Optech | Direct Attach Cable | DAC | 10 | 3m | Commercial |
| EDGECORE AS7315-30X | FCBG110SD1C05 | II-VI Finisar | Active Optical Cable | AOC | 10 | 5m | Commercial |
| EDGECORE AS7315-30X | ET5402-AOC-7M | Edgecore | Active Optical Cable | AOC | 10 | 7m | Commercial |
| EDGECORE AS7315-30X | EN-SFP10G-SR | ECI Networks | Grey Optics | SR | 10 | 300m | Commercial |
| EDGECORE AS7315-30X | EN-SFP10G-SRi | ECI Networks | Grey Optics | SR | 10 | 300m | Industrial |
| EDGECORE AS7315-30X | SFP-10GSR-85 | FS.COM | Grey Optics | SR | 10 | 300m | Commercial |
| EDGECORE AS7315-30X | FTLX8574D3BCL | II-VI Finisar | Grey Optics | SR | 10 | 300m | Commercial |
| EDGECORE AS7315-30X | FTLX8574D3BNL | II-VI Finisar | Grey Optics | SR | 10 | 300m | Commercial |
| EDGECORE AS7315-30X | EN-SFP10G-LR | ECI Networks | Grey Optics | LR | 10 | 10km | Commercial |
| EDGECORE AS7315-30X | EN-SFP10G-LRi | ECI Networks | Grey Optics | LR | 10 | 10km | Industrial |
| EDGECORE AS7315-30X | ET5402-LR | Edgecore | Grey Optics | LR | 10 | 10km | Commercial |
| EDGECORE AS7315-30X | SFP-10G-BX | FS.COM | BiDi | BX | 10 | 10km | Commercial |
| EDGECORE AS7315-30X | EN-SFP10G-BXD20 | ECI Networks | BiDi | BXD20 | 10 | 20km | Commercial |
| EDGECORE AS7315-30X | EN-SFP10G-BXU20 | ECI Networks | BiDi | BXU20 | 10 | 20km | Commercial |
| EDGECORE AS7315-30X | EN-SFP10G-ER | ECI Networks | Grey Optics | ER | 10 | 40km | Commercial |
| EDGECORE AS7315-30X | EN-SFPP-ER | ECI Networks | Grey Optics | ER | 10 | 40km | Commercial |
| EDGECORE AS7315-30X | EN-SFP10G-BXD40 | ECI Networks | BiDi | BXD40 | 10 | 40km | Commercial |
| EDGECORE AS7315-30X | EN-SFP10G-BXU40 | ECI Networks | BiDi | BXU40 | 10 | 40km | Commercial |
| EDGECORE AS7315-30X | EN-SFP10G-ERi | ECI Networks | Grey Optics | ER | 10 | 40km | Industrial |
| EDGECORE AS7315-30X | EN-SFP10G-BXID40 | ECI Networks | BiDi | BXID40 | 10 | 40km | Industrial |
| EDGECORE AS7315-30X | EN-SFP10G-BXIU40 | ECI Networks | BiDi | BXIU40 | 10 | 40km | Industrial |
| EDGECORE AS7315-30X | SFP-10G-BX40 | FS.COM | BiDi | BX40D | 10 | 40km | Commercial |
| EDGECORE AS7315-30X | EN-SFP10G-ZR | ECI Networks | Grey Optics | ZR | 10 | 80km | Commercial |
| EDGECORE AS7315-30X | EN-SFP10G-ZRI | ECI Networks | Grey Optics | ZR | 10 | 80km | Industrial |
| EDGECORE AS7315-30X | SFP-10G-BX80 | FS.COM | BiDi | BX | 10 | 80km | Commercial |
| EDGECORE AS7315-30X | ET5402-DAC-3M | Edgecore | Direct Attach Cable | DAC | 10 | 3m | Commercial |
| EDGECORE AS7315-30X | EN-SFP10G-BXID20 | ECI Networks | BiDi | BXID20 | 10 | 20km | Industrial |
| EDGECORE AS7315-30X | EN-SFP10G-BXIU20 | ECI Networks | BiDi | BXIU20 | 10 | 20km | Industrial |
| EDGECORE AS7315-30X | 616740003 | Amphenol | | SFP/SFP+/SFP28 | 10 | | |
| EDGECORE AS7315-30X | SFP-10G-3M | OEM | | SFP/SFP+/SFP28 | 10 | | |
| EDGECORE AS7315-30X | SFP-10GBASE-LR-I-C | Prolabs | | LR | 10 | | Industrial |
| EDGECORE AS7315-30X | FCBG125SD1C05 | II-VI Finisar | Active Optical Cable | AOC | 25 | 5m | Commercial |
| EDGECORE AS7315-30X | EN-SFP28-SR | ECI Networks | Grey Optics | SR | 25 | 100m | Commercial |
| EDGECORE AS7315-30X | EN-SFP28-SRi | ECI Networks | Grey Optics | SR | 25 | 100m | Industrial |
| EDGECORE AS7315-30X | EN-SFP28-LR | ECI Networks | Grey Optics | LR | 25 | 20km | Commercial |
| EDGECORE AS7315-30X | ET7302-AOC-7M | Edgecore | Active Optical Cable | AOC | 25 | 7m | Commercial |
| EDGECORE AS7315-30X | ET7302-AOC-5M | Edgecore | Direct Attach Cable | DAC | 25 | 5m | Commercial |
| EDGECORE AS7315-30X | EN-SFP28-ERi | ECI Networks | Grey Optics | ER | 25 | 40km | Industrial |
| EDGECORE AS7315-30X | RTXM330-8921 | Accelink | | | 25 | | |
| EDGECORE AS7315-30X | TRS5A21EH05LF000 | CIG | | | 25 | | |
| EDGECORE AS7315-30X | EN-S28-DAC-3M | ECI Networks | Grey Optics | SFP28-ER | 25 | 40km | Industrial |
| EDGECORE AS7315-30X | SFP-25GBASE-SR-I-C | Prolabs | | SR | 25 | | Industrial |
| EDGECORE AS7315-30X | ET6402-40AOC-7M | Edgecore | Active Optical Cable | AOC | 40 | 7m | Commercial |
| EDGECORE AS7315-30X | EN-QSFP40G-SR4 | ECI Networks | Grey Optics | SR4 | 40 | 150m | Commercial |
| EDGECORE AS7315-30X | EN-QSFPP-PIR | ECI Networks | Grey Optics | IR4-PSM | 40 | 1.4km | Commercial |
| EDGECORE AS7315-30X | EN-QSFP40G-LR4 | ECI Networks | Grey Optics | LR4 | 40 | 10km | Commercial |
| EDGECORE AS7315-30X | EN-QSFP-PLR4 | ECI Networks | Grey Optics | LR4 | 40 | 10km | Commercial |
| EDGECORE AS7315-30X | EN-QSFPP-LRL4 | ECI Networks | Grey Optics | LR4 | 40 | 10km | Commercial |
| EDGECORE AS7315-30X | QFP1301040PD | Skylane Optics | Grey Optics | LR4 | 40 | 10km | Commercial |
| EDGECORE AS7315-30X | EN-QSFP40G-ER4 | ECI Networks | Grey Optics | ER4 | 40 | 40km | Commercial |
| EDGECORE AS7315-30X | EN-QSFP40G-LR4i | ECI Networks | Grey Optics | LR4 | 40 | 10km | Industrial |
| EDGECORE AS7315-30X | QSFP-40GBASE-SR4-C | Prolabs | | | 40 | | Commercial |
| EDGECORE AS7315-30X | QSFP-40G-DAC | Fiberstore | | | | | |
| EDGECORE AS7315-30X | ET7402-100DAC-1M | Edgecore | Direct Attach Cable | DAC | 100 | 1m | Commercial |
| EDGECORE AS7315-30X | EN-Q28DAC-2M | ECI Networks | Direct Attach Cable | DAC | 100 | 2m | Commercial |
| EDGECORE AS7315-30X | EN-Q28AOC-3M | ECI Networks | Active Optical Cable | AOC | 100 | 3m | Commercial |
| EDGECORE AS7315-30X | ET7402-100DAC-3M | Edgecore | Direct Attach Cable | DAC | 100 | 3m | Commercial |
| EDGECORE AS7315-30X | OPQS28-T-03-P/SF28/4 | Optech | Direct Attach Cable Breakout | DAC BO | 100 | 3m | Commercial |
| EDGECORE AS7315-30X | FCBN425QE1C10 | II-VI Finisar | Active Optical Cable | AOC | 100 | 10m | Commercial |
| EDGECORE AS7315-30X | ET7402-SR4 | Edgecore | Grey Optics | SR4 | 100 | 70m | Commercial |
| EDGECORE AS7315-30X | EN-QSFP28-SR4 | ECI Networks | Grey Optics | SR4 | 100 | 100m | Commercial |
| EDGECORE AS7315-30X | QSFP28-SR4-100G | FS.COM | Grey Optics | SR4 | 100 | 100m | Commercial |
| EDGECORE AS7315-30X | FTLC9551REPM | II-VI Finisar | Grey Optics | SR4 | 100 | 100m | Commercial |
| EDGECORE AS7315-30X | FTLC9558REPM | II-VI Finisar | Grey Optics | SR4 | 100 | 100m | Commercial |
| EDGECORE AS7315-30X | EN-QSFP28-PSM4 | ECI Networks | Grey Optics | PSM4 | 100 | 500m | Commercial |
| EDGECORE AS7315-30X | EN-QSFP28-CW4 | ECI Networks | CWDM | CWDM | 100 | 2km | Commercial |
| EDGECORE AS7315-30X | EN-QSFP28-FR1 | ECI Networks | Grey Optics | FR1 | 100 | 2km | Commercial |
| EDGECORE AS7315-30X | EN-QSFP28-LR4 | ECI Networks | Grey Optics | LR4 | 100 | 10km | Commercial |
| EDGECORE AS7315-30X | EN-QSFP28-ER4 | ECI Networks | Grey Optics | ER4 | 100 | 40km | Commercial |
| EDGECORE AS7315-30X | EN-QSFP28-ER4LI | ECI Networks | Grey Optics | ER4 | 100 | 40km | Industrial |
| EDGECORE AS7315-30X | EN-QSFP28-ZR4 | ECI Networks | Grey Optics | ZR4 | 100 | 80km | Commercial |
| EDGECORE AS7315-30X | EN-QSFP28-DR1 | ECI Networks | Grey Optics | DR1 | 100 | 500m | Commercial |
| EDGECORE AS7315-30X | EN-Q28-eLR4-S | ECI Networks | Grey Optics | LR4 | 100 | 20km | Commercial |
| EDGECORE AS7315-30X | 76V43 | Dell | Direct Attach Cable | QSFP28 DAC | 100 | 2m | Commercial |
| EDGECORE AS7315-30X | 00D5803-N13692A | IBM-Amphenol | | QSFP28 | 100 | | |
| EDGECORE AS7315-30X | QSFP28-100GB-LR4-I-C | Prolabs | | LR4 | 100 | 10km | Industrial |
| EDGECORE AS7316-26XB | EN-SFP1G-RJ45 | ECI Networks | Copper | RJ45 | 1 | 100m | Commercial |
| EDGECORE AS7316-26XB | EN-SFP-RJ45 | ECI Networks | Copper | RJ45 | 1 | 100m | Commercial |
| EDGECORE AS7316-26XB | EN-SFP-iRJ45 | ECI Networks | Copper | RJ45 | 1 | 100m | Industrial |
| EDGECORE AS7316-26XB | 1000M-SFP-T-HU | Edgeoptic | Copper | RJ45 | 1 | 100m | Commercial |
| EDGECORE AS7316-26XB | FCMJ-8521-3 | Finisar | Copper | RJ45 | 1 | 100m | Commercial |
| EDGECORE AS7316-26XB | FCLF8521P2BTL | Finisar | Copper | RJ45 | 1 | 100m | Industrial |
| EDGECORE AS7316-26XB | EN-SFP1G-SX | ECI Networks | Grey Optics | SX | 1 | 550m | Commercial |
| EDGECORE AS7316-26XB | EN-SFP1G-SXi | ECI Networks | Grey Optics | SX | 1 | 550m | Industrial |
| EDGECORE AS7316-26XB | FTLF8519P3BTL | II-VI Finisar | Grey Optics | SX | 1 | 550m | Industrial |
| EDGECORE AS7316-26XB | EN-SFP1G-LX | ECI Networks | Grey Optics | LX | 1 | 20km | Commercial |
| EDGECORE AS7316-26XB | EN-SFP1G-LXi | ECI Networks | Grey Optics | LX | 1 | 20km | Industrial |
| EDGECORE AS7316-26XB | OP6C-W20-B5-CM | Optech | BiDi | LR | 1 | 20km | Commercial |
| EDGECORE AS7316-26XB | OP6C-W20-B3-CM | Optech | BiDi | LR | 1 | 20km | Commercial |
| EDGECORE AS7316-26XB | EN-SFP1G-EX | ECI Networks | Grey Optics | EX | 1 | 40km | Commercial |
| EDGECORE AS7316-26XB | EN-SFP1G-EXi | ECI Networks | Grey Optics | EX | 1 | 40km | Industrial |
| EDGECORE AS7316-26XB | EN-SFP1G-LH | ECI Networks | Grey Optics | LH | 1 | 70km | Commercial |
| EDGECORE AS7316-26XB | EN-SFP1G-ZX | ECI Networks | Grey Optics | ZX | 1 | 80km | Commercial |
| EDGECORE AS7316-26XB | EN-SFP1G-ZXi | ECI Networks | Grey Optics | ZX | 1 | 80km | Industrial |
| EDGECORE AS7316-26XB | EN-SFP1G-IDL100 | ECI Networks | Grey Optics | ZX | 1 | 100km | Industrial |
| EDGECORE AS7316-26XB | LCP-1250B4QDRTFF | DELTA | | LX | 1 | | |
| EDGECORE AS7316-26XB | LS38-C3L-TI-N-QB | APAC | | BX10-U | 1 | | |
| EDGECORE AS7316-26XB | LS48-C3L-TI-N-QB | APAC | | BX10-D | 1 | | |
| EDGECORE AS7316-26XB | SFP-GE-BX20KM-55 | SONGXIN | | BASE-BX10 | 1 | | |
| EDGECORE AS7316-26XB | SFP-GE-BX20KM-31 | SONGXIN | | BASE-BX10 | 1 | | |
| EDGECORE AS7316-26XB | ET5402-DAC-1M | Edgecore | Direct Attach Cable | DAC | 10 | 1m | Commercial |
| EDGECORE AS7316-26XB | FCBG110SD1C01 | II-VI Finisar | Active Optical Cable | AOC | 10 | 1m | Commercial |
| EDGECORE AS7316-26XB | ET5402-DAC-3M | Edgecore | Direct Attach Cable | DAC | 10 | 3m | Commercial |
| EDGECORE AS7316-26XB | FCBG110SD1C03 | II-VI Finisar | Active Optical Cable | AOC | 10 | 3m | Commercial |
| EDGECORE AS7316-26XB | OPSFPP-T-03-PEL | Optech | Direct Attach Cable | DAC | 10 | 3m | Commercial |
| EDGECORE AS7316-26XB | FCBG110SD1C05 | II-VI Finisar | Active Optical Cable | AOC | 10 | 5m | Commercial |
| EDGECORE AS7316-26XB | ET5402-AOC-7M | Edgecore | Active Optical Cable | AOC | 10 | 7m | Commercial |
| EDGECORE AS7316-26XB | ET5402-AOC-10M | Edgecore | Active Optical Cable | AOC | 10 | 10m | Commercial |
| EDGECORE AS7316-26XB | EN-SFP10G-SR | ECI Networks | Grey Optics | SR | 10 | 300m | Commercial |
| EDGECORE AS7316-26XB | EN-SFP10G-SRi | ECI Networks | Grey Optics | SR | 10 | 300m | Industrial |
| EDGECORE AS7316-26XB | SFP-10GSR-85 | FS.COM | Grey Optics | SR | 10 | 300m | Commercial |
| EDGECORE AS7316-26XB | FTLX8574D3BCL | II-VI Finisar | Grey Optics | SR | 10 | 300m | Commercial |
| EDGECORE AS7316-26XB | FTLX8574D3BNL | II-VI Finisar | Grey Optics | SR | 10 | 300m | Commercial |
| EDGECORE AS7316-26XB | EN-SFP10G-LR | ECI Networks | Grey Optics | LR | 10 | 10km | Commercial |
| EDGECORE AS7316-26XB | EN-SFP10G-LRi | ECI Networks | Grey Optics | LR | 10 | 10km | Industrial |
| EDGECORE AS7316-26XB | ET5402-LR | Edgecore | Grey Optics | LR | 10 | 10km | Commercial |
| EDGECORE AS7316-26XB | SFP-10G-BX | FS.COM | BiDi | BX | 10 | 10km | Commercial |
| EDGECORE AS7316-26XB | TXM-MPOLT-01C | TIBIT | Micro Plug | Class 01 | 10 | 10km | Commercial |
| EDGECORE AS7316-26XB | TXM-MPOLT-05I | TIBIT | Micro Plug | Class 05 | 10 | 10km | Industrial |
| EDGECORE AS7316-26XB | EN-SFP10G-BXD20 | ECI Networks | BiDi | BXD20 | 10 | 20km | Commercial |
| EDGECORE AS7316-26XB | EN-SFP10G-BXU20 | ECI Networks | BiDi | BXU20 | 10 | 20km | Commercial |
| EDGECORE AS7316-26XB | EN-SFP10G-BXID20 | ECI Networks | BiDi | BXID20 | 10 | 20km | Industrial |
| EDGECORE AS7316-26XB | EN-SFP10G-BXIU20 | ECI Networks | BiDi | BXIU20 | 10 | 20km | Industrial |
| EDGECORE AS7316-26XB | EN-SFP10G-ER | ECI Networks | Grey Optics | ER | 10 | 40km | Commercial |
| EDGECORE AS7316-26XB | EN-SFPP-ER | ECI Networks | Grey Optics | ER | 10 | 40km | Commercial |
| EDGECORE AS7316-26XB | EN-SFP10G-BXD40 | ECI Networks | BiDi | BXD40 | 10 | 40km | Commercial |
| EDGECORE AS7316-26XB | EN-SFP10G-BXU40 | ECI Networks | BiDi | BXU40 | 10 | 40km | Commercial |
| EDGECORE AS7316-26XB | EN-SFP10G-ERi | ECI Networks | Grey Optics | ER | 10 | 40km | Industrial |
| EDGECORE AS7316-26XB | EN-SFP10G-BXID40 | ECI Networks | BiDi | BXID40 | 10 | 40km | Industrial |
| EDGECORE AS7316-26XB | EN-SFP10G-BXIU40 | ECI Networks | BiDi | BXIU40 | 10 | 40km | Industrial |
| EDGECORE AS7316-26XB | SFP-10G-BX40 | FS.COM | BiDi | BX40D | 10 | 40km | Commercial |
| EDGECORE AS7316-26XB | EN-SFP10G-ZR | ECI Networks | Grey Optics | ZR | 10 | 80km | Commercial |
| EDGECORE AS7316-26XB | EN-SFP10G-T50-ZR | ECI Networks | DWDM Tunable | ZR | 10 | 80km | Commercial |
| EDGECORE AS7316-26XB | EN-SFP10G-ZRI | ECI Networks | Grey Optics | ZR | 10 | 80km | Industrial |
| EDGECORE AS7316-26XB | SFP-10G-BX80 | FS.COM | BiDi | BX | 10 | 80km | Commercial |
| EDGECORE AS7316-26XB | 616740003 | Amphenol | | SFP/SFP+/SFP28 | 10 | | |
| EDGECORE AS7316-26XB | SFP-10G-3M | OEM | | SFP/SFP+/SFP28 | 10 | | |
| EDGECORE AS7316-26XB | TRS7081AHCPA00A | Lumentum (OCLARO) | | Tunable SFP+ | 10 | | |
| EDGECORE AS7316-26XB | SFP-10GBASE-LR-I-C | Prolabs | | LR | 10 | | Industrial |
| EDGECORE AS7316-26XB | ET7302-AOC-5M | Edgecore | Direct Attach Cable | DAC | 25 | 5m | Commercial |
| EDGECORE AS7316-26XB | FCBG125SD1C05 | II-VI Finisar | Active Optical Cable | AOC | 25 | 5m | Commercial |
| EDGECORE AS7316-26XB | ET7302-AOC-7M | Edgecore | Active Optical Cable | AOC | 25 | 7m | Commercial |
| EDGECORE AS7316-26XB | EN-SFP28-SR | ECI Networks | Grey Optics | SR | 25 | 100m | Commercial |
| EDGECORE AS7316-26XB | EN-SFP28-SRi | ECI Networks | Grey Optics | SR | 25 | 100m | Industrial |
| EDGECORE AS7316-26XB | EN-SFP28-LR | ECI Networks | Grey Optics | LR | 25 | 20km | Commercial |
| EDGECORE AS7316-26XB | EN-SFP28-LRi | ECI Networks | Grey Optics | LR | 25 | 20km | Industrial |
| EDGECORE AS7316-26XB | EN-SFP28-ERi | ECI Networks | Grey Optics | ER | 25 | 40km | Industrial |
| EDGECORE AS7316-26XB | RTXM330-8921 | Accelink | | | 25 | | |
| EDGECORE AS7316-26XB | EN-S28-DAC-3M | ECI Networks | Grey Optics | SFP28-ER | 25 | 40km | Industrial |
| EDGECORE AS7316-26XB | SFP-25GBASE-SR-I-C | Prolabs | | SR | 25 | | Industrial |
| EDGECORE AS7316-26XB | 10093084-2030LF | Amphenol FCI | Direct Attach Cable | DAC | 40 | 3m | Commercial |
| EDGECORE AS7316-26XB | ET6402-40AOC-7M | Edgecore | Active Optical Cable | AOC | 40 | 7m | Commercial |
| EDGECORE AS7316-26XB | EN-QSFP40G-SR4 | ECI Networks | Grey Optics | SR4 | 40 | 150m | Commercial |
| EDGECORE AS7316-26XB | EN-QSFPP-PIR | ECI Networks | Grey Optics | IR4-PSM | 40 | 1.4km | Commercial |
| EDGECORE AS7316-26XB | EN-QSFP40G-LR4 | ECI Networks | Grey Optics | LR4 | 40 | 10km | Commercial |
| EDGECORE AS7316-26XB | EN-QSFP-PLR4 | ECI Networks | Grey Optics | LR4 | 40 | 10km | Commercial |
| EDGECORE AS7316-26XB | EN-QSFPP-LRL4 | ECI Networks | Grey Optics | LR4 | 40 | 10km | Commercial |
| EDGECORE AS7316-26XB | EN-QSFP40G-LR4i | ECI Networks | Grey Optics | LR4 | 40 | 10km | Industrial |
| EDGECORE AS7316-26XB | QFP1301040PD | Skylane Optics | Grey Optics | LR4 | 40 | 10km | Commercial |
| EDGECORE AS7316-26XB | EN-QSFP40G-ER4 | ECI Networks | Grey Optics | ER4 | 40 | 40km | Commercial |
| EDGECORE AS7316-26XB | QSFP-40GBASE-SR4-C | Prolabs | | | 40 | | Commercial |
| EDGECORE AS7316-26XB | ET7402-100DAC-1M | Edgecore | Direct Attach Cable | DAC | 100 | 1m | Commercial |
| EDGECORE AS7316-26XB | EN-Q28DAC-2M | ECI Networks | Direct Attach Cable | DAC | 100 | 2m | Commercial |
| EDGECORE AS7316-26XB | EN-Q28AOC-3M | ECI Networks | Active Optical Cable | AOC | 100 | 3m | Commercial |
| EDGECORE AS7316-26XB | ET7402-100DAC-3M | Edgecore | Direct Attach Cable | DAC | 100 | 3m | Commercial |
| EDGECORE AS7316-26XB | OPQS28-T-03-P/SF28/4 | Optech | Direct Attach Cable Breakout | DAC BO | 100 | 3m | Commercial |
| EDGECORE AS7316-26XB | ET7402-100AOC-10M | Edgecore | Direct Attach Cable | DAC | 100 | 10m | Commercial |
| EDGECORE AS7316-26XB | FCBN425QE1C10 | II-VI Finisar | Active Optical Cable | AOC | 100 | 10m | Commercial |
| EDGECORE AS7316-26XB | ET7402-SR4 | Edgecore | Grey Optics | SR4 | 100 | 70m | Commercial |
| EDGECORE AS7316-26XB | EN-QSFP28-SR4 | ECI Networks | Grey Optics | SR4 | 100 | 100m | Commercial |
| EDGECORE AS7316-26XB | QSFP28-SR4-100G | FS.COM | Grey Optics | SR4 | 100 | 100m | Commercial |
| EDGECORE AS7316-26XB | FTLC9551REPM | II-VI Finisar | Grey Optics | SR4 | 100 | 100m | Commercial |
| EDGECORE AS7316-26XB | FTLC9558REPM | II-VI Finisar | Grey Optics | SR4 | 100 | 100m | Commercial |
| EDGECORE AS7316-26XB | EN-QSFP28-PSM4 | ECI Networks | Grey Optics | PSM4 | 100 | 500m | Commercial |
| EDGECORE AS7316-26XB | EN-QSFP28-DR1 | ECI Networks | Grey Optics | DR1 | 100 | 500m | Commercial |
| EDGECORE AS7316-26XB | EN-QSFP28-CW4 | ECI Networks | CWDM | CWDM | 100 | 2km | Commercial |
| EDGECORE AS7316-26XB | EN-QSFP28-FR1 | ECI Networks | Grey Optics | FR1 | 100 | 2km | Commercial |
| EDGECORE AS7316-26XB | EN-QSFP28-LR4 | ECI Networks | Grey Optics | LR4 | 100 | 10km | Commercial |
| EDGECORE AS7316-26XB | EN-QSFP28-LR4i | ECI Networks | Grey Optics | LR4 | 100 | 10km | Industrial |
| EDGECORE AS7316-26XB | EN-QSFP28-eLR4 | ECI Networks | Grey Optics | LR4 | 100 | 20km | Commercial |
| EDGECORE AS7316-26XB | EN-Q28-eLR4-S | ECI Networks | Grey Optics | LR4 | 100 | 20km | Commercial |
| EDGECORE AS7316-26XB | EN-QSFP28-ER4L | ECI Networks | Grey Optics | ER4 | 100 | 30km | Commercial |
| EDGECORE AS7316-26XB | EN-QSFP28-ER4 | ECI Networks | Grey Optics | ER4 | 100 | 40km | Commercial |
| EDGECORE AS7316-26XB | EN-QSFP28-ER4LI | ECI Networks | Grey Optics | ER4 | 100 | 40km | Industrial |
| EDGECORE AS7316-26XB | EN-QSFP28-ZR4 | ECI Networks | Grey Optics | ZR4 | 100 | 80km | Commercial |
| EDGECORE AS7316-26XB | 76V43 | Dell | Direct Attach Cable | QSFP28 DAC | 100 | 2m | Commercial |
| EDGECORE AS7316-26XB | 00D5803-N13692A | IBM-Amphenol | | QSFP28 | 100 | | |
| EDGECORE AS7316-26XB | QSFP28-100GB-LR4-I-C | Prolabs | | LR4 | 100 | 10km | Industrial |
| EDGECORE AS7326-56X | 1000M-SFP-T-HU | Edgeoptic | Copper | RJ45 | 1 | 100m | Commercial |
| EDGECORE AS7326-56X | FCLF8521P2BTL | Finisar | Copper | RJ45 | 1 | 100m | Industrial |
| EDGECORE AS7326-56X | EN-SFP1G-SX | ECI Networks | Grey Optics | SX | 1 | 550m | Commercial |
| EDGECORE AS7326-56X | EN-SFP1G-SXi | ECI Networks | Grey Optics | SX | 1 | 550m | Industrial |
| EDGECORE AS7326-56X | FTLF8519P3BTL | II-VI Finisar | Grey Optics | SX | 1 | 550m | Industrial |
| EDGECORE AS7326-56X | EN-SFP1G-LXi | ECI Networks | Grey Optics | LX | 1 | 20km | Industrial |
| EDGECORE AS7326-56X | OP6C-W20-B5-CM | Optech | BiDi | LR | 1 | 20km | Commercial |
| EDGECORE AS7326-56X | OP6C-W20-B3-CM | Optech | BiDi | LR | 1 | 20km | Commercial |
| EDGECORE AS7326-56X | EN-SFP1G-LH | ECI Networks | Grey Optics | LH | 1 | 70km | Commercial |
| EDGECORE AS7326-56X | EN-SFP1G-ZX | ECI Networks | Grey Optics | ZX | 1 | 80km | Commercial |
| EDGECORE AS7326-56X | EN-SFP1G-IDL100 | ECI Networks | Grey Optics | ZX | 1 | 100km | Industrial |
| EDGECORE AS7326-56X | EN-SFP1G-LX | ECI Networks | Grey Optics | LX | 1 | 20km | Commercial |
| EDGECORE AS7326-56X | EN-SFP-iRJ45 | ECI Networks | Copper | RJ45 | 1 | 100m | EN-SFP-iRJ45 |
| EDGECORE AS7326-56X | EN-SFP1G-EX | ECI Networks | Grey Optics | EX | 1 | 40km | Commercial |
| EDGECORE AS7326-56X | EN-SFP1G-EXi | ECI Networks | Grey Optics | EXi | 1 | 40km | Industrial |
| EDGECORE AS7326-56X | EN-SFP1G-ZXi | ECI Networks | Grey Optics | ZXi | 1 | 80km | Industrial |
| EDGECORE AS7326-56X | LCP-1250B4QDRTFF | DELTA | | LX10 | 1 | | |
| EDGECORE AS7326-56X | LS38-C3L-TI-N-QB | APAC | | BX10-U | 1 | | |
| EDGECORE AS7326-56X | LS48-C3L-TI-N-QB | APAC | | BX10-D | 1 | | |
| EDGECORE AS7326-56X | SFP-GE-BX20KM-55 | SONGXIN | | BASE-BX10 | 1 | | |
| EDGECORE AS7326-56X | SFP-GE-BX20KM-31 | SONGXIN | | BASE-BX10 | 1 | | |
| EDGECORE AS7326-56X | ET5402-DAC-1M | Edgecore | Direct Attach Cable | DAC | 10 | 1m | Commercial |
| EDGECORE AS7326-56X | FCBG110SD1C01 | II-VI Finisar | Active Optical Cable | AOC | 10 | 1m | Commercial |
| EDGECORE AS7326-56X | ET5402-DAC-3M | Edgecore | Direct Attach Cable | DAC | 10 | 3m | Commercial |
| EDGECORE AS7326-56X | FCBG110SD1C03 | II-VI Finisar | Active Optical Cable | AOC | 10 | 3m | Commercial |
| EDGECORE AS7326-56X | OPSFPP-T-03-PEL | Optech | Direct Attach Cable | DAC | 10 | 3m | Commercial |
| EDGECORE AS7326-56X | FCBG110SD1C05 | II-VI Finisar | Active Optical Cable | AOC | 10 | 5m | Commercial |
| EDGECORE AS7326-56X | ET5402-AOC-7M | Edgecore | Active Optical Cable | AOC | 10 | 7m | Commercial |
| EDGECORE AS7326-56X | ET5402-AOC-10M | Edgecore | Active Optical Cable | AOC | 10 | 10m | Commercial |
| EDGECORE AS7326-56X | EN-SFP10G-SR | ECI Networks | Grey Optics | SR | 10 | 300m | Commercial |
| EDGECORE AS7326-56X | EN-SFP10G-SRi | ECI Networks | Grey Optics | SR | 10 | 300m | Industrial |
| EDGECORE AS7326-56X | SFP-10GSR-85 | FS.COM | Grey Optics | SR | 10 | 300m | Commercial |
| EDGECORE AS7326-56X | FTLX8574D3BCL | II-VI Finisar | Grey Optics | SR | 10 | 300m | Commercial |
| EDGECORE AS7326-56X | FTLX8574D3BNL | II-VI Finisar | Grey Optics | SR | 10 | 300m | Commercial |
| EDGECORE AS7326-56X | EN-SFP10G-LR | ECI Networks | Grey Optics | LR | 10 | 10km | Commercial |
| EDGECORE AS7326-56X | EN-SFP10G-LRi | ECI Networks | Grey Optics | LR | 10 | 10km | Industrial |
| EDGECORE AS7326-56X | ET5402-LR | Edgecore | Grey Optics | LR | 10 | 10km | Commercial |
| EDGECORE AS7326-56X | SFP-10G-BX | FS.COM | BiDi | BX | 10 | 10km | Commercial |
| EDGECORE AS7326-56X | EN-SFP10G-BXD20 | ECI Networks | BiDi | BXD20 | 10 | 20km | Commercial |
| EDGECORE AS7326-56X | EN-SFP10G-BXU20 | ECI Networks | BiDi | BXU20 | 10 | 20km | Commercial |
| EDGECORE AS7326-56X | EN-SFP10G-ER | ECI Networks | Grey Optics | ER | 10 | 40km | Commercial |
| EDGECORE AS7326-56X | EN-SFPP-ER | ECI Networks | Grey Optics | ER | 10 | 40km | Commercial |
| EDGECORE AS7326-56X | EN-SFP10G-BXD40 | ECI Networks | BiDi | BXD40 | 10 | 40km | Commercial |
| EDGECORE AS7326-56X | EN-SFP10G-BXU40 | ECI Networks | BiDi | BXU40 | 10 | 40km | Commercial |
| EDGECORE AS7326-56X | EN-SFP10G-ERi | ECI Networks | Grey Optics | ER | 10 | 40km | Industrial |
| EDGECORE AS7326-56X | EN-SFP10G-BXID40 | ECI Networks | BiDi | BXID40 | 10 | 40km | Industrial |
| EDGECORE AS7326-56X | EN-SFP10G-BXIU40 | ECI Networks | BiDi | BXIU40 | 10 | 40km | Industrial |
| EDGECORE AS7326-56X | SFP-10G-BX40 | FS.COM | BiDi | BX40D | 10 | 40km | Commercial |
| EDGECORE AS7326-56X | EN-SFP10G-ZR | ECI Networks | Grey Optics | ZR | 10 | 80km | Commercial |
| EDGECORE AS7326-56X | EN-SFP10G-ZRI | ECI Networks | Grey Optics | ZR | 10 | 80km | Industrial |
| EDGECORE AS7326-56X | SFP-10G-BX80 | FS.COM | BiDi | BX | 10 | 80km | Commercial |
| EDGECORE AS7326-56X | EN-SFP10G-BXID20 | ECI Networks | BiDi | BXID20 | 10 | 20km | Industrial |
| EDGECORE AS7326-56X | EN-SFP10G-BXIU20 | ECI Networks | BiDi | BXIU20 | 10 | 20km | Industrial |
| EDGECORE AS7326-56X | 616740003 | Amphenol | | SFP/SFP+/SFP28 | 10 | | |
| EDGECORE AS7326-56X | SFP-10G-3M | OEM | | SFP/SFP+/SFP28 | 10 | | |
| EDGECORE AS7326-56X | ET7302-AOC-5M | Edgecore | Direct Attach Cable | DAC | 25 | 5m | Commercial |
| EDGECORE AS7326-56X | FCBG125SD1C05 | II-VI Finisar | Active Optical Cable | AOC | 25 | 5m | Commercial |
| EDGECORE AS7326-56X | ET7302-AOC-7M | Edgecore | Active Optical Cable | AOC | 25 | 7m | Commercial |
| EDGECORE AS7326-56X | EN-SFP28-SR | ECI Networks | Grey Optics | SR | 25 | 100m | Commercial |
| EDGECORE AS7326-56X | EN-SFP28-SRi | ECI Networks | Grey Optics | SR | 25 | 100m | Industrial |
| EDGECORE AS7326-56X | EN-SFP28-LR | ECI Networks | Grey Optics | LR | 25 | 20km | Commercial |
| EDGECORE AS7326-56X | EN-SFP28-ERi | ECI Networks | | Ri | 25 | | |
| EDGECORE AS7326-56X | RTXM330-8921 | Accelink | | LWDM LR | 25 | | |
| EDGECORE AS7326-56X | TRS5A21EH05LF000 | CIG | | LR | 25 | | |
| EDGECORE AS7326-56X | EN-S28-DAC-3M | ECI Networks | | DAC | 25 | | |
| EDGECORE AS7326-56X | 10093084-2030LF | Amphenol FCI | Direct Attach Cable | DAC | 40 | 3m | Commercial |
| EDGECORE AS7326-56X | EN-QAOCBO-3M | ECI Networks | Active Optical Cable - Breakout | AOC BO | 40 | 3m | Commercial |
| EDGECORE AS7326-56X | EN-QSFP40G-SR4 | ECI Networks | Grey Optics | SR4 | 40 | 150m | Commercial |
| EDGECORE AS7326-56X | EN-QSFPP-PIR | ECI Networks | Grey Optics | IR4-PSM | 40 | 1.4km | Commercial |
| EDGECORE AS7326-56X | EN-QSFP40G-LR4 | ECI Networks | Grey Optics | LR4 | 40 | 10km | Commercial |
| EDGECORE AS7326-56X | EN-QSFP-PLR4 | ECI Networks | Grey Optics | LR4 | 40 | 10km | Commercial |
| EDGECORE AS7326-56X | QFP1301040PD | Skylane Optics | Grey Optics | LR4 | 40 | 10km | Commercial |
| EDGECORE AS7326-56X | EN-QSFP40G-ER4 | ECI Networks | Grey Optics | ER4 | 40 | 40km | Commercial |
| EDGECORE AS7326-56X | ET6402-40AOC-7M | Edgecore | Active Optical Cable | AOC | 40 | 7m | Commercial |
| EDGECORE AS7326-56X | EN-QSFP40G-LR4i | ECI Networks | Grey Optics | LR4i | 40 | 10km | Industrial |
| EDGECORE AS7326-56X | QSFP-40GBASE-SR4-C | Prolabs | | SR4 | 40 | | Commercial |
| EDGECORE AS7326-56X | ET7402-100DAC-1M | Edgecore | Direct Attach Cable | DAC | 100 | 1m | Commercial |
| EDGECORE AS7326-56X | EN-Q28DAC-2M | ECI Networks | Direct Attach Cable | DAC | 100 | 2m | Commercial |
| EDGECORE AS7326-56X | EN-Q28DACBO-2M | ECI Networks | Direct Attach Cable Breakout | DAC BO | 100 | 2m | Commercial |
| EDGECORE AS7326-56X | EN-Q28AOC-3M | ECI Networks | Active Optical Cable | AOC | 100 | 3m | Commercial |
| EDGECORE AS7326-56X | EN-Q28DACBO-3M | ECI Networks | Direct Attach Cable Breakout | DAC BO | 100 | 3m | Commercial |
| EDGECORE AS7326-56X | ET7402-100DAC-3M | Edgecore | Direct Attach Cable | DAC | 100 | 3m | Commercial |
| EDGECORE AS7326-56X | ET7402-25DAC-3M | Edgecore | Direct Attach Cable Breakout | DAC BO | 100 | 3m | Commercial |
| EDGECORE AS7326-56X | ET7402-SR4 | Edgecore | Grey Optics | SR4 | 100 | 70m | Commercial |
| EDGECORE AS7326-56X | EN-QSFP28-SR4 | ECI Networks | Grey Optics | SR4 | 100 | 100m | Commercial |
| EDGECORE AS7326-56X | QSFP28-SR4-100G | FS.COM | Grey Optics | SR4 | 100 | 100m | Commercial |
| EDGECORE AS7326-56X | FTLC9551REPM | II-VI Finisar | Grey Optics | SR4 | 100 | 100m | Commercial |
| EDGECORE AS7326-56X | FTLC9558REPM | II-VI Finisar | Grey Optics | SR4 | 100 | 100m | Commercial |
| EDGECORE AS7326-56X | EN-QSFP28-PSM4 | ECI Networks | Grey Optics | PSM4 | 100 | 500m | Commercial |
| EDGECORE AS7326-56X | EN-QSFP28-DR1 | ECI Networks | Grey Optics | DR1 | 100 | 500m | Commercial |
| EDGECORE AS7326-56X | EN-QSFP28-CW4 | ECI Networks | CWDM | CWDM | 100 | 2km | Commercial |
| EDGECORE AS7326-56X | EN-QSFP28-LR4 | ECI Networks | Grey Optics | LR4 | 100 | 10km | Commercial |
| EDGECORE AS7326-56X | EN-QSFP28-ER4 | ECI Networks | Grey Optics | ER4 | 100 | 40km | Commercial |
| EDGECORE AS7326-56X | EN-QSFP28-LR4i | ECI Networks | Grey Optics | LR4 | 100 | 10km | Industrial |
| EDGECORE AS7326-56X | EN-QSFP28-ER4LI | ECI Networks | Grey Optics | ER4 | 100 | 40km | Industrial |
| EDGECORE AS7326-56X | EN-QSFP28-ZR4 | ECI Networks | Grey Optics | ZR4 | 100 | 80km | Commercial |
| EDGECORE AS7326-56X | EN-QSFP28-FR1 | ECI Networks | Grey Optics | FR1 | 100 | 2km | Commercial |
| EDGECORE AS7326-56X | EN-Q28-eLR4-S | ECI Networks | Grey Optics | LR4 | 100 | 20km | Commercial |
| EDGECORE AS7326-56X | 76V43 | DELL | Direct Attach Cable | QSFP28 DAC | 100 | 2m | Commercial |
| EDGECORE AS7326-56X | 00D5803-N13692A | IBM-Amphenol | | QSFP28 | 100 | | |
| EDGECORE AS7326-56X | QSFP28-100GB-LR4-I-C | Prolabs | | LR4 | 100 | | Industrial |
| EDGECORE AS7535-28XB | OP6C-W20-B5-CM | Optech | BiDi | LR | 1 | 20km | Commercial |
| EDGECORE AS7535-28XB | OP6C-W20-B3-CM | Optech | BiDi | LR | 1 | 20km | Commercial |
| EDGECORE AS7535-28XB | EN-SFP1G-SX | ECI Networks | Grey Optics | SX | 1 | 550m | Commercial |
| EDGECORE AS7535-28XB | EN-SFP1G-ZXi | ECI Networks | Grey Optics | ZX | 1 | 80km | Industrial |
| EDGECORE AS7535-28XB | EN-SFP1G-EXi | ECI Networks | Grey Optics | EX | 1 | 40km | Industrial |
| EDGECORE AS7535-28XB | EN-SFP1G-LX | ECI Networks | Grey Optics | LX | 1 | 20km | Commercial |
| EDGECORE AS7535-28XB | EN-SFP1G-EX | ECI Networks | Grey Optics | EX | 1 | 40km | Commercial |
| EDGECORE AS7535-28XB | EN-SFP1G-ZX | ECI Networks | Grey Optics | ZX | 1 | 80km | Commercial |
| EDGECORE AS7535-28XB | EN-SFP1G-SXi | ECI Networks | Grey Optics | SX | 1 | 550m | Industrial |
| EDGECORE AS7535-28XB | EN-SFP1G-LXi | ECI Networks | Grey Optics | LX | 1 | 20km | Industrial |
| EDGECORE AS7535-28XB | EN-SFP1G-LH | ECI Networks | Grey Optics | LH | 1 | 70km | Commercial |
| EDGECORE AS7535-28XB | EN-SFP1G-RJ45 | ECI Networks | Copper | RJ45 | 1 | 100m | Commercial |
| EDGECORE AS7535-28XB | 1000M-SFP-T-HU | Edgeoptic | Copper | RJ45 | 1 | 100m | Commercial |
| EDGECORE AS7535-28XB | EN-SFP1G-IDL100 | ECI Networks | Grey Optics | ZX | 1 | 100km | Industrial |
| EDGECORE AS7535-28XB | FCLF8521P2BTL | Finisar | Copper | RJ45 | 1 | 100m | Industrial |
| EDGECORE AS7535-28XB | FTLF8519P3BTL | II-VI Finisar | Grey Optics | SX | 1 | 550m | Industrial |
| EDGECORE AS7535-28XB | EN-SFP-iRJ45 | ECI Networks | Copper | RJ45 | 1 | 100m | Industrial |
| EDGECORE AS7535-28XB | EN-SFP-RJ45 | ECI Networks | Copper | RJ45 | 1 | 100m | Commercial |
| EDGECORE AS7535-28XB | LS38-C3L-TI-N-QB | APAC | | | 1 | | |
| EDGECORE AS7535-28XB | LS48-C3L-TI-N-QB | APAC | | | 1 | | |
| EDGECORE AS7535-28XB | SFP-GE-BX20KM-55 | SONGXIN | | BASE-BX10 | 1 | | |
| EDGECORE AS7535-28XB | SFP-GE-BX20KM-31 | SONGXIN | | BASE-BX10 | 1 | | |
| EDGECORE AS7535-28XB | EN-SFP10G-BXD20 | ECI Networks | BiDi | BXD20 | 10 | 20km | Commercial |
| EDGECORE AS7535-28XB | EN-SFP10G-BXU20 | ECI Networks | BiDi | BXU20 | 10 | 20km | Commercial |
| EDGECORE AS7535-28XB | EN-SFP10G-SR | ECI Networks | Grey Optics | SR | 10 | 300m | Commercial |
| EDGECORE AS7535-28XB | EN-SFP10G-ER | ECI Networks | Grey Optics | ER | 10 | 40km | Commercial |
| EDGECORE AS7535-28XB | EN-SFPP-ER | ECI Networks | Grey Optics | ER | 10 | 40km | Commercial |
| EDGECORE AS7535-28XB | EN-SFP10G-SRi | ECI Networks | Grey Optics | SR | 10 | 300m | Industrial |
| EDGECORE AS7535-28XB | EN-SFP10G-LRi | ECI Networks | Grey Optics | LR | 10 | 10km | Industrial |
| EDGECORE AS7535-28XB | SFP-10GSR-85 | FS.COM | Grey Optics | SR | 10 | 300m | Commercial |
| EDGECORE AS7535-28XB | EN-SFP10G-ERi | ECI Networks | Grey Optics | ER | 10 | 40km | Industrial |
| EDGECORE AS7535-28XB | EN-SFP10G-ZR | ECI Networks | Grey Optics | ZR | 10 | 80km | Commercial |
| EDGECORE AS7535-28XB | FTLX8574D3BCL | II-VI Finisar | Grey Optics | SR | 10 | 300m | Commercial |
| EDGECORE AS7535-28XB | FCBG110SD1C03 | II-VI Finisar | Active Optical Cable | AOC | 10 | 3m | Commercial |
| EDGECORE AS7535-28XB | FCBG110SD1C05 | II-VI Finisar | Active Optical Cable | AOC | 10 | 5m | Commercial |
| EDGECORE AS7535-28XB | SFP-10G-BX | FS.COM | BiDi | BX | 10 | 10km | Commercial |
| EDGECORE AS7535-28XB | SFP-10G-BX80 | FS.COM | BiDi | BX | 10 | 80km | Commercial |
| EDGECORE AS7535-28XB | ET5402-AOC-7M | Edgecore | Active Optical Cable | AOC | 10 | 7m | Commercial |
| EDGECORE AS7535-28XB | FTLX8574D3BNL | II-VI Finisar | Grey Optics | SR | 10 | 300m | Commercial |
| EDGECORE AS7535-28XB | ET5402-DAC-3M | Edgecore | Direct Attach Cable | DAC | 10 | 3m | Commercial |
| EDGECORE AS7535-28XB | EN-SFP10G-BXD40 | ECI Networks | BiDi | BXD40 | 10 | 40km | Commercial |
| EDGECORE AS7535-28XB | EN-SFP10G-BXU40 | ECI Networks | BiDi | BXU40 | 10 | 40km | Commercial |
| EDGECORE AS7535-28XB | SFP-10G-BX40 | FS.COM | BiDi | BX40D | 10 | 40km | Commercial |
| EDGECORE AS7535-28XB | EN-SFP28-SR | ECI Networks | Grey Optics | SR | 25 | 100m | Commercial |
| EDGECORE AS7535-28XB | EN-SFP28-SRi | ECI Networks | Grey Optics | SR | 25 | 100m | Industrial |
| EDGECORE AS7535-28XB | ET7302-AOC-7M | Edgecore | Active Optical Cable | AOC | 25 | 7m | Commercial |
| EDGECORE AS7535-28XB | ET7302-AOC-5M | Edgecore | Direct Attach Cable | DAC | 25 | 5m | Commercial |
| EDGECORE AS7535-28XB | RTXM330-8921 | Accelink | | | 25 | | |
| EDGECORE AS7535-28XB | TRS5A21EH05LF000 | CIG | | | 25 | | |
| EDGECORE AS7535-28XB | LTF3226-BH+ | Hisense Broadband | BiDi | | 25 | 20km | Industrial |
| EDGECORE AS7535-28XB | EN-QSFP40G-SR4 | ECI Networks | Grey Optics | SR4 | 40 | 150m | Commercial |
| EDGECORE AS7535-28XB | 10093084-2030LF | Amphenol FCI | Direct Attach Cable | DAC | 40 | 3m | Commercial |
| EDGECORE AS7535-28XB | QFP1301040PD | Skylane Optics | Grey Optics | LR4 | 40 | 10km | Commercial |
| EDGECORE AS7535-28XB | EN-QSFP40G-LR4 | ECI Networks | Grey Optics | LR4 | 40 | 10km | Commercial |
| EDGECORE AS7535-28XB | EN-QSFP40G-LR4i | ECI Networks | Grey Optics | LR4 | 40 | 10km | Industrial |
| EDGECORE AS7535-28XB | ET6402-40AOC-7M | Edgecore | Active Optical Cable | AOC | 40 | 7m | Commercial |
| EDGECORE AS7535-28XB | EN-QSFP28-DR1 | ECI Networks | Grey Optics | DR1 | 100 | 500m | Commercial |
| EDGECORE AS7535-28XB | EN-QSFP28-SR4 | ECI Networks | Grey Optics | SR4 | 100 | 100m | Commercial |
| EDGECORE AS7535-28XB | EN-Q28AOC-3M | ECI Networks | Active Optical Cable | AOC | 100 | 3m | Commercial |
| EDGECORE AS7535-28XB | EN-QSFP28-LR4 | ECI Networks | Grey Optics | LR4 | 100 | 10km | Commercial |
| EDGECORE AS7535-28XB | FTLC9551REPM | II-VI Finisar | Grey Optics | SR4 | 100 | 100m | Commercial |
| EDGECORE AS7535-28XB | EN-Q28-eLR4-S | ECI Networks | Grey Optics | LR4 | 100 | 20km | Commercial |
| EDGECORE AS7535-28XB | ET7402-SR4 | Edgecore | Grey Optics | SR4 | 100 | 70m | Commercial |
| EDGECORE AS7535-28XB | EN-QSFP28-ER4 | ECI Networks | Grey Optics | ER4 | 100 | 40km | Commercial |
| EDGECORE AS7535-28XB | EN-QSFP28-ZR4 | ECI Networks | Grey Optics | ZR4 | 100 | 80km | Commercial |
| EDGECORE AS7535-28XB | QSFP28-SR4-100G | FS.COM | Grey Optics | SR4 | 100 | 100m | Commercial |
| EDGECORE AS7535-28XB | ET7402-100DAC-1M | Edgecore | Direct Attach Cable | DAC | 100 | 1m | Commercial |
| EDGECORE AS7535-28XB | EN-QDD-DR4 | ECI Networks | Grey Optics | DR4 | 400 | 500m | Commercial |
| EDGECORE AS7535-28XB | EN-QDD-LR4 | ECI Networks | LANWDM | LR4 | 400 | 10km | Commercial |
| EDGECORE AS7535-28XB | EN-QDD-LR8 | ECI Networks | LANWDM | LR8 | 400 | 10km | Commercial |
| EDGECORE AS7535-28XB | EN-QDD-SR8 | ECI Networks | Grey Optics | SR8 | 400 | 100m | Commercial |
| EDGECORE AS7535-28XB | EN-QDD-DR4 | ECI Networks | Grey Optics | DR4 | 400 | 500m | Commercial |
| EDGECORE AS7535-28XB | QDD-DR4-400G-Si | FS.COM | Grey Optics | DR4 | 400 | 500m | Commercial |
| EDGECORE AS7535-28XB | EN-QDD-FR4 | ECI Networks | CWDM | CWDM | 400 | 2km | Commercial |
| EDGECORE AS7535-28XB | EN-QDD-XDR4 | ECI Networks | Grey Optics | DR4 | 400 | 2km | Commercial |
| EDGECORE AS7535-28XB | EN-QDD-LR4 | ECI Networks | LANWDM | LR4 | 400 | 10km | Commercial |
| EDGECORE AS7535-28XB | EN-QDD-LR8 | ECI Networks | LANWDM | LR8 | 400 | 10km | Commercial |
| EDGECORE AS7535-28XB | QSFPDD-LR4-400G | FS.COM | Grey Optics | LR4 | 400 | 10km | Commercial |
| EDGECORE AS7535-28XB | SO-TQSFP-DD-4CCZRP | SmartOptics | DCO Coherent | DCO-QDD ZR+ | 400 | 120km | Commercial |
| EDGECORE AS7535-28XB | QSFPDD-LR4-400G | FS.COM | Grey Optics | LR4 | 400 | 10km | Commercial |
| EDGECORE AS7535-28XB | LMQ8811-PC+ | Hisense Broadband | Grey Optics | SR8 | 400 | 100m | Commercial |
| EDGECORE AS7535-28XB | LMQ3926-PC+ | Hisense Broadband | Grey Optics | FR4 | 400 | 2km | Commercial |
| EDGECORE AS7535-28XB | LCQ638BS-PC+ | Hisense Broadband | DCO Coherent | ZR+ | 400 | 120km | Commercial |
| EDGECORE AS7535-28XB | FIM38900/120 | Fujitsu | DCO Coherent | ZR | 400 | 120km | Commercial |
| EDGECORE AS7712-32X | SFP-10G-ZR-58.17-C | CISCO-PROLABS | 10GBASE-DWDM SFP+ ZR | | 10 | | |
| EDGECORE AS7712-32X | SFP25G-LR-S-I-DW4612-C | CISCO-PROLABS | 25GBase-DWDM | | 25 | | |
| EDGECORE AS7712-32X | 10093084-2030LF | Amphenol FCI | Direct Attach Cable | DAC | 40 | 3m | Commercial |
| EDGECORE AS7712-32X | EN-QAOCBO-3M | ECI Networks | Active Optical Cable - Breakout | AOC BO | 40 | 3m | Commercial |
| EDGECORE AS7712-32X | FCCN410QD3C03 | II-VI Finisar | Active Optical Cable | AOC | 40 | 3m | Commercial |
| EDGECORE AS7712-32X | ET6402-40AOC-7M | Edgecore | Active Optical Cable | AOC | 40 | 7m | Commercial |
| EDGECORE AS7712-32X | FTL410QE4C | II-VI Finisar | Grey Optics | SR4 | 40 | 100m | Commercial |
| EDGECORE AS7712-32X | FTL410QE4C-1Y | II-VI Finisar | Grey Optics | SR4 | 40 | 100m | Commercial |
| EDGECORE AS7712-32X | EN-QSFP40G-SR4 | ECI Networks | Grey Optics | SR4 | 40 | 150m | Commercial |
| EDGECORE AS7712-32X | EN-QSFPP-PIR | ECI Networks | Grey Optics | IR4-PSM | 40 | 1.4km | Commercial |
| EDGECORE AS7712-32X | EN-QSFP-PLR4 | ECI Networks | Grey Optics | LR4 | 40 | 10km | Commercial |
| EDGECORE AS7712-32X | EN-QSFPP-LRL4 | ECI Networks | Grey Optics | LR4 | 40 | 10km | Commercial |
| EDGECORE AS7712-32X | QFP1301040PD | Skylane Optics | Grey Optics | LR4 | 40 | 10km | Commercial |
| EDGECORE AS7712-32X | EN-QSFP40G-ER4 | ECI Networks | Grey Optics | ER4 | 40 | 40km | Commercial |
| EDGECORE AS7712-32X | EN-QSFP40G-LR4i | ECI Networks | Grey Optics | LR4i | 40 | 10km | Industrial |
| EDGECORE AS7712-32X | QSFP-40GBASE-SR4-C | Prolabs | | SR4 | 40 | | Commercial |
| EDGECORE AS7712-32X | ET7402-100DAC-1M | Edgecore | Direct Attach Cable | DAC | 100 | 1m | Commercial |
| EDGECORE AS7712-32X | 76V43 | DELL | Direct Attach Cable | QSFP28 DAC | 100 | 2m | Commercial |
| EDGECORE AS7712-32X | EN-Q28DAC-2M | ECI Networks | Direct Attach Cable | DAC | 100 | 2m | Commercial |
| EDGECORE AS7712-32X | EN-Q28DACBO-2M | ECI Networks | Direct Attach Cable Breakout | DAC BO | 100 | 2m | Commercial |
| EDGECORE AS7712-32X | EN-Q28AOC-3M | ECI Networks | Active Optical Cable | AOC | 100 | 3m | Commercial |
| EDGECORE AS7712-32X | EN-Q28DACBO-3M | ECI Networks | Direct Attach Cable Breakout | DAC BO | 100 | 3m | Commercial |
| EDGECORE AS7712-32X | ET7402-100DAC-3M | Edgecore | Direct Attach Cable | DAC | 100 | 3m | Commercial |
| EDGECORE AS7712-32X | EN-QSFP28-SR4 | ECI Networks | Grey Optics | SR4 | 100 | 100m | Commercial |
| EDGECORE AS7712-32X | EN-QSFP28-SR4-FSR | ECI Networks | Grey Optics | SR4 | 100 | 100m | Commercial |
| EDGECORE AS7712-32X | QSFP28-SR4-100G | FS.COM | Grey Optics | SR4 | 100 | 100m | Commercial |
| EDGECORE AS7712-32X | FTLC9551REPM | II-VI Finisar | Grey Optics | SR4 | 100 | 100m | Commercial |
| EDGECORE AS7712-32X | FTLC9558REPM | II-VI Finisar | Grey Optics | SR4 | 100 | 100m | Commercial |
| EDGECORE AS7712-32X | EN-QSFP28-PSM4 | ECI Networks | Grey Optics | PSM4 | 100 | 500m | Commercial |
| EDGECORE AS7712-32X | EN-QSFP28-DR1 | ECI Networks | Grey Optics | DR1 | 100 | 500m | Commercial |
| EDGECORE AS7712-32X | EN-QSFP28-CW4 | ECI Networks | CWDM | CWDM | 100 | 2km | Commercial |
| EDGECORE AS7712-32X | EN-QSFP28-LR4 | ECI Networks | Grey Optics | LR4 | 100 | 10km | Commercial |
| EDGECORE AS7712-32X | EN-QSFP28-LR4i | ECI Networks | Grey Optics | LR4 | 100 | 10km | Industrial |
| EDGECORE AS7712-32X | EN-QSFP28-ER4 | ECI Networks | Grey Optics | ER4 | 100 | 40km | Commercial |
| EDGECORE AS7712-32X | EN-QSFP28-ER4LI | ECI Networks | Grey Optics | ER4 | 100 | 40km | Industrial |
| EDGECORE AS7712-32X | EN-QSFP28-ZR4 | ECI Networks | Grey Optics | ZR4 | 100 | 80km | Commercial |
| EDGECORE AS7712-32X | DWDM-SFP-5494-C | Prolabs | DWDM | ZR4 | 100 | 80km | Commercial |
| EDGECORE AS7712-32X | QSFP-100G-DWDM-SO | Solid Optics | DWDM | ZR4 | 100 | 80km | Commercial |
| EDGECORE AS7712-32X | ET7402-25DAC-3M | Edgecore | Direct Attach Cable Breakout | DAC BO | 100 | 3m | Commercial |
| EDGECORE AS7712-32X | EN-QSFP28-FR1 | ECI Networks | Grey Optics | FR1 | 100 | 2km | Commercial |
| EDGECORE AS7712-32X | EN-Q28-eLR4-S | ECI Networks | Grey Optics | LR4 | 100 | 20km | Commercial |
| EDGECORE AS7712-32X | ET7402-SR4 | Edgecore | Grey Optics | SR4 | 100 | 70m | Commercial |
| EDGECORE AS7712-32X | 4WJ41 | DELL | QSFP28 MPO | | 100 | 100m | Commercial |
| EDGECORE AS7712-32X | 00D5803-N13692A | IBM-Amphenol | QSFP28 | | 100 | | |
| EDGECORE AS7712-32X | QSFP-100G-LR4-S-C | CISCO-PROLABS | 100GBase-LR4 | | 100 | | |
| EDGECORE AS7712-32X | QSFP-100G-ZR4-S-C | CISCO-PROLABS | 100GBase-ZR4 | | 100 | | |
| EDGECORE AS7712-32X | QSFP28-100GB-LR4-I-C | Prolabs | | LR4 | 100 | | Industrial |
| EDGECORE AS7716-24SC CASSINI | 10093084-2030LF | Amphenol FCI | Direct Attach Cable | DAC | 40 | 3m | Commercial |
| EDGECORE AS7716-24SC CASSINI | EN-QAOCBO-3M | ECI Networks | Active Optical Cable - Breakout | AOC BO | 40 | 3m | Commercial |
| EDGECORE AS7716-24SC CASSINI | ET6402-40AOC-7M | Edgecore | Active Optical Cable | AOC | 40 | 7m | Commercial |
| EDGECORE AS7716-24SC CASSINI | EN-QSFP40G-SR4 | ECI Networks | Grey Optics | SR4 | 40 | 150m | Commercial |
| EDGECORE AS7716-24SC CASSINI | EN-QSFPP-PIR | ECI Networks | Grey Optics | IR4-PSM | 40 | 1.4km | Commercial |
| EDGECORE AS7716-24SC CASSINI | EN-QSFP-PLR4 | ECI Networks | Grey Optics | LR4 | 40 | 10km | Commercial |
| EDGECORE AS7716-24SC CASSINI | EN-QSFPP-LRL4 | ECI Networks | Grey Optics | LR4 | 40 | 10km | Commercial |
| EDGECORE AS7716-24SC CASSINI | QFP1301040PD | Skylane Optics | Grey Optics | LR4 | 40 | 10km | Commercial |
| EDGECORE AS7716-24SC CASSINI | EN-QSFP40G-ER4 | ECI Networks | Grey Optics | ER4 | 40 | 40km | Commercial |
| EDGECORE AS7716-24SC CASSINI | EN-QSFP40G-LR4i | ECI Networks | Grey Optics | LR4 | 40 | 10km | Industrial |
| EDGECORE AS7716-24SC CASSINI | ET7402-100DAC-1M | Edgecore | Direct Attach Cable | DAC | 100 | 1m | Commercial |
| EDGECORE AS7716-24SC CASSINI | EN-Q28DAC-2M | ECI Networks | Direct Attach Cable | DAC | 100 | 2m | Commercial |
| EDGECORE AS7716-24SC CASSINI | EN-Q28AOC-3M | ECI Networks | Active Optical Cable | AOC | 100 | 3m | Commercial |
| EDGECORE AS7716-24SC CASSINI | EN-Q28DACBO-3M | ECI Networks | Direct Attach Cable Breakout | DAC BO | 100 | 3m | Commercial |
| EDGECORE AS7716-24SC CASSINI | ET7402-100DAC-3M | Edgecore | Direct Attach Cable | DAC | 100 | 3m | Commercial |
| EDGECORE AS7716-24SC CASSINI | ET7402-25DAC-3M | Edgecore | Direct Attach Cable Breakout | DAC BO | 100 | 3m | Commercial |
| EDGECORE AS7716-24SC CASSINI | FCBN425QE1C10 | II-VI Finisar | Active Optical Cable | AOC | 100 | 10m | Commercial |
| EDGECORE AS7716-24SC CASSINI | EN-QSFP28-SR4 | ECI Networks | Grey Optics | SR4 | 100 | 100m | Commercial |
| EDGECORE AS7716-24SC CASSINI | QSFP28-SR4-100G | FS.COM | Grey Optics | SR4 | 100 | 100m | Commercial |
| EDGECORE AS7716-24SC CASSINI | FTLC9551REPM | II-VI Finisar | Grey Optics | SR4 | 100 | 100m | Commercial |
| EDGECORE AS7716-24SC CASSINI | FTLC9558REPM | II-VI Finisar | Grey Optics | SR4 | 100 | 100m | Commercial |
| EDGECORE AS7716-24SC CASSINI | EN-QSFP28-PSM4 | ECI Networks | Grey Optics | PSM4 | 100 | 500m | Commercial |
| EDGECORE AS7716-24SC CASSINI | EN-QSFP28-CW4 | ECI Networks | CWDM | CWDM | 100 | 2km | Commercial |
| EDGECORE AS7716-24SC CASSINI | Q28QL002C00F | Skylane Optics | CWDM | CWDM | 100 | 2km | Commercial |
| EDGECORE AS7716-24SC CASSINI | EN-QSFP28-LR4 | ECI Networks | Grey Optics | LR4 | 100 | 10km | Commercial |
| EDGECORE AS7716-24SC CASSINI | QSFP28-LR4-100G | FS.COM | Grey Optics | LR4 | 100 | 10km | Commercial |
| EDGECORE AS7716-24SC CASSINI | EN-QSFP28-ER4 | ECI Networks | Grey Optics | ER4 | 100 | 40km | Commercial |
| EDGECORE AS7716-24SC CASSINI | EN-QSFP28-ER4LI | ECI Networks | Grey Optics | ER4 | 100 | 40km | Industrial |
| EDGECORE AS7716-24SC CASSINI | EN-QSFP28-ZR4 | ECI Networks | Grey Optics | ZR4 | 100 | 80km | Commercial |
| EDGECORE AS7716-24SC CASSINI | AC200-D23-005 | Acacia (Cisco) | DCO Coherent | DCO-CFP2 | 100 | 120km | Commercial |
| EDGECORE AS7716-24SC CASSINI | EN-QSFP28-FR1 | ECI Networks | Grey Optics | FR1 | 100 | 2km | Commercial |
| EDGECORE AS7716-24SC CASSINI | EN-QSFP28-DR1 | ECI Networks | Grey Optics | DR1 | 100 | 500m | Commercial |
| EDGECORE AS7716-24SC CASSINI | EN-Q28-eLR4-S | ECI Networks | Grey Optics | LR4 | 100 | 20km | Commercial |
| EDGECORE AS7716-24SC CASSINI | ET7402-SR4 | Edgecore | Grey Optics | SR4 | 100 | 70m | Commercial |
| EDGECORE AS7716-24SC CASSINI | TRB200DAA-01 | Lumentum (OCLARO) | DCO Coherent | DCO-CFP2 | 200 | 120km | Commercial |
| EDGECORE AS7716-24SC CASSINI | C2DTULDJ0200 | Skylane Optics | DCO Coherent | DCO-CFP2 | 200 | 120km | Commercial |
| EDGECORE AS7716-24SC CASSINI | C2DTULDS0200 | Skylane Optics | DCO Coherent | DCO-CFP2 | 200 | 120km | Commercial |
| EDGECORE AS7716-24SC CASSINI | FIM38760/100 w/TOF | Fujitsu | DCO Coherent | CFP2 DCO | 200 | | |
| EDGECORE AS7716-24SC CASSINI | C2DTULDH0300 | Skylane Optics | DCO Coherent | DCO-CFP2 | 200 | 120km | Commercial |
| EDGECORE AS7726-32X | 1000M-SFP-T-HU | Edgeoptic | Copper | RJ45 | 1 | 100m | Commercial |
| EDGECORE AS7726-32X | FCLF8521P2BTL | Finisar | Copper | RJ45 | 1 | 100m | Industrial |
| EDGECORE AS7726-32X | EN-SFP1G-SXi | ECI Networks | Grey Optics | SX | 1 | 550m | Industrial |
| EDGECORE AS7726-32X | FTLF8519P3BTL | II-VI Finisar | Grey Optics | SX | 1 | 550m | Industrial |
| EDGECORE AS7726-32X | EN-SFP1G-LXi | ECI Networks | Grey Optics | LX | 1 | 20km | Industrial |
| EDGECORE AS7726-32X | OP6C-W20-B5-CM | Optech | BiDi | LR | 1 | 20km | Commercial |
| EDGECORE AS7726-32X | OP6C-W20-B3-CM | Optech | BiDi | LR | 1 | 20km | Commercial |
| EDGECORE AS7726-32X | EN-SFP1G-LH | ECI Networks | Grey Optics | LH | 1 | 70km | Commercial |
| EDGECORE AS7726-32X | EN-SFP1G-ZX | ECI Networks | Grey Optics | ZX | 1 | 80km | Commercial |
| EDGECORE AS7726-32X | EN-SFP1G-IDL100 | ECI Networks | Grey Optics | ZX | 1 | 100km | Industrial |
| EDGECORE AS7726-32X | EN-SFP1G-SX | ECI Networks | Grey Optics | SX | 1 | 550m | Commercial |
| EDGECORE AS7726-32X | EN-SFP1G-LX | ECI Networks | Grey Optics | LX | 1 | 20km | Commercial |
| EDGECORE AS7726-32X | EN-SFP1G-EX | ECI Networks | Grey Optics | EX | 1 | 40km | Commercial |
| EDGECORE AS7726-32X | EN-SFP-iRJ45 | ECI Networks | Copper | RJ45 | 1 | 100m | Industrial |
| EDGECORE AS7726-32X | EN-SFP1G-EXi | ECI Networks | Grey Optics | EXi | 1 | 40km | Industrial |
| EDGECORE AS7726-32X | EN-SFP1G-ZXi | ECI Networks | Grey Optics | ZXi | 1 | 80km | Industrial |
| EDGECORE AS7726-32X | EN-SFP-RJ45 | EN-SFP-RJ45 | Copper | RJ45 | 1 | 100m | Industrial |
| EDGECORE AS7726-32X | LCP-1250B4QDRTFF | DELTA | | LX10 | 1 | | |
| EDGECORE AS7726-32X | LS38-C3L-TI-N-QB | APAC | | BX10-U | 1 | | |
| EDGECORE AS7726-32X | LS48-C3L-TI-N-QB | APAC | | BX10-D | 1 | | |
| EDGECORE AS7726-32X | SFP-GE-BX20KM-55 | SONGXIN | | BASE-BX10 | 1 | | |
| EDGECORE AS7726-32X | SFP-GE-BX20KM-31 | SONGXIN | | BASE-BX10 | 1 | | |
| EDGECORE AS7726-32X | ET5402-DAC-1M | Edgecore | Direct Attach Cable | DAC | 10 | 1m | Commercial |
| EDGECORE AS7726-32X | FCBG110SD1C01 | II-VI Finisar | Active Optical Cable | AOC | 10 | 1m | Commercial |
| EDGECORE AS7726-32X | FCBG110SD1C03 | II-VI Finisar | Active Optical Cable | AOC | 10 | 3m | Commercial |
| EDGECORE AS7726-32X | OPSFPP-T-03-PEL | Optech | Direct Attach Cable | DAC | 10 | 3m | Commercial |
| EDGECORE AS7726-32X | FCBG110SD1C05 | II-VI Finisar | Active Optical Cable | AOC | 10 | 5m | Commercial |
| EDGECORE AS7726-32X | ET5402-AOC-7M | Edgecore | Active Optical Cable | AOC | 10 | 7m | Commercial |
| EDGECORE AS7726-32X | ET5402-AOC-10M | Edgecore | Active Optical Cable | AOC | 10 | 10m | Commercial |
| EDGECORE AS7726-32X | EN-SFP10G-SR | ECI Networks | Grey Optics | SR | 10 | 300m | Commercial |
| EDGECORE AS7726-32X | EN-SFP10G-SRi | ECI Networks | Grey Optics | SR | 10 | 300m | Industrial |
| EDGECORE AS7726-32X | SFP-10GSR-85 | FS.COM | Grey Optics | SR | 10 | 300m | Commercial |
| EDGECORE AS7726-32X | FTLX8574D3BCL | II-VI Finisar | Grey Optics | SR | 10 | 300m | Commercial |
| EDGECORE AS7726-32X | FTLX8574D3BNL | II-VI Finisar | Grey Optics | SR | 10 | 300m | Commercial |
| EDGECORE AS7726-32X | EN-SFP10G-LR | ECI Networks | Grey Optics | LR | 10 | 10km | Commercial |
| EDGECORE AS7726-32X | EN-SFP10G-LRi | ECI Networks | Grey Optics | LR | 10 | 10km | Industrial |
| EDGECORE AS7726-32X | ET5402-LR | Edgecore | Grey Optics | LR | 10 | 10km | Commercial |
| EDGECORE AS7726-32X | SFP-10G-BX | FS.COM | BiDi | BX | 10 | 10km | Commercial |
| EDGECORE AS7726-32X | EN-SFP10G-BXD20 | ECI Networks | BiDi | BXD20 | 10 | 20km | Commercial |
| EDGECORE AS7726-32X | EN-SFP10G-BXU20 | ECI Networks | BiDi | BXU20 | 10 | 20km | Commercial |
| EDGECORE AS7726-32X | EN-SFP10G-ER | ECI Networks | Grey Optics | ER | 10 | 40km | Commercial |
| EDGECORE AS7726-32X | EN-SFPP-ER | ECI Networks | Grey Optics | ER | 10 | 40km | Commercial |
| EDGECORE AS7726-32X | EN-SFP10G-BXD40 | ECI Networks | BiDi | BXD40 | 10 | 40km | Commercial |
| EDGECORE AS7726-32X | EN-SFP10G-BXU40 | ECI Networks | BiDi | BXU40 | 10 | 40km | Commercial |
| EDGECORE AS7726-32X | EN-SFP10G-ERi | ECI Networks | Grey Optics | ER | 10 | 40km | Industrial |
| EDGECORE AS7726-32X | EN-SFP10G-BXID40 | ECI Networks | BiDi | BXID40 | 10 | 40km | Industrial |
| EDGECORE AS7726-32X | EN-SFP10G-BXIU40 | ECI Networks | BiDi | BXIU40 | 10 | 40km | Industrial |
| EDGECORE AS7726-32X | SFP-10G-BX40 | FS.COM | BiDi | BX40D | 10 | 40km | Commercial |
| EDGECORE AS7726-32X | EN-SFP10G-ZR | ECI Networks | Grey Optics | ZR | 10 | 80km | Commercial |
| EDGECORE AS7726-32X | EN-SFP10G-ZRI | ECI Networks | Grey Optics | ZR | 10 | 80km | Industrial |
| EDGECORE AS7726-32X | SFP-10G-BX80 | FS.COM | BiDi | BX | 10 | 80km | Commercial |
| EDGECORE AS7726-32X | EN-SFP10G-BXID20 | ECI Networks | BiDi | BXID20 | 10 | 20km | Industrial |
| EDGECORE AS7726-32X | EN-SFP10G-BXIU20 | ECI Networks | BiDi | BXIU20 | 10 | 20km | Industrial |
| EDGECORE AS7726-32X | 616740003 | Amphenol | SFP/SFP+/SFP28 | SFP/SFP+/SFP28 | 10 | | |
| EDGECORE AS7726-32X | SFP-10G-3M | OEM | | | 10 | | |
| EDGECORE AS7726-32X | EN-SFP28-SRi | ECI Networks | Grey Optics | SR | 25 | 100m | Industrial |
| EDGECORE AS7726-32X | 10093084-2030LF | Amphenol FCI | Direct Attach Cable | DAC | 40 | 3m | Commercial |
| EDGECORE AS7726-32X | EN-QAOCBO-3M | ECI Networks | Active Optical Cable - Breakout | AOC BO | 40 | 3m | Commercial |
| EDGECORE AS7726-32X | FCCN410QD3C03 | II-VI Finisar | Active Optical Cable | AOC | 40 | 3m | Commercial |
| EDGECORE AS7726-32X | ET6402-40AOC-7M | Edgecore | Active Optical Cable | AOC | 40 | 7m | Commercial |
| EDGECORE AS7726-32X | FTL410QE4C | II-VI Finisar | Grey Optics | SR4 | 40 | 100m | Commercial |
| EDGECORE AS7726-32X | FTL410QE4C-1Y | II-VI Finisar | Grey Optics | SR4 | 40 | 100m | Commercial |
| EDGECORE AS7726-32X | EN-QSFP40G-SR4 | ECI Networks | Grey Optics | SR4 | 40 | 150m | Commercial |
| EDGECORE AS7726-32X | EN-QSFPP-PIR | ECI Networks | Grey Optics | IR4-PSM | 40 | 1.4km | Commercial |
| EDGECORE AS7726-32X | EN-QSFP40G-LR4 | ECI Networks | Grey Optics | LR4 | 40 | 10km | Commercial |
| EDGECORE AS7726-32X | EN-QSFP-PLR4 | ECI Networks | Grey Optics | LR4 | 40 | 10km | Commercial |
| EDGECORE AS7726-32X | EN-QSFPP-LRL4 | ECI Networks | Grey Optics | LR4 | 40 | 10km | Commercial |
| EDGECORE AS7726-32X | QFP1301040PD | Skylane Optics | Grey Optics | LR4 | 40 | 10km | Commercial |
| EDGECORE AS7726-32X | EN-QSFP40G-ER4 | ECI Networks | Grey Optics | ER4 | 40 | 40km | Commercial |
| EDGECORE AS7726-32X | EN-QSFP40G-LR4i | ECI Networks | Grey Optics | LR4i | 40 | 10km | Industrial |
| EDGECORE AS7726-32X | QSFP-40GBASE-SR4-C | Prolabs | | SR4 | 40 | | Commercial |
| EDGECORE AS7726-32X | ET7402-100DAC-1M | Edgecore | Direct Attach Cable | DAC | 100 | 1m | Commercial |
| EDGECORE AS7726-32X | EN-Q28DAC-2M | ECI Networks | Direct Attach Cable | DAC | 100 | 2m | Commercial |
| EDGECORE AS7726-32X | EN-Q28DACBO-2M | ECI Networks | Direct Attach Cable Breakout | DAC BO | 100 | 2m | Commercial |
| EDGECORE AS7726-32X | EN-Q28AOC-3M | ECI Networks | Active Optical Cable | AOC | 100 | 3m | Commercial |
| EDGECORE AS7726-32X | EN-Q28DACBO-3M | ECI Networks | Direct Attach Cable Breakout | DAC BO | 100 | 3m | Commercial |
| EDGECORE AS7726-32X | ET7402-100DAC-3M | Edgecore | Direct Attach Cable | DAC | 100 | 3m | Commercial |
| EDGECORE AS7726-32X | ET7402-25DAC-3M | Edgecore | Direct Attach Cable Breakout | DAC BO | 100 | 3m | Commercial |
| EDGECORE AS7726-32X | ET7402-SR4 | Edgecore | Grey Optics | SR4 | 100 | 70m | Commercial |
| EDGECORE AS7726-32X | EN-QSFP28-SR4 | ECI Networks | Grey Optics | SR4 | 100 | 100m | Commercial |
| EDGECORE AS7726-32X | QSFP28-SR4-100G | FS.COM | Grey Optics | SR4 | 100 | 100m | Commercial |
| EDGECORE AS7726-32X | FTLC9551REPM | II-VI Finisar | Grey Optics | SR4 | 100 | 100m | Commercial |
| EDGECORE AS7726-32X | FTLC9558REPM | II-VI Finisar | Grey Optics | SR4 | 100 | 100m | Commercial |
| EDGECORE AS7726-32X | EN-QSFP28-PSM4 | ECI Networks | Grey Optics | PSM4 | 100 | 500m | Commercial |
| EDGECORE AS7726-32X | EN-QSFP28-DR1 | ECI Networks | Grey Optics | DR1 | 100 | 500m | Commercial |
| EDGECORE AS7726-32X | EN-QSFP28-CW4 | ECI Networks | CWDM | CWDM | 100 | 2km | Commercial |
| EDGECORE AS7726-32X | EN-QSFP28-FR1 | ECI Networks | Grey Optics | FR1 | 100 | 2km | Commercial |
| EDGECORE AS7726-32X | EN-QSFP28-LR4 | ECI Networks | Grey Optics | LR4 | 100 | 10km | Commercial |
| EDGECORE AS7726-32X | EN-QSFP28-LR4i | ECI Networks | Grey Optics | LR4 | 100 | 10km | Industrial |
| EDGECORE AS7726-32X | EN-QSFP28-ER4 | ECI Networks | Grey Optics | ER4 | 100 | 40km | Commercial |
| EDGECORE AS7726-32X | EN-QSFP28-ER4LI | ECI Networks | Grey Optics | ER4 | 100 | 40km | Industrial |
| EDGECORE AS7726-32X | EN-QSFP28-ZR4 | ECI Networks | Grey Optics | ZR4 | 100 | 80km | Commercial |
| EDGECORE AS7726-32X | EN-Q28-eLR4-S | ECI Networks | Grey Optics | LR4 | 100 | 20km | Commercial |
| EDGECORE AS7726-32X | 76V43 | DELL | Direct Attach Cable | QSFP28 DAC | 100 | 2m | Commercial |
| EDGECORE AS7726-32X | 4WJ41 | DELL | | QSFP28 MPO | 100 | | |
| EDGECORE AS7726-32X | 00D5803-N13692A | IBM-Amphenol | | QSFP28 | 100 | | |
| EDGECORE AS7726-32X | QSFP28-100GB-LR4-I-C | Prolabs | | LR4 | 100 | | Industrial |
| EDGECORE AS7816-64X | 10093084-2030LF | Amphenol FCI | Direct Attach Cable | DAC | 40 | 3m | Commercial |
| EDGECORE AS7816-64X | EN-QAOCBO-3M | ECI Networks | Active Optical Cable - Breakout | AOC BO | 40 | 3m | Commercial |
| EDGECORE AS7816-64X | FCCN410QD3C03 | II-VI Finisar | Active Optical Cable | AOC | 40 | 3m | Commercial |
| EDGECORE AS7816-64X | ET6402-40AOC-7M | Edgecore | Active Optical Cable | AOC | 40 | 7m | Commercial |
| EDGECORE AS7816-64X | FTL410QE4C | II-VI Finisar | Grey Optics | SR4 | 40 | 100m | Commercial |
| EDGECORE AS7816-64X | FTL410QE4C-1Y | II-VI Finisar | Grey Optics | SR4 | 40 | 100m | Commercial |
| EDGECORE AS7816-64X | EN-QSFP40G-SR4 | ECI Networks | Grey Optics | SR4 | 40 | 150m | Commercial |
| EDGECORE AS7816-64X | EN-QSFPP-PIR | ECI Networks | Grey Optics | IR4-PSM | 40 | 1.4km | Commercial |
| EDGECORE AS7816-64X | EN-QSFP40G-LR4 | ECI Networks | Grey Optics | LR4 | 40 | 10km | Commercial |
| EDGECORE AS7816-64X | EN-QSFP-PLR4 | ECI Networks | Grey Optics | LR4 | 40 | 10km | Commercial |
| EDGECORE AS7816-64X | EN-QSFPP-LRL4 | ECI Networks | Grey Optics | LR4 | 40 | 10km | Commercial |
| EDGECORE AS7816-64X | QFP1301040PD | Skylane Optics | Grey Optics | LR4 | 40 | 10km | Commercial |
| EDGECORE AS7816-64X | EN-QSFP40G-ER4 | ECI Networks | Grey Optics | ER4 | 40 | 40km | Commercial |
| EDGECORE AS7816-64X | EN-QSFP40G-LR4i | ECI Networks | Grey Optics | LR4i | 40 | 10km | Industrial |
| EDGECORE AS7816-64X | QSFP-40GBASE-SR4-C | Prolabs | | SR4 | 40 | | Commercial |
| EDGECORE AS7816-64X | ET7402-100DAC-1M | Edgecore | Direct Attach Cable | DAC | 100 | 1m | Commercial |
| EDGECORE AS7816-64X | EN-Q28DAC-2M | ECI Networks | Direct Attach Cable | DAC | 100 | 2m | Commercial |
| EDGECORE AS7816-64X | EN-Q28DACBO-2M | ECI Networks | Direct Attach Cable Breakout | DAC BO | 100 | 2m | Commercial |
| EDGECORE AS7816-64X | EN-Q28AOC-3M | ECI Networks | Active Optical Cable | AOC | 100 | 3m | Commercial |
| EDGECORE AS7816-64X | EN-Q28DACBO-3M | ECI Networks | Direct Attach Cable Breakout | DAC BO | 100 | 3m | Commercial |
| EDGECORE AS7816-64X | ET7402-100DAC-3M | Edgecore | Direct Attach Cable | DAC | 100 | 3m | Commercial |
| EDGECORE AS7816-64X | ET7402-25DAC-3M | Edgecore | Direct Attach Cable Breakout | DAC BO | 100 | 3m | Commercial |
| EDGECORE AS7816-64X | ET7402-SR4 | Edgecore | Grey Optics | SR4 | 100 | 70m | Commercial |
| EDGECORE AS7816-64X | QSFP28-SR4-100G | FS.COM | Grey Optics | SR4 | 100 | 100m | Commercial |
| EDGECORE AS7816-64X | FTLC9551REPM | II-VI Finisar | Grey Optics | SR4 | 100 | 100m | Commercial |
| EDGECORE AS7816-64X | FTLC9558REPM | II-VI Finisar | Grey Optics | SR4 | 100 | 100m | Commercial |
| EDGECORE AS7816-64X | EN-QSFP28-PSM4 | ECI Networks | Grey Optics | PSM4 | 100 | 500m | Commercial |
| EDGECORE AS7816-64X | EN-QSFP28-DR1 | ECI Networks | Grey Optics | DR1 | 100 | 500m | Commercial |
| EDGECORE AS7816-64X | EN-QSFP28-CW4 | ECI Networks | CWDM | CWDM | 100 | 2km | Commercial |
| EDGECORE AS7816-64X | EN-QSFP28-LR4 | ECI Networks | Grey Optics | LR4 | 100 | 10km | Commercial |
| EDGECORE AS7816-64X | EN-QSFP28-ER4 | ECI Networks | Grey Optics | ER4 | 100 | 40km | Commercial |
| EDGECORE AS7816-64X | EN-QSFP28-ER4LI | ECI Networks | Grey Optics | ER4 | 100 | 40km | Industrial |
| EDGECORE AS7816-64X | EN-QSFP28-ZR4 | ECI Networks | Grey Optics | ZR4 | 100 | 80km | Commercial |
| EDGECORE AS7816-64X | EN-QSFP28-FR1 | ECI Networks | Grey Optics | FR1 | 100 | 2km | Commercial |
| EDGECORE AS7816-64X | EN-Q28-eLR4-S | ECI Networks | Grey Optics | LR4 | 100 | 20km | Commercial |
| EDGECORE AS7816-64X | ET7402-SR4 | Edgecore | Grey Optics | SR4 | 100 | 70m | Commercial |
| EDGECORE AS7816-64X | 76V43 | DELL | | QSFP28 DAC | 100 | 2m | Commercial |
| EDGECORE AS7816-64X | 4WJ41 | DELL | | QSFP28 MPO | 100 | | |
| EDGECORE AS7816-64X | 00D5803-N13692A | IBM-Amphenol | | QSFP28 | 100 | | |
| EDGECORE AS7946-30XB | OP6C-W20-B5-CM | Optech | BiDi | LR | 1 | 20km | Commercial |
| EDGECORE AS7946-30XB | OP6C-W20-B3-CM | Optech | BiDi | LR | 1 | 20km | Commercial |
| EDGECORE AS7946-30XB | EN-SFP1G-SX | ECI Networks | Grey Optics | SX | 1 | 550m | Commercial |
| EDGECORE AS7946-30XB | EN-SFP1G-ZXi | ECI Networks | Grey Optics | ZX | 1 | 80km | Industrial |
| EDGECORE AS7946-30XB | EN-SFP1G-EXi | ECI Networks | Grey Optics | EX | 1 | 40km | Industrial |
| EDGECORE AS7946-30XB | EN-SFP1G-LX | ECI Networks | Grey Optics | LX | 1 | 20km | Commercial |
| EDGECORE AS7946-30XB | EN-SFP1G-EX | ECI Networks | Grey Optics | EX | 1 | 40km | Commercial |
| EDGECORE AS7946-30XB | EN-SFP1G-ZX | ECI Networks | Grey Optics | ZX | 1 | 80km | Commercial |
| EDGECORE AS7946-30XB | EN-SFP1G-SXi | ECI Networks | Grey Optics | SX | 1 | 550m | Industrial |
| EDGECORE AS7946-30XB | EN-SFP1G-LXi | ECI Networks | Grey Optics | LX | 1 | 20km | Industrial |
| EDGECORE AS7946-30XB | EN-SFP1G-LH | ECI Networks | Grey Optics | LH | 1 | 70km | Commercial |
| EDGECORE AS7946-30XB | 1000M-SFP-T-HU | Edgeoptic | Copper | RJ45 | 1 | 100m | Commercial |
| EDGECORE AS7946-30XB | EN-SFP1G-IDL100 | ECI Networks | Grey Optics | ZX | 1 | 100km | Industrial |
| EDGECORE AS7946-30XB | FCLF8521P2BTL | Finisar | Copper | RJ45 | 1 | 100m | Industrial |
| EDGECORE AS7946-30XB | FTLF8519P3BTL | II-VI Finisar | Grey Optics | SX | 1 | 550m | Industrial |
| EDGECORE AS7946-30XB | EN-SFP-iRJ45 | ECI Networks | Copper | RJ45 | 1 | 100m | Industrial |
| EDGECORE AS7946-30XB | EN-SFP-RJ45 | ECI Networks | Copper | RJ45 | 1 | 100m | Commercial |
| EDGECORE AS7946-30XB | LS38-C3L-TI-N-QB | APAC | | | 1 | | |
| EDGECORE AS7946-30XB | LS48-C3L-TI-N-QB | APAC | | | 1 | | |
| EDGECORE AS7946-30XB | SFP-GE-BX20KM-55 | SONGXIN | | BASE-BX10 | 1 | | |
| EDGECORE AS7946-30XB | SFP-GE-BX20KM-31 | SONGXIN | | BASE-BX10 | 1 | | |
| EDGECORE AS7946-30XB | EN-SFP10G-BXD20 | ECI Networks | BiDi | BXD20 | 10 | 20km | Commercial |
| EDGECORE AS7946-30XB | EN-SFP10G-BXU20 | ECI Networks | BiDi | BXU20 | 10 | 20km | Commercial |
| EDGECORE AS7946-30XB | EN-SFP10G-SR | ECI Networks | Grey Optics | SR | 10 | 300m | Commercial |
| EDGECORE AS7946-30XB | EN-SFP10G-ER | ECI Networks | Grey Optics | ER | 10 | 40km | Commercial |
| EDGECORE AS7946-30XB | EN-SFPP-ER | ECI Networks | Grey Optics | ER | 10 | 40km | Commercial |
| EDGECORE AS7946-30XB | EN-SFP10G-SRi | ECI Networks | Grey Optics | SR | 10 | 300m | Industrial |
| EDGECORE AS7946-30XB | EN-SFP10G-LRi | ECI Networks | Grey Optics | LR | 10 | 10km | Industrial |
| EDGECORE AS7946-30XB | SFP-10GSR-85 | FS.COM | Grey Optics | SR | 10 | 300m | Commercial |
| EDGECORE AS7946-30XB | EN-SFP10G-ERi | ECI Networks | Grey Optics | ER | 10 | 40km | Industrial |
| EDGECORE AS7946-30XB | EN-SFP10G-ZR | ECI Networks | Grey Optics | ZR | 10 | 80km | Commercial |
| EDGECORE AS7946-30XB | FTLX8574D3BCL | II-VI Finisar | Grey Optics | SR | 10 | 300m | Commercial |
| EDGECORE AS7946-30XB | FCBG110SD1C03 | II-VI Finisar | Active Optical Cable | AOC | 10 | 3m | Commercial |
| EDGECORE AS7946-30XB | FCBG110SD1C05 | II-VI Finisar | Active Optical Cable | AOC | 10 | 5m | Commercial |
| EDGECORE AS7946-30XB | SFP-10G-BX | FS.COM | BiDi | BX | 10 | 10km | Commercial |
| EDGECORE AS7946-30XB | SFP-10G-BX80 | FS.COM | BiDi | BX | 10 | 80km | Commercial |
| EDGECORE AS7946-30XB | ET5402-AOC-7M | Edgecore | Active Optical Cable | AOC | 10 | 7m | Commercial |
| EDGECORE AS7946-30XB | FTLX8574D3BNL | II-VI Finisar | Grey Optics | SR | 10 | 300m | Commercial |
| EDGECORE AS7946-30XB | EN-SFP10G-BXID20 | ECI Networks | BiDi | BXID20 | 10 | 20km | Industrial |
| EDGECORE AS7946-30XB | EN-SFP10G-BXIU20 | ECI Networks | BiDi | BXIU20 | 10 | 20km | Industrial |
| EDGECORE AS7946-30XB | ET5402-DAC-3M | Edgecore | Direct Attach Cable | DAC | 10 | 3m | Commercial |
| EDGECORE AS7946-30XB | EN-SFP10G-BXD40 | ECI Networks | BiDi | BXD40 | 10 | 40km | Commercial |
| EDGECORE AS7946-30XB | EN-SFP10G-BXU40 | ECI Networks | BiDi | BXU40 | 10 | 40km | Commercial |
| EDGECORE AS7946-30XB | ET5402-DAC-1M | Edgecore | Direct Attach Cable | DAC | 10 | 1m | Commercial |
| EDGECORE AS7946-30XB | SFP-10GBASE-LR-I-C | Prolabs | | LR | 10 | | Industrial |
| EDGECORE AS7946-30XB | ET7302-AOC-7M | Edgecore | Active Optical Cable | AOC | 25 | 7m | Commercial |
| EDGECORE AS7946-30XB | ET7302-AOC-5M | Edgecore | Direct Attach Cable | DAC | 25 | 5m | Commercial |
| EDGECORE AS7946-30XB | RTXM330-8921 | Accelink | | | 25 | | |
| EDGECORE AS7946-30XB | EN-SFP28-SR | ECI Networks | Grey Optics | SR | 25 | 100m | Commercial |
| EDGECORE AS7946-30XB | EN-SFP28-SRi | ECI Networks | Grey Optics | SR | 25 | 100m | Industrial |
| EDGECORE AS7946-30XB | EN-SFP28-LR | ECI Networks | Grey Optics | LR | 25 | 20km | Commercial |
| EDGECORE AS7946-30XB | EN-SFP28-ERi | ECI Networks | Grey Optics | ER | 25 | 40km | Industrial |
| EDGECORE AS7946-30XB | EN-S28-DAC-3M | ECI Networks | Grey Optics | SFP28-ER | 25 | 40km | Industrial |
| EDGECORE AS7946-30XB | LTF2326-BH+ | Hisense Broadband | BiDi | | 25 | 20km | Industrial |
| EDGECORE AS7946-30XB | LTF3226-BH+ | Hisense Broadband | BiDi | | 25 | 20km | Industrial |
| EDGECORE AS7946-30XB | EN-QSFP40G-SR4 | ECI Networks | Grey Optics | SR4 | 40 | 150m | Commercial |
| EDGECORE AS7946-30XB | 10093084-2030LF | Amphenol FCI | Direct Attach Cable | DAC | 40 | 3m | Commercial |
| EDGECORE AS7946-30XB | QFP1301040PD | Skylane Optics | Grey Optics | LR4 | 40 | 10km | Commercial |
| EDGECORE AS7946-30XB | EN-QSFP40G-LR4 | ECI Networks | Grey Optics | LR4 | 40 | 10km | Commercial |
| EDGECORE AS7946-30XB | EN-QSFP40G-LR4i | ECI Networks | Grey Optics | LR4 | 40 | 10km | Industrial |
| EDGECORE AS7946-30XB | EN-QSFPP-PIR | ECI Networks | Grey Optics | IR4-PSM | 40 | 1.4km | Commercial |
| EDGECORE AS7946-30XB | QSFP-40GBASE-SR4-C | Prolabs | | | 40 | | Commercial |
| EDGECORE AS7946-30XB | EN-QSFP28-DR1 | ECI Networks | Grey Optics | DR1 | 100 | 500m | Commercial |
| EDGECORE AS7946-30XB | EN-QSFP28-SR4 | ECI Networks | Grey Optics | SR4 | 100 | 100m | Commercial |
| EDGECORE AS7946-30XB | EN-Q28AOC-3M | ECI Networks | Active Optical Cable | AOC | 100 | 3m | Commercial |
| EDGECORE AS7946-30XB | EN-QSFP28-LR4 | ECI Networks | Grey Optics | LR4 | 100 | 10km | Commercial |
| EDGECORE AS7946-30XB | FTLC9551REPM | II-VI Finisar | Grey Optics | SR4 | 100 | 100m | Commercial |
| EDGECORE AS7946-30XB | EN-Q28-eLR4-S | ECI Networks | Grey Optics | LR4 | 100 | 20km | Commercial |
| EDGECORE AS7946-30XB | ET7402-SR4 | Edgecore | Grey Optics | SR4 | 100 | 70m | Commercial |
| EDGECORE AS7946-30XB | EN-QSFP28-ER4 | ECI Networks | Grey Optics | ER4 | 100 | 40km | Commercial |
| EDGECORE AS7946-30XB | EN-QSFP28-ZR4 | ECI Networks | Grey Optics | ZR4 | 100 | 80km | Commercial |
| EDGECORE AS7946-30XB | ET7402-100DAC-3M | Edgecore | Direct Attach Cable | DAC | 100 | 3m | Commercial |
| EDGECORE AS7946-30XB | QSFP28-LR4-100G | FS.COM | Grey Optics | LR4 | 100 | 10km | Commercial |
| EDGECORE AS7946-30XB | QSFP28-SR4-100G | FS.COM | Grey Optics | SR4 | 100 | 100m | Commercial |
| EDGECORE AS7946-30XB | ET7402-100DAC-1M | Edgecore | Direct Attach Cable | DAC | 100 | 1m | Commercial |
| EDGECORE AS7946-30XB | Q28QL002C00F | Skylane Optics | CWDM | CWDM | 100 | 2km | Commercial |
| EDGECORE AS7946-30XB | EN-QSFP28-FR1 | ECI Networks | Grey Optics | FR1 | 100 | 2km | Commercial |
| EDGECORE AS7946-30XB | QSFP28-100GB-LR4-I-C | Prolabs | | LR4 | 100 | 10km | Industrial |
| EDGECORE AS7946-30XB | EN-QDD-DR4 | ECI Networks | Grey Optics | DR4 | 400 | 500m | Commercial |
| EDGECORE AS7946-30XB | EN-QDD-LR4 | ECI Networks | LANWDM | LR4 | 400 | 10km | Commercial |
| EDGECORE AS7946-30XB | EN-QDD-LR8 | ECI Networks | LANWDM | LR8 | 400 | 10km | Commercial |
| EDGECORE AS7946-30XB | QDD-DR4-400G-Si | FS.COM | Grey Optics | DR4 | 400 | 500m | Commercial |
| EDGECORE AS7946-30XB | EN-QDD-FR4 | ECI Networks | CWDM | CWDM | 400 | 2km | Commercial |
| EDGECORE AS7946-30XB | EN-QDD-SR8 | ECI Networks | Grey Optics | SR8 | 400 | 100m | Commercial |
| EDGECORE AS7946-30XB | LMQ8811-PC+ | Hisense Broadband | Grey Optics | SR8 | 400 | 100m | Commercial |
| EDGECORE AS7946-30XB | LMQ3921S-PC1 | Hisense Broadband | Grey Optics | DR4 | 400 | 500m | Commercial |
| EDGECORE AS7946-30XB | LMQ3926-PC+ | Hisense Broadband | Grey Optics | FR4 | 400 | 2km | Commercial |
| EDGECORE AS7946-30XB | LCQ638BS-PC+ | Hisense Broadband | DCO Coherent | ZR+ | 400 | 120km | Commercial |
| EDGECORE AS7946-30XB | FIM38900/120 | Fujitsu | DCO Coherent | ZR | 400 | 120km | Commercial |
| EDGECORE AS7946-30XB | QSFPDD-LR4-400G | FS.COM | Grey Optics | LR4 | 400 | 10km | Commercial |
| EDGECORE AS7946-30XB | EN-QDD-SR8 | ECI Networks | Grey Optics | SR8 | 400 | 100m | Commercial |
| EDGECORE AS7946-30XB | EN-QDD-DR4 | ECI Networks | Grey Optics | DR4 | 400 | 500m | Commercial |
| EDGECORE AS7946-30XB | QDD-DR4-400G-Si | FS.COM | Grey Optics | DR4 | 400 | 500m | Commercial |
| EDGECORE AS7946-30XB | EN-QDD-FR4 | ECI Networks | CWDM | CWDM | 400 | 2km | Commercial |
| EDGECORE AS7946-30XB | EN-QDD-XDR4 | ECI Networks | Grey Optics | DR4 | 400 | 2km | Commercial |
| EDGECORE AS7946-30XB | EN-QDD-LR4 | ECI Networks | LANWDM | LR4 | 400 | 10km | Commercial |
| EDGECORE AS7946-30XB | EN-QDD-LR8 | ECI Networks | LANWDM | LR8 | 400 | 10km | Commercial |
| EDGECORE AS7946-30XB | QSFPDD-LR4-400G | FS.COM | Grey Optics | LR4 | 400 | 10km | Commercial |
| EDGECORE AS7946-30XB | SO-TQSFP-DD-4CCZRP | SmartOptics | DCO Coherent | DCO-QDD ZR+ | 400 | 120km | Commercial |
| EDGECORE AS7946-74XKSB | EN-SFP-RJ45 | ECI Networks | Copper | RJ45 | 1 | 100m | Commercial |
| EDGECORE AS7946-74XKSB | EN-SFP10G-ER | ECI Networks | Grey Optics | ER | 10 | 40km | Commercial |
| EDGECORE AS7946-74XKSB | EN-SFPP-ER | ECI Networks | Grey Optics | ER | 10 | 40km | Commercial |
| EDGECORE AS7946-74XKSB | EN-SFP10G-SRi | ECI Networks | Grey Optics | SR | 10 | 300m | Industrial |
| EDGECORE AS7946-74XKSB | EN-SFP10G-LRi | ECI Networks | Grey Optics | LR | 10 | 10km | Industrial |
| EDGECORE AS7946-74XKSB | SFP-10G-BX | FS.COM | BiDi | BX | 10 | 10km | Commercial |
| EDGECORE AS7946-74XKSB | SFP-10G-BX80 | FS.COM | BiDi | BX | 10 | 80km | Commercial |
| EDGECORE AS7946-74XKSB | ET5402-AOC-7M | Edgecore | Active Optical Cable | AOC | 10 | 7m | Commercial |
| EDGECORE AS7946-74XKSB | EN-SFP10G-LRi | ECI Networks | Grey Optics | LR | 10 | 10km | Industrial |
| EDGECORE AS7946-74XKSB | EN-SFP10G-BXID20 | ECI Networks | BiDi | BXID20 | 10 | 20km | Industrial |
| EDGECORE AS7946-74XKSB | EN-SFP10G-BXIU20 | ECI Networks | BiDi | BXIU20 | 10 | 20km | Industrial |
| EDGECORE AS7946-74XKSB | EN-SFP10G-BXD40 | ECI Networks | BiDi | BXD40 | 10 | 40km | Commercial |
| EDGECORE AS7946-74XKSB | EN-SFP10G-BXU20 | ECI Networks | BiDi | BXU20 | 10 | 20km | Commercial |
| EDGECORE AS7946-74XKSB | RTXM330-8921 | Accelink | | | 25 | | |
| EDGECORE AS7946-74XKSB | TRS5A21EH02LF000 | CIG | | | 25 | | |
| EDGECORE AS7946-74XKSB | EN-SFP28-ERi | ECI Networks | Grey Optics | ER | 25 | 40km | Industrial |
| EDGECORE AS7946-74XKSB | EN-SFP28-LR | ECI Networks | Grey Optics | LR | 25 | 20km | Commercial |
| EDGECORE AS7946-74XKSB | EN-SFP28-SRi | ECI Networks | Grey Optics | SR | 25 | 100m | Industrial |
| EDGECORE AS7946-74XKSB | EN-SFP28-Lri | ECI Networks | Grey Optics | Lri | 25 | 20km | Industrial |
| EDGECORE AS7946-74XKSB | EN-SFP28-ERi | ECI Networks | Grey Optics | ER | 25 | 40km | Industrial |
| EDGECORE AS7946-74XKSB | EN-Q28DACBO-2M | ECI Networks | Direct Attach Cable Breakout | DAC BO | 25 | 1m | Commercial |
| EDGECORE AS7946-74XKSB | EN-QSFP28-DR1 | ECI Networks | Grey Optics | DR1 | 100 | 500m | Commercial |
| EDGECORE AS7946-74XKSB | EN-QSFP28-ZR4 | ECI Networks | Grey Optics | ZR4 | 100 | 80km | Commercial |
| EDGECORE AS7946-74XKSB | EN-QSFP28-FR1 | ECI Networks | Grey Optics | FR1 | 100 | 2km | Commercial |
| EDGECORE AS7946-74XKSB | EN-Q28AOC-3M | ECI Networks | Active Optical Cable | AOC | 100 | 3m | Commercial |
| EDGECORE AS7946-74XKSB | EN-QSFP28-ER4 | ECI Networks | Grey Optics | ER4 | 100 | 40km | Commercial |
| EDGECORE AS7946-74XKSB | EN-QSFP28-SR4-FSR | ECI Networks | Grey Optics | SR4 | 100 | 100m | Commercial |
| UFISPACE S9500-22XST | EN-SFP1G-RJ45 | ECI Networks | Copper | RJ45 | 1 | 100m | Commercial |
| UFISPACE S9500-22XST | 1000M-SFP-T-HU | Edgeoptic | Copper | RJ45 | 1 | 100m | Commercial |
| UFISPACE S9500-22XST | FCLF8521P2BTL | Finisar | Copper | RJ45 | 1 | 100m | Industrial |
| UFISPACE S9500-22XST | EN-SFP1G-SX | ECI Networks | Grey Optics | SX | 1 | 550m | Commercial |
| UFISPACE S9500-22XST | EN-SFP1G-SXi | ECI Networks | Grey Optics | SX | 1 | 550m | Industrial |
| UFISPACE S9500-22XST | FTLF8519P2BNL | II-VI Finisar | Grey Optics | SX | 1 | 550m | Extended |
| UFISPACE S9500-22XST | FTLF8519P3BTL | II-VI Finisar | Grey Optics | SX | 1 | 550m | Industrial |
| UFISPACE S9500-22XST | EN-SFP1G-LX | ECI Networks | Grey Optics | LX | 1 | 20km | Commercial |
| UFISPACE S9500-22XST | EN-SFP1G-LXi | ECI Networks | Grey Optics | LX | 1 | 20km | Industrial |
| UFISPACE S9500-22XST | OP6C-W20-B5-CM | Optech | BiDi | LR | 1 | 20km | Commercial |
| UFISPACE S9500-22XST | OP6C-W20-B3-CM | Optech | BiDi | LR | 1 | 20km | Commercial |
| UFISPACE S9500-22XST | EN-SFP1G-EX | ECI Networks | Grey Optics | EX | 1 | 40km | Commercial |
| UFISPACE S9500-22XST | EN-SFP1G-LH | ECI Networks | Grey Optics | LH | 1 | 70km | Commercial |
| UFISPACE S9500-22XST | EN-SFP1G-ZX | ECI Networks | Grey Optics | ZX | 1 | 80km | Commercial |
| UFISPACE S9500-22XST | EN-SFP1G-IDL100 | ECI Networks | Grey Optics | ZX | 1 | 100km | Industrial |
| UFISPACE S9500-22XST | EN-SFP-iRJ45 | ECI Networks | Copper | RJ45 | 1 | 100m | Industrial |
| UFISPACE S9500-22XST | EN-SFP1G-EXi | ECI Networks | Grey Optics | EX | 1 | 40km | Industrial |
| UFISPACE S9500-22XST | EN-SFP1G-ZXi | ECI Networks | Grey Optics | ZX | 1 | 80km | Industrial |
| UFISPACE S9500-22XST | EN-SFP-RJ45 | ECI Networks | Copper | RJ45 | 1 | 100m | Commercial |
| UFISPACE S9500-22XST | LCP-1250B4QDRTFF | DELTA | | LX | 1 | | |
| UFISPACE S9500-22XST | LS38-C3L-TI-N-QB | APAC | | BX10-U | 1 | | |
| UFISPACE S9500-22XST | LS48-C3L-TI-N-QB | APAC | | BX10-D | 1 | | |
| UFISPACE S9500-22XST | SFP-GE-BX20KM-55 | SONGXIN | | BASE-BX10 | 1 | | |
| UFISPACE S9500-22XST | SFP-GE-BX20KM-31 | SONGXIN | | BASE-BX10 | 1 | | |
| UFISPACE S9500-22XST | ET5402-DAC-1M | Edgecore | Direct Attach Cable | DAC | 10 | 1m | Commercial |
| UFISPACE S9500-22XST | FCBG110SD1C01 | II-VI Finisar | Active Optical Cable | AOC | 10 | 1m | Commercial |
| UFISPACE S9500-22XST | ET5402-DAC-3M | Edgecore | Direct Attach Cable | DAC | 10 | 3m | Commercial |
| UFISPACE S9500-22XST | FCBG110SD1C03 | II-VI Finisar | Active Optical Cable | AOC | 10 | 3m | Commercial |
| UFISPACE S9500-22XST | OPSFPP-T-03-PEL | Optech | Direct Attach Cable | DAC | 10 | 3m | Commercial |
| UFISPACE S9500-22XST | FCBG110SD1C05 | II-VI Finisar | Active Optical Cable | AOC | 10 | 5m | Commercial |
| UFISPACE S9500-22XST | ET5402-AOC-7M | Edgecore | Active Optical Cable | AOC | 10 | 7m | Commercial |
| UFISPACE S9500-22XST | ET5402-AOC-10M | Edgecore | Active Optical Cable | AOC | 10 | 10m | Commercial |
| UFISPACE S9500-22XST | EN-SFP10G-SR | ECI Networks | Grey Optics | SR | 10 | 300m | Commercial |
| UFISPACE S9500-22XST | EN-SFP10G-SRi | ECI Networks | Grey Optics | SR | 10 | 300m | Industrial |
| UFISPACE S9500-22XST | SFP-10GSR-85 | FS.COM | Grey Optics | SR | 10 | 300m | Commercial |
| UFISPACE S9500-22XST | FTLX8574D3BCL | II-VI Finisar | Grey Optics | SR | 10 | 300m | Commercial |
| UFISPACE S9500-22XST | FTLX8574D3BNL | II-VI Finisar | Grey Optics | SR | 10 | 300m | Commercial |
| UFISPACE S9500-22XST | EN-SFP10G-LR | ECI Networks | Grey Optics | LR | 10 | 10km | Commercial |
| UFISPACE S9500-22XST | EN-SFP10G-LRi | ECI Networks | Grey Optics | LR | 10 | 10km | Industrial |
| UFISPACE S9500-22XST | ET5402-LR | Edgecore | Grey Optics | LR | 10 | 10km | Commercial |
| UFISPACE S9500-22XST | SFP-10G-BX | FS.COM | BiDi | BX | 10 | 10km | Commercial |
| UFISPACE S9500-22XST | TXM-MPOLT-01C | TIBIT | Micro Plug | Class 01 | 10 | 10km | Commercial |
| UFISPACE S9500-22XST | EN-SFP10G-BXD20 | ECI Networks | BiDi | BXD20 | 10 | 20km | Commercial |
| UFISPACE S9500-22XST | EN-SFP10G-BXU20 | ECI Networks | BiDi | BXU20 | 10 | 20km | Commercial |
| UFISPACE S9500-22XST | EN-SFP10G-ER | ECI Networks | Grey Optics | ER | 10 | 40km | Commercial |
| UFISPACE S9500-22XST | EN-SFPP-ER | ECI Networks | Grey Optics | ER | 10 | 40km | Commercial |
| UFISPACE S9500-22XST | EN-SFP10G-BXD40 | ECI Networks | BiDi | BXD40 | 10 | 40km | Commercial |
| UFISPACE S9500-22XST | EN-SFP10G-BXU40 | ECI Networks | BiDi | BXU40 | 10 | 40km | Commercial |
| UFISPACE S9500-22XST | EN-SFP10G-ERi | ECI Networks | Grey Optics | ER | 10 | 40km | Industrial |
| UFISPACE S9500-22XST | EN-SFP10G-BXID40 | ECI Networks | BiDi | BXID40 | 10 | 40km | Industrial |
| UFISPACE S9500-22XST | EN-SFP10G-BXIU40 | ECI Networks | BiDi | BXIU40 | 10 | 40km | Industrial |
| UFISPACE S9500-22XST | SFP-10G-BX40 | FS.COM | BiDi | BX40D | 10 | 40km | Commercial |
| UFISPACE S9500-22XST | EN-SFP10G-ZR | ECI Networks | Grey Optics | ZR | 10 | 80km | Commercial |
| UFISPACE S9500-22XST | EN-SFP10G-ZRI | ECI Networks | Grey Optics | ZR | 10 | 80km | Industrial |
| UFISPACE S9500-22XST | SFP-10G-BX80 | FS.COM | BiDi | BX | 10 | 80km | Commercial |
| UFISPACE S9500-22XST | EN-SFP10G-BXID20 | ECI Networks | BiDi | BXID20 | 10 | 20km | Industrial |
| UFISPACE S9500-22XST | EN-SFP10G-BXIU20 | ECI Networks | BiDi | BXIU20 | 10 | 20km | Industrial |
| UFISPACE S9500-22XST | 616740003 | Amphenol | | SFP/SFP+/SFP28 | 10 | | |
| UFISPACE S9500-22XST | 616740001 | Amphenol | | SFP/SFP+/SFP28 | 10 | | |
| UFISPACE S9500-22XST | SFP-10G-3M | OEM | | SFP/SFP+/SFP28 | 10 | | |
| UFISPACE S9500-22XST | TRS7081AHCPA00A | Lumentum (OCLARO) | | Tunable SFP+ | 10 | | |
| UFISPACE S9500-22XST | SFP-10GBASE-LR-I-C | Prolabs | | LR | 10 | | Industrial |
| UFISPACE S9500-22XST | ET7302-AOC-5M | Edgecore | Direct Attach Cable | DAC | 25 | 5m | Commercial |
| UFISPACE S9500-22XST | FCBG125SD1C05 | II-VI Finisar | Active Optical Cable | AOC | 25 | 5m | Commercial |
| UFISPACE S9500-22XST | ET7302-AOC-7M | Edgecore | Active Optical Cable | AOC | 25 | 7m | Commercial |
| UFISPACE S9500-22XST | EN-SFP28-SR | ECI Networks | Grey Optics | SR | 25 | 100m | Commercial |
| UFISPACE S9500-22XST | EN-SFP28-SRi | ECI Networks | Grey Optics | SR | 25 | 100m | Industrial |
| UFISPACE S9500-22XST | EN-SFP28-LR | ECI Networks | Grey Optics | LR | 25 | 20km | Commercial |
| UFISPACE S9500-22XST | EN-SFP28-ERi | ECI Networks | Grey Optics | ER | 25 | 40km | Industrial |
| UFISPACE S9500-22XST | RTXM330-8921 | Accelink | | | 25 | | |
| UFISPACE S9500-22XST | TRS5A21EH05LF000 | CIG | | | 25 | | |
| UFISPACE S9500-22XST | SFP-25GBASE-SR-I-C | Prolabs | | SR | 25 | | Industrial |
| UFISPACE S9500-22XST | 10093084-2030LF | Amphenol FCI | Direct Attach Cable | DAC | 40 | 3m | Commercial |
| UFISPACE S9500-22XST | ET6402-40AOC-7M | Edgecore | Active Optical Cable | AOC | 40 | 7m | Commercial |
| UFISPACE S9500-22XST | EN-QSFP40G-SR4 | ECI Networks | Grey Optics | SR4 | 40 | 150m | Commercial |
| UFISPACE S9500-22XST | EN-QSFPP-PIR | ECI Networks | Grey Optics | IR4-PSM | 40 | 1.4km | Commercial |
| UFISPACE S9500-22XST | EN-QSFP40G-LR4 | ECI Networks | Grey Optics | LR4 | 40 | 10km | Commercial |
| UFISPACE S9500-22XST | EN-QSFP-PLR4 | ECI Networks | Grey Optics | LR4 | 40 | 10km | Commercial |
| UFISPACE S9500-22XST | EN-QSFPP-LRL4 | ECI Networks | Grey Optics | LR4 | 40 | 10km | Commercial |
| UFISPACE S9500-22XST | QFP1301040PD | Skylane Optics | Grey Optics | LR4 | 40 | 10km | Commercial |
| UFISPACE S9500-22XST | EN-QSFP40G-LR4i | ECI Networks | Grey Optics | LR4 | 40 | 10km | Industrial |
| UFISPACE S9500-22XST | QSFP-40G-DAC | Fiberstore | | | | | |
| UFISPACE S9500-22XST | ET7402-100DAC-1M | Edgecore | Direct Attach Cable | DAC | 100 | 1m | Commercial |
| UFISPACE S9500-22XST | EN-Q28DAC-2M | ECI Networks | Direct Attach Cable | DAC | 100 | 2m | Commercial |
| UFISPACE S9500-22XST | EN-Q28AOC-3M | ECI Networks | Active Optical Cable | AOC | 100 | 3m | Commercial |
| UFISPACE S9500-22XST | ET7402-100DAC-3M | Edgecore | Direct Attach Cable | DAC | 100 | 3m | Commercial |
| UFISPACE S9500-22XST | OPQS28-T-03-P/SF28/4 | Optech | Direct Attach Cable Breakout | DAC BO | 100 | 3m | Commercial |
| UFISPACE S9500-22XST | FCBN425QE1C10 | II-VI Finisar | Active Optical Cable | AOC | 100 | 10m | Commercial |
| UFISPACE S9500-22XST | ET7402-SR4 | Edgecore | Grey Optics | SR4 | 100 | 70m | Commercial |
| UFISPACE S9500-22XST | EN-QSFP28-SR4 | ECI Networks | Grey Optics | SR4 | 100 | 100m | Commercial |
| UFISPACE S9500-22XST | QSFP28-SR4-100G | FS.COM | Grey Optics | SR4 | 100 | 100m | Commercial |
| UFISPACE S9500-22XST | FTLC9551REPM | II-VI Finisar | Grey Optics | SR4 | 100 | 100m | Commercial |
| UFISPACE S9500-22XST | FTLC9558REPM | II-VI Finisar | Grey Optics | SR4 | 100 | 100m | Commercial |
| UFISPACE S9500-22XST | EN-QSFP28-PSM4 | ECI Networks | Grey Optics | PSM4 | 100 | 500m | Commercial |
| UFISPACE S9500-22XST | EN-QSFP28-CW4 | ECI Networks | CWDM | CWDM | 100 | 2km | Commercial |
| UFISPACE S9500-22XST | Q28QL002C00F | Skylane Optics | CWDM | CWDM | 100 | 2km | Commercial |
| UFISPACE S9500-22XST | EN-QSFP28-LR4 | ECI Networks | Grey Optics | LR4 | 100 | 10km | Commercial |
| UFISPACE S9500-22XST | EN-QSFP28-ER4 | ECI Networks | Grey Optics | ER4 | 100 | 40km | Commercial |
| UFISPACE S9500-22XST | EN-QSFP28-ER4LI | ECI Networks | Grey Optics | ER4 | 100 | 40km | Industrial |
| UFISPACE S9500-22XST | EN-QSFP28-ZR4 | ECI Networks | Grey Optics | ZR4 | 100 | 80km | Commercial |
| UFISPACE S9500-22XST | EN-QSFP28-FR1 | ECI Networks | Grey Optics | FR1 | 100 | 2km | Commercial |
| UFISPACE S9500-22XST | EN-QSFP28-DR1 | ECI Networks | Grey Optics | DR1 | 100 | 500m | Commercial |
| UFISPACE S9500-22XST | EN-QSFP28-LR4i | ECI Networks | Grey Optics | LR4 | 100 | 10km | Industrial |
| UFISPACE S9500-22XST | EN-Q28-eLR4-S | ECI Networks | Grey Optics | LR4 | 100 | 20km | Commercial |
| UFISPACE S9500-22XST | 76V43 | Dell | Direct Attach Cable | QSFP28 DAC | 100 | 2m | Commercial |
| UFISPACE S9500-22XST | 00D5803-N13692A | IBM-Amphenol | | QSFP28 | 100 | | |
| UFISPACE S9500-30XS | EN-SFP1G-RJ45 | ECI Networks | Copper | RJ45 | 1 | 100m | Commercial |
| UFISPACE S9500-30XS | 1000M-SFP-T-HU | Edgeoptic | Copper | RJ45 | 1 | 100m | Commercial |
| UFISPACE S9500-30XS | FCLF8521P2BTL | Finisar | Copper | RJ45 | 1 | 100m | Industrial |
| UFISPACE S9500-30XS | EN-SFP1G-SX | ECI Networks | Grey Optics | SX | 1 | 550m | Commercial |
| UFISPACE S9500-30XS | EN-SFP1G-SXi | ECI Networks | Grey Optics | SX | 1 | 550m | Industrial |
| UFISPACE S9500-30XS | FTLF8519P2BNL | II-VI Finisar | Grey Optics | SX | 1 | 550m | Extended |
| UFISPACE S9500-30XS | FTLF8519P3BTL | II-VI Finisar | Grey Optics | SX | 1 | 550m | Industrial |
| UFISPACE S9500-30XS | EN-SFP1G-LX | ECI Networks | Grey Optics | LX | 1 | 20km | Commercial |
| UFISPACE S9500-30XS | EN-SFP1G-LXi | ECI Networks | Grey Optics | LX | 1 | 20km | Industrial |
| UFISPACE S9500-30XS | OP6C-W20-B5-CM | Optech | BiDi | LR | 1 | 20km | Commercial |
| UFISPACE S9500-30XS | OP6C-W20-B3-CM | Optech | BiDi | LR | 1 | 20km | Commercial |
| UFISPACE S9500-30XS | EN-SFP1G-EX | ECI Networks | Grey Optics | EX | 1 | 40km | Commercial |
| UFISPACE S9500-30XS | EN-SFP1G-LH | ECI Networks | Grey Optics | LH | 1 | 70km | Commercial |
| UFISPACE S9500-30XS | EN-SFP1G-ZX | ECI Networks | Grey Optics | ZX | 1 | 80km | Commercial |
| UFISPACE S9500-30XS | EN-SFP1G-IDL100 | ECI Networks | Grey Optics | ZX | 1 | 100km | Industrial |
| UFISPACE S9500-30XS | EN-SFP-iRJ45 | ECI Networks | Copper | RJ45 | 1 | 100m | Industrial |
| UFISPACE S9500-30XS | EN-SFP1G-EXi | ECI Networks | Grey Optics | EX | 1 | 40km | Industrial |
| UFISPACE S9500-30XS | EN-SFP1G-ZXi | ECI Networks | Grey Optics | ZX | 1 | 80km | Industrial |
| UFISPACE S9500-30XS | EN-SFP-RJ45 | ECI Networks | Copper | RJ45 | 1 | 100m | Commercial |
| UFISPACE S9500-30XS | LCP-1250B4QDRTFF | DELTA | | LX | 1 | | |
| UFISPACE S9500-30XS | LS38-C3L-TI-N-QB | APAC | | BX10-U | 1 | | |
| UFISPACE S9500-30XS | LS48-C3L-TI-N-QB | APAC | | BX10-D | 1 | | |
| UFISPACE S9500-30XS | SFP-GE-BX20KM-55 | SONGXIN | | BASE-BX10 | 1 | | |
| UFISPACE S9500-30XS | SFP-GE-BX20KM-31 | SONGXIN | | BASE-BX10 | 1 | | |
| UFISPACE S9500-30XS | ET5402-DAC-1M | Edgecore | Direct Attach Cable | DAC | 10 | 1m | Commercial |
| UFISPACE S9500-30XS | FCBG110SD1C01 | II-VI Finisar | Active Optical Cable | AOC | 10 | 1m | Commercial |
| UFISPACE S9500-30XS | ET5402-DAC-3M | Edgecore | Direct Attach Cable | DAC | 10 | 3m | Commercial |
| UFISPACE S9500-30XS | FCBG110SD1C03 | II-VI Finisar | Active Optical Cable | AOC | 10 | 3m | Commercial |
| UFISPACE S9500-30XS | OPSFPP-T-03-PEL | Optech | Direct Attach Cable | DAC | 10 | 3m | Commercial |
| UFISPACE S9500-30XS | FCBG110SD1C05 | II-VI Finisar | Active Optical Cable | AOC | 10 | 5m | Commercial |
| UFISPACE S9500-30XS | ET5402-AOC-7M | Edgecore | Active Optical Cable | AOC | 10 | 7m | Commercial |
| UFISPACE S9500-30XS | ET5402-AOC-10M | Edgecore | Active Optical Cable | AOC | 10 | 10m | Commercial |
| UFISPACE S9500-30XS | EN-SFP10G-SR | ECI Networks | Grey Optics | SR | 10 | 300m | Commercial |
| UFISPACE S9500-30XS | EN-SFP10G-SRi | ECI Networks | Grey Optics | SR | 10 | 300m | Industrial |
| UFISPACE S9500-30XS | SFP-10GSR-85 | FS.COM | Grey Optics | SR | 10 | 300m | Commercial |
| UFISPACE S9500-30XS | FTLX8574D3BCL | II-VI Finisar | Grey Optics | SR | 10 | 300m | Commercial |
| UFISPACE S9500-30XS | FTLX8574D3BNL | II-VI Finisar | Grey Optics | SR | 10 | 300m | Commercial |
| UFISPACE S9500-30XS | EN-SFP10G-LR | ECI Networks | Grey Optics | LR | 10 | 10km | Commercial |
| UFISPACE S9500-30XS | EN-SFP10G-LRi | ECI Networks | Grey Optics | LR | 10 | 10km | Industrial |
| UFISPACE S9500-30XS | ET5402-LR | Edgecore | Grey Optics | LR | 10 | 10km | Commercial |
| UFISPACE S9500-30XS | SFP-10G-BX | FS.COM | BiDi | BX | 10 | 10km | Commercial |
| UFISPACE S9500-30XS | TXM-MPOLT-01C | TIBIT | Micro Plug | Class 01 | 10 | 10km | Commercial |
| UFISPACE S9500-30XS | EN-SFP10G-BXD20 | ECI Networks | BiDi | BXD20 | 10 | 20km | Commercial |
| UFISPACE S9500-30XS | EN-SFP10G-BXU20 | ECI Networks | BiDi | BXU20 | 10 | 20km | Commercial |
| UFISPACE S9500-30XS | EN-SFP10G-BXID20 | ECI Networks | BiDi | BXID20 | 10 | 20km | Industrial |
| UFISPACE S9500-30XS | EN-SFP10G-BXIU20 | ECI Networks | BiDi | BXIU20 | 10 | 20km | Industrial |
| UFISPACE S9500-30XS | EN-SFP10G-ER | ECI Networks | Grey Optics | ER | 10 | 40km | Commercial |
| UFISPACE S9500-30XS | EN-SFPP-ER | ECI Networks | Grey Optics | ER | 10 | 40km | Commercial |
| UFISPACE S9500-30XS | EN-SFP10G-BXD40 | ECI Networks | BiDi | BXD40 | 10 | 40km | Commercial |
| UFISPACE S9500-30XS | EN-SFP10G-BXU40 | ECI Networks | BiDi | BXU40 | 10 | 40km | Commercial |
| UFISPACE S9500-30XS | EN-SFP10G-ERi | ECI Networks | Grey Optics | ER | 10 | 40km | Industrial |
| UFISPACE S9500-30XS | EN-SFP10G-BXID40 | ECI Networks | BiDi | BXID40 | 10 | 40km | Industrial |
| UFISPACE S9500-30XS | EN-SFP10G-BXIU40 | ECI Networks | BiDi | BXIU40 | 10 | 40km | Industrial |
| UFISPACE S9500-30XS | SFP-10G-BX40 | FS.COM | BiDi | BX40D | 10 | 40km | Commercial |
| UFISPACE S9500-30XS | EN-SFP10G-ZR | ECI Networks | Grey Optics | ZR | 10 | 80km | Commercial |
| UFISPACE S9500-30XS | EN-SFP10G-ZRI | ECI Networks | Grey Optics | ZR | 10 | 80km | Industrial |
| UFISPACE S9500-30XS | SFP-10G-BX80 | FS.COM | BiDi | BX | 10 | 80km | Commercial |
| UFISPACE S9500-30XS | 616740003 | Amphenol | | SFP/SFP+/SFP28 | 10 | | |
| UFISPACE S9500-30XS | 616740001 | Amphenol | | SFP/SFP+/SFP28 | 10 | | |
| UFISPACE S9500-30XS | SFP-10G-3M | OEM | | SFP/SFP+/SFP28 | 10 | | |
| UFISPACE S9500-30XS | TRS7081AHCPA00A | Lumentum (OCLARO) | | Tunable SFP+ | 10 | | |
| UFISPACE S9500-30XS | SFP-10G-ZR-58.17-C | CISCO-PROLABS | 10GBASE-DWDM SFP+ ZR | | 10 | | |
| UFISPACE S9500-30XS | SFP-10GBASE-LR-I-C | Prolabs | | LR | 10 | | Industrial |
| UFISPACE S9500-30XS | ET7302-AOC-5M | Edgecore | Direct Attach Cable | DAC | 25 | 5m | Commercial |
| UFISPACE S9500-30XS | FCBG125SD1C05 | II-VI Finisar | Active Optical Cable | AOC | 25 | 5m | Commercial |
| UFISPACE S9500-30XS | ET7302-AOC-7M | Edgecore | Active Optical Cable | AOC | 25 | 7m | Commercial |
| UFISPACE S9500-30XS | EN-SFP28-SR | ECI Networks | Grey Optics | SR | 25 | 100m | Commercial |
| UFISPACE S9500-30XS | EN-SFP28-SRi | ECI Networks | Grey Optics | SR | 25 | 100m | Industrial |
| UFISPACE S9500-30XS | EN-SFP28-LR | ECI Networks | Grey Optics | LR | 25 | 20km | Commercial |
| UFISPACE S9500-30XS | EN-SFP28-ERi | ECI Networks | Grey Optics | ER | 25 | 40km | Industrial |
| UFISPACE S9500-30XS | RTXM330-8921 | Accelink | | | 25 | | |
| UFISPACE S9500-30XS | TRS5A21EH05LF000 | CIG | | | 25 | | |
| UFISPACE S9500-30XS | SFP25G-LR-S-I-DW4612-C | CISCO-PROLABS | 25GBase-DWDM | | 25 | | |
| UFISPACE S9500-30XS | EN-S28-DAC-3M | ECI Networks | Grey Optics | SFP28-ER | 25 | 40km | Industrial |
| UFISPACE S9500-30XS | SFP-25GBASE-SR-I-C | Prolabs | | SR | 25 | | Industrial |
| UFISPACE S9500-30XS | 10093084-2030LF | Amphenol FCI | Direct Attach Cable | DAC | 40 | 3m | Commercial |
| UFISPACE S9500-30XS | ET6402-40AOC-7M | Edgecore | Active Optical Cable | AOC | 40 | 7m | Commercial |
| UFISPACE S9500-30XS | EN-QSFP40G-SR4 | ECI Networks | Grey Optics | SR4 | 40 | 150m | Commercial |
| UFISPACE S9500-30XS | EN-QSFPP-PIR | ECI Networks | Grey Optics | IR4-PSM | 40 | 1.4km | Commercial |
| UFISPACE S9500-30XS | EN-QSFP40G-LR4 | ECI Networks | Grey Optics | LR4 | 40 | 10km | Commercial |
| UFISPACE S9500-30XS | EN-QSFP-PLR4 | ECI Networks | Grey Optics | LR4 | 40 | 10km | Commercial |
| UFISPACE S9500-30XS | EN-QSFPP-LRL4 | ECI Networks | Grey Optics | LR4 | 40 | 10km | Commercial |
| UFISPACE S9500-30XS | QFP1301040PD | Skylane Optics | Grey Optics | LR4 | 40 | 10km | Commercial |
| UFISPACE S9500-30XS | EN-QSFP40G-ER4 | ECI Networks | Grey Optics | ER4 | 40 | 40km | Commercial |
| UFISPACE S9500-30XS | EN-QSFP40G-LR4i | ECI Networks | Grey Optics | LR4 | 40 | 10km | Industrial |
| UFISPACE S9500-30XS | QSFP-40GBASE-SR4-C | Prolabs | | | 40 | | Commercial |
| UFISPACE S9500-30XS | ET7402-100DAC-1M | Edgecore | Direct Attach Cable | DAC | 100 | 1m | Commercial |
| UFISPACE S9500-30XS | EN-Q28DAC-2M | ECI Networks | Direct Attach Cable | DAC | 100 | 2m | Commercial |
| UFISPACE S9500-30XS | EN-Q28AOC-3M | ECI Networks | Active Optical Cable | AOC | 100 | 3m | Commercial |
| UFISPACE S9500-30XS | ET7402-100DAC-3M | Edgecore | Direct Attach Cable | DAC | 100 | 3m | Commercial |
| UFISPACE S9500-30XS | OPQS28-T-03-P/SF28/4 | Optech | Direct Attach Cable Breakout | DAC BO | 100 | 3m | Commercial |
| UFISPACE S9500-30XS | FCBN425QE1C10 | II-VI Finisar | Active Optical Cable | AOC | 100 | 10m | Commercial |
| UFISPACE S9500-30XS | ET7402-SR4 | Edgecore | Grey Optics | SR4 | 100 | 70m | Commercial |
| UFISPACE S9500-30XS | EN-QSFP28-SR4 | ECI Networks | Grey Optics | SR4 | 100 | 100m | Commercial |
| UFISPACE S9500-30XS | QSFP28-SR4-100G | FS.COM | Grey Optics | SR4 | 100 | 100m | Commercial |
| UFISPACE S9500-30XS | FTLC9551REPM | II-VI Finisar | Grey Optics | SR4 | 100 | 100m | Commercial |
| UFISPACE S9500-30XS | FTLC9558REPM | II-VI Finisar | Grey Optics | SR4 | 100 | 100m | Commercial |
| UFISPACE S9500-30XS | EN-QSFP28-PSM4 | ECI Networks | Grey Optics | PSM4 | 100 | 500m | Commercial |
| UFISPACE S9500-30XS | EN-QSFP28-CW4 | ECI Networks | CWDM | CWDM | 100 | 2km | Commercial |
| UFISPACE S9500-30XS | Q28QL002C00F | Skylane Optics | CWDM | CWDM | 100 | 2km | Commercial |
| UFISPACE S9500-30XS | EN-QSFP28-LR4 | ECI Networks | Grey Optics | LR4 | 100 | 10km | Commercial |
| UFISPACE S9500-30XS | EN-QSFP28-ER4 | ECI Networks | Grey Optics | ER4 | 100 | 40km | Commercial |
| UFISPACE S9500-30XS | EN-QSFP28-ER4LI | ECI Networks | Grey Optics | ER4 | 100 | 40km | Industrial |
| UFISPACE S9500-30XS | EN-QSFP28-ZR4 | ECI Networks | Grey Optics | ZR4 | 100 | 80km | Commercial |
| UFISPACE S9500-30XS | DWDM-SFP-5494-C | Prolabs | DWDM | ZR4 | 100 | 80km | Commercial |
| UFISPACE S9500-30XS | EN-QSFP28-FR1 | ECI Networks | Grey Optics | FR1 | 100 | 2km | Commercial |
| UFISPACE S9500-30XS | EN-QSFP28-DR1 | ECI Networks | Grey Optics | DR1 | 100 | 500m | Commercial |
| UFISPACE S9500-30XS | EN-QSFP28-LR4i | ECI Networks | Grey Optics | LR4 | 100 | 10km | Industrial |
| UFISPACE S9500-30XS | EN-Q28-eLR4-S | ECI Networks | Grey Optics | LR4 | 100 | 20km | Commercial |
| UFISPACE S9500-30XS | 76V43 | Dell | Direct Attach Cable | QSFP28 DAC | 100 | 2m | Commercial |
| UFISPACE S9500-30XS | 00D5803-N13692A | IBM-Amphenol | | QSFP28 | 100 | | |
| UFISPACE S9500-30XS | QSFP-100G-LR4-S-C | CISCO-PROLABS | 100GBase-LR4 | | 100 | | |
| UFISPACE S9500-30XS | QSFP-100G-ZR4-S-C | CISCO-PROLABS | 100GBase-ZR4 | | 100 | | |
| UFISPACE S9500-30XS | QSFP28-100GB-LR4-I-C | Prolabs | | LR4 | 100 | 10km | Industrial |
| UFISPACE S9501-18SMT | EN-SFP1G-RJ45 | ECI Networks | Copper | RJ45 | 1 | 100m | Commercial |
| UFISPACE S9501-18SMT | EN-SFP-RJ45 | ECI Networks | Copper | RJ45 | 1 | 100m | Commercial |
| UFISPACE S9501-18SMT | 1000M-SFP-T-HU | Edgeoptic | Copper | RJ45 | 1 | 100m | Commercial |
| UFISPACE S9501-18SMT | FCLF8521P2BTL | Finisar | Copper | RJ45 | 1 | 100m | Industrial |
| UFISPACE S9501-18SMT | EN-SFP1G-SX | ECI Networks | Grey Optics | SX | 1 | 550m | Commercial |
| UFISPACE S9501-18SMT | EN-SFP1G-SXi | ECI Networks | Grey Optics | SX | 1 | 550m | Industrial |
| UFISPACE S9501-18SMT | FTLF8519P2BNL | II-VI Finisar | Grey Optics | SX | 1 | 550m | Extended |
| UFISPACE S9501-18SMT | FTLF8519P3BTL | II-VI Finisar | Grey Optics | SX | 1 | 550m | Industrial |
| UFISPACE S9501-18SMT | EN-SFP1G-LX | ECI Networks | Grey Optics | LX | 1 | 20km | Commercial |
| UFISPACE S9501-18SMT | EN-SFP1G-LXi | ECI Networks | Grey Optics | LX | 1 | 20km | Industrial |
| UFISPACE S9501-18SMT | OP6C-W20-B5-CM | Optech | BiDi | LR | 1 | 20km | Commercial |
| UFISPACE S9501-18SMT | OP6C-W20-B3-CM | Optech | BiDi | LR | 1 | 20km | Commercial |
| UFISPACE S9501-18SMT | EN-SFP1G-EX | ECI Networks | Grey Optics | EX | 1 | 40km | Commercial |
| UFISPACE S9501-18SMT | EN-SFP1G-LH | ECI Networks | Grey Optics | LH | 1 | 70km | Commercial |
| UFISPACE S9501-18SMT | EN-SFP1G-ZX | ECI Networks | Grey Optics | ZX | 1 | 80km | Commercial |
| UFISPACE S9501-18SMT | EN-SFP1G-IDL100 | ECI Networks | Grey Optics | ZX | 1 | 100km | Industrial |
| UFISPACE S9501-18SMT | EN-SFP-iRJ45 | ECI Networks | Copper | RJ45 | 1 | 100m | Industrial |
| UFISPACE S9501-18SMT | EN-SFP1G-EXi | ECI Networks | Grey Optics | EX | 1 | 40km | Industrial |
| UFISPACE S9501-18SMT | EN-SFP1G-ZXi | ECI Networks | Grey Optics | ZX | 1 | 80km | Industrial |
| UFISPACE S9501-18SMT | LCP-1250B4QDRTFF | DELTA | | LX | 1 | | |
| UFISPACE S9501-18SMT | LS38-C3L-TI-N-QB | APAC | | BX10-U | 1 | | |
| UFISPACE S9501-18SMT | LS48-C3L-TI-N-QB | APAC | | BX10-D | 1 | | |
| UFISPACE S9501-18SMT | SFP-GE-BX20KM-55 | SONGXIN | | BASE-BX10 | 1 | | |
| UFISPACE S9501-18SMT | SFP-GE-BX20KM-31 | SONGXIN | | BASE-BX10 | 1 | | |
| UFISPACE S9501-18SMT | ET5402-DAC-1M | Edgecore | Direct Attach Cable | DAC | 10 | 1m | Commercial |
| UFISPACE S9501-18SMT | FCBG110SD1C01 | II-VI Finisar | Active Optical Cable | AOC | 10 | 1m | Commercial |
| UFISPACE S9501-18SMT | ET5402-DAC-3M | Edgecore | Direct Attach Cable | DAC | 10 | 3m | Commercial |
| UFISPACE S9501-18SMT | FCBG110SD1C03 | II-VI Finisar | Active Optical Cable | AOC | 10 | 3m | Commercial |
| UFISPACE S9501-18SMT | OPSFPP-T-03-PEL | Optech | Direct Attach Cable | DAC | 10 | 3m | Commercial |
| UFISPACE S9501-18SMT | FCBG110SD1C05 | II-VI Finisar | Active Optical Cable | AOC | 10 | 5m | Commercial |
| UFISPACE S9501-18SMT | ET5402-AOC-7M | Edgecore | Active Optical Cable | AOC | 10 | 7m | Commercial |
| UFISPACE S9501-18SMT | ET5402-AOC-10M | Edgecore | Active Optical Cable | AOC | 10 | 10m | Commercial |
| UFISPACE S9501-18SMT | EN-SFP10G-SR | ECI Networks | Grey Optics | SR | 10 | 300m | Commercial |
| UFISPACE S9501-18SMT | EN-SFP10G-SRi | ECI Networks | Grey Optics | SR | 10 | 300m | Industrial |
| UFISPACE S9501-18SMT | SFP-10GSR-85 | FS.COM | Grey Optics | SR | 10 | 300m | Commercial |
| UFISPACE S9501-18SMT | FTLX8574D3BCL | II-VI Finisar | Grey Optics | SR | 10 | 300m | Commercial |
| UFISPACE S9501-18SMT | FTLX8574D3BNL | II-VI Finisar | Grey Optics | SR | 10 | 300m | Commercial |
| UFISPACE S9501-18SMT | EN-SFP10G-LR | ECI Networks | Grey Optics | LR | 10 | 10km | Commercial |
| UFISPACE S9501-18SMT | EN-SFP10G-LRi | ECI Networks | Grey Optics | LR | 10 | 10km | Industrial |
| UFISPACE S9501-18SMT | ET5402-LR | Edgecore | Grey Optics | LR | 10 | 10km | Commercial |
| UFISPACE S9501-18SMT | SFP-10G-BX | FS.COM | BiDi | BX | 10 | 10km | Commercial |
| UFISPACE S9501-18SMT | EN-SFP10G-BXD20 | ECI Networks | BiDi | BXD20 | 10 | 20km | Commercial |
| UFISPACE S9501-18SMT | EN-SFP10G-BXU20 | ECI Networks | BiDi | BXU20 | 10 | 20km | Commercial |
| UFISPACE S9501-18SMT | EN-SFP10G-ER | ECI Networks | Grey Optics | ER | 10 | 40km | Commercial |
| UFISPACE S9501-18SMT | EN-SFPP-ER | ECI Networks | Grey Optics | ER | 10 | 40km | Commercial |
| UFISPACE S9501-18SMT | EN-SFP10G-BXD40 | ECI Networks | BiDi | BXD40 | 10 | 40km | Commercial |
| UFISPACE S9501-18SMT | EN-SFP10G-BXU40 | ECI Networks | BiDi | BXU40 | 10 | 40km | Commercial |
| UFISPACE S9501-18SMT | EN-SFP10G-ERi | ECI Networks | Grey Optics | ER | 10 | 40km | Industrial |
| UFISPACE S9501-18SMT | EN-SFP10G-BXID40 | ECI Networks | BiDi | BXID40 | 10 | 40km | Industrial |
| UFISPACE S9501-18SMT | EN-SFP10G-BXIU40 | ECI Networks | BiDi | BXIU40 | 10 | 40km | Industrial |
| UFISPACE S9501-18SMT | SFP-10G-BX40 | FS.COM | BiDi | BX40D | 10 | 40km | Commercial |
| UFISPACE S9501-18SMT | EN-SFP10G-ZR | ECI Networks | Grey Optics | ZR | 10 | 80km | Commercial |
| UFISPACE S9501-18SMT | EN-SFP10G-ZRI | ECI Networks | Grey Optics | ZR | 10 | 80km | Industrial |
| UFISPACE S9501-18SMT | SFP-10G-BX80 | FS.COM | BiDi | BX | 10 | 80km | Commercial |
| UFISPACE S9501-18SMT | EN-SFP10G-BXID20 | ECI Networks | BiDi | BXID20 | 10 | 20km | Industrial |
| UFISPACE S9501-18SMT | EN-SFP10G-BXIU20 | ECI Networks | BiDi | BXIU20 | 10 | 20km | Industrial |
| UFISPACE S9501-18SMT | 616740003 | Amphenol | | SFP/SFP+/SFP28 | 10 | | |
| UFISPACE S9501-18SMT | SFP-10G-3M | OEM | | SFP/SFP+/SFP28 | 10 | | |
| UFISPACE S9501-18SMT | TRS7081AHCPA00A | Lumentum (OCLARO) | | Tunable SFP+ | 10 | | |
| UFISPACE S9501-18SMT | SFP-10GBASE-LR-I-C | Prolabs | | LR | 10 | | Industrial |
| UFISPACE S9501-28SMT | EN-SFP1G-RJ45 | ECI Networks | Copper | RJ45 | 1 | 100m | Commercial |
| UFISPACE S9501-28SMT | EN-SFP-RJ45 | ECI Networks | Copper | RJ45 | 1 | 100m | Commercial |
| UFISPACE S9501-28SMT | 1000M-SFP-T-HU | Edgeoptic | Copper | RJ45 | 1 | 100m | Commercial |
| UFISPACE S9501-28SMT | FCLF8521P2BTL | Finisar | Copper | RJ45 | 1 | 100m | Industrial |
| UFISPACE S9501-28SMT | EN-SFP1G-SX | ECI Networks | Grey Optics | SX | 1 | 550m | Commercial |
| UFISPACE S9501-28SMT | EN-SFP1G-SXi | ECI Networks | Grey Optics | SX | 1 | 550m | Industrial |
| UFISPACE S9501-28SMT | FTLF8519P2BNL | II-VI Finisar | Grey Optics | SX | 1 | 550m | Extended |
| UFISPACE S9501-28SMT | FTLF8519P3BTL | II-VI Finisar | Grey Optics | SX | 1 | 550m | Industrial |
| UFISPACE S9501-28SMT | EN-SFP1G-LX | ECI Networks | Grey Optics | LX | 1 | 20km | Commercial |
| UFISPACE S9501-28SMT | EN-SFP1G-LXi | ECI Networks | Grey Optics | LX | 1 | 20km | Industrial |
| UFISPACE S9501-28SMT | OP6C-W20-B5-CM | Optech | BiDi | LR | 1 | 20km | Commercial |
| UFISPACE S9501-28SMT | OP6C-W20-B3-CM | Optech | BiDi | LR | 1 | 20km | Commercial |
| UFISPACE S9501-28SMT | EN-SFP1G-EX | ECI Networks | Grey Optics | EX | 1 | 40km | Commercial |
| UFISPACE S9501-28SMT | EN-SFP1G-EXi | ECI Networks | Grey Optics | EX | 1 | 40km | Industrial |
| UFISPACE S9501-28SMT | EN-SFP1G-LH | ECI Networks | Grey Optics | LH | 1 | 70km | Commercial |
| UFISPACE S9501-28SMT | EN-SFP1G-ZX | ECI Networks | Grey Optics | ZX | 1 | 80km | Commercial |
| UFISPACE S9501-28SMT | EN-SFP1G-IDL100 | ECI Networks | Grey Optics | ZX | 1 | 100km | Industrial |
| UFISPACE S9501-28SMT | EN-SFP-iRJ45 | ECI Networks | Copper | RJ45 | 1 | 100m | Industrial |
| UFISPACE S9501-28SMT | EN-SFP1G-ZXi | ECI Networks | Grey Optics | ZX | 1 | 80km | Industrial |
| UFISPACE S9501-28SMT | LCP-1250B4QDRTFF | DELTA | | LX | 1 | | |
| UFISPACE S9501-28SMT | LS38-C3L-TI-N-QB | APAC | | BX10-U | 1 | | |
| UFISPACE S9501-28SMT | LS48-C3L-TI-N-QB | APAC | | BX10-D | 1 | | |
| UFISPACE S9501-28SMT | SFP-GE-BX20KM-55 | SONGXIN | | BASE-BX10 | 1 | | |
| UFISPACE S9501-28SMT | SFP-GE-BX20KM-31 | SONGXIN | | BASE-BX10 | 1 | | |
| UFISPACE S9501-28SMT | ET5402-DAC-1M | Edgecore | Direct Attach Cable | DAC | 10 | 1m | Commercial |
| UFISPACE S9501-28SMT | FCBG110SD1C01 | II-VI Finisar | Active Optical Cable | AOC | 10 | 1m | Commercial |
| UFISPACE S9501-28SMT | ET5402-DAC-3M | Edgecore | Direct Attach Cable | DAC | 10 | 3m | Commercial |
| UFISPACE S9501-28SMT | FCBG110SD1C03 | II-VI Finisar | Active Optical Cable | AOC | 10 | 3m | Commercial |
| UFISPACE S9501-28SMT | OPSFPP-T-03-PEL | Optech | Direct Attach Cable | DAC | 10 | 3m | Commercial |
| UFISPACE S9501-28SMT | FCBG110SD1C05 | II-VI Finisar | Active Optical Cable | AOC | 10 | 5m | Commercial |
| UFISPACE S9501-28SMT | ET5402-AOC-7M | Edgecore | Active Optical Cable | AOC | 10 | 7m | Commercial |
| UFISPACE S9501-28SMT | ET5402-AOC-10M | Edgecore | Active Optical Cable | AOC | 10 | 10m | Commercial |
| UFISPACE S9501-28SMT | EN-SFP10G-SR | ECI Networks | Grey Optics | SR | 10 | 300m | Commercial |
| UFISPACE S9501-28SMT | EN-SFP10G-SRi | ECI Networks | Grey Optics | SR | 10 | 300m | Industrial |
| UFISPACE S9501-28SMT | SFP-10GSR-85 | FS.COM | Grey Optics | SR | 10 | 300m | Commercial |
| UFISPACE S9501-28SMT | FTLX8574D3BCL | II-VI Finisar | Grey Optics | SR | 10 | 300m | Commercial |
| UFISPACE S9501-28SMT | FTLX8574D3BNL | II-VI Finisar | Grey Optics | SR | 10 | 300m | Commercial |
| UFISPACE S9501-28SMT | EN-SFP10G-LR | ECI Networks | Grey Optics | LR | 10 | 10km | Commercial |
| UFISPACE S9501-28SMT | EN-SFP10G-LRi | ECI Networks | Grey Optics | LR | 10 | 10km | Industrial |
| UFISPACE S9501-28SMT | ET5402-LR | Edgecore | Grey Optics | LR | 10 | 10km | Commercial |
| UFISPACE S9501-28SMT | SFP-10G-BX | FS.COM | BiDi | BX | 10 | 10km | Commercial |
| UFISPACE S9501-28SMT | EN-SFP10G-BXD20 | ECI Networks | BiDi | BXD20 | 10 | 20km | Commercial |
| UFISPACE S9501-28SMT | EN-SFP10G-BXU20 | ECI Networks | BiDi | BXU20 | 10 | 20km | Commercial |
| UFISPACE S9501-28SMT | EN-SFP10G-ER | ECI Networks | Grey Optics | ER | 10 | 40km | Commercial |
| UFISPACE S9501-28SMT | EN-SFPP-ER | ECI Networks | Grey Optics | ER | 10 | 40km | Commercial |
| UFISPACE S9501-28SMT | EN-SFP10G-BXD40 | ECI Networks | BiDi | BXD40 | 10 | 40km | Commercial |
| UFISPACE S9501-28SMT | EN-SFP10G-ERi | ECI Networks | Grey Optics | ER | 10 | 40km | Industrial |
| UFISPACE S9501-28SMT | EN-SFP10G-BXID40 | ECI Networks | BiDi | BXID40 | 10 | 40km | Industrial |
| UFISPACE S9501-28SMT | EN-SFP10G-BXIU40 | ECI Networks | BiDi | BXIU40 | 10 | 40km | Industrial |
| UFISPACE S9501-28SMT | SFP-10G-BX40 | FS.COM | BiDi | BX40D | 10 | 40km | Commercial |
| UFISPACE S9501-28SMT | EN-SFP10G-ZR | ECI Networks | Grey Optics | ZR | 10 | 80km | Commercial |
| UFISPACE S9501-28SMT | EN-SFP10G-ZRI | ECI Networks | Grey Optics | ZR | 10 | 80km | Industrial |
| UFISPACE S9501-28SMT | SFP-10G-BX80 | FS.COM | BiDi | BX | 10 | 80km | Commercial |
| UFISPACE S9501-28SMT | EN-SFP10G-BXID20 | ECI Networks | BiDi | BXID20 | 10 | 20km | Industrial |
| UFISPACE S9501-28SMT | EN-SFP10G-BXIU20 | ECI Networks | BiDi | BXIU20 | 10 | 20km | Industrial |
| UFISPACE S9501-28SMT | SFP-10G-3M | OEM | | SFP/SFP+/SFP28 | 10 | | |
| UFISPACE S9501-28SMT | TRS7081AHCPA00A | Lumentum (OCLARO) | | Tunable SFP+ | 10 | | |
| UFISPACE S9501-28SMT | SFP-10GBASE-LR-I-C | Prolabs | | LR | 10 | | Industrial |
| UFISPACE S9502-12SM | EN-SFP1G-SX | ECI Networks | Grey Optics | SX | 1 | 550m | Commercial |
| UFISPACE S9502-12SM | EN-SFP1G-ZXi | ECI Networks | Grey Optics | ZX | 1 | 80km | Industrial |
| UFISPACE S9502-12SM | EN-SFP1G-EXi | ECI Networks | Grey Optics | EX | 1 | 40km | Industrial |
| UFISPACE S9502-12SM | EN-SFP1G-LX | ECI Networks | Grey Optics | LX | 1 | 20km | Commercial |
| UFISPACE S9502-12SM | EN-SFP1G-EX | ECI Networks | Grey Optics | EX | 1 | 40km | Commercial |
| UFISPACE S9502-12SM | EN-SFP1G-LXi | ECI Networks | Grey Optics | LX | 1 | 20km | Industrial |
| UFISPACE S9502-12SM | EN-SFP1G-LH | ECI Networks | Grey Optics | LH | 1 | 70km | Commercial |
| UFISPACE S9502-12SM | EN-SFP1G-RJ45 | ECI Networks | Copper | RJ45 | 1 | 100m | Commercial |
| UFISPACE S9502-12SM | FCLF8521P2BTL | Finisar | Copper | RJ45 | 1 | 100m | Industrial |
| UFISPACE S9502-12SM | FTLF8519P3BTL | II-VI Finisar | Grey Optics | SX | 1 | 550m | Industrial |
| UFISPACE S9502-12SM | EN-SFP-iRJ45 | ECI Networks | Copper | RJ45 | 1 | 100m | Industrial |
| UFISPACE S9502-12SM | EN-SFP-RJ45 | ECI Networks | Copper | RJ45 | 1 | 100m | Commercial |
| UFISPACE S9502-12SM | EN-SFP10G-SR | ECI Networks | Grey Optics | SR | 10 | 300m | Commercial |
| UFISPACE S9502-12SM | EN-SFP10G-ER | ECI Networks | Grey Optics | ER | 10 | 40km | Commercial |
| UFISPACE S9502-12SM | EN-SFPP-ER | ECI Networks | Grey Optics | ER | 10 | 40km | Commercial |
| UFISPACE S9502-12SM | EN-SFP10G-SRi | ECI Networks | Grey Optics | SR | 10 | 300m | Industrial |
| UFISPACE S9502-12SM | EN-SFP10G-LRi | ECI Networks | Grey Optics | LR | 10 | 10km | Industrial |
| UFISPACE S9502-12SM | SFP-10GSR-85 | FS.COM | Grey Optics | SR | 10 | 300m | Commercial |
| UFISPACE S9502-12SM | EN-SFP10G-ERi | ECI Networks | Grey Optics | ER | 10 | 40km | Industrial |
| UFISPACE S9502-12SM | EN-SFP10G-ZR | ECI Networks | Grey Optics | ZR | 10 | 80km | Commercial |
| UFISPACE S9502-12SM | FTLX8574D3BCL | II-VI Finisar | Grey Optics | SR | 10 | 300m | Commercial |
| UFISPACE S9502-12SM | FCBG110SD1C03 | II-VI Finisar | Active Optical Cable | AOC | 10 | 3m | Commercial |
| UFISPACE S9502-12SM | FCBG110SD1C05 | II-VI Finisar | Active Optical Cable | AOC | 10 | 5m | Commercial |
| UFISPACE S9502-12SM | SFP-10G-BX | FS.COM | BiDi | BX | 10 | 10km | Commercial |
| UFISPACE S9502-12SM | SFP-10G-BX80 | FS.COM | BiDi | BX | 10 | 80km | Commercial |
| UFISPACE S9502-12SM | ET5402-AOC-7M | Edgecore | Active Optical Cable | AOC | 10 | 7m | Commercial |
| UFISPACE S9502-12SM | FTLX8574D3BNL | II-VI Finisar | Grey Optics | SR | 10 | 300m | Commercial |
| UFISPACE S9502-12SM | EN-SFP10G-BXID20 | ECI Networks | BiDi | BXID20 | 10 | 20km | Industrial |
| UFISPACE S9502-12SM | ET5402-LR | Edgecore | Grey Optics | LR | 10 | 10km | Commercial |
| UFISPACE S9502-12SM | ET5402-DAC-3M | Edgecore | Direct Attach Cable | DAC | 10 | 3m | Commercial |
| UFISPACE S9502-12SM | EN-SFP10G-BXIU20 | ECI Networks | BiDi | BXIU20 | 10 | 20km | Industrial |
| UFISPACE S9502-12SM | ET5402-LR | Edgecore | Grey Optics | LR | 10 | 10km | Commercial |
| UFISPACE S9502-12SM | 616740003 | Amphenol | | SFP/SFP+/SFP28 | 10 | | |
| UFISPACE S9502-12SM | EN-SFP10G-BXD40 | ECI Networks | BiDi | BXD40 | 10 | 40km | Commercial |
| UFISPACE S9502-12SM | FTLC9551REPM | II-VI Finisar | Grey Optics | SR4 | 100 | 100m | Commercial |
| UFISPACE S9502-16SMT | OP6C-W20-B5-CM | Optech | BiDi | LR | 1 | 20km | Commercial |
| UFISPACE S9502-16SMT | OP6C-W20-B3-CM | Optech | BiDi | LR | 1 | 20km | Commercial |
| UFISPACE S9502-16SMT | EN-SFP1G-SX | ECI Networks | Grey Optics | | 1 | 550m | Commercial |
| UFISPACE S9502-16SMT | EN-SFP1G-ZXi | ECI Networks | Grey Optics | | 1 | 80km | Industrial |
| UFISPACE S9502-16SMT | EN-SFP1G-EXi | ECI Networks | Grey Optics | | 1 | 40km | Industrial |
| UFISPACE S9502-16SMT | EN-SFP1G-LX | ECI Networks | Grey Optics | | 1 | 20km | Commercial |
| UFISPACE S9502-16SMT | EN-SFP1G-EX | ECI Networks | Grey Optics | | 1 | 40km | Commercial |
| UFISPACE S9502-16SMT | EN-SFP1G-ZX | ECI Networks | Grey Optics | | 1 | 80km | Commercial |
| UFISPACE S9502-16SMT | EN-SFP1G-SXi | ECI Networks | Grey Optics | | 1 | 550m | Industrial |
| UFISPACE S9502-16SMT | EN-SFP1G-LXi | ECI Networks | Grey Optics | | 1 | 20km | Industrial |
| UFISPACE S9502-16SMT | EN-SFP1G-LH | ECI Networks | Grey Optics | | 1 | 70km | Commercial |
| UFISPACE S9502-16SMT | EN-SFP1G-RJ45 | ECI Networks | Copper | | 1 | 100m | Commercial |
| UFISPACE S9502-16SMT | 1000M-SFP-T-HU | Edgeoptic | Copper | RJ45 | 1 | 100m | Commercial |
| UFISPACE S9502-16SMT | EN-SFP1G-IDL100 | ECI Networks | Grey Optics | | 1 | 100km | Industrial |
| UFISPACE S9502-16SMT | FCLF8521P2BTL | Finisar | Copper | RJ45 | 1 | 100m | Industrial |
| UFISPACE S9502-16SMT | FTLF8519P3BTL | II-VI Finisar | Grey Optics | 1 | 550m | | Industrial |
| UFISPACE S9502-16SMT | EN-SFP-iRJ45 | ECI Networks | Copper | RJ45 | 1 | 100m | Industrial |
| UFISPACE S9502-16SMT | EN-SFP-RJ45 | ECI Networks | Copper | RJ45 | 1 | 100m | Commercial |
| UFISPACE S9502-16SMT | SFP-GE-BX20KM-55 | SONGXIN | | BASE-BX10 | 1 | | |
| UFISPACE S9502-16SMT | SFP-GE-BX20KM-31 | SONGXIN | | BASE-BX10 | 1 | | |
| UFISPACE S9502-16SMT | EN-SFP10G-BXD20 | ECI Networks | BiDi | SFP10G-BXD20 | 10 | 20km | Commercial |
| UFISPACE S9502-16SMT | EN-SFP10G-BXU20 | ECI Networks | BiDi | SFP10G-BXU20 | 10 | 20km | Commercial |
| UFISPACE S9502-16SMT | EN-SFP10G-BXD40 | ECI Networks | BiDi | SFP10G-BXD40 | 10 | 40km | Commercial |
| UFISPACE S9502-16SMT | EN-SFP10G-SR | ECI Networks | Grey Optics | SR | 10 | 300m | Commercial |
| UFISPACE S9502-16SMT | EN-SFP10G-ER | ECI Networks | Grey Optics | ER | 10 | 40km | Commercial |
| UFISPACE S9502-16SMT | EN-SFPP-ER | ECI Networks | Grey Optics | ER | 10 | 40km | Commercial |
| UFISPACE S9502-16SMT | EN-SFP10G-SRi | ECI Networks | Grey Optics | SR | 10 | 300m | Industrial |
| UFISPACE S9502-16SMT | EN-SFP10G-LRi | ECI Networks | Grey Optics | LR | 10 | 10km | Industrial |
| UFISPACE S9502-16SMT | SFP-10G-BX40 | FS.COM | BiDi | BX40D | 10 | 40km | Commercial |
| UFISPACE S9502-16SMT | SFP-10GSR-85 | FS.COM | Grey Optics | SR | 10 | 300m | Commercial |
| UFISPACE S9502-16SMT | EN-SFP10G-ERi | ECI Networks | Grey Optics | ER | 10 | 40km | Industrial |
| UFISPACE S9502-16SMT | EN-SFP10G-ZR | ECI Networks | Grey Optics | ZR | 10 | 80km | Commercial |
| UFISPACE S9502-16SMT | FTLX8574D3BCL | II-VI Finisar | Grey Optics | SR | 10 | 300m | Commercial |
| UFISPACE S9502-16SMT | FCBG110SD1C03 | II-VI Finisar | Active Optical Cable | AOC | 10 | 3m | Commercial |
| UFISPACE S9502-16SMT | FCBG110SD1C05 | II-VI Finisar | Active Optical Cable | AOC | 10 | 5m | Commercial |
| UFISPACE S9502-16SMT | SFP-10G-BX | FS.COM | BiDi | BX | 10 | 10km | Commercial |
| UFISPACE S9502-16SMT | SFP-10G-BX80 | FS.COM | BiDi | BX | 10 | 80km | Commercial |
| UFISPACE S9502-16SMT | ET5402-DAC-3M | Edgecore | Direct Attach Cable | DAC | 10 | 3m | Commercial |
| UFISPACE S9502-16SMT | ET5402-AOC-7M | Edgecore | Active Optical Cable | AOC | 10 | 7m | Commercial |
| UFISPACE S9502-16SMT | FTLX8574D3BNL | II-VI Finisar | Grey Optics | SR | 10 | 300m | Commercial |
| UFISPACE S9502-16SMT | EN-SFP10G-BXID20 | ECI Networks | BiDi | BXID20 | 10 | 20km | Industrial |
| UFISPACE S9502-16SMT | EN-SFP10G-BXIU20 | ECI Networks | BiDi | BXIU20 | 10 | 20km | Industrial |
| UFISPACE S9502-16SMT | ET5402-LR | Edgecore | Grey Optics | LR | 10 | 10km | Commercial |
| UFISPACE S9502-16SMT | EN-SFP10G-BXU40 | ECI Networks | BiDi | SFP10G-BXU40 | 10 | 40km | Commercial |
| UFISPACE S9502-16SMT | EN-SFP10G-BXID40 | ECI Networks | BiDi | SFP10G-BXID40 | 10 | 40km | Industrial |
| UFISPACE S9502-16SMT | EN-SFP10G-BXIU40 | ECI Networks | BiDi | SFP10G-BXIU40 | 10 | 40km | Industrial |
| UFISPACE S9502-16SMT | SFP-10GBASE-LR-I-C | Prolabs | | LR | 10 | | Industrial |
| UFISPACE S9502-16SMT | EN-SFP28-SR | ECI Networks | Grey Optics | SFP28-SR | 25 | 100m | Commercial |
| UFISPACE S9502-16SMT | EN-SFP28-SRi | ECI Networks | Grey Optics | SFP28-SR | 25 | 100m | Industrial |
| UFISPACE S9502-16SMT | ET7302-AOC-7M | Edgecore | Active Optical Cable | AOC | 25 | 7m | Commercial |
| UFISPACE S9502-16SMT | ET7302-AOC-5M | Edgecore | Direct Attach Cable | DAC | 25 | 5m | Commercial |
| UFISPACE S9502-16SMT | EN-SFP28-ERi | ECI Networks | Grey Optics | ER | 25 | 40km | Industrial |
| UFISPACE S9502-16SMT | EN-S28-DAC-3M | ECI Networks | Grey Optics | SFP28-ER | 25 | 40km | Industrial |
| UFISPACE S9510-28DC | OP6C-W20-B5-CM | Optech | BiDi | LR | 1 | 20km | Commercial |
| UFISPACE S9510-28DC | OP6C-W20-B3-CM | Optech | BiDi | LR | 1 | 20km | Commercial |
| UFISPACE S9510-28DC | EN-SFP1G-SX | ECI Networks | Grey Optics | SX | 1 | 550m | Commercial |
| UFISPACE S9510-28DC | EN-SFP1G-ZXi | ECI Networks | Grey Optics | ZX | 1 | 80km | Industrial |
| UFISPACE S9510-28DC | EN-SFP1G-EXi | ECI Networks | Grey Optics | EX | 1 | 40km | Industrial |
| UFISPACE S9510-28DC | EN-SFP1G-LX | ECI Networks | Grey Optics | LX | 1 | 20km | Commercial |
| UFISPACE S9510-28DC | EN-SFP1G-EX | ECI Networks | Grey Optics | EX | 1 | 40km | Commercial |
| UFISPACE S9510-28DC | EN-SFP1G-ZX | ECI Networks | Grey Optics | ZX | 1 | 80km | Commercial |
| UFISPACE S9510-28DC | EN-SFP1G-SXi | ECI Networks | Grey Optics | SX | 1 | 550m | Industrial |
| UFISPACE S9510-28DC | EN-SFP1G-LXi | ECI Networks | Grey Optics | LX | 1 | 20km | Industrial |
| UFISPACE S9510-28DC | EN-SFP1G-LH | ECI Networks | Grey Optics | LH | 1 | 70km | Commercial |
| UFISPACE S9510-28DC | EN-SFP1G-RJ45 | ECI Networks | Copper | RJ45 | 1 | 100m | Commercial |
| UFISPACE S9510-28DC | 1000M-SFP-T-HU | Edgeoptic | Copper | RJ45 | 1 | 100m | Commercial |
| UFISPACE S9510-28DC | EN-SFP1G-IDL100 | ECI Networks | Grey Optics | ZX | 1 | 100km | Industrial |
| UFISPACE S9510-28DC | FCLF8521P2BTL | Finisar | Copper | RJ45 | 1 | 100m | Industrial |
| UFISPACE S9510-28DC | FTLF8519P3BTL | II-VI Finisar | Grey Optics | SX | 1 | 550m | Industrial |
| UFISPACE S9510-28DC | EN-SFP-iRJ45 | ECI Networks | Copper | RJ45 | 1 | 100m | Industrial |
| UFISPACE S9510-28DC | EN-SFP-RJ45 | ECI Networks | Copper | RJ45 | 1 | 100m | Commercial |
| UFISPACE S9510-28DC | LS38-C3L-TI-N-QB | APAC | | | 1 | | |
| UFISPACE S9510-28DC | LS48-C3L-TI-N-QB | APAC | | | 1 | | |
| UFISPACE S9510-28DC | SFP-GE-BX20KM-55 | SONGXIN | | BASE-BX10 | 1 | | |
| UFISPACE S9510-28DC | SFP-GE-BX20KM-31 | SONGXIN | | BASE-BX10 | 1 | | |
| UFISPACE S9510-28DC | FCBG110SD1C01 | II-VI Finisar | Active Optical Cable | AOC | 10 | 1m | Commercial |
| UFISPACE S9510-28DC | ET5402-DAC-3M | Edgecore | Direct Attach Cable | DAC | 10 | 3m | Commercial |
| UFISPACE S9510-28DC | FTLX8574D3BNL | II-VI Finisar | Grey Optics | SR | 10 | 300m | Commercial |
| UFISPACE S9510-28DC | ET5402-LR | Edgecore | Grey Optics | LR | 10 | 10km | Commercial |
| UFISPACE S9510-28DC | EN-SFP10G-BXD20 | ECI Networks | BiDi | BXD20 | 10 | 20km | Commercial |
| UFISPACE S9510-28DC | EN-SFP10G-BXU20 | ECI Networks | BiDi | BXU20 | 10 | 20km | Commercial |
| UFISPACE S9510-28DC | EN-SFP10G-BXD40 | ECI Networks | BiDi | BXD40 | 10 | 40km | Commercial |
| UFISPACE S9510-28DC | EN-SFP10G-BXU40 | ECI Networks | BiDi | BXU40 | 10 | 40km | Commercial |
| UFISPACE S9510-28DC | EN-SFP10G-BXID40 | ECI Networks | BiDi | BXID40 | 10 | 40km | Industrial |
| UFISPACE S9510-28DC | EN-SFP10G-BXIU40 | ECI Networks | BiDi | BXIU40 | 10 | 40km | Industrial |
| UFISPACE S9510-28DC | EN-SFP10G-SR | ECI Networks | Grey Optics | SR | 10 | 300m | Commercial |
| UFISPACE S9510-28DC | EN-SFP10G-ER | ECI Networks | Grey Optics | ER | 10 | 40km | Commercial |
| UFISPACE S9510-28DC | EN-SFPP-ER | ECI Networks | Grey Optics | ER | 10 | 40km | Commercial |
| UFISPACE S9510-28DC | EN-SFP10G-SRi | ECI Networks | Grey Optics | SR | 10 | 300m | Industrial |
| UFISPACE S9510-28DC | EN-SFP10G-LRi | ECI Networks | Grey Optics | LR | 10 | 10km | Industrial |
| UFISPACE S9510-28DC | SFP-10G-BX40 | FS.COM | BiDi | BX40D | 10 | 40km | Commercial |
| UFISPACE S9510-28DC | SFP-10GSR-85 | FS.COM | Grey Optics | SR | 10 | 300m | Commercial |
| UFISPACE S9510-28DC | EN-SFP10G-ERi | ECI Networks | Grey Optics | ER | 10 | 40km | Industrial |
| UFISPACE S9510-28DC | EN-SFP10G-ZR | ECI Networks | Grey Optics | ZR | 10 | 80km | Commercial |
| UFISPACE S9510-28DC | FTLX8574D3BCL | II-VI Finisar | Grey Optics | SR | 10 | 300m | Commercial |
| UFISPACE S9510-28DC | FCBG110SD1C03 | II-VI Finisar | Active Optical Cable | AOC | 10 | 3m | Commercial |
| UFISPACE S9510-28DC | FCBG110SD1C05 | II-VI Finisar | Active Optical Cable | AOC | 10 | 5m | Commercial |
| UFISPACE S9510-28DC | SFP-10G-BX | FS.COM | BiDi | BX | 10 | 10km | Commercial |
| UFISPACE S9510-28DC | SFP-10G-BX80 | FS.COM | BiDi | BX | 10 | 80km | Commercial |
| UFISPACE S9510-28DC | ET5402-AOC-7M | Edgecore | Active Optical Cable | AOC | 10 | 7m | Commercial |
| UFISPACE S9510-28DC | FTLX8574D3BNL | II-VI Finisar | Grey Optics | SR | 10 | 300m | Commercial |
| UFISPACE S9510-28DC | EN-SFP10G-BXID20 | ECI Networks | BiDi | BXID20 | 10 | 20km | Industrial |
| UFISPACE S9510-28DC | ET5402-LR | Edgecore | Grey Optics | LR | 10 | 10km | Commercial |
| UFISPACE S9510-28DC | EN-SFP10G-BXIU20 | ECI Networks | BiDi | BXIU20 | 10 | 20km | Industrial |
| UFISPACE S9510-28DC | 616740003 | Amphenol | | SFP/SFP+/SFP28 | 10 | | |
| UFISPACE S9510-28DC | SFP-10GBASE-LR-I-C | Prolabs | | LR | 10 | | Industrial |
| UFISPACE S9510-28DC | ET7302-AOC-5M | Edgecore | Direct Attach Cable | DAC | 25 | 5m | Commercial |
| UFISPACE S9510-28DC | FCBG125SD1C05 | II-VI Finisar | Active Optical Cable | AOC | 25 | 5m | Commercial |
| UFISPACE S9510-28DC | ET7302-AOC-7M | Edgecore | Active Optical Cable | AOC | 25 | 7m | Commercial |
| UFISPACE S9510-28DC | EN-SFP28-SR | ECI Networks | Grey Optics | SR | 25 | 100m | Commercial |
| UFISPACE S9510-28DC | EN-SFP28-SRi | ECI Networks | Grey Optics | SR | 25 | 100m | Industrial |
| UFISPACE S9510-28DC | EN-SFP28-ERi | ECI Networks | Grey Optics | ER | 25 | 40km | Industrial |
| UFISPACE S9510-28DC | TRS5A21EH02LF000 | CIG | | | 25 | | |
| UFISPACE S9510-28DC | EN-SFP28-LR | ECI Networks | Grey Optics | LR | 25 | 20km | Commercial |
| UFISPACE S9510-28DC | EN-S28-DAC-3M | ECI Networks | Grey Optics | SFP28-ER | 25 | 40km | Industrial |
| UFISPACE S9510-28DC | RTXM330-8921 | Accelink | | | 25 | | |
| UFISPACE S9510-28DC | LTF2326-BH+ | Hisense Broadband | BiDi | | 25 | 20km | Industrial |
| UFISPACE S9510-28DC | SFP-25GBASE-SR-I-C | Prolabs | | SR | 25 | | Industrial |
| UFISPACE S9510-28DC | LTF3226-BH+ | Hisense Broadband | BiDi | | 25 | 20km | Industrial |
| UFISPACE S9510-28DC | ET6402-40AOC-7M | Edgecore | Active Optical Cable | AOC | 40 | 7m | Commercial |
| UFISPACE S9510-28DC | EN-QSFPP-PIR | ECI Networks | Grey Optics | IR4-PSM | 40 | 1.4km | Commercial |
| UFISPACE S9510-28DC | EN-QSFP40G-LR4 | ECI Networks | Grey Optics | LR4 | 40 | 10km | Commercial |
| UFISPACE S9510-28DC | EN-QSFP40G-SR4 | ECI Networks | Grey Optics | SR4 | 40 | 150m | Commercial |
| UFISPACE S9510-28DC | 10093084-2030LF | Amphenol FCI | Direct Attach Cable | DAC | 40 | 3m | Commercial |
| UFISPACE S9510-28DC | QFP1301040PD | Skylane Optics | Grey Optics | LR4 | 40 | 10km | Commercial |
| UFISPACE S9510-28DC | EN-QSFP40G-LR4i | ECI Networks | Grey Optics | LR4 | 40 | 10km | Industrial |
| UFISPACE S9510-28DC | EN-QSFP-PLR4 | ECI Networks | Grey Optics | LR4 | 40 | 10km | Commercial |
| UFISPACE S9510-28DC | EN-QSFPP-LRL4 | ECI Networks | Grey Optics | LR4 | 40 | 10km | Commercial |
| UFISPACE S9510-28DC | QSFP-40GBASE-SR4-C | Prolabs | | | 40 | | Commercial |
| UFISPACE S9510-28DC | ET7402-100DAC-1M | Edgecore | Direct Attach Cable | DAC | 100 | 1m | Commercial |
| UFISPACE S9510-28DC | ET7402-100DAC-3M | Edgecore | Direct Attach Cable | DAC | 100 | 3m | Commercial |
| UFISPACE S9510-28DC | FCBN425QE1C10 | II-VI Finisar | Active Optical Cable | AOC | 100 | 10m | Commercial |
| UFISPACE S9510-28DC | ET7402-SR4 | Edgecore | Grey Optics | SR4 | 100 | 70m | Commercial |
| UFISPACE S9510-28DC | QSFP28-SR4-100G | FS.COM | Grey Optics | SR4 | 100 | 100m | Commercial |
| UFISPACE S9510-28DC | FTLC9558REPM | II-VI Finisar | Grey Optics | SR4 | 100 | 100m | Commercial |
| UFISPACE S9510-28DC | EN-QSFP28-PSM4 | ECI Networks | Grey Optics | PSM4 | 100 | 500m | Commercial |
| UFISPACE S9510-28DC | EN-QSFP28-DR1 | ECI Networks | Grey Optics | DR1 | 100 | 500m | Commercial |
| UFISPACE S9510-28DC | EN-QSFP28-FR1 | ECI Networks | Grey Optics | FR1 | 100 | 2km | Commercial |
| UFISPACE S9510-28DC | EN-QSFP28-ER4 | ECI Networks | Grey Optics | ER4 | 100 | 40km | Commercial |
| UFISPACE S9510-28DC | EN-QSFP28-ER4LI | ECI Networks | Grey Optics | ER4 | 100 | 40km | Industrial |
| UFISPACE S9510-28DC | EN-QSFP28-ZR4 | ECI Networks | Grey Optics | ZR4 | 100 | 80km | Commercial |
| UFISPACE S9510-28DC | EN-QSFP28-SR4 | ECI Networks | Grey Optics | SR4 | 100 | 100m | Commercial |
| UFISPACE S9510-28DC | EN-Q28AOC-3M | ECI Networks | Active Optical Cable | AOC | 100 | 3m | Commercial |
| UFISPACE S9510-28DC | EN-QSFP28-LR4 | ECI Networks | Grey Optics | LR4 | 100 | 10km | Commercial |
| UFISPACE S9510-28DC | FTLC9551REPM | II-VI Finisar | Grey Optics | SR4 | 100 | 100m | Commercial |
| UFISPACE S9510-28DC | EN-Q28-eLR4-S | ECI Networks | Grey Optics | LR4 | 100 | 20km | Commercial |
| UFISPACE S9510-28DC | ET7402-SR4 | Edgecore | Grey Optics | SR4 | 100 | 70m | Commercial |
| UFISPACE S9510-28DC | 76V43 | Dell | Direct Attach Cable | QSFP28 DAC | 100 | 2m | Commercial |
| UFISPACE S9510-28DC | QSFP28-100GB-LR4-I-C | Prolabs | | LR4 | 100 | 10km | Industrial |
| UFISPACE S9510-28DC | EN-QDD-SR8 | ECI Networks | Grey Optics | SR8 | 400 | 100m | Commercial |
| UFISPACE S9510-28DC | EN-QDD-DR4 | ECI Networks | Grey Optics | DR4 | 400 | 500m | Commercial |
| UFISPACE S9510-28DC | QDD-DR4-400G-Si | FS.COM | Grey Optics | DR4 | 400 | 500m | Commercial |
| UFISPACE S9510-28DC | EN-QDD-FR4 | ECI Networks | CWDM | CWDM | 400 | 2km | Commercial |
| UFISPACE S9510-28DC | EN-QDD-XDR4 | ECI Networks | Grey Optics | DR4 | 400 | 2km | Commercial |
| UFISPACE S9510-28DC | EN-QDD-LR4 | ECI Networks | LANWDM | LR4 | 400 | 10km | Commercial |
| UFISPACE S9510-28DC | EN-QDD-LR8 | ECI Networks | LANWDM | LR8 | 400 | 10km | Commercial |
| UFISPACE S9510-28DC | QSFPDD-LR4-400G | FS.COM | Grey Optics | LR4 | 400 | 10km | Commercial |
| UFISPACE S9510-28DC | SO-TQSFP-DD-4CCZRP | SmartOptics | DCO Coherent | DCO-QDD ZR+ | 400 | 120km | Commercial |
| UFISPACE S9510-28DC | EN-QDD-SR8 | ECI Networks | Grey Optics | SR8 | 400 | 100m | Commercial |
| UFISPACE S9510-28DC | EN-QDD-DR4 | ECI Networks | Grey Optics | DR4 | 400 | 500m | Commercial |
| UFISPACE S9510-28DC | QDD-DR4-400G-Si | FS.COM | Grey Optics | DR4 | 400 | 500m | Commercial |
| UFISPACE S9510-28DC | EN-QDD-FR4 | ECI Networks | CWDM | CWDM | 400 | 2km | Commercial |
| UFISPACE S9510-28DC | EN-QDD-XDR4 | ECI Networks | Grey Optics | DR4 | 400 | 2km | Commercial |
| UFISPACE S9510-28DC | EN-QDD-LR4 | ECI Networks | LANWDM | LR4 | 400 | 10km | Commercial |
| UFISPACE S9510-28DC | LMQ8811-PC+ | Hisense Broadband | Grey Optics | SR8 | 400 | 100m | Commercial |
| UFISPACE S9510-28DC | LMQ3921S-PC1 | Hisense Broadband | Grey Optics | DR4 | 400 | 500m | Commercial |
| UFISPACE S9510-28DC | LMQ3926-PC+ | Hisense Broadband | Grey Optics | FR4 | 400 | 2km | Commercial |
| UFISPACE S9510-28DC | LCQ638BS-PC+ | Hisense Broadband | DCO Coherent | ZR+ | 400 | 120km | Commercial |
| UFISPACE S9510-28DC | FIM38900/120 | Fujitsu | DCO Coherent | ZR | 400 | 120km | Commercial |
| UFISPACE S9510-28DC | EN-QDD-LR8 | ECI Networks | LANWDM | LR8 | 400 | 10km | Commercial |
| UFISPACE S9510-28DC | QSFPDD-LR4-400G | FS.COM | Grey Optics | LR4 | 400 | 10km | Commercial |
| UFISPACE S9510-28DC | SO-TQSFP-DD-4CCZRP | SmartOptics | DCO Coherent | DCO-QDD ZR+ | 400 | 120km | Commercial |
| UFISPACE S9510-30XC | OP6C-W20-B5-CM | Optech | BiDi | LR | 1 | 20km | Commercial |
| UFISPACE S9510-30XC | OP6C-W20-B3-CM | Optech | BiDi | LR | 1 | 20km | Commercial |
| UFISPACE S9510-30XC | EN-SFP1G-SX | ECI Networks | Grey Optics | SX | 1 | 550m | Commercial |
| UFISPACE S9510-30XC | EN-SFP1G-ZXi | ECI Networks | Grey Optics | ZX | 1 | 80km | Industrial |
| UFISPACE S9510-30XC | EN-SFP1G-EXi | ECI Networks | Grey Optics | EX | 1 | 40km | Industrial |
| UFISPACE S9510-30XC | EN-SFP1G-LX | ECI Networks | Grey Optics | LX | 1 | 20km | Commercial |
| UFISPACE S9510-30XC | EN-SFP1G-EX | ECI Networks | Grey Optics | EX | 1 | 40km | Commercial |
| UFISPACE S9510-30XC | EN-SFP1G-ZX | ECI Networks | Grey Optics | ZX | 1 | 80km | Commercial |
| UFISPACE S9510-30XC | EN-SFP1G-SXi | ECI Networks | Grey Optics | SX | 1 | 550m | Industrial |
| UFISPACE S9510-30XC | EN-SFP1G-LXi | ECI Networks | Grey Optics | LX | 1 | 20km | Industrial |
| UFISPACE S9510-30XC | EN-SFP1G-LH | ECI Networks | Grey Optics | LH | 1 | 70km | Commercial |
| UFISPACE S9510-30XC | EN-SFP1G-RJ45 | ECI Networks | Copper | RJ45 | 1 | 100m | Commercial |
| UFISPACE S9510-30XC | 1000M-SFP-T-HU | Edgeoptic | Copper | RJ45 | 1 | 100m | Commercial |
| UFISPACE S9510-30XC | EN-SFP1G-IDL100 | ECI Networks | Grey Optics | ZX | 1 | 100km | Industrial |
| UFISPACE S9510-30XC | FCLF8521P2BTL | Finisar | Copper | RJ45 | 1 | 100m | Industrial |
| UFISPACE S9510-30XC | FTLF8519P3BTL | II-VI Finisar | Grey Optics | SX | 1 | 550m | Industrial |
| UFISPACE S9510-30XC | EN-SFP-iRJ45 | ECI Networks | Copper | RJ45 | 1 | 100m | Industrial |
| UFISPACE S9510-30XC | EN-SFP-RJ45 | ECI Networks | Copper | RJ45 | 1 | 100m | Commercial |
| UFISPACE S9510-30XC | LS38-C3L-TI-N-QB | APAC | | | 1 | | |
| UFISPACE S9510-30XC | LS48-C3L-TI-N-QB | APAC | | | 1 | | |
| UFISPACE S9510-30XC | SFP-GE-BX20KM-55 | SONGXIN | | BASE-BX10 | 1 | | |
| UFISPACE S9510-30XC | SFP-GE-BX20KM-31 | SONGXIN | | BASE-BX10 | 1 | | |
| UFISPACE S9510-30XC | EN-SFP10G-SR | ECI Networks | Grey Optics | SR | 10 | 300m | Commercial |
| UFISPACE S9510-30XC | EN-SFP10G-ER | ECI Networks | Grey Optics | ER | 10 | 40km | Commercial |
| UFISPACE S9510-30XC | EN-SFPP-ER | ECI Networks | Grey Optics | ER | 10 | 40km | Commercial |
| UFISPACE S9510-30XC | EN-SFP10G-SRi | ECI Networks | Grey Optics | SR | 10 | 300m | Industrial |
| UFISPACE S9510-30XC | EN-SFP10G-LRi | ECI Networks | Grey Optics | LR | 10 | 10km | Industrial |
| UFISPACE S9510-30XC | SFP-10GSR-85 | FS.COM | Grey Optics | SR | 10 | 300m | Commercial |
| UFISPACE S9510-30XC | EN-SFP10G-ERi | ECI Networks | Grey Optics | ER | 10 | 40km | Industrial |
| UFISPACE S9510-30XC | EN-SFP10G-ZR | ECI Networks | Grey Optics | ZR | 10 | 80km | Commercial |
| UFISPACE S9510-30XC | FTLX8574D3BCL | II-VI Finisar | Grey Optics | SR | 10 | 300m | Commercial |
| UFISPACE S9510-30XC | FCBG110SD1C03 | II-VI Finisar | Active Optical Cable | AOC | 10 | 3m | Commercial |
| UFISPACE S9510-30XC | FCBG110SD1C05 | II-VI Finisar | Active Optical Cable | AOC | 10 | 5m | Commercial |
| UFISPACE S9510-30XC | SFP-10G-BX | FS.COM | BiDi | BX | 10 | 10km | Commercial |
| UFISPACE S9510-30XC | SFP-10G-BX80 | FS.COM | BiDi | BX | 10 | 80km | Commercial |
| UFISPACE S9510-30XC | ET5402-AOC-7M | Edgecore | Active Optical Cable | AOC | 10 | 7m | Commercial |
| UFISPACE S9510-30XC | FTLX8574D3BNL | II-VI Finisar | Grey Optics | SR | 10 | 300m | Commercial |
| UFISPACE S9510-30XC | EN-SFP10G-BXID20 | ECI Networks | BiDi | BXID20 | 10 | 20km | Industrial |
| UFISPACE S9510-30XC | ET5402-DAC-3M | Edgecore | Direct Attach Cable | DAC | 10 | 3m | Commercial |
| UFISPACE S9510-30XC | EN-SFP10G-BXIU20 | ECI Networks | BiDi | BXIU20 | 10 | 20km | Industrial |
| UFISPACE S9510-30XC | SFP-10GBASE-LR-I-C | Prolabs | | LR | 10 | | Industrial |
| UFISPACE S9510-30XC | EN-SFP28-SR | ECI Networks | Grey Optics | SR | 25 | 100m | Commercial |
| UFISPACE S9510-30XC | ET7302-AOC-7M | Edgecore | Active Optical Cable | AOC | 25 | 7m | Commercial |
| UFISPACE S9510-30XC | ET7302-AOC-5M | Edgecore | Direct Attach Cable | DAC | 25 | 5m | Commercial |
| UFISPACE S9510-30XC | RTXM330-8921 | Accelink | | | 25 | | |
| UFISPACE S9510-30XC | TRS5A21EH05LF000 | CIG | | | 25 | | |
| UFISPACE S9510-30XC | EN-SFP28-LR | ECI Networks | Grey Optics | LR | 25 | 20km | Commercial |
| UFISPACE S9510-30XC | EN-SFP28-ERi | ECI Networks | Grey Optics | ER | 25 | 40km | Industrial |
| UFISPACE S9510-30XC | TRS5A21EH02LF000 | CIG | | | 25 | | |
| UFISPACE S9510-30XC | EN-S28-DAC-3M | ECI Networks | Grey Optics | SFP28-ER | 25 | 40km | Industrial |
| UFISPACE S9510-30XC | SFP-25GBASE-SR-I-C | Prolabs | | SR | 25 | | Industrial |
| UFISPACE S9510-30XC | EN-QSFP40G-SR4 | ECI Networks | Grey Optics | SR4 | 40 | 150m | Commercial |
| UFISPACE S9510-30XC | 10093084-2030LF | Amphenol FCI | Direct Attach Cable | DAC | 40 | 3m | Commercial |
| UFISPACE S9510-30XC | QFP1301040PD | Skylane Optics | Grey Optics | LR4 | 40 | 10km | Commercial |
| UFISPACE S9510-30XC | EN-QSFP40G-LR4 | ECI Networks | Grey Optics | LR4 | 40 | 10km | Commercial |
| UFISPACE S9510-30XC | EN-QSFP40G-LR4i | ECI Networks | Grey Optics | LR4 | 40 | 10km | Industrial |
| UFISPACE S9510-30XC | EN-QSFPP-PIR | ECI Networks | Grey Optics | IR4-PSM | 40 | 1.4km | Commercial |
| UFISPACE S9510-30XC | QSFP-40GBASE-SR4-C | Prolabs | | | 40 | | Commercial |
| UFISPACE S9510-30XC | EN-QSFP28-DR1 | ECI Networks | Grey Optics | DR1 | 100 | 500m | Commercial |
| UFISPACE S9510-30XC | EN-Q28AOC-3M | ECI Networks | Active Optical Cable | AOC | 100 | 3m | Commercial |
| UFISPACE S9510-30XC | EN-QSFP28-LR4 | ECI Networks | Grey Optics | LR4 | 100 | 10km | Commercial |
| UFISPACE S9510-30XC | FTLC9551REPM | II-VI Finisar | Grey Optics | SR4 | 100 | 100m | Commercial |
| UFISPACE S9510-30XC | EN-Q28-eLR4-S | ECI Networks | Grey Optics | LR4 | 100 | 20km | Commercial |
| UFISPACE S9510-30XC | ET7402-SR4 | Edgecore | Grey Optics | SR4 | 100 | 70m | Commercial |
| UFISPACE S9510-30XC | EN-QSFP28-ER4 | ECI Networks | Grey Optics | ER4 | 100 | 40km | Commercial |
| UFISPACE S9510-30XC | EN-QSFP28-ZR4 | ECI Networks | Grey Optics | ZR4 | 100 | 80km | Commercial |
| UFISPACE S9510-30XC | ET7402-100DAC-3M | Edgecore | Direct Attach Cable | DAC | 100 | 3m | Commercial |
| UFISPACE S9510-30XC | QSFP28-LR4-100G | FS.COM | Grey Optics | LR4 | 100 | 10km | Commercial |
| UFISPACE S9510-30XC | QSFP28-SR4-100G | FS.COM | Grey Optics | SR4 | 100 | 100m | Commercial |
| UFISPACE S9510-30XC | ET7402-100DAC-1M | Edgecore | Direct Attach Cable | DAC | 100 | 1m | Commercial |
| UFISPACE S9510-30XC | EN-QSFP28-FR1 | ECI Networks | Grey Optics | FR1 | 100 | 2km | Commercial |
| UFISPACE S9510-30XC | EN-QAOCBO-3M | ECI Networks | | | 100 | | |
| UFISPACE S9510-30XC | QSFP28-100GB-LR4-I-C | Prolabs | | LR4 | 100 | 10km | Industrial |
| UFISPACE S9600-32X | EN-SFP-RJ45 | ECI Networks | Copper | RJ45 | 1 | 100m | Commercial |
| UFISPACE S9600-32X | OP6C-W20-B5-CM | Optech | BiDi | LR | 1 | 20km | Commercial |
| UFISPACE S9600-32X | OP6C-W20-B3-CM | Optech | BiDi | LR | 1 | 20km | Commercial |
| UFISPACE S9600-32X | EN-SFP1G-SX | ECI Networks | Grey Optics | SX | 1 | 550m | Commercial |
| UFISPACE S9600-32X | EN-SFP1G-ZXi | ECI Networks | Grey Optics | ZX | 1 | 80km | Industrial |
| UFISPACE S9600-32X | EN-SFP1G-EXi | ECI Networks | Grey Optics | EX | 1 | 40km | Industrial |
| UFISPACE S9600-32X | EN-SFP1G-LX | ECI Networks | Grey Optics | LX | 1 | 20km | Commercial |
| UFISPACE S9600-32X | EN-SFP1G-EX | ECI Networks | Grey Optics | EX | 1 | 40km | Commercial |
| UFISPACE S9600-32X | EN-SFP1G-ZX | ECI Networks | Grey Optics | ZX | 1 | 80km | Commercial |
| UFISPACE S9600-32X | EN-SFP1G-SXi | ECI Networks | Grey Optics | SX | 1 | 550m | Industrial |
| UFISPACE S9600-32X | EN-SFP1G-LXi | ECI Networks | Grey Optics | LX | 1 | 20km | Industrial |
| UFISPACE S9600-32X | EN-SFP1G-LH | ECI Networks | Grey Optics | LH | 1 | 70km | Commercial |
| UFISPACE S9600-32X | 1000M-SFP-T-HU | Edgeoptic | Copper | RJ45 | 1 | 100m | Commercial |
| UFISPACE S9600-32X | EN-SFP1G-IDL100 | ECI Networks | Grey Optics | ZX | 1 | 100km | Industrial |
| UFISPACE S9600-32X | FCLF8521P2BTL | Finisar | Copper | RJ45 | 1 | 100m | Industrial |
| UFISPACE S9600-32X | FTLF8519P3BTL | II-VI Finisar | Grey Optics | SX | 1 | 550m | Industrial |
| UFISPACE S9600-32X | EN-SFP-iRJ45 | ECI Networks | Copper | RJ45 | 1 | 100m | Industrial |
| UFISPACE S9600-32X | FTLX8574D3BNL | II-VI Finisar | Grey Optics | SR | 10 | 300m | Commercial |
| UFISPACE S9600-32X | ET5402-LR | Edgecore | Grey Optics | LR | 10 | 10km | Commercial |
| UFISPACE S9600-32X | EN-SFP10G-BXD20 | ECI Networks | BiDi | BXD20 | 10 | 20km | Commercial |
| UFISPACE S9600-32X | EN-SFP10G-BXU20 | ECI Networks | BiDi | BXU20 | 10 | 20km | Commercial |
| UFISPACE S9600-32X | EN-SFP10G-BXD40 | ECI Networks | BiDi | BXD40 | 10 | 40km | Commercial |
| UFISPACE S9600-32X | EN-SFP10G-BXU40 | ECI Networks | BiDi | BXU40 | 10 | 40km | Commercial |
| UFISPACE S9600-32X | EN-SFP10G-SR | ECI Networks | Grey Optics | SR | 10 | 300m | Commercial |
| UFISPACE S9600-32X | EN-SFP10G-ER | ECI Networks | Grey Optics | ER | 10 | 40km | Commercial |
| UFISPACE S9600-32X | EN-SFPP-ER | ECI Networks | Grey Optics | ER | 10 | 40km | Commercial |
| UFISPACE S9600-32X | EN-SFP10G-SRi | ECI Networks | Grey Optics | SR | 10 | 300m | Industrial |
| UFISPACE S9600-32X | EN-SFP10G-LRi | ECI Networks | Grey Optics | LR | 10 | 10km | Industrial |
| UFISPACE S9600-32X | SFP-10G-BX40 | FS.COM | BiDi | BX40D | 10 | 40km | Commercial |
| UFISPACE S9600-32X | EN-SFP10G-ERi | ECI Networks | Grey Optics | ER | 10 | 40km | Industrial |
| UFISPACE S9600-32X | EN-SFP10G-ZR | ECI Networks | Grey Optics | ZR | 10 | 80km | Commercial |
| UFISPACE S9600-32X | FTLX8574D3BCL | II-VI Finisar | Grey Optics | SR | 10 | 300m | Commercial |
| UFISPACE S9600-32X | SFP-10G-BX | FS.COM | BiDi | BX | 10 | 10km | Commercial |
| UFISPACE S9600-32X | ET5402-DAC-3M | Edgecore | Direct Attach Cable | DAC | 10 | 3m | Commercial |
| UFISPACE S9600-32X | ET5402-AOC-7M | Edgecore | Active Optical Cable | AOC | 10 | 7m | Commercial |
| UFISPACE S9600-32X | EN-SFP10G-BXID20 | ECI Networks | BiDi | BXID20 | 10 | 20km | Industrial |
| UFISPACE S9600-32X | EN-SFP10G-BXIU20 | ECI Networks | BiDi | BXIU20 | 10 | 20km | Industrial |
| UFISPACE S9600-32X | SFP-10GBASE-LR-I-C | Prolabs | | LR | 10 | | Industrial |
| UFISPACE S9600-32X | EN-SFP28-SRi | ECI Networks | Grey Optics | SR | 25 | 100m | Industrial |
| UFISPACE S9600-32X | ET7302-AOC-7M | Edgecore | Active Optical Cable | AOC | 25 | 7m | Commercial |
| UFISPACE S9600-32X | EN-S28-DAC-3M | ECI Networks | Grey Optics | SFP28-ER | 25 | 40km | Industrial |
| UFISPACE S9600-32X | 10093084-2030LF | Amphenol FCI | Direct Attach Cable | DAC | 40 | 3m | Commercial |
| UFISPACE S9600-32X | ET6402-40AOC-7M | Edgecore | Active Optical Cable | AOC | 40 | 7m | Commercial |
| UFISPACE S9600-32X | EN-QSFP40G-SR4 | ECI Networks | Grey Optics | SR4 | 40 | 150m | Commercial |
| UFISPACE S9600-32X | EN-QSFPP-PIR | ECI Networks | Grey Optics | IR4-PSM | 40 | 1.4km | Commercial |
| UFISPACE S9600-32X | EN-QSFP40G-LR4 | ECI Networks | Grey Optics | LR4 | 40 | 10km | Commercial |
| UFISPACE S9600-32X | EN-QSFP-PLR4 | ECI Networks | Grey Optics | LR4 | 40 | 10km | Commercial |
| UFISPACE S9600-32X | EN-QSFPP-LRL4 | ECI Networks | Grey Optics | LR4 | 40 | 10km | Commercial |
| UFISPACE S9600-32X | QFP1301040PD | Skylane Optics | Grey Optics | LR4 | 40 | 10km | Commercial |
| UFISPACE S9600-32X | EN-QSFP40G-ER4 | ECI Networks | Grey Optics | ER4 | 40 | 40km | Commercial |
| UFISPACE S9600-32X | EN-QSFP40G-LR4i | ECI Networks | Grey Optics | LR4 | 40 | 10km | Industrial |
| UFISPACE S9600-32X | QSFP-40GBASE-SR4-C | Prolabs | | | 40 | | Commercial |
| UFISPACE S9600-32X | QSFP-40G-DAC | Fiberstore | | | | | |
| UFISPACE S9600-32X | ET7402-100DAC-1M | Edgecore | Direct Attach Cable | DAC | 100 | 1m | Commercial |
| UFISPACE S9600-32X | EN-Q28DAC-2M | ECI Networks | Direct Attach Cable | DAC | 100 | 2m | Commercial |
| UFISPACE S9600-32X | EN-Q28AOC-3M | ECI Networks | Active Optical Cable | AOC | 100 | 3m | Commercial |
| UFISPACE S9600-32X | ET7402-100DAC-3M | Edgecore | Direct Attach Cable | DAC | 100 | 3m | Commercial |
| UFISPACE S9600-32X | FCBN425QE1C10 | II-VI Finisar | Active Optical Cable | AOC | 100 | 10m | Commercial |
| UFISPACE S9600-32X | ET7402-SR4 | Edgecore | Grey Optics | SR4 | 100 | 70m | Commercial |
| UFISPACE S9600-32X | EN-QSFP28-SR4 | ECI Networks | Grey Optics | SR4 | 100 | 100m | Commercial |
| UFISPACE S9600-32X | QSFP28-SR4-100G | FS.COM | Grey Optics | SR4 | 100 | 100m | Commercial |
| UFISPACE S9600-32X | FTLC9551REPM | II-VI Finisar | Grey Optics | SR4 | 100 | 100m | Commercial |
| UFISPACE S9600-32X | FTLC9558REPM | II-VI Finisar | Grey Optics | SR4 | 100 | 100m | Commercial |
| UFISPACE S9600-32X | EN-QSFP28-PSM4 | ECI Networks | Grey Optics | PSM4 | 100 | 500m | Commercial |
| UFISPACE S9600-32X | EN-QSFP28-DR1 | ECI Networks | Grey Optics | DR1 | 100 | 500m | Commercial |
| UFISPACE S9600-32X | EN-QSFP28-CW4 | ECI Networks | CWDM | CWDM | 100 | 2km | Commercial |
| UFISPACE S9600-32X | EN-QSFP28-FR1 | ECI Networks | Grey Optics | FR1 | 100 | 2km | Commercial |
| UFISPACE S9600-32X | Q28QL002C00F | Skylane Optics | CWDM | CWDM | 100 | 2km | Commercial |
| UFISPACE S9600-32X | EN-QSFP28-LR4 | ECI Networks | Grey Optics | LR4 | 100 | 10km | Commercial |
| UFISPACE S9600-32X | EN-QSFP28-ER4 | ECI Networks | Grey Optics | ER4 | 100 | 40km | Commercial |
| UFISPACE S9600-32X | EN-QSFP28-ER4LI | ECI Networks | Grey Optics | ER4 | 100 | 40km | Industrial |
| UFISPACE S9600-32X | EN-QSFP28-ZR4 | ECI Networks | Grey Optics | ZR4 | 100 | 80km | Commercial |
| UFISPACE S9600-32X | EN-QSFP28-LR4i | ECI Networks | Grey Optics | LR4 | 100 | 10km | Industrial |
| UFISPACE S9600-32X | EN-Q28-eLR4-S | ECI Networks | Grey Optics | LR4 | 100 | 20km | Commercial |
| UFISPACE S9600-32X | 76V43 | Dell | Direct Attach Cable | QSFP28 DAC | 100 | 2m | Commercial |
| UFISPACE S9600-32X | 00D5803-N13692A | IBM-Amphenol | | QSFP28 | 100 | | |
| UFISPACE S9600-32X | QSFP28-100GB-LR4-I-C | Prolabs | | LR4 | 100 | 10km | Industrial |
| UFISPACE S9600-56DX | ET5402-AOC-7M | Edgecore | Active Optical Cable | AOC | 10 | 7m | Commercial |
| UFISPACE S9600-56DX | EN-Q28DACBO-2M | ECI Networks | Direct Attach Cable Breakout | DAC BO | 25 | 1m | Commercial |
| UFISPACE S9600-56DX | EN-QSFP28-DR1 | ECI Networks | Grey Optics | DR1 | 100 | 500m | Commercial |
| UFISPACE S9600-56DX | EN-QSFP28-ZR4 | ECI Networks | Grey Optics | ZR4 | 100 | 80km | Commercial |
| UFISPACE S9600-56DX | QSFP28-100GB-LR4-I-C | Prolabs | | LR4 | 100 | 10km | Industrial |
| UFISPACE S9600-56DX | EN-QSFP28-ZR4 | ECI Networks | Grey Optics | ZR4 | 100 | 80km | Commercial |
| UFISPACE S9600-56DX | EN-QSFP28-FR1 | ECI Networks | Grey Optics | FR1 | 100 | 2km | Commercial |
| UFISPACE S9600-56DX | EN-Q28AOC-3M | ECI Networks | Active Optical Cable | AOC | 100 | 3m | Commercial |
| UFISPACE S9600-56DX | EN-QSFP28-ER4 | ECI Networks | Grey Optics | ER4 | 100 | 40km | Commercial |
| UFISPACE S9600-56DX | QSFPDD-LR4-400G | FS.COM | Grey Optics | LR4 | 400 | 10km | Commercial |
| UFISPACE S9600-56DX | QDD-DR4-400G-Si | FS.COM | Grey Optics | DR4 | 400 | 500m | Commercial |
| UFISPACE S9600-56DX | EN-QDD-DR4 | ECI Networks | Grey Optics | DR4 | 400 | 500m | Commercial |
| UFISPACE S9600-56DX | EN-QDD-FR4 | ECI Networks | CWDM | FR4 | 400 | 2000m | Commercial |
| UFISPACE S9600-56DX | EN-QDD-LR4 | ECI Networks | LANWDM | LR4 | 400 | 10km | Commercial |
| UFISPACE S9600-56DX | EN-QDD-SR8 | ECI Networks | Grey Optics | SR8 | 400 | 100m | Commercial |
| UFISPACE S9600-56DX | EN-QDD-LR8 | ECI Networks | LANWDM | LR8 | 400 | 10km | Commercial |
| UFISPACE S9600-56DX | SO-TQSFP-DD-4CCZRP | SmartOptics | DCO Coherent | DCO-QDD ZR+ | 400 | 120km | Commercial |
| UFISPACE S9600-56DX | LMQ8811-PC+ | Hisense Broadband | Grey Optics | SR8 | 400 | 100m | Commercial |
| UFISPACE S9600-56DX | LMQ3921S-PC1 | Hisense Broadband | Grey Optics | DR4 | 400 | 500m | Commercial |
| UFISPACE S9600-56DX | LMQ3926-PC+ | Hisense Broadband | Grey Optics | FR4 | 400 | 2km | Commercial |
| UFISPACE S9600-56DX | FIM38900/120 | Fujitsu | DCO Coherent | ZR | 400 | 120km | Commercial |
| UFISPACE S9600-64X | OP6C-W20-B5-CM | Optech | BiDi | LR | 1 | 20km | Commercial |
| UFISPACE S9600-64X | OP6C-W20-B3-CM | Optech | BiDi | LR | 1 | 20km | Commercial |
| UFISPACE S9600-64X | EN-SFP1G-SX | ECI Networks | Grey Optics | SX | 1 | 550m | Commercial |
| UFISPACE S9600-64X | EN-SFP1G-ZXi | ECI Networks | Grey Optics | ZX | 1 | 80km | Industrial |
| UFISPACE S9600-64X | EN-SFP1G-EXi | ECI Networks | Grey Optics | EX | 1 | 40km | Industrial |
| UFISPACE S9600-64X | EN-SFP1G-LX | ECI Networks | Grey Optics | LX | 1 | 20km | Commercial |
| UFISPACE S9600-64X | EN-SFP1G-EX | ECI Networks | Grey Optics | EX | 1 | 40km | Commercial |
| UFISPACE S9600-64X | EN-SFP1G-ZX | ECI Networks | Grey Optics | ZX | 1 | 80km | Commercial |
| UFISPACE S9600-64X | EN-SFP1G-SXi | ECI Networks | Grey Optics | SX | 1 | 550m | Industrial |
| UFISPACE S9600-64X | EN-SFP1G-LXi | ECI Networks | Grey Optics | LX | 1 | 20km | Industrial |
| UFISPACE S9600-64X | EN-SFP1G-LH | ECI Networks | Grey Optics | LH | 1 | 70km | Commercial |
| UFISPACE S9600-64X | 1000M-SFP-T-HU | Edgeoptic | Copper | RJ45 | 1 | 100m | Commercial |
| UFISPACE S9600-64X | EN-SFP1G-IDL100 | ECI Networks | Grey Optics | ZX | 1 | 100km | Industrial |
| UFISPACE S9600-64X | FCLF8521P2BTL | Finisar | Copper | RJ45 | 1 | 100m | Industrial |
| UFISPACE S9600-64X | FTLF8519P3BTL | II-VI Finisar | Grey Optics | SX | 1 | 550m | Industrial |
| UFISPACE S9600-64X | EN-SFP-iRJ45 | ECI Networks | Copper | RJ45 | 1 | 100m | Industrial |
| UFISPACE S9600-64X | FTLX8574D3BNL | II-VI Finisar | Grey Optics | SR | 10 | 300m | Commercial |
| UFISPACE S9600-64X | ET5402-LR | Edgecore | Grey Optics | LR | 10 | 10km | Commercial |
| UFISPACE S9600-64X | EN-SFP10G-BXD20 | ECI Networks | BiDi | BXD20 | 10 | 20km | Commercial |
| UFISPACE S9600-64X | EN-SFP10G-BXU20 | ECI Networks | BiDi | BXU20 | 10 | 20km | Commercial |
| UFISPACE S9600-64X | EN-SFP10G-BXD40 | ECI Networks | BiDi | BXD40 | 10 | 40km | Commercial |
| UFISPACE S9600-64X | EN-SFP10G-BXU40 | ECI Networks | BiDi | BXU40 | 10 | 40km | Commercial |
| UFISPACE S9600-64X | EN-SFP10G-SR | ECI Networks | Grey Optics | SR | 10 | 300m | Commercial |
| UFISPACE S9600-64X | EN-SFPP-ER | ECI Networks | Grey Optics | ER | 10 | 40km | Commercial |
| UFISPACE S9600-64X | EN-SFP10G-ER | ECI Networks | Grey Optics | ER | 10 | 40km | Commercial |
| UFISPACE S9600-64X | EN-SFP10G-ERi | ECI Networks | Grey Optics | ER | 10 | 40km | Industrial |
| UFISPACE S9600-64X | EN-SFP10G-ZR | ECI Networks | Grey Optics | ZR | 10 | 80km | Commercial |
| UFISPACE S9600-64X | FTLX8574D3BCL | II-VI Finisar | Grey Optics | SR | 10 | 300m | Commercial |
| UFISPACE S9600-64X | ET5402-DAC-3M | Edgecore | Direct Attach Cable | DAC | 10 | 3m | Commercial |
| UFISPACE S9600-64X | ET5402-AOC-7M | Edgecore | Active Optical Cable | AOC | 10 | 7m | Commercial |
| UFISPACE S9600-64X | SFP-10G-BX80 | FS.COM | BiDi | BX | 10 | 80km | Commercial |
| UFISPACE S9600-64X | EN-SFP10G-BXIU20 | ECI Networks | BiDi | BXIU20 | 10 | 20km | Industrial |
| UFISPACE S9600-64X | SFP-10GBASE-LR-I-C | Prolabs | | LR | 10 | | Industrial |
| UFISPACE S9600-64X | EN-SFP28-SRi | ECI Networks | Grey Optics | SR | 25 | 100m | Industrial |
| UFISPACE S9600-64X | ET7302-AOC-7M | Edgecore | Active Optical Cable | AOC | 25 | 7m | Commercial |
| UFISPACE S9600-64X | RTXM330-8921 | Accelink | | | 25 | | |
| UFISPACE S9600-64X | 10093084-2030LF | Amphenol FCI | Direct Attach Cable | DAC | 40 | 3m | Commercial |
| UFISPACE S9600-64X | ET6402-40AOC-7M | Edgecore | Active Optical Cable | AOC | 40 | 7m | Commercial |
| UFISPACE S9600-64X | EN-QSFP40G-SR4 | ECI Networks | Grey Optics | SR4 | 40 | 150m | Commercial |
| UFISPACE S9600-64X | EN-QSFPP-PIR | ECI Networks | Grey Optics | IR4-PSM | 40 | 1.4km | Commercial |
| UFISPACE S9600-64X | EN-QSFP40G-LR4 | ECI Networks | Grey Optics | LR4 | 40 | 10km | Commercial |
| UFISPACE S9600-64X | EN-QSFP-PLR4 | ECI Networks | Grey Optics | LR4 | 40 | 10km | Commercial |
| UFISPACE S9600-64X | EN-QSFPP-LRL4 | ECI Networks | Grey Optics | LR4 | 40 | 10km | Commercial |
| UFISPACE S9600-64X | QFP1301040PD | Skylane Optics | Grey Optics | LR4 | 40 | 10km | Commercial |
| UFISPACE S9600-64X | EN-QSFP40G-ER4 | ECI Networks | Grey Optics | ER4 | 40 | 40km | Commercial |
| UFISPACE S9600-64X | EN-QSFP40G-LR4i | ECI Networks | Grey Optics | LR4 | 40 | 10km | Industrial |
| UFISPACE S9600-64X | QSFP-40G-DAC | Fiberstore | | | | | |
| UFISPACE S9600-64X | EN-Q28DAC-2M | ECI Networks | Direct Attach Cable | DAC | 100 | 2m | Commercial |
| UFISPACE S9600-64X | EN-Q28AOC-3M | ECI Networks | Active Optical Cable | AOC | 100 | 3m | Commercial |
| UFISPACE S9600-64X | ET7402-100DAC-3M | Edgecore | Direct Attach Cable | DAC | 100 | 3m | Commercial |
| UFISPACE S9600-64X | FCBN425QE1C10 | II-VI Finisar | Active Optical Cable | AOC | 100 | 10m | Commercial |
| UFISPACE S9600-64X | ET7402-SR4 | Edgecore | Grey Optics | SR4 | 100 | 70m | Commercial |
| UFISPACE S9600-64X | EN-QSFP28-SR4 | ECI Networks | Grey Optics | SR4 | 100 | 100m | Commercial |
| UFISPACE S9600-64X | QSFP28-SR4-100G | FS.COM | Grey Optics | SR4 | 100 | 100m | Commercial |
| UFISPACE S9600-64X | FTLC9551REPM | II-VI Finisar | Grey Optics | SR4 | 100 | 100m | Commercial |
| UFISPACE S9600-64X | FTLC9558REPM | II-VI Finisar | Grey Optics | SR4 | 100 | 100m | Commercial |
| UFISPACE S9600-64X | EN-QSFP28-PSM4 | ECI Networks | Grey Optics | PSM4 | 100 | 500m | Commercial |
| UFISPACE S9600-64X | EN-QSFP28-DR1 | ECI Networks | Grey Optics | DR1 | 100 | 500m | Commercial |
| UFISPACE S9600-64X | EN-QSFP28-CW4 | ECI Networks | CWDM | CWDM | 100 | 2km | Commercial |
| UFISPACE S9600-64X | EN-QSFP28-FR1 | ECI Networks | Grey Optics | FR1 | 100 | 2km | Commercial |
| UFISPACE S9600-64X | Q28QL002C00F | Skylane Optics | CWDM | CWDM | 100 | 2km | Commercial |
| UFISPACE S9600-64X | EN-QSFP28-LR4 | ECI Networks | Grey Optics | LR4 | 100 | 10km | Commercial |
| UFISPACE S9600-64X | EN-QSFP28-ER4 | ECI Networks | Grey Optics | ER4 | 100 | 40km | Commercial |
| UFISPACE S9600-64X | EN-QSFP28-ER4LI | ECI Networks | Grey Optics | ER4 | 100 | 40km | Industrial |
| UFISPACE S9600-64X | EN-QSFP28-ZR4 | ECI Networks | Grey Optics | ZR4 | 100 | 80km | Commercial |
| UFISPACE S9600-64X | EN-Q28-eLR4-S | ECI Networks | Grey Optics | LR4 | 100 | 20km | Commercial |
| UFISPACE S9600-64X | 76V43 | Dell | Direct Attach Cable | QSFP28 DAC | 100 | 2m | Commercial |
| UFISPACE S9600-64X | 00D5803-N13692A | IBM-Amphenol | | QSFP28 | 100 | | |
| UFISPACE S9600-64X | QSFP28-100GB-LR4-I-C | Prolabs | | LR4 | 100 | 10km | Industrial |
| UFISPACE S9600-72XC | FTLF8519P3BTL | II-VI Finisar | Grey Optics | SX | 1 | 550m | Industrial |
| UFISPACE S9600-72XC | OP6C-W20-B5-CM | Optech | BiDi | LR | 1 | 20km | Commercial |
| UFISPACE S9600-72XC | OP6C-W20-B3-CM | Optech | BiDi | LR | 1 | 20km | Commercial |
| UFISPACE S9600-72XC | EN-SFP1G-SX | ECI Networks | Grey Optics | SX | 1 | 550m | Commercial |
| UFISPACE S9600-72XC | EN-SFP1G-ZXi | ECI Networks | Grey Optics | ZX | 1 | 80km | Industrial |
| UFISPACE S9600-72XC | EN-SFP1G-EXi | ECI Networks | Grey Optics | EX | 1 | 40km | Industrial |
| UFISPACE S9600-72XC | EN-SFP1G-LX | ECI Networks | Grey Optics | LX | 1 | 20km | Commercial |
| UFISPACE S9600-72XC | EN-SFP1G-EX | ECI Networks | Grey Optics | EX | 1 | 40km | Commercial |
| UFISPACE S9600-72XC | EN-SFP1G-ZX | ECI Networks | Grey Optics | ZX | 1 | 80km | Commercial |
| UFISPACE S9600-72XC | EN-SFP1G-SXi | ECI Networks | Grey Optics | SX | 1 | 550m | Industrial |
| UFISPACE S9600-72XC | EN-SFP1G-LXi | ECI Networks | Grey Optics | LX | 1 | 20km | Industrial |
| UFISPACE S9600-72XC | EN-SFP1G-LH | ECI Networks | Grey Optics | LH | 1 | 70km | Commercial |
| UFISPACE S9600-72XC | EN-SFP1G-IDL100 | ECI Networks | Grey Optics | ZX | 1 | 100km | Industrial |
| UFISPACE S9600-72XC | LCP-1250B4QDRTFF | DELTA | | LX | 1 | | |
| UFISPACE S9600-72XC | LS38-C3L-TI-N-QB | APAC | | BX10-U | 1 | | |
| UFISPACE S9600-72XC | LS48-C3L-TI-N-QB | APAC | | BX10-D | 1 | | |
| UFISPACE S9600-72XC | SFP-GE-BX20KM-55 | SONGXIN | | BASE-BX10 | 1 | | |
| UFISPACE S9600-72XC | SFP-GE-BX20KM-31 | SONGXIN | | BASE-BX10 | 1 | | |
| UFISPACE S9600-72XC | ET5402-DAC-1M | Edgecore | Direct Attach Cable | DAC | 10 | 1m | Commercial |
| UFISPACE S9600-72XC | FCBG110SD1C01 | II-VI Finisar | Active Optical Cable | AOC | 10 | 1m | Commercial |
| UFISPACE S9600-72XC | ET5402-DAC-3M | Edgecore | Direct Attach Cable | DAC | 10 | 3m | Commercial |
| UFISPACE S9600-72XC | FCBG110SD1C03 | II-VI Finisar | Active Optical Cable | AOC | 10 | 3m | Commercial |
| UFISPACE S9600-72XC | FCBG110SD1C05 | II-VI Finisar | Active Optical Cable | AOC | 10 | 5m | Commercial |
| UFISPACE S9600-72XC | EN-SFP10G-SR | ECI Networks | Grey Optics | SR | 10 | 300m | Commercial |
| UFISPACE S9600-72XC | EN-SFP10G-SRi | ECI Networks | Grey Optics | SR | 10 | 300m | Industrial |
| UFISPACE S9600-72XC | SFP-10GSR-85 | FS.COM | Grey Optics | SR | 10 | 300m | Commercial |
| UFISPACE S9600-72XC | FTLX8574D3BCL | II-VI Finisar | Grey Optics | SR | 10 | 300m | Commercial |
| UFISPACE S9600-72XC | FTLX8574D3BNL | II-VI Finisar | Grey Optics | SR | 10 | 300m | Commercial |
| UFISPACE S9600-72XC | EN-SFP10G-LR | ECI Networks | Grey Optics | LR | 10 | 10km | Commercial |
| UFISPACE S9600-72XC | EN-SFP10G-LRi | ECI Networks | Grey Optics | LR | 10 | 10km | Industrial |
| UFISPACE S9600-72XC | ET5402-LR | Edgecore | Grey Optics | LR | 10 | 10km | Commercial |
| UFISPACE S9600-72XC | SFP-10G-BX | FS.COM | BiDi | BX | 10 | 10km | Commercial |
| UFISPACE S9600-72XC | EN-SFP10G-BXD20 | ECI Networks | BiDi | BXD20 | 10 | 20km | Commercial |
| UFISPACE S9600-72XC | EN-SFP10G-BXU20 | ECI Networks | BiDi | BXU20 | 10 | 20km | Commercial |
| UFISPACE S9600-72XC | EN-SFP10G-ER | ECI Networks | Grey Optics | ER | 10 | 40km | Commercial |
| UFISPACE S9600-72XC | EN-SFPP-ER | ECI Networks | Grey Optics | ER | 10 | 40km | Commercial |
| UFISPACE S9600-72XC | EN-SFP10G-BXD40 | ECI Networks | BiDi | BXD40 | 10 | 40km | Commercial |
| UFISPACE S9600-72XC | EN-SFP10G-BXU40 | ECI Networks | BiDi | BXU40 | 10 | 40km | Commercial |
| UFISPACE S9600-72XC | EN-SFP10G-ERi | ECI Networks | Grey Optics | ER | 10 | 40km | Industrial |
| UFISPACE S9600-72XC | SFP-10G-BX40 | FS.COM | BiDi | BX40D | 10 | 40km | Commercial |
| UFISPACE S9600-72XC | EN-SFP10G-ZR | ECI Networks | Grey Optics | ZR | 10 | 80km | Commercial |
| UFISPACE S9600-72XC | EN-SFP10G-ZRI | ECI Networks | Grey Optics | ZR | 10 | 80km | Industrial |
| UFISPACE S9600-72XC | SFP-10G-BX80 | FS.COM | BiDi | BX | 10 | 80km | Commercial |
| UFISPACE S9600-72XC | ET5402-AOC-7M | Edgecore | Active Optical Cable | AOC | 10 | 7m | Commercial |
| UFISPACE S9600-72XC | EN-SFP10G-BXID20 | ECI Networks | BiDi | BXID20 | 10 | 20km | Industrial |
| UFISPACE S9600-72XC | EN-SFP10G-BXD40 | ECI Networks | BiDi | BXD40 | 10 | 40km | Commercial |
| UFISPACE S9600-72XC | EN-SFP10G-BXIU20 | ECI Networks | BiDi | BXIU20 | 10 | 20km | Industrial |
| UFISPACE S9600-72XC | 616740003 | Amphenol | | SFP/SFP+/SFP28 | 10 | | |
| UFISPACE S9600-72XC | SFP-10GBASE-LR-I-C | Prolabs | | LR | 10 | | Industrial |
| UFISPACE S9600-72XC | ET7302-AOC-5M | Edgecore | Direct Attach Cable | DAC | 25 | 5m | Commercial |
| UFISPACE S9600-72XC | FCBG125SD1C05 | II-VI Finisar | Active Optical Cable | AOC | 25 | 5m | Commercial |
| UFISPACE S9600-72XC | ET7302-AOC-7M | Edgecore | Active Optical Cable | AOC | 25 | 7m | Commercial |
| UFISPACE S9600-72XC | EN-SFP28-SR | ECI Networks | Grey Optics | SR | 25 | 100m | Commercial |
| UFISPACE S9600-72XC | EN-SFP28-SRi | ECI Networks | Grey Optics | SR | 25 | 100m | Industrial |
| UFISPACE S9600-72XC | EN-SFP28-LR | ECI Networks | Grey Optics | LR | 25 | 20km | Commercial |
| UFISPACE S9600-72XC | EN-SFP28-ERi | ECI Networks | Grey Optics | ER | 25 | 40km | Industrial |
| UFISPACE S9600-72XC | TRS5A21EH05LF000 | CIG | | | 25 | | |
| UFISPACE S9600-72XC | TRS5A21EH02LF000 | CIG | | | 25 | | |
| UFISPACE S9600-72XC | RTXM330-8921 | Accelink | | | 25 | | |
| UFISPACE S9600-72XC | 10093084-2030LF | Amphenol FCI | Direct Attach Cable | DAC | 40 | 3m | Commercial |
| UFISPACE S9600-72XC | EN-QSFP40G-SR4 | ECI Networks | Grey Optics | SR4 | 40 | 150m | Commercial |
| UFISPACE S9600-72XC | EN-QSFPP-PIR | ECI Networks | Grey Optics | IR4-PSM | 40 | 1.4km | Commercial |
| UFISPACE S9600-72XC | EN-QSFP40G-LR4 | ECI Networks | Grey Optics | LR4 | 40 | 10km | Commercial |
| UFISPACE S9600-72XC | EN-QSFP-PLR4 | ECI Networks | Grey Optics | LR4 | 40 | 10km | Commercial |
| UFISPACE S9600-72XC | QFP1301040PD | Skylane Optics | Grey Optics | LR4 | 40 | 10km | Commercial |
| UFISPACE S9600-72XC | EN-QSFP40G-ER4 | ECI Networks | Grey Optics | ER4 | 40 | 40km | Commercial |
| UFISPACE S9600-72XC | ET6402-40AOC-7M | Edgecore | Active Optical Cable | AOC | 40 | 7m | Commercial |
| UFISPACE S9600-72XC | EN-QSFP40G-LR4i | ECI Networks | Grey Optics | LR4 | 40 | 10km | Industrial |
| UFISPACE S9600-72XC | ET7402-100DAC-1M | Edgecore | Direct Attach Cable | DAC | 100 | 1m | Commercial |
| UFISPACE S9600-72XC | EN-Q28DAC-2M | ECI Networks | Direct Attach Cable | DAC | 100 | 2m | Commercial |
| UFISPACE S9600-72XC | EN-Q28AOC-3M | ECI Networks | Active Optical Cable | AOC | 100 | 3m | Commercial |
| UFISPACE S9600-72XC | ET7402-100DAC-3M | Edgecore | Direct Attach Cable | DAC | 100 | 3m | Commercial |
| UFISPACE S9600-72XC | FCBN425QE1C10 | II-VI Finisar | Active Optical Cable | AOC | 100 | 10m | Commercial |
| UFISPACE S9600-72XC | ET7402-SR4 | Edgecore | Grey Optics | SR4 | 100 | 70m | Commercial |
| UFISPACE S9600-72XC | EN-QSFP28-SR4 | ECI Networks | Grey Optics | SR4 | 100 | 100m | Commercial |
| UFISPACE S9600-72XC | QSFP28-SR4-100G | FS.COM | Grey Optics | SR4 | 100 | 100m | Commercial |
| UFISPACE S9600-72XC | FTLC9551REPM | II-VI Finisar | Grey Optics | SR4 | 100 | 100m | Commercial |
| UFISPACE S9600-72XC | FTLC9558REPM | II-VI Finisar | Grey Optics | SR4 | 100 | 100m | Commercial |
| UFISPACE S9600-72XC | EN-QSFP28-PSM4 | ECI Networks | Grey Optics | PSM4 | 100 | 500m | Commercial |
| UFISPACE S9600-72XC | EN-QSFP28-DR1 | ECI Networks | Grey Optics | DR1 | 100 | 500m | Commercial |
| UFISPACE S9600-72XC | EN-QSFP28-CW4 | ECI Networks | CWDM | CWDM | 100 | 2km | Commercial |
| UFISPACE S9600-72XC | Q28QL002C00F | Skylane Optics | CWDM | CWDM | 100 | 2km | Commercial |
| UFISPACE S9600-72XC | EN-QSFP28-LR4 | ECI Networks | Grey Optics | LR4 | 100 | 10km | Commercial |
| UFISPACE S9600-72XC | EN-QSFP28-ER4 | ECI Networks | Grey Optics | ER4 | 100 | 40km | Commercial |
| UFISPACE S9600-72XC | EN-QSFP28-ER4LI | ECI Networks | Grey Optics | ER4 | 100 | 40km | Industrial |
| UFISPACE S9600-72XC | EN-QSFP28-ZR4 | ECI Networks | Grey Optics | ZR4 | 100 | 80km | Commercial |
| UFISPACE S9600-72XC | EN-QSFP28-FR1 | ECI Networks | Grey Optics | FR1 | 100 | 2km | Commercial |
| UFISPACE S9600-72XC | EN-QSFP28-LR4i | ECI Networks | Grey Optics | LR4 | 100 | 10km | Industrial |
| UFISPACE S9600-72XC | EN-Q28-eLR4-S | ECI Networks | Grey Optics | LR4 | 100 | 20km | Commercial |
| UFISPACE S9600-72XC | ET7402-SR4 | Edgecore | Grey Optics | SR4 | 100 | 70m | Commercial |
| UFISPACE S9600-72XC | 76V43 | Dell | Direct Attach Cable | QSFP28 DAC | 100 | 2m | Commercial |
| UFISPACE S9600-72XC | 00D5803-N13692A | IBM-Amphenol | | QSFP28 | 100 | | |
| WISTRON GALILEO-1 | 10093084-2030LF | Amphenol FCI | Direct Attach Cable | DAC | 40 | 3m | Commercial |
| WISTRON GALILEO-1 | EN-QAOCBO-3M | ECI Networks | Active Optical Cable - Breakout | AOC BO | 40 | 3m | Commercial |
| WISTRON GALILEO-1 | ET6402-40AOC-7M | Edgecore | Active Optical Cable | AOC | 40 | 7m | Commercial |
| WISTRON GALILEO-1 | EN-QSFP40G-SR4 | ECI Networks | Grey Optics | SR4 | 40 | 150m | Commercial |
| WISTRON GALILEO-1 | EN-QSFPP-PIR | ECI Networks | Grey Optics | IR4-PSM | 40 | 1.4km | Commercial |
| WISTRON GALILEO-1 | EN-QSFP-PLR4 | ECI Networks | Grey Optics | LR4 | 40 | 10km | Commercial |
| WISTRON GALILEO-1 | EN-QSFPP-LRL4 | ECI Networks | Grey Optics | LR4 | 40 | 10km | Commercial |
| WISTRON GALILEO-1 | QFP1301040PD | Skylane Optics | Grey Optics | LR4 | 40 | 10km | Commercial |
| WISTRON GALILEO-1 | EN-QSFP40G-ER4 | ECI Networks | Grey Optics | ER4 | 40 | 40km | Commercial |
| WISTRON GALILEO-1 | EN-QSFP40G-LR4i | ECI Networks | Grey Optics | LR4 | 40 | 10km | Industrial |
| WISTRON GALILEO-1 | QSFP-40GBASE-SR4-C | Prolabs | | SR4 | 40 | | Commercial |
| WISTRON GALILEO-1 | ET7402-100DAC-1M | Edgecore | Direct Attach Cable | DAC | 100 | 1m | Commercial |
| WISTRON GALILEO-1 | EN-Q28DAC-2M | ECI Networks | Direct Attach Cable | DAC | 100 | 2m | Commercial |
| WISTRON GALILEO-1 | EN-Q28AOC-3M | ECI Networks | Active Optical Cable | AOC | 100 | 3m | Commercial |
| WISTRON GALILEO-1 | EN-Q28DACBO-3M | ECI Networks | Direct Attach Cable Breakout | DAC BO | 100 | 3m | Commercial |
| WISTRON GALILEO-1 | ET7402-100DAC-3M | Edgecore | Direct Attach Cable | DAC | 100 | 3m | Commercial |
| WISTRON GALILEO-1 | ET7402-25DAC-3M | Edgecore | Direct Attach Cable Breakout | DAC BO | 100 | 3m | Commercial |
| WISTRON GALILEO-1 | FCBN425QE1C10 | II-VI Finisar | Active Optical Cable | AOC | 100 | 10m | Commercial |
| WISTRON GALILEO-1 | EN-QSFP28-SR4 | ECI Networks | Grey Optics | SR4 | 100 | 100m | Commercial |
| WISTRON GALILEO-1 | QSFP28-SR4-100G | FS.COM | Grey Optics | SR4 | 100 | 100m | Commercial |
| WISTRON GALILEO-1 | FTLC9551REPM | II-VI Finisar | Grey Optics | SR4 | 100 | 100m | Commercial |
| WISTRON GALILEO-1 | FTLC9558REPM | II-VI Finisar | Grey Optics | SR4 | 100 | 100m | Commercial |
| WISTRON GALILEO-1 | EN-QSFP28-PSM4 | ECI Networks | Grey Optics | PSM4 | 100 | 500m | Commercial |
| WISTRON GALILEO-1 | EN-QSFP28-CW4 | ECI Networks | CWDM | CWDM | 100 | 2km | Commercial |
| WISTRON GALILEO-1 | Q28QL002C00F | Skylane Optics | CWDM | CWDM | 100 | 2km | Commercial |
| WISTRON GALILEO-1 | EN-QSFP28-LR4 | ECI Networks | Grey Optics | LR4 | 100 | 10km | Commercial |
| WISTRON GALILEO-1 | QSFP28-LR4-100G | fs.com | Grey Optics | LR4 | 100 | 10km | Commercial |
| WISTRON GALILEO-1 | EN-QSFP28-ER4 | ECI Networks | Grey Optics | ER4 | 100 | 40km | Commercial |
| WISTRON GALILEO-1 | EN-QSFP28-ER4LI | ECI Networks | Grey Optics | ER4 | 100 | 40km | Industrial |
| WISTRON GALILEO-1 | EN-QSFP28-ZR4 | ECI Networks | Grey Optics | ZR4 | 100 | 80km | Commercial |
| WISTRON GALILEO-1 | AC200-D23-005 | Acacia (Cisco) | DCO Coherent | DCO-CFP2 | 100 | 120km | Commercial |
| WISTRON GALILEO-1 | EN-QSFP28-FR1 | ECI Networks | Grey Optics | FR1 | 100 | 2km | Commercial |
| WISTRON GALILEO-1 | EN-Q28-eLR4-S | ECI Networks | Grey Optics | LR4 | 100 | 20km | Commercial |
| WISTRON GALILEO-1 | ET7402-SR4 | Edgecore | Grey Optics | SR4 | 100 | 70m | Commercial |
| WISTRON GALILEO-1 | FIM38550/110 | Fujitsu | ACO Coherent | ACO-CFP2 | 200 | 80km | Commercial |
| WISTRON GALILEO-1 | TRB200DAA-01 | Lumentum (OCLARO) | DCO Coherent | DCO-CFP2 | 200 | 120km | Commercial |
| WISTRON GALILEO-1 | TRB100BA-02 | Lumentum (OCLARO) | ACO Coherent | ACO-CFP2 | 200 | 120km | Commercial |
| WISTRON GALILEO-1 | C2DTULDJ0200 | Skylane Optics | DCO Coherent | DCO-CFP2 | 200 | 120km | Commercial |
| WISTRON GALILEO-1 | C2DTULDS0200 | Skylane Optics | DCO Coherent | DCO-CFP2 | 200 | 120km | Commercial |
| WISTRON GALILEO-1 | FIM38760/100 w/TOF | Fujitsu | DCO Coherent | CFP2 DCO | 200 | | |
| WISTRON GALILEO-1 | C2DTULDH0300 | Skylane Optics | DCO Coherent | DCO-CFP2 | 200 | 120km | Commercial |
| END OF LIFE | SP7041-M1-JN-01 | Juniper Networks | | | | | |
| END OF LIFE | FCMJ-8521-3 | FINISAR CORP | | | | | |
| END OF LIFE | FTLF8519P2BNL | FINISAR CORP | | | | | |
| END OF LIFE | ABCU-5730RZ | AVAGO | | | | | |
| END OF LIFE | WTRD1 | DELL | | | | | |
| END OF LIFE | 616760001 | Amphenol | | | | | |
| END OF LIFE | AFBR-79EEPZ-FT1 | Avago | | | | | |
| END OF LIFE | SFP-10G-DAC | FS | | | | | |
| END OF LIFE | RN84N | DELL | | | | | |
| END OF LIFE | 2163675-2 | CISCO-TYCO | | | | | |
| END OF LIFE | SFP10G-TR13S | EVERTZ | | | | | |
| END OF LIFE | 7R9N9 | DELL | | | | | |
| END OF LIFE | OPQS28-T-03-P/SF28/4 | Optech | | | | | |
| END OF LIFE | AFBR-79E4Z | Avago | | | | | |
| END OF LIFE | 616760007 | Amphenol | | | | | |
| END OF LIFE | 14NV5 | DELL | | | | | |
| END OF LIFE | FN4FC | DELL | | | | | |
| END OF LIFE | FCBN425QE1C10 | FINISAR CORP | | | | | |
| END OF LIFE | FTLC1151RDPL | FINISAR CORP | | | | | |