The Open Network Foundation (ONF) is a non-profit operator-led consortium driving a transformation of network infrastructure and carrier business models. The ONF leads the open source Virtual OLT Hardware Abstraction project. As part of Central Office Re-architected as a Datacenter (openCORD), VOLTHA provides a layer of abstraction on top of legacy and next generation access network equipment for the purpose of control and management. Its initial focus is on Passive Optical Network (PON) technologies (Gigabit-PON and XGS-PON), but it aims to go beyond to eventually cover other access technologies.
VOLTHA provides the hardware abstraction layer between the northbound Software Defined Network (SDN) and the southbound disaggregated set of white-box PON hardware. VOLTHA hides PON-level details (Transmission Container (T-CONT), GPON Encapsulation Method(GEM) ports, ONU Management and Control Interface (OMCI), etc.) from the SDN controller, and abstracts each PON as a pseudo-Ethernet switch easily programmed by the SDN controller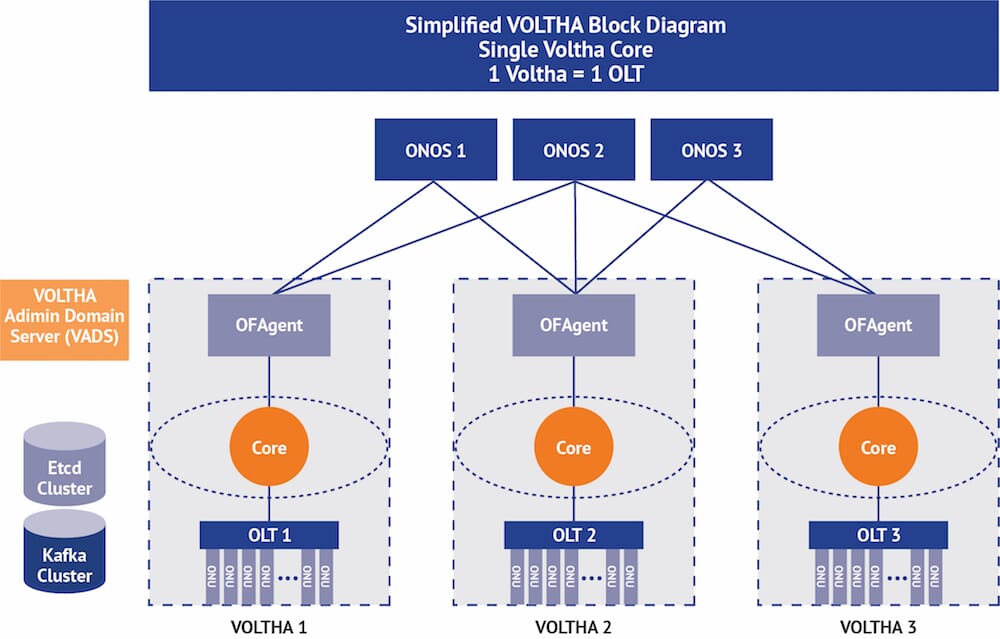 VOLTHA is also central to the cloud-based SDN Enabled Broadband Access (SEBA) architecture built on the CORD platform. This diagram shows how the control plane features and functions are supported as SDN controller applications.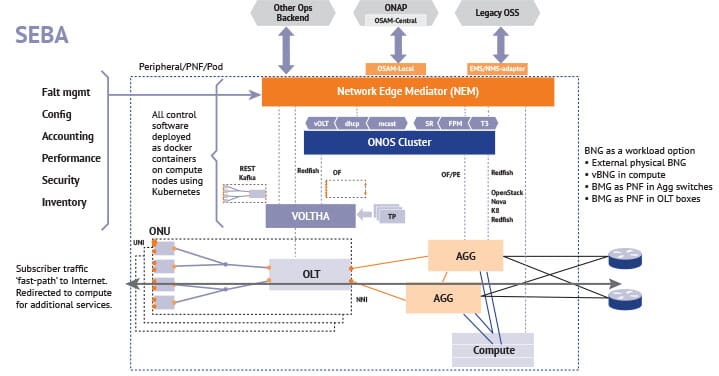 Hence, SEBA/VOLTHA seek to uniformize the OAMP operations to the operators by providing a common set of interfaces and protocols across the PON network to the upper layer.
VOLTHA has the support of major sponsors, including ADTRAN, AT&T, Broadcom, Edgecore Networks, Google, Nokia, NTT Group, and Telefonica.
VOLTHA is meant to run in a Kubernetes framework running Docker containers in a High Availability (HA) deployment across as many nodes as required to sustain the traffic load.
VOLTHA has evolved from version 1.x to the current 2.x. Many fundamental changes have taken place in the VOLTHA Core, and new features have been introduced in support of a Minimum Viable Product (MVP). Several use cases by major supporters have influenced the direction of the design.
Independent live field trials are being planned for in Q1/20 by various supporters to assess the viability of the MVP. As an alternative architecture, Broad Band Forum (BBF) is promoting its Cloud Central Office (CloudCO) project. CloudCO utilizes similar SDN, Network Function Virtualization (NFV), and Cloud technologies to dramatically increase the efficiency of the provisioning of new, Cloud-based Services. Access to CloudCO's functionality by operators and third parties is through a northbound API.
This approach leverages SDN and NFV technologies running on a cloud-like infrastructure deployed at Central Offices. In this way, the Northbound API offers a Platform-as-a-Service (PaaS) style API.
The unifying nature of CloudCO – the common platform, and its re-use of core functions – facilitates adaptable, agile, scalable, and dynamic networks while reducing CapEx, migration, and OpEx costs when deploying new services whilst still achieving fast time-to-market. This gives operators the opportunity to run a single network with all varieties of access technologies, and flexibly deploy innovative services.
The Open Broadband-Broadband Access Abstraction (OB-BAA) is an open source project that specifies the Northbound Abstraction Interfaces (NAI), Core Components, and Southbound Adapter Interfaces (SAI) for functions associated with virtualized access network devices (e.g., configuration, reporting, alarms. Inherent in the OB-BAA project is the ability to pull together multiple access device types (including legacy implementations) under a single network and service management and control umbrella, that is exposed to management elements such as the SDN Management and/or Control and Element Management Systems.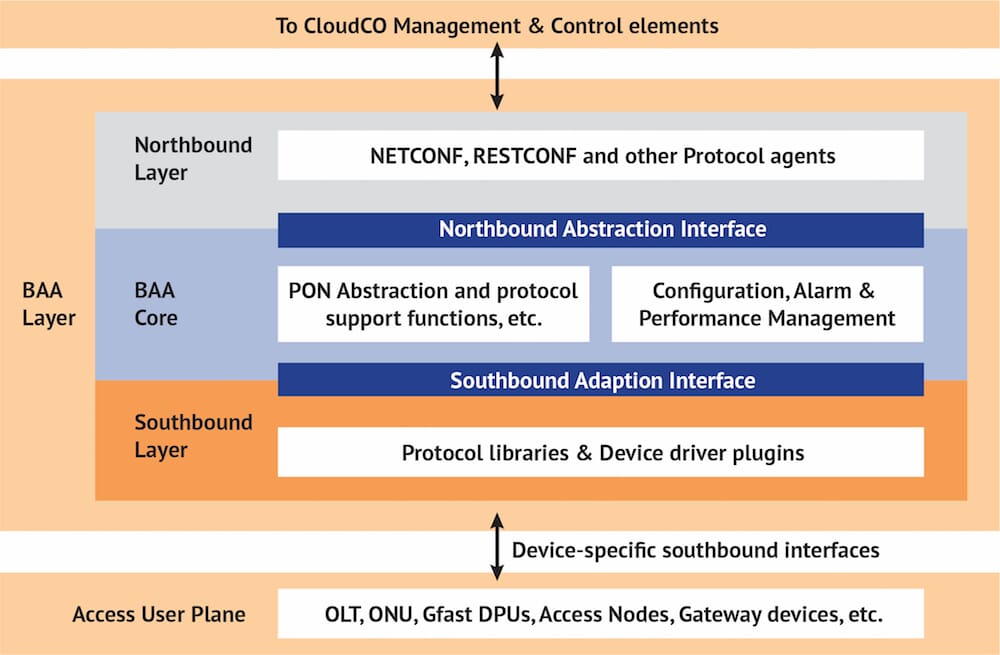 The combination of the NBI/NAI–Core–SAI/SBI converts generic messages from the SDN Management and Control (SDN M&C) elements into protocol-specific/device-specific messages used to communicate with external access devices.
OB-BAA has defined a YANG module that includes necessary information required for the discovery of the managed device and to maintain connectivity with the device.
OB-BAA has the support of many industry leaders, including AT&T, Broadcom, BT, CenturyLink, Furukawa Electric, Huawei, and Nokia.
As many companies have openly supported both VOLTHA and OB-BAA initiatives, there was bound to be a rapprochement at some point.
A new agreement between BBF and ONF sets forth how operators seeking to effectively use virtualization and open source to increase agility can leverage open source and standardization projects side-by-side to ease their migration to automated access networks and enable seamless co-existence. BBF and ONF believe that many types of carrier deployments will benefit from the capabilities offered by OB-BAA and SEBA/VOLTHA. The cooperation between the two organizations takes their work to the next level, providing an effective and efficient path for operators to leverage the innovations and benefits of both initiatives while ensuring interoperability, high performance, scalability, and maximum reliability.
IP Infusion Innovations has the expertise with VOLTHA to help our customers save time and resources with their product development.